We arrived in Matera hungry, and as soon as we checked in to il Sextantio, set off on foot, up and up to the piazza del Duomo and then down via del Duomo to the cute little Piazza del Sedile where we sank gratefully into chairs outside on the piazza. I wish I could remember the name of the place, but all I can tell you is that there is a large sign over the arch which says "Trattoria" and "Pizzaria" (thanks to Google Maps street view). My mother ordered the mixed antipasti plate and I had a baked ziti with eggplant (as seen in the post's top photo).
That night we had a lovely meal at Ristorante il Cantuccio at Via del Beccherie 33 (this is this street that via del Duomo turns into as you walk into the new part of Matera. The restaurant has a small dining room and reasonable prices ( 5 euro for the antipasti, 8 euro for the primi and 13-15 euro for the secondi). The food was uniformly well prepared and delicious and we shared each of the dishes.
We started with some vegetables; zucchini with apple cider vinegar and fennel seeds. It was a simple preparation, but so good I had to make it when I returned home.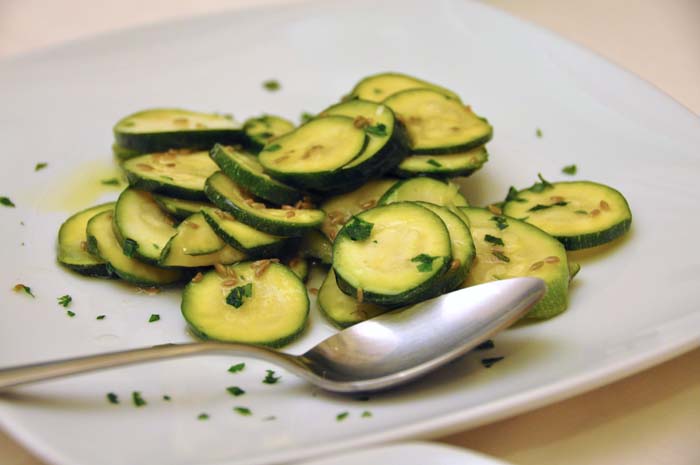 The next dish was a classic pasta for this region and this version did not disappoint; orecchetti with rapini (or turnip greens), fried garlic, anchovies, and croutons (or typically, bread crumbs) with some peppery local extra virgin olive oil. You may think, bread crumbs and pasta? but it works, trust me.
We also shared some skinny veal sausages cooked in white wine and tomatoes.  With wine (2 glasses) and water, the meal was 40 euro.
On one of our days in Matera, we …