On our last day in Lecce we decamped our car from its parking space, drove around in circles a bit and headed out of town going east, in a straight line on highway 364 to San Cataldo on the coast. I'm not sure what we expected, but there wasn't much "there" there. In October everything was shuttered, but I'm sure in August it's hopping. So we turned the car south and followed the coastal road with the goal of stopping in Otranto and making it to the "end of the earth" (or at least the very tip of the heel of the boot) in Santa Maria di Leuca.
Our first stop was in a tiny town about mid way between San Cataldo and Otranto. I can't remember the name (it might have been Torre dell'Orso) but it had a nice hotel (with a fantastic bathroom) high on a cliff overlooking the sea. This was the first of many "torre" ruins we'd see along the coast.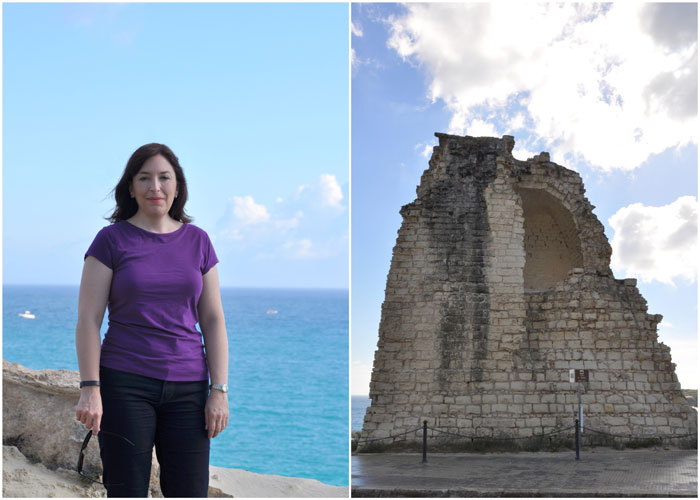 The next stop was the town of Otranto which boasts a small castle and cathedral. The old part of town is charming and the port is incredibly picturesque. Once again, not knowing where to park in the town, we ended up down at the marina where we found free parking. There's a tourist information spot there (free map!), public restrooms, and behind the restaurant at the end of the building on the right, are access stairs up into the old part of town. It could not have been easier.
Above, part of the castle fortifications as seen from down at the marina. Below, the castle from the old part of town.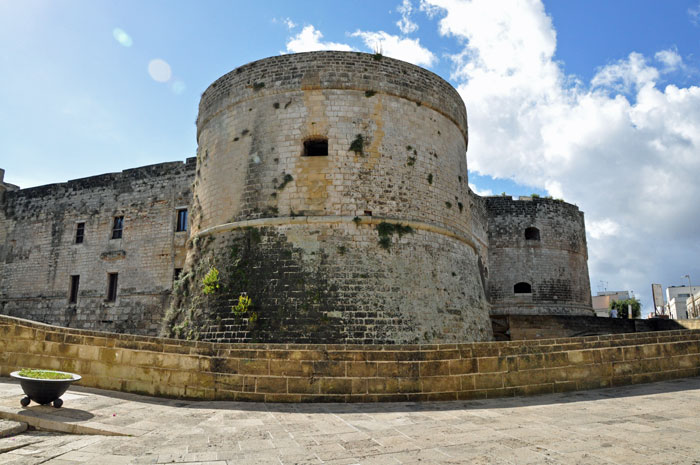 Inside the castle, above, and below, frescos from one of the castle rooms.
View of the marina from the castle ramparts, above.
Otranto's Cathedral …