There are tons of hotels and B&Bs in Lecce and searching through them was more of a challenge than I expected. Then we found Palazzo Gorgoni, recommended to us by Silvestro Silvestori who owns The Awaiting Table, a cooking school based in Lecce.  My mother had "met" Silvestro on Twitter and he'd recommended the B&B which is about 100 feet from his school on the same street. While we did not take any classes there, we did take a short tour of the school and meet Silvestro in person. The place looks like a lot of fun.
In the end, we chose Palazzo Gorgoni because of its location right in the center and because the rooms looked nice. In addition, the price was right. At the time, we got a single rate for two of the rooms at 60 euro each a night. We could have shared a room for 80 euro a night, and they are fairly spacious, but it's nice to have some space during the trip, so we splurged on two separate rooms. We found the location to be perfect for walking anywhere in the center of Lecce.
 Above, the piazza where we parked our car (white one, bottom right corner). Below, the street leading back to the piazza from the B&B.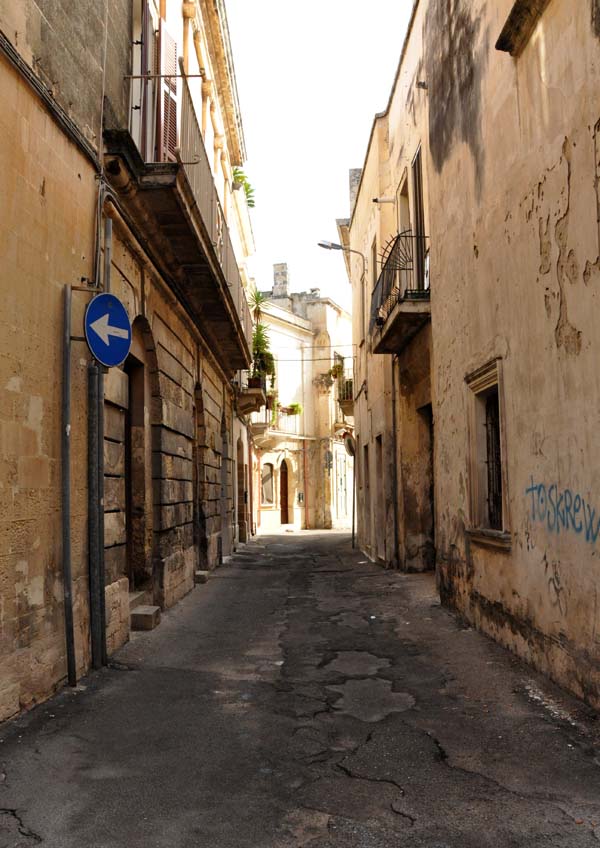 Palazzo Gorgoni  is essentially a three room B&B without the "B" for "breakfast". One of the rooms is extra large, basically two rooms together with multiple beds, so would be good for a family share. The walls of all the rooms are built from the original beautiful golden pietra leccese (stone from the area around Lecce).
Connecting the two of the rooms is a wide hallway which has a coffee and tea maker, water dispenser, and several books. Marta, Palazzo Gorgoni's owner, often puts out …