WIRED2THEWORLD.COM
---
KRISTINA'S PRE-TRIP JOURNAL:JULY PART 2:
July 19, 1998 On the Road Again.....
We're now here in Bishop CA, high up in the Sierra Mountains near Mammoth Lake, visiting David's grandparents. We will spend today and tomorrow here and then on to Nevada City to see my father.
Much has happened in the last few days, most importantly, WE BOUGHT OUR FIRST SET OF PLANE TICKETS!!!!
We are going first to Hawaii, then to Fiji, then to New Zealand, Australia, Bali, and Kuala Lumpur. After that we will spend a few months in South East Asia before going to Hong Kong and Taiwan in January. After that, who knows? Hopefully on to Nepal.
We also went back to the travel doctor for our next set of shots. We each got a Polio booster in one arm and a Meningitis in the other. We were given a Typhus vaccine that is 4 pills that must be taken one pill every other day. We will go back next month for our last Hep. shot. We are still arguing malaria medication. The doctor says that we won't need it until we get to India or Africa, but then we must take it. I refuse to take Lariam which causes hallucinations and panic attacks among other things. David wants to take it. I have no idea what we will do.
July 20, 1998 Nuns Who Drink Beer....

David's grandmother Mary was a catholic nun for over twenty years. Her sister, Angela, is also a nun from the same convent, and is here visiting with Lucy, another Sister from the convent, back in


the midwest. Both are teachers in the catholic school connected to their church and Angela spent 3 1/2 years living and working in Papua New Guinea. Neither wears a habit. They say prayers before meals and will drink the occasional beer (except for Angela who laments that she cannot, prevented by her heart medication). They are very nice ladies and I spent much of the day chatting with them. The sisters blessed our journey before we left.

July 21, 1998 Outside Inn and Inside Out
Today we drove to Nevada City to see my father. It was a beautiful drive through the mountains. We're staying in a newly renovated motel called the Outside Inn. It's a former 1940's "motor court" that caters to people interested in outside/adventure sports like mountain climbing and kayaking. They are only a few blocks outside of the center of downtown historical Nevada City, a former gold mining town. The rooms are all done in knotty pine, have AC, and queen size beds. There is a small swimming pool and they will assist you in planning outdoor adventures in the Yuba River and the Sierras . Each room is done in a different "theme", ours was the Historical Room, and they have others like the paddler's suite, or the Angler's room. Prices are reasonable compared to the local B&Bs (about $60 mid-week) Ask for the manager, Natalie Karwowski. Phone, 530-265-2233, e-mail outsideinn@gv.net
July 22, 1998 Picnic on the Yuba
Today we went to the Yuba river for a picnic. Beautiful scenery, but a curvy, twisty ride that left me queasy. We brought Trudy with us, who is, by far, the best behaved dog I have ever seen.

We also got our travel packs today. My father's girlfriend Martha owns a wonderful store in an historic building in downtown Nevada City called JJ Jackson's. It's filled with beautiful and interesting things from all over the world. She also has a great selection of Eagle Creek Travel Gear from which she and my father generously gave us our rolling backpacks called Cargo Switchback Plus. We also bought money belts and travel pouches called Departure Pouches.
Tonight we went into downtown where they had an outdoor summer festival with music, food and crafts booths. Then we went to dinner at probably the best restaurant in Nevada City called the New Moon. The food is wonderful and they have a great and varied wine list.
July 23, 1998 Ironic Rain
Today we drove from Nevada City to Grants Pass, OR where my grandparents live. We stopped near Mt. Shasta where we filled up the gas tank and got a free car wash. Ten minutes later it rained! We made it just in time for dinner...
July 24, 1998 Is There a Family Resemblance?
I got to see some amazing old pictures of my great grandmother, Edna Mae McNutt. I took pictures of the old photos with the digital camera and they came out ok.
Edna Mae Mc Nutt, 1915 Kristina, 1995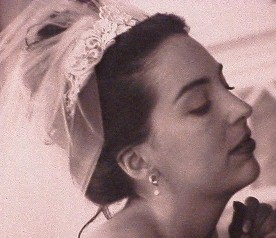 Edna Mae, Age 20? Kristina, Age 22

We also got to go out and visit both of my uncles at their respective houses and I got to see my cousin Brynn who I haven't seen in over 20 years.

July 25, 1998 Hawaiian Dreams...

This morning was very productive for the trip. Since we had the option to go to Hawaii on the way to Fiji, for free, we decided to go to Kauai for our three year wedding anniversary to kick off the trip. So, ever the bargain hunter am I, I booked our tickets from Honolulu to Lihue, Kauai using American Frequent Flyer Miles (only 10,000 miles for 2 RT tickets!). And then, with the ticket, American gives discount certificates to the various hotels, buy one night, get one free. So, I booked us a nice hotel with an ocean view room. Hey, you only live once! And besides, I'm sure those marble bathrooms will be a distant memory by the time we get to the land of squat toilets.


July 27, 1998 Albion...

Drove to Albion on the coast of northern California today to visit David's aunt, Redwing. It was a beautiful, but long drive through enchanted redwood forests.

July 28, 1998 Party in San Francisco

San Francisco today! When we were in Grants Pass we heard, via e mail, from a friend who is temporarily living in San Francisco. Lance is working at the restaurant One Market so we went there for dinner. It's right on the Embarcadero and has a great view of the Bay Bridge. The kitchen is huge and has a table in it that can be reserved so one can watch all the action. We had an amazing meal and two wonderful bottles of Zinfandel.
After dinner we headed up to North Beach to a restaurant/club called the Black Cat on Broadway at Kearney . They have great, fresh seafood, and a swing club downstairs. Then we went to play pool at The Condor, now a sports bar, once the premier strip club in North Beach. It still has the original sign with blinking nipples and the stripper's dressing room, set like a museum piece upstairs.
We also stayed at a great hotel in San Francisco, called the Warwick Regis on Geary St., near Union Square. Not very expensive, and well worth the money. Nice looking restaurant and menu too, with a female chef! I recommend it. Beautiful room too.

July 29, 1998 Chinatown

Well, after the room stopped spinning this morning, we had breakfast and then went out walking in Chinatown. We has a wonderful Dim Sum meal at The Four Seas at 731 Grant St. We had excellent eggplant stuffed with shrimp, foil wrapped chicken with ginger, pork bao, and more..
After walking around for a while and window shopping we found David his boots for the trip. Nice, waterproof, brown Timberlands.
We then drove down to Sunnyvale CA, to visit our friends Linda and Kevin (who found our computer for us). They have two beautiful children, Laela and Eli.

July 30, 1998 More Shopping...

Today we drove toward our last stop, Pismo Beach, and our friends, Jack and Renee and their one year old son, Mason. I met Jack the first day at UC Santa Cruz, and he introduced me to his room mate, David. :-)
On the way we had a few stops. First we stopped in Gilroy, the garlic capital oF the world. it also has one of the best outlet shopping malls around. We bought sandals for the trip for both of us.
The we stopped in San Juan Bautista to have lunch with other friends from college, Marc and Carol Lagan and their two year old, Sara. Marc was also a room mate with David and Jack.
We especially looked forward to talking too Jack and Renee because they are our only friends who have done an around the world trip. They had great advice for us.

July 31, 1998 Home and in My Own Bed...But Not For Long!

On the way home again. Much thanks to all our friends and family for putting us up (and putting up with us!)
We had one last stop in Santa Barbara at the wonderful travel store, Magellan's where we found a rack full of Ex Officio travel clothes on sale. Couldn't resist.
Made it home just in time to hit traffic.....







If you have comments or suggestions,
email us at krisdave@dnai.com
home page/table of contents/budget/FAQ/links/packlists/ technical stuff/recipes /reader's comments/tips
last updated on August 8, 1999