Hong Kong's Lantau Island; The Tian Tan Buddha and Po Lin Monastery
Early on a Monday morning we found ourselves on the MTR Pink line to the Orange line out to end out to Lantau Island.
Outside the MTR station is a French inspired pastry shop called Saint Honore. GO THERE. Two pastries, fresh and hot from oven, one with peaches, one with sweetened cheese for all of 17 HK$. I immediately ate both of them. There'ds also a Starbucks nearby if you need a coffee before getting on the or the cable car.
We decided we did not want to do the cable car. Twenty five minutes dangling in the air in a small glassed-in box is a claustrophobic nightmare for me. The bus station is across from MTR in the direction of the cable cars. Bus #23 goes up to Tian Tan Big Buddha and monastery and takes about 45 min. The bus driver was a bit crazy; driving fast like he was late for dinner. The scenery from the bus was quite enjoyable however (see above).
Once we arrived at the bus stop for the Big Buddha, there was no escaping which direction we needed to head. The big guy is visible from just about anywhere.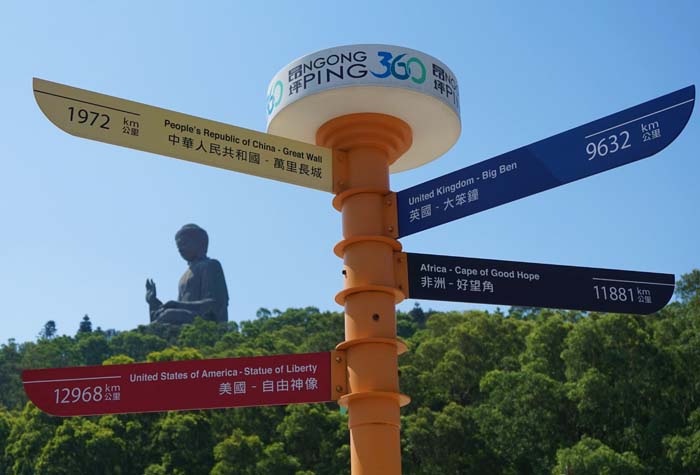 The monastery opens at 8 am, but the Buddha does not open until 10 am. We arrive around 10:20 am and there were people there, but not the hoards we saw coming in on our way back down.
Climbing to the top is free, but to visit the museum under the Buddha's seat and to climb up inside was 35 HK$ and included a vegetarian snack at the monastery (or ice cream). I bought the extra admission even though no photos were allowed inside the museum, my mom does not. She really didn't want to even climb up, but I convinced her.
After walking up down and around, we go over to the monastery. There are temple dogs everywhere but no cats.
We get the "snack" which includes vegetarian noodles, two pieces dim sum (turnip cake and fried spring rolls) and milk tea from a cafeteria line. A full vegetarian lunch can be had in the restaurant.
After our snack, we checked out the temple with three gold Buddhas (again, no photos allowed!) and the 10,000 buddhas. It was all bright an shiny on the inside with lots of color on the exterior.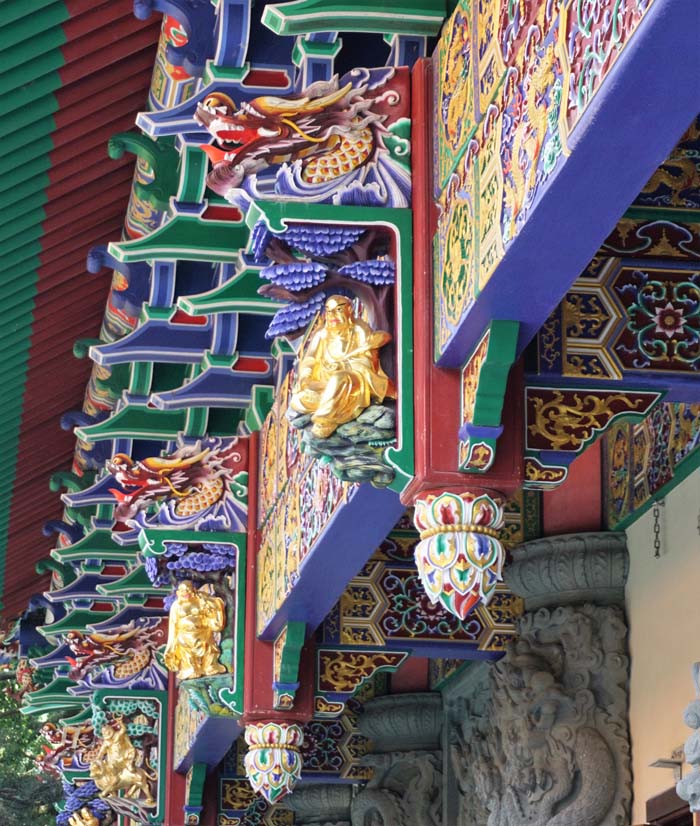 Before catching another bus to the Tai O fishing village, we walked into Ngong Ping "village". This was the Chinese faux version of a "village" and while it was hyper commercial, it did have a nice clean bathroom. There are also clean restrooms at the entrance to the monastery to the right of the big arch entrance as you walk in. The bus terminal is on other side of the "village".
Related Posts