Flight to Panama City on Copa, Toscana Inn Hotel, Dinner at El Trapiche
July 10, 2010
Copa flight #473 LAX to Panama City
I should have known when the two tickets purchased at the same time were charged to our credit card individually, one month apart. 
I should have known when I got an error message trying to check in online. Twice.
Maybe when I called the airline for help and "pressed 3 for web help" and it disconnected me I should have known to expect the unexpected from Copa. But no, I assumed that when it said, go straight to the gate if you check in online that was what we should do.
We arrived at LAX to the usual chaos that greets any international departure and debated what to do. I said to David, "the website said we could go to the gate." But, given the issues above, we were uncertain if that was the right thing to do. Plus, we couldn't find the gate listed anywhere, nor any roaming Copa agents to ask. Finally, there was a gap at the web check-in counter and there, we discovered that contrary to the web site's instructions, we did need to check in with them even if we had no luggage to check.  This makes sense of course, because they have to see our passports, but what would have happened if we had not?
One of the good things about Copa was that I was able to select our seats in advance and choose row 14, the exit row. Many airlines will not let you choose exit row seats in advance. This afforded us much more breathing room, about an extra 6″ of leg room. The flight was late departing, mostly because they had to bus every passenger out to the plane, one busload at a time, to a remote part of the airport I've never even seen. It's as if they could not afford to have docking rights at the terminals.
The flight was easy, only about 6 hours, and the food, surprisingly edible. We were given breakfast burritos with eggs and sausage and a muffin. For lunch it was "chicken or beef" but the vegetables were good and not overcooked. Drinks, including alcohol, were free. There are no personal TV's, only overhead screens which ran a movie I did not watch. I was entranced by my newest love, the
Kindle
, and happily read Anthony Bourdain's latest,
Medium Raw
, most of the way there.
The bathrooms on the plane were another story; the toilet paper was sitting in a roll on the sink and there was no water coming out the faucets. The flight attendants
thoughtfully
left bottles of water on the sinks for the passengers to use to wash their hands. We arrived close to on time, found no one in line at immigration and sailed through customs because we did not have to wait for bags at baggage claim.
A taxi ride to or from the international airport seems to be a set rate of about $28, no matter where you are going in Panama City. We picked up a taxi outside (I saw no official taxi stand or pre-paid taxi desk) and were at the
Toscana Inn Hotel
 in about 30 minutes.
Toscana Inn Hotel
Arriving into a new city at night is always strange. It just feels different than it does in daylight. Somehow not as safe, there's always a touch of the unknown, a little menace. I always look forward to the next morning when things are clearer, cleaner.
We checked out the room which turned out to be a decent size with a comfortable king sized bed, flat screen TV with many channels (most in Spanish of course, but a few in English-I love CNN international, it equals travel to me), big windows overlooking the street, and a desk and sitting area. The bathroom is quite small with a walk-in shower. Bring your own toiletries/amenities. Wifi is free with a code given by the front desk.
We looked at a map and set out to find a grocery store near by to pick up some water, snacks, and a comb for me which I'd forgotten. On nearby Calle Espana we found a 24 hour giant El Rey supermarket which was shockingly similar to markets here at home down to the imported US products and prices. 
Dinner at El Trapiche
After dropping our purchases back at the hotel, we sought out a Panamanian restaurant I'd read about called El Trapiche which was about 4 blocks away. We found it without difficulty and it had what appeared to be mostly locals dining inside with a few tourists on the patio.
We opted to eat inside because of the AC (it was still very humid and warm out). I ordered the Corvina al Ajillo which would become my favorite go-to dish of the trip and David got the house specialty smoked pork chops. Everything was simply prepared but satisfying; I loved my fish, the rice was perfectly cooked and the little piece of fried plantain tasted of cinnamon. We tried two of the local beers, Atlas and Balboa (both good!) and dinner came to $25 for the food and 3 beers. (Via Argentina #10 at Avinida 2a B Norte, Tel: 269-4353). We finished our evening with ice cream from an Italian style gelateria called Antica on the corner of Via Espana and Avinida 2A Norte.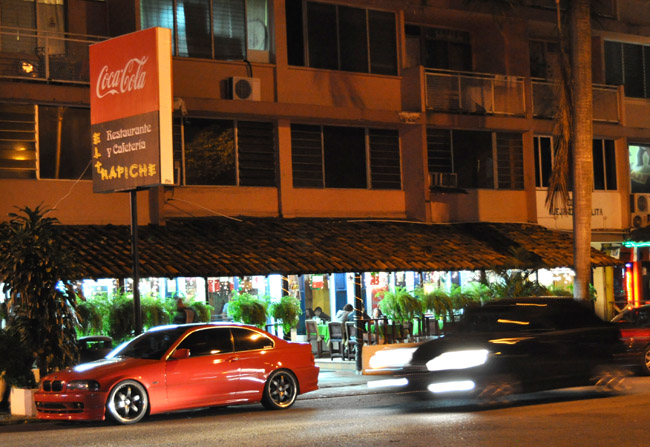 Related Posts