Panama City-The Canal Locks, Casco Viejo, World Cup Madness
July 11, 2010
Panama City, Panama
We woke to cloudy skies and a desire to get out for the day, but first, breakfast.
The Toscana Inn hotel includes breakfast with the rate in a room off the lobby and unfortunately this is probably the hotel's weakest point. It's not for lack of choice either, it's just that none of it was particularly appetizing. The hot choices included an odd re-fried bean/meat/green olive concoction, limp bacon, scary pale things which looked like fingers but were probably sausages and overcooked hard boiled eggs. There was cold cereal and milk, fruit, and toast. Coffee and tea or $3 extra for a badly made cappuccino.
Our loose plan for the day was to check out the Miraflores Locks and then find some place to watch the World Cup Final game, possibly in a bar either near the hotel or in Casco Viejo.
First, a note about Panama City:
Panama City is a huge, sprawling, modern city filled with skyscrapers and varying states of construction. I didn't realize this until I saw pictures when researching for the trip. This is no quaint, Central American small city with low slung buildings. It reminds me more of Bangkok in the spread of high rises than even Los Angeles where the tall buildings are clustered in "downtown."
Unlike Bangkok, I didn't see any big open markets and there's no street food visible anywhere. Like Los Angeles, it seems that things are spread out all over, and there's no good public transportation system like a subway. Yes, there are buses, but as a tourist and not a local I was hard pressed to find a bus map, let along figure out where they went and how to use them. That means that cabs are the way to go, and again, being from LA, jumping in a cab to go everywhere does not come naturally.
A note about taxis;none of them have meters. All fares must be negotiated with the driver before setting off. Fares within Panama City should be $1-$3. Fares to Albrook Airport (domestic) are $10-$12. Tocumen International Airport is $28. Sometimes taxis are shared and each person will pay a separate fare.
The Miraflores Locks are the closest ones to Panama City. These are the most popular place to see the ships passing through the Panama Canal and there is also a museum. A taxi to the locks should cost $10-$15 each way, and after stopping a few cabs on the street near our hotel, we finally found one who would take us out there for $10, or $25 round trip which of course included him waiting for us. We figured the R/T option was a good one because we had no idea if it would be hard to find a cab back. I suppose there is a way to take a bus out there, as the was a bus stop on the main road, but I have no idea how you would figure it out and once you get there, you would still have to walk quite a way up the road in the heat to get to where the locks are.
Admission to the Locks is $8 per person which includes the museum exhibits and film, or $5 for just the viewing platform. We opted for the full ticket. After we arrived (around 10am), we discovered that we'd just missed the last ship to go through the locks until 3pm that day. It was quite a disappointment not to be able to see the ships go through, and even though they offered to honor our ticket later, I knew we wouldn't want to spend another $25 just to come out at 3pm.
Above, an exhibit of a butterfly with wings which look like an owl's face and the ship's bridge simulator.
The museum exhibits are nicely done and worth the time to walk though them. There are explanations of all the flora and fauna in the canal zone, how the canal was dug and how it works, and a cool simulator which one can stand in and experience what it's like to be a ship's captain going through the canal. The movie is a bit cheesy, but does explain the history of the canal and their plans for the future expansion of new canals for super ships to be able to pass though. The view from the observation deck is panoramic and from there one can see all the way to the Pacific ocean and downtown Panama City.
We were done in about an hour and our taxi driver, Pedro, found us. Instead of taking us back to the hotel, we asked him to take us to Casco Viejo, the old part of the city.
Everything I'd read said not to walk through the neighborhood bordering this area (which is surrounded by water on 3 sides) because it is dangerous. On our way into that neighborhood, our taxi was stopped by machine gun toting Policia, who spoke to Pedro and then asked where we were from and to see our passports. This is the first time we've ever been asked for our papers while out and about in a foreign city, in more than 30 countries. I usually leave my passport in the hotel, but I'd read that in Panama foreigners are required to have them at all times, and some people have been harassed in the more rural areas, so we had ours with us. Pedro said said that yes, it was dangerous and he would not even drive through there at night. It looked poor, and there were a lot of very dilapidated and abandoned buildings, but not particularly dangerous in the light of day. I'm sure night is another story.
Casco Viejo reminds me a little of New Orleans with its wrought iron balconies and of the pictures I've seen of Havana. In fact, one of the last James Bond films was shot here, as a stand-in for Havana. We stood in the doorway to the church (which I later figured out was Iglesia de San Jose) and listened to the service for a moment (see video at bottom of post) and then started to wander around, a bit aimlessly. I'd printed out a walking tour with a pretty good map of the neighborhood from the Frommer's website, but had unfortunately left it back in the hotel. We did have my notes and google map however, but we never really did figure out exactly where we were most of the time.
The area is a mix of run down buildings, some abandoned, and some in an  obvious state of rebuilding and renaissance. Some buildings are only a facade and some have clearly been restored to their former glory.
We walk in circles (and it's hot, hot, hot out), checking out ruined churches, the main square of Plaza de la Independencia and the large Catedral Metropolitana which for some reason is shut up tight even though it's a Sunday.. In the square there are a few women wearing the traditional dress of the Kuna Indians. At the ruins of the San Francisco church a guard opens the gate and lets us inside to walk around.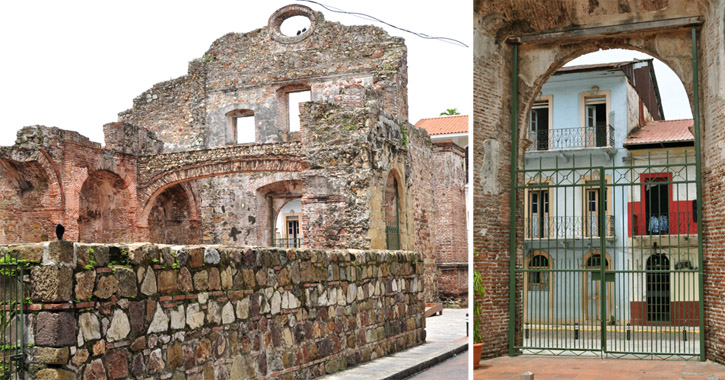 At one point we found ourselves standing next to armed guards at a sentry kiosk and discovered we were next to the Presidential Palace. It's right on the water and has a stunning view of the city skyline. Someone asked us to take their picture in front of the view and they reciprocated for us. I really wanted to take a picture of the Presidential guards (all good looking in military dress uniforms) but was too embarrassed to ask (still kicking myself).
We continue walking, randomly, wishing I had that walking tour print-out. The area seems a bit deserted and I can't figure out if it's the heat of mid-day, the fact that it's a Sunday, or that the World Cup Final is to start in about an hour that has everyone off the streets. This is an area I'd like to return to when it was more lively, maybe in the evenings. Unfortunately, we did not make it back here.
Around lunch time, we search out Manolo Caracol, a well respected and often recommended restaurant in Casco Viejo, but it's closed for lunch. Instead we end up at the popular Casa Blanco, but the food is a disappointment. The "shrimp cocktail" is drowning in a pink mayonnaise sauce and my caprese sandwich is just mediocre. We did see some salads go by that didn't look so bad. We'd planned to stay there to watch the game, but the place was empty and we wanted to be around a crowd so we left in search of a more happening place.
We found a bar called Cedros and got there just in time to get a table before it filled to capacity and ordered our new favorite local beer, "Panama." The World Cup Final, Spain vs. the Netherlands, was not as exciting as we'd hoped but the bar crowd was rivited, most cheering for Spain as we were. When Spain scored the one and only goal of the game in overtime everyone went crazy. Viva Espana!
Afterward, it started to rain, and it took a us while, and more wandering, before we found an empty cab, which took us back to our hotel for $3. On the way home there were party buses full of cheering fans from Spain screaming and waving their flags. Later that night, we saw on local news that groups of Spanish soccer fans had blocked traffic for hours with their partying.
We wanted to stay close to the hotel for dinner because it was still raining so we walked though the neighborhood, looking at restaurants and menus, none of them local Panamanian food (but we found Sushi, Peruvian, Mexican, and even a Swiss restaurant). We ended up at a place called the Wine Bar but chose not to stay because the amplified life music in the tiny space was so loud (and so bad) we could not converse. Instead, we went to their sister restaurant, Cafe Pomodoro for what could possibly be one of the worst meals I've ever had. It was so bad, I didn't even take pictures. My "Pasta Siciliana" was overcooked rigatoni, with chopped tomatoes, eggplant and mozzarella unceremoniously dumped on top. David's Bolognese was only slightly better. The $4 glasses of ice cold Chilean Cabernet did little to help the horrible food and service. Miss it.
While we were at the Iglesia de San Jose, I shot the very first video on my new camera. Be kind… 
Related Posts