Isla Contadora, Panama Day 3
July 12, 2010
Panama City to Isla Contadora
When researching where to go outside of Panama City, I found myself overwhelmed with choice. We knew we wanted some beach time and the Bocas del Toro islands, San Blas Islands, Pacific Coast beaches, and the Pearl Islands all looked interesting. Ultimately it came down to cost, weather, and ease of access. I'd read that Bocas was very rainy in July and the airfare there was more expensive so, out. The San Blas Islands were "rustic" but did not come with a rustic price tag so, out. The Pacific cost beaches, specifically Santa Catalina were very appealing but a six hour drive to get there was not. Out. That left the Pearl Islands in the Bay of Panama on the Pacific side of the country. If you are a fan of the TV show Survivor you might recognize the name as a few of the shows were shot here.
Isla Contadora is only about a mile long and less than half as wide and is home to about 350 full time residents. There are two airlines which fly there; Aero Perlas and Air Panama. We were told by more than one person that Air Panama has a horrible reputation and is known for redirecting flights based on cargo, not passengers. Meaning, you might get on the plane, expecting to go to Panama City and end up making two other unscheduled stops on other islands before you get there. There used to be a ferry service from Panama City, but it's not currently running.
Flights to the Perlas depart from Albrook domestic airport, next to a large mall on the same road out to Miraflores Locks. The taxi cost us 12 dollars to get there from the hotel. At the airport they weigh your bags, both checked and carry-on, before you get on the plane. I've heard they were strict about luggage weight but we seemed to be ok, even though our roll-aboards might have been a pound or two over the 25 lb limit. The boarding passes are reusable hard plastic and we're told to go through security and wait in the waiting room. 
It's raining on and off and I'm concerned we might not fly but here comes our little plane…
The planes are tiny and ours was an 18-seater, single propeller Cessna. David and I are the first ones on the plane so we take the seats behind the pilot and co pilot. This has me flashing back to our flight to Roatan in Honduras. Keep in mind even thought I love to travel I hate to fly. The flight is fine, a bit scary only because we have to fly through clouds and then suddenly, there is the landing strip on Isla Contadora. All 12 feet of it, or so it appears from there air (see top photo), where we can see the entire length on approach including the water on the other side.
Once we are down, we wait right there on the tarmac for the luggage to be unloaded, including a small cardboard box with a live chicken inside. Someone said, "I think it's still alive." I hope so.
There's not much on Isla Contadora; 5 or 6 hotels/B&Bs, the same number of restaurants, 3 little "grocery" stores and a dive shop. The only hotel directly on the beach near the "town" is the Punta Galeon Resort but it got horrible reviews so I chose the Perla Real Inn. It's in the center of the island, and has no view of the water, but really is only a 10-15 min walk to town. From the photos, it looked to have the nicest decor of all the choices and appealed most to my design sense. I have an aversion to tacky bed spreads and wall murals of cherubs, I'm sorry.
Because the island is so small, everyone knows everyone else and their business. Everyone we meet in the next few days has to mention the about the 400 million dollar yacht which was anchored off the island just yesterday. Everyone has a comment about it or a connection to it somehow. While waiting for someone from to pick us up from the Perla Real, we're approached by a neighbor (another B&B owner) who offers us a ride because he knows that Scott, the Inn's caretaker is busy with other guests. We take him up on the offer.
Scott is back at the hotel 5 min after we get dropped off and checks us in to our room. We've opted for a suite which includes a little kitchen, living room area and bedroom (separated only by an archway, not a door). The walls are whitewashed and painted/stamped in an old Spanish/Moorish style, floors terracotta tile and the kitchen and bathroom have glazed Spanish tiles. The kitchen has a small dorm fridge, sink and propane gas stove. The bathroom is small but has a good sized walk in shower (no tub). Water pressure is minimal, but we'll live.  There's an AC in the bedroom and ceiling fans. No televisions. It's lovely. We ask to be moved upstairs where the ceilings are higher and there's more light and our request is accommodated after that room (#5) is cleaned. Golf Cart rentals are available for guests at a discounted rate (I think $35 a day vs.$50) but they seem unnecessary so we never do it.
There's a central courtyard patio area with a pretty fountain and outdoor kitchen where breakfast is served. Scott took us on a quick tour of the island in the hotel's truck, pointing out his favorite beaches, places to eat, shop, and giving us all the local gossip. In the 1970's Isla Contadora was the playground for Panama's rich and famous, and powerful politicians and drug lords. There are still multimillion dollar homes here and apparently land is very expensive. We see the abandoned Hotel Contadora, (the owner died in a plane crash when the sale of the hotel was pending) a massive place which has been completely pillaged for anything useful down to the windows, doors and plumbing. It's creepy and no way would I want to be anywhere near here at night. Too bad, because the beach is nice.
We walk into town to have lunch and buy some drinks for our room. We have our first meal at a local place called La Fonda Clarita, across from the police station. By the time we get there, we're overheated and sweating, even though it does not feel as hot here as Panama City (yes, there were times I wished we'd had one of those golf carts). There's no menu, only what's cooked that day. Today's Plato Tipico is beef, rice, and a small salad with a bowl of lentils for $4. A bottle of Panama beer is $1. The beef might be a little tough, but it's tasty and the lentils are fabulous.

We watch a family of orange feral kittens with their skinny orange mommy stalk around the police station while waiting for our meal. At one point the tiniest little one, so pale he's almost pink, gets himself stuck in a tree and I have to "rescue" him. He's not happy about it, but he's no longer in the tree either. After lunch we go down to "Blandy's" store to buy water, beer and a bottle of Chilean Sauvignon Blanc  ($9, not too bad). David notices a basket of fresh eggs which says "Huevos de Patio" and confirms that these eggs do indeed come from the patio in front of the store where there are roaming chickens.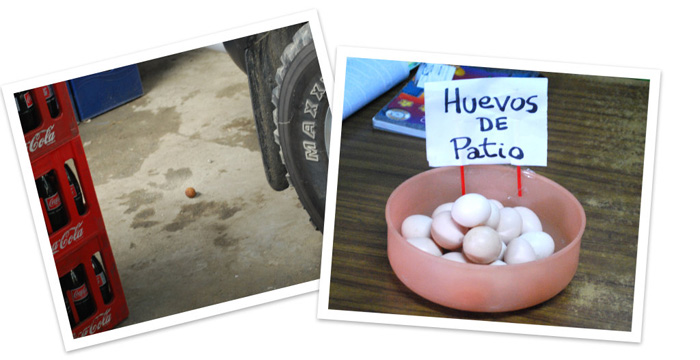 We walk back to the hotel, unsure what to do next with our time. There's not that much too do except relax, go to the beach, and snorkel. We plan on doing a snorkel trip through the dive shop the next day. By the time we get back to our room, it's started to rain heavily, so we take it easy and rest and read. David is thrilled that he can get his favorite paper when we travel, the International Herald Tribune, downloaded straight to the Kindle. I'm happy the hotel has wifi (albeit slow and spotty) so I can upload some photos.
For dinner, because it's still raining on and off, we go to the closest place to the hotel, the restaurant at the
Villa Romantica Hotel
. It's about a 10 minute walk from where we are and the roads are fairly well lit, though not well paved. Rumor has it that all the island's roads will be repaved soon because the President's wife visited (they have a house here,
of course
) and complained about the roads. See, I told you we got filled in on all the gossip.
The restaurant at Villa Romantica is open air and under a pavilion overlooking the ocean (which we could not see because it was dark). Reviews I'd read of the hotel are mixed. If you can get past the kitschy decor, there are ocean views, but I think it's pricier than we wanted to spend on this trip. The menu is large and the food was decent; we were going to try the ceviche, but they were out so David got a shrimp cocktail instead. This one, thankfully, not drowning in mayonnaise, but rather in a tomato-citrus marinade. I ordered my new favorite; corvina al ajillo and it was quite good as was David's Pollo a la Plancha (chicken breast). Yes, "basic is best" when ordering in Panama. With 2 Atlas beers, tax and service, dinner was around $30.
I didn't get any good food photos that night, but I love this one of the many tiny geckos we saw all over Isla Contadora and most of Panama. These guys bring good luck!
Related Posts