Kindle 3 Review- Part 1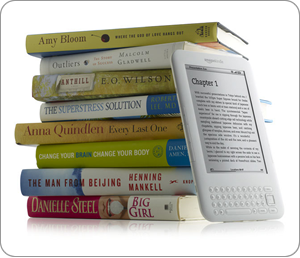 I had the pleasure of being able to borrow my mother's Kindle 2 for our trip to Panama. At first I was sceptical; was this just another electronic device to carry and worry about? What about the romance of the paper book? Almost everyone, including David, has said the same thing to me, "I love books. I love the smell, holding the books, leafing through the pages…"
It took me less than 10 minutes to fall in love with the Kindle. It weighs less than a typical paperback book, even with a cover. It can hold thousands of books and will automatically download daily newspapers. I found myself wanting to read more because it was not only easier to hold the Kindle while reading in bed, but it was fun. Even David was an easy convert, excitedly reading his favorite paper, the International Herald Tribune every day we were traveling.
Before you dismiss this as another "gadget" ask yourself this; does your paperback book have a built in Oxford
 English dictionary to make it easy to look up words in a flash? Built in wikipedia? The ability to highlight passages, save them, and even share them on Twitter and Facebook? Can you adjust the size of the text to make it easier to read?
If you're an avid reader, how many books do you take when you travel and how much extra weight and space do you need to carry them? All I can say is, don't knock it until you try it. Amazon offers a very generous 30 day return, no questions asked, so there's nothing to lose.
The "latest generation" Kindle (being called the Kindle 3 by some) is smaller (only 8.5 oz), faster, and holds more books (up to 3500) than its predecessors. The "e-ink" has better contrast and is easier on the eyes than any other e-reader. The battery can last for up to a month on a single charge.  There are just too many cool features in one tiny package I can't list them all here.
If it could only bring me a glass of wine and rub my feet…
The latest generation Kindle now comes in 2 versions; one which is Wi-Fi only for $139 and the other with Free 3G + Wi-Fi for $189. 
I debated these two choices for a while. I wasn't sure the extra $50 was "worth it" to have 24/7 access. Would I ever need to download a book that badly? I doubt it. But the more I researched, the more I discovered that there are some other advantages to 3G with the new webkit (safari based) web browser; access to email and (modified) websites without wifi, for free, wherever there is an AT&T cell signal, anywhere in the world. Did I meniton free? For someone without a smartphone with international access, this was too tempting to pass up. Even though we tend to think wifi is everywhere for free now, it's not as I've discovered too many times to count while traveling.
As a traveler, the advantage of having an e-reader is not having to carry lots of books with you or search out places selling English language books and pay exorbitant prices for them.
But what about guidebooks? Can the Kindle replace the paper guidebook? I haven't had a chance to try it out yet, but I'm thinking, why not? Right now, it looks like Lonely Planet
leads the pack with 629 Kindle guidebook offerings and there are currently over 1500 Guidebooks available on Kindle
 listed on Amazon.
But what about the ipad you say? Well, that's an option, but it's heavier and more than twice as expensive and if you want 3G access, you have to pay a monthly fee for that.  By all accounts the Kindle's e-ink screen is easier on the eyes too than the ipad's LCD screen. Plus, I already have a netbook and I don't see the replacing it with the ipad because I like having a real keyboard to type on. The Kindle is not meant to be an all-in-one gadget. It's an e-reader, first and foremost and I think it's by far the best e-reader on the market both in terms of cost and features. There are other e-readers out there, most notable are the ones by Sony and Barnes & Noble's Nook, but none of them have the easy to use features of the Kindle.
In short, if you love to read, especially when you travel, then the Kindle is the perfect companion. Why take a bag of books when you can take one easy to use device?
Go here for Part 2 of my Review; Making your own travel guidebooks for the Kindle, resources for Kindle owners, the "sharing e-book" controversy, and I'll put the new Kindle and it's webkit browser to use while traveling.
Related Posts