On the way to Cambodia, a stop in the Taipei Hello Kitty Airport
As soon as we entered Tom Bradley International terminal at LAX I was glad we'd arrived 3 hrs before our 1AM EVA airlines flight because the line to check in for their two early morning departures (1am and 1:20 am) was huge. We'd smartly checked in online from home and because we'd done so, we were directed to the "online check-in" line farther down the terminal. The line was empty and it took us all of 5 minutes to get our bags checked in and our printed boarding passes (EVA does not let you print boarding passes online). Suddenly we found ourselves with a lot of time to spare. We tried to get into one of the airline business lounges using my mother's Platinum AMEX card, but we weren't on one of the right airlines to make that work so we just ended up sitting near the gate for a while.
EVA's boarding process is impressive and efficient, row by row, turning back people who weren't in the section they called. Seats on the 777 are 3x3x3 and have personal screens with video on demand. Both of us had aisle seats across from each other and because economy class was not full, we both had empty middle seats next to us. This completely saved me and I was able to sleep on and off for probably 4 hours during the 13 hour flight. I was still jealous of many of those in the back of the plane who had 3 full seats to themselves.
The food was decent; chicken teriyaki with rice for dinner. Salty but edible. Breakfast was a choice of eggs or rice porridge which came with little bits of chicken, some sautéed greens, and a little packet oddly labeled "tuna floss." I had the rice porridge and it was actually really good.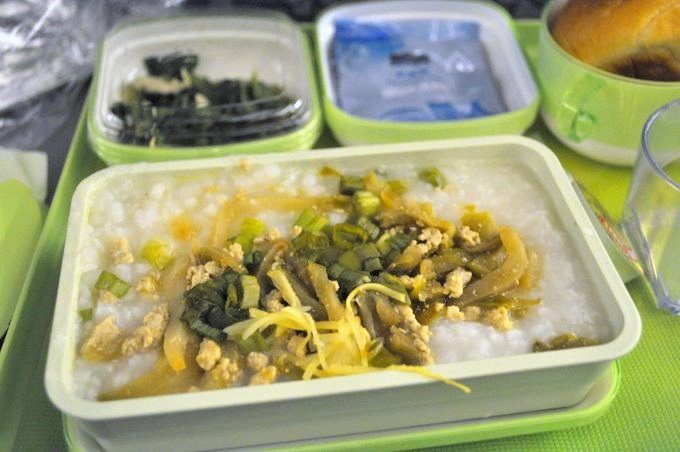 We had a three hour layover in Taipei. This airport has vastly improved and grown since I was last here in 2000. Terminal 2 is one of those brightly lit, clean airport terminals filled with high end shopping which is more "mall" than "airport." Still, they have free wifi and I was able to have a skype conversation with David, check my email, etc. There are also free computer terminals for people to use.
There are a couple of places for massage, but they weren't open yet. Almost everything else was open at 6am. There's a 3 story high living wall of plants in the form of the shape of the country (photo at top of post). There's a hello kitty nursery room complete with pink changing tables and a Hello Kitty Gate (C3) with play area and Hello Kitty seats (photo above). There's an orchid exhibit and another one from the National Museum about tea pot sets. Food choices were limited to a noodle place, though I'm sure there were others we just didn't walk that far. We had the noodles with beef in a spicy broth and a bottle of nasty tasting mineral water. The noodles were really good and hit the spot and we were able to pay in US Dollars which was nice since we had no Taiwanese currency. It was about $6.50 for a bowl of noodles big enough to feed two.
Soon it was time to board the plane for Phnom Penh…
Related Posts