Why we came to Cambodia; Koh Ker School and Srayang Girl's House
October 5, 2010
Siem Reap to Koh Ker, Preah Vihear Provence, Cambodia
Preah Vihear is on the border with Thailand and has a temple of which the ownership has long been contested between the two countries. Unesco declared Preah Vihear Temple as Cambodia's second World Heritage site in 2009, but that has not discouraged even recent military skirmishes between the two resulting in a couple of soldier's deaths. There's been a lot of finger pointing and "he started it!" going on over this temple and the surrounding border area and I've yet to actually see it myself because it is another hour or so from Koh Ker.
Koh Ker also has an interesting temple which we visited in 2007. If you come out here from Siem Reap, make sure you also visit my favorite temple, Beng Mealea along the way.
Everyone in the house was up before 4am and we left in a caravan of three vans by 4:45am. We arrived at the school around 7:30am and had to stop on the main road because the dirt track to the school was impassible by vehicles. Everyone grabbed something and kids came from the school to help carry in the supplies. We all trekked the last ½ mile though the mud to get to the school.
As I came around the last bend in the road, I saw the school for the first time in almost three years. Even though I've seen photos since then, they did not do justice to the changes. There was green grass where the once was bare dirt. Flowers are blooming around a flag pole. A new classroom building and water filtration system are in place. And the children were running, and playing and laughing in their uniforms.
It's like night and day.
I was so overwhelmed with the change that I burst into tears and became a blubbering mess. The malnourished, sick and lethargic faces were gone. Not that things are perfect here (far from it), but the amount of improvement is staggering. There were once only 75 children here, part time and now there are over 200 including 45 this year in pre-school! Once there were children who could not make it past 3rd grade and now there are 6th grade graduates going to secondary school. The school is now the number one primary school in the Provence thanks to the hard work of the students, teachers, doctor, and the Foundation. Make sure you check out my photos from our visit in 2007 to see the changes.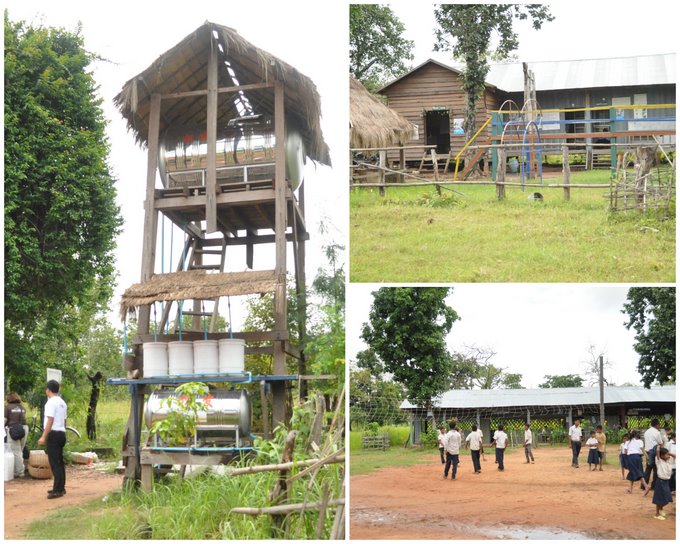 It took me a few minutes but I pulled myself together and everyone got to work prepping for the lunch for all the students. I got the opportunity to put my cooking skills to good use by helping to cut 50 lbs of carrots and onions. We then had to sit though many "officious" officials pontificating to bored children and their parents in the hot sun before the awards and bicycles were passed out.
My mom and I helped to pass out donated clothing to kindergarden and 6th graders (those were the sizes we had that day) and even to some of the parents. It was like an auction, "who wants these pants?" and everyone had a comment about the fashions (I just wish I knew what they were saying). The volunteers then passed out lunch to all the students and there was enough food left over the parents took it home in whatever they could, be it in plastic bag or cardboard box. It was a long, hot day, and everyone got to eat after the kids had been fed. I can see why these noodles are the kid's favorite; they were pretty tasty!
After a quick visit to the new library (this was another NGO's building for craft making last time we were here), we walked about ½ hour though Koh Ker village, where there are no roads, only pathways through the fields. We had the opportunity to see exactly where and how the students live and why the attention given to them is so needed. Our walk ended up in front of Koh Ker temple where everyone had a cold beer at one of the food stalls (we ate here in 2007) which was wonderful and much needed.
At this point, mid-afternoon, two of the vans went back to the guesthouse while ours went to see the girl's dorm house in Srayang. This is the house for the secondary school girls for whom we've been fundraising. These are the girls from Koh Ker School who have graduated 6th grade and now want to go to Secondary school. They include 2 8th grade girls from last year, 5 who graduated 6th grade and 4 who graduated 5th grade but passed the 6th grade test (see, I told you the school was doing well!).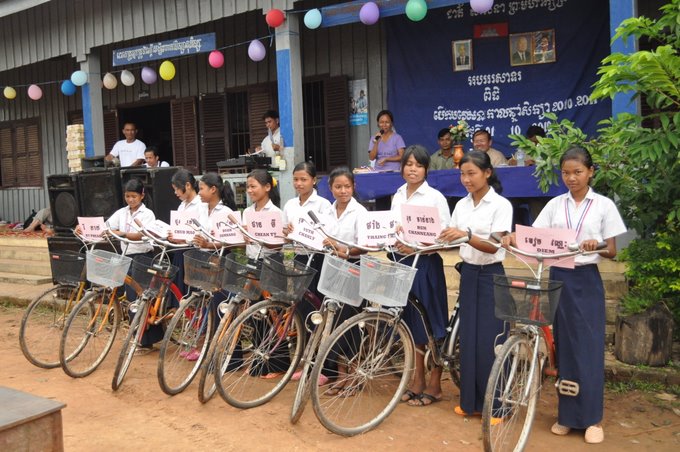 The house is still being worked on but school has started for them, so they moved in last week. Today, they came back to the primary school celebration to be recognized and receive their bicycles. After that, they had to bike all the way back to their new house, about 20 kilometers away. They beat us there!
The house is across the road from their school which is very convenient for them. There's no electricity, only a car battery which runs a couple of lights inside. There's one large room which has three double bunk beds which they all share. Sleeping in elevated beds in new for them; they are all used to sleeping on the floor and there was some resistance to sleeping on the top bunks. There is a second room in the house which is not yet finished but when it is it will be used for studying and to give them each a cabinet to store their things.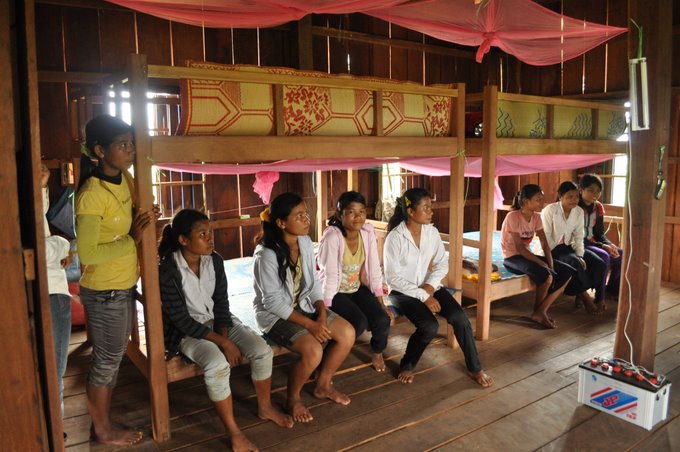 There's no running water in the house but there's a well on the property and the latrines are being built. Later, there may be showers put into the stalls next to the toilets, but for now, they will bucket bathe in there which they are used to doing at home. The house mother will live in a smaller, one room house behind the girl's house once it is finished. The location for the kitchen area is underneath the house and is not complete. It will have an area for a wood stove similar to what is pictured in the schools. It's unlikely they will have things we commonly associate with a "kitchen" like a sink with running water, a refrigerator or other appliances since they don't have electricity.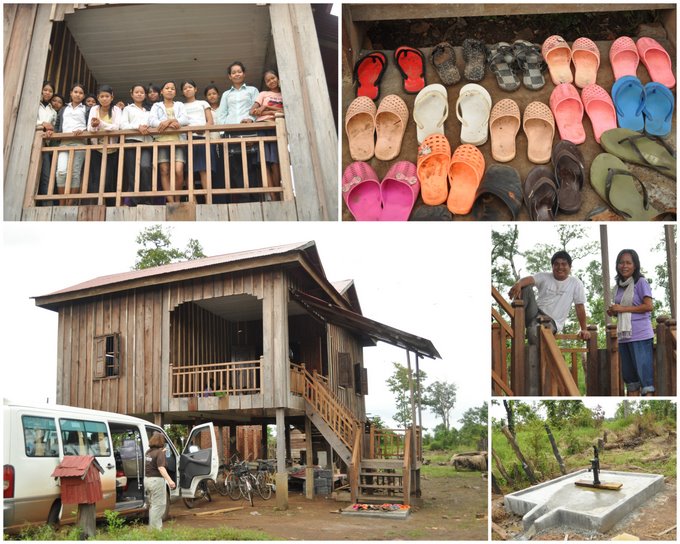 They will eventually have a garden and a place for chickens and other animals on the property. Some day in the future, there may even be a second house for more students. The foundation is hoping to eventually get solar power installed for more light inside the house and over the latrine area.
We asked if they like it there and they said they did, but that they sometimes get scared at night because they're so far from home. This is all so new to them and in most cases it's a much different standard of living (higher) than they are used to in their village. These are extremely dedicated girls to be willing to move away from their families to be able to go to school and we're all so proud of them.
We got back to the guesthouse at 6:30 pm. I was fulfilled from the day but so exhausted and emotionally drained I could not even go out to eat. Lori let me reheat last night's leftovers in her minuscule kitchen and I then I fell into bed. Don't worry my foodie friends, it the only night we didn't go out to eat.
Please check out the short video plus photos I put together:
To see the trip from the beginning go to the main Cambodia 2010 page.
Related Posts