A One Day Visit to Temples of Angkor and Abacus Restaurant
October 7, 2010
Even though I visited the temples on my last two trips to Cambodia, I knew I could not come all the way to Siem Reap without  seeing them again. This time my goal was an abbreviated tour with an emphasis on photography instead of the history which I'd already heard twice. Fortunately, Lori's friend Lynn had booked Dara Ly (Ponheary's brother and licensed tour guide) for a day to see three of the most well known temples, Angkor Wat, Bayon, and Ta Prohm and invited me to come along. Dara is quite an avid amateur photographer and now well known for guiding his clients to the perfect spots for photos.  If you're interested in planning a trip to see the temples, check out my post on "Tips for Visiting the Temples of Angkor."
Angkor Wat:
We began our day around 8:30 am with Dara and the driver waiting for us in front of the guesthouse. Our first destination was Angkor Wat and we arrived at the rear entrance. Most tours enter Angkor Wat through the front, walking across the causeway. While I think this is preferable for a dramatic entrance (especially for first time visitors), the sun rises behind the temple, effectively back lighting it and making a front-on photo almost impossible in the early morning. So, Dara knowing we wanted to take pictures, had us going in through the back which also helped us avoid the early crowds.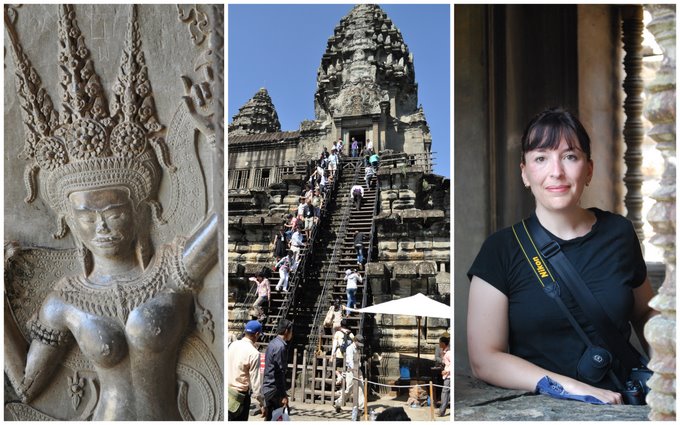 We made our way through the temple, climbing farther and farther up and into the center of the complex. The uppermost center tower is now open to 100 people at a time, strictly controlled by a pass handed out at the bottom. This was closed last time for restoration but I'd seen it in 2002 and I was happy to see it open again, especially with crowd control. On the way out, inside the collonade surrounding the temple, we came across statues being dressed for the holiday.
Our next stop was the outer walls and bridge of Angkor Thom which lead to the Bayon temple, among others. On this bridge there are statues on one side of deities and on the other of demons. The head at the top of the entrance gate gives a little indication of what we'll see at Bayon.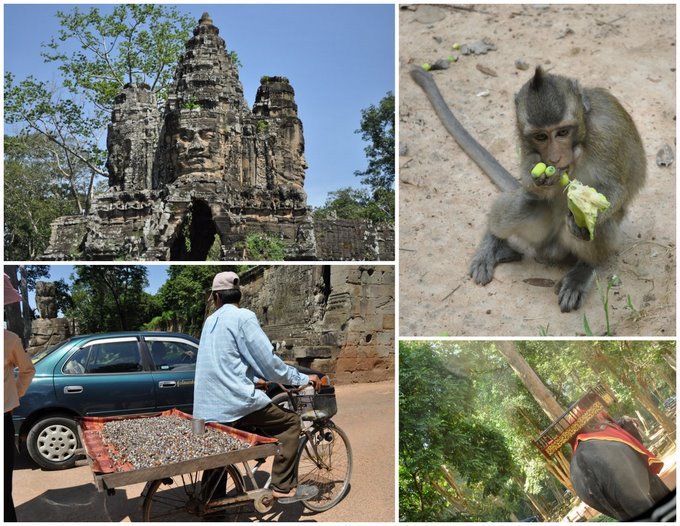 On the way to Bayon, we drive through the forest and stop to check out a local troop of monkeys which are almost always in residence. People do feed them; they are used to this and can become quite aggressive, so be careful. I love the little ones who look like they have a mohawk haircut. Along the way we saw a bunch of elephants which can be hired for a $10 walk between temples. My understanding is that one hotel owns the concession to this ride and these are the only elephants in Siem Reap. I've never ridden them here.
Bayon temple
Bayon is one of my favorite temples and as you get closer you will see why. There are 216 beatific buddha heads here, smiling down upon the world from all directions.
 Here's a short video from inside Bayon temple. In it you can hear the monks in the pagoda across the road chanting:
Khmer Noodle Restaurant:
After Bayon, we went back to the guesthouse and met up with my mom and Lori. We went down to The Passage off Pub street to find many of the restaurants closed for the Pchum Ben holiday which had started today (more on this holiday later). We ended up at a restaurant called Khmer Noodle which is relatively new and one Lori had wanted to try. Upstairs they have a lovely glassed in room with air conditioning (which only seemed to work about half the time we were there), dining tables, and a large couch/cocktail area. We ordered some different noodle dishes (the noodles are all home made there), and a papaya salad. Most of the meal was nothing spectacular, but the noodles with Khmer curry were the best of the bunch. They also have 50 cent draft beer specials which was welcome on this very hot day.
Ta Prohm:
Around 3 in the afternoon we met up with Dara again and drove out to Ta Prohm temple. This is another of the most famous and popular temples because it's the one which looks most like it's been left to the jungle (though this is really selective as to which plants and trees have been allowed to remain). It's also known for being in the movie Tomb Raider. This is one temple which is still clearly under reconstruction. There is a new gallery which is now here and was not in 2007. Dara said there's another building which is currently filled with rubble but is being dismantled block by block to be put back together. Every time I've been here I've seen something different.
Here's a short video from inside Ta Prohm. In it you can hear just how quiet it is there, except for the birds!
After Ta Prohm it was getting late and rather than go somewhere for sunset and I asked Dara if we could swing by the Elephant Terrace because I thought it would be fun for Lynn to see it and the interesting temples in the park like area across the road. It's hard to get from the photos, but these elephants are life size carvings which spanthe length of a platform which is about 1/2 a mile long.
Abacus Restaurant:
I love to eat local food, and it's probably the primary reason I travel, but there comes a time on every trip where I just need a break and something different. Tonight we had dinner at Abacus, a high end restaurant which serves both French and Khmer food. This is a beautiful place, with a lovely outdoor patio, separate outdoor bar (with, as Lori says, "expats solving the world's problems"), and A/C dining room with huge windows out onto the walled garden area. They have nice linens, good stemware, a decent wine list (the owner is a French expat) and excellent service. The meal began with wonderful rolls and butter and a lovely little amuse boucheof a quail egg with pommelo.
Lynn and I shared the Goat cheese salad on little toasts was classic French. For my main course, I had the Duck with a Star Anise Sauce which Lori calls "sex sauce" because it's so good, and I have to say, she's right.  She also swears they have the best burger in town and it didlook good; it was about 1/2 a lb with cheese and bacon on an oblong roll with great french fries.  My mother's roasted lamb shank was slow cooked on the bone, tender, and flavorful. Dessert was an excellent Crème brulee and a decdent chocolate "torte" (more like solid chocolate ganache) with ginger ice cream which was a perfect compliment to the rich chocolate. Abacus is well worth a tuk tuk ride outside the center of Siem Reap. Main course dishes on the French menu are in the $8-$14 range and our dinner for four was about $35 pp which included 2 $27 bottles of Cotes du Rhone and tip.
Abacus; Road #6 to the Airport, turn right on the road at the ACLEDA Bank, up about 100 feet.
To see the trip from the beginning go to the main Cambodia 2010 page.
Related Posts