Feeding My Ancestors; Cambodia's Pchum Ben Festival
October 8, 2010 
Pchum Ben Festival 
This morning we got up at 3am to go out to a pagoda in a rural area about an hour outside Siem Reap to feed our ancestors. Yes, you read that right. 
Today is one of the most important days during the Pchum Ben holiday in which people gather at their pagoda to honor their ancestors with food and worship. This is very similar to All Soul's Day and The Day of the Dead in other cultures. My mother, Lori, and I were taken by one of the foundation's regular van drivers, Den, to his home where the family had been hard at work making packets of food wrapped in banana leaf bundles to bring to the pagoda and they had very nicely made extra for us. 
After stopping at the house to pick up the food and the rest of the family, we drove about a half mile to the village's pagoda and temple. Once there, we went inside the pagoda which was  filled mostly with Buddhist nuns all dressed in white, many of whom had walked for miles to get there. They all came prepared for the duration of the holiday, bringing bedding and some food with them.  
We were the only foreigners there, but everyone was extremely welcoming and it didn't feel awkward at all. Member's of Den's familytook us around to give offerings of  500 riel notes (about 12 cents) to the nuns (most of whom are older widows) and monks who were there, who each gave us a blessing. This money is supposed to help them defray the cost of their long journey and is also a way to pay respect to the dead through them. There were other people doing this with money and gifts of food as well. 

Soon there was movement in the crowd. Den's brother, Denny, took us up to the front of the procession and as honored guests we were asked to carry some of the special offering plates. Then we (about 150 people in all) walked barefoot over to the pagoda with plates of food offerings, candles (this was all still in the dark which is needed to commune with the dead, of course) and incense. My offering was a platter of five small crocks with lids on it. I could not see what was in them, and I could not hold it and lift the lids, but one was ajar and looked like it had cooked grubs in it. 
When we got to the main temple the procession stopped. Everyone knelt or squatted in front of the temple steps while a monk chanted and people replied. I just can't do that flat foot squat like most Cambodians who have done it since birth, so that part was a little awkward with my heavy camera hanging off me and holding the platter aloft, squatting in the dirt. Picturing it makes me laugh even now.   
Next, we walked around the temple three times and then out from the temple compound and across the road to the river where we deposited all the food offerings. As I stood there, I thought about those people in my life who are no longer here in body and hoped that their spirits were there with me in Cambodia in that early morning light along the river.
We returned to the pagoda and a lot of the kids wanted me to take their picture. I didn't want to use my flash so most of the photos came out pretty dark and blurry, and the kids looked like ghosts because they would not stand still (above). You can see what happened when I did use the flash (above, bottom left). 
This was such a special day and I can't thank Den and his family enough for including us. 
We got back into the van, and along with Den, his wife, and their adorable 18 month old son, we drove out to Kompong Khleang fishing village which is about one hour outside Siem Reap. This is not the "Tonle Sap Fishing village" of Chong Kneas which gets busloads of tourists every single day (wow has that place changed since 2002). 
Kompong Khleang is a working village filled with fishermen, women cooking, pigs and chickens, and children playing. People were very friendly and everyone had to wave and scream "hello!" as we walked past. The village is a single road with water on both sides and during the high part of the rainy season, the water covers the road and people get around solely by boat.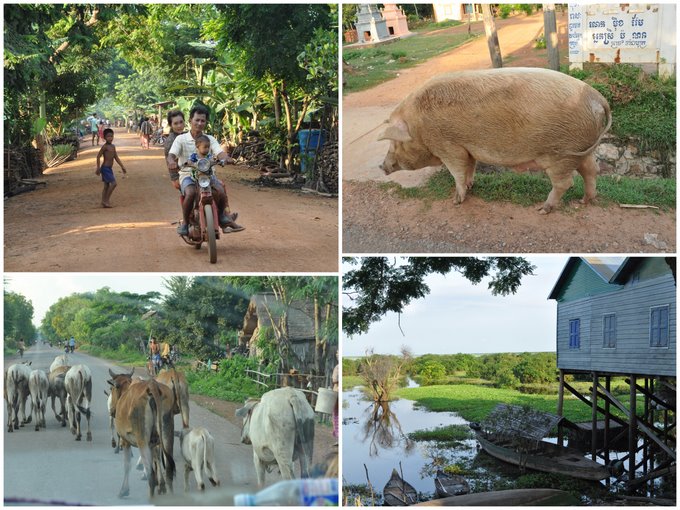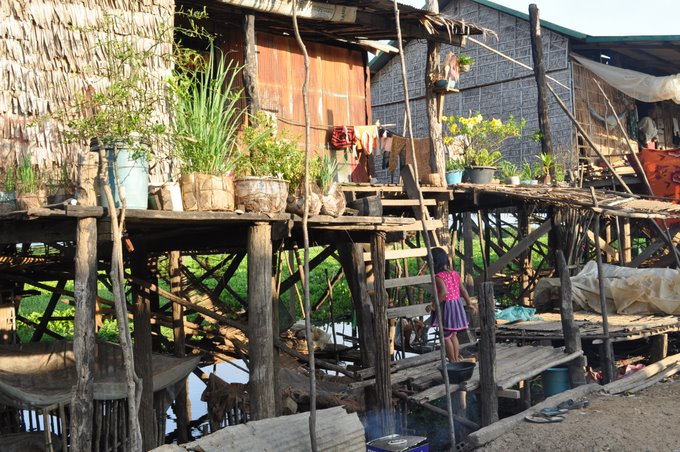 We got back to Siem Reap around 9am and I was so tired I felt like we'd already had a full day. I had to go back to sleep for a while. In the early afternoon my mother and I went downtown for lunch but most of the places we wanted to try were closed for Pchum Ben. We ended up at Selantra which is a few blocks down the road from the guesthouse. 
Here we encountered something unique to Cambodia, at least in terms of restaurant service. I'll call it "We don't have, but…" Usually when a restaurant in the US runs out of something on the menu, the standard is for the server to return to the table, menu in hand, apologetic, and ask what you would like instead. Here in Cambodia, things tend to go a little differently from that scenario. Instead, the server returns to the table and says something like, "We don't have the pork dumplings, so I will bring you the vegetable ones instead."  Um….no. If I'd wanted the vegetable dumplings, I would have ordered them instead of the vegetable spring rolls which I did order. Please don't tell me what you've decided to bring me, let me choose. This was something we saw time and time again while in Cambodia. 
Even though we were the only people in the restaurant at 2pm, the food took an inordinate amount of time to come to the table. Fortunately, when it did, it was very good and nicely presented. Underneath that pile of lettuce and chives standing at attention, was the eggplant and pork I'd been craving all along. It had great flavor; smokey eggplant, savory pork,a bit of heat from some chilies, and the lettuce, dressed in a light vinaigrette, actually enhanced the dish. If you'd like to see a recipe for my version of this dish (sans salad and chives), check out my Roasted Eggplant and Pork recipe over on my other blog, www.formerchef.com. So, while the service at Selantra needs some work the food is very good. Go when you have the time and patience to enjoy the meal. 
Part of my impatience was because I had an appointment back at the guesthouse with Marina, Ponheary's sister. She had recently started serving breakfast on the patio and had asked me if I could show her how to cook eggs, which are not typically eaten for breakfast in Cambodia. She'd also told me that the "pancake flour" she was using was too expensive (of course it was, because it was an imported box mix). I told her I'd show her how to make the pancakes better and cheaper from scratch. 
We spent a lovely couple of hours cookingeggs, omelettes and working on the pancake batter recipe. The eggs were beautiful duck eggs with dark orange yolks and made lovely scrambled eggs. The pancakes took a little work to get right, but guess what? The ones from scratch tasted so much better than the box mix it was noticeable to everyone, even the Cambodians who aren't used to eating "American pancakes." 
 Marina turned out to be a natural cook, even though she has no prior experience. She picked up things faster than most of the cooks I'd worked with in kitchens in the past. 
I made some adjustments to the pancake recipe on paper so we could try it again at another time. The next morning at breakfast, Marina presented me with a freshly made pancake which was perfect. She had re-made the batter to the new specifications by herself and done a great job! 
So, if you find yourself staying at Seven Candles, make sure you order the eggs and the pancakes. And don't miss out on Marina's wonderful version of Num Bahn Chok, (Cambodian breakfast noodles); they're vegetarian and she makes the spring rolls herself. I wish I could have spent more time cooking with her and I can't wait to see what she does in the future. I know it will be great whatever it is. 
For dinner we went downtown to an Italian place on the Passage near pub street called "Trattoria." While my pizza was not so great (limp, soggy, too-thin crust) the pastas were ok, the wine was good, the cheese plate was decent, and the company could not be beat. 
To see the trip from the beginning go to the main Cambodia 2010 page.
Related Posts