Bashi & Blessings, Plus Food At Siem Reap's Old Market
We started our morning with breakfast at the guesthouse and Marina Ly's version of the Cambodian breakfast noodles, Num Bahn Choc. She makes her spring rolls by hand and fries them to order. It's a great way to start the day and I find myself wondering why I can't seem to have a breakfast of noodles when I'm at home.
After breakfast my mom and I headed down to the old market to do some last minute shopping and check out the food center of the market. Most of what's on offer at the Old Market can be summed up in 5 stalls selling souvinirs. Unfortunately, there are about 100 stalls all selling the same t-shirts, silk scarves, figurines, etc. Still we looked (and even bought some things) and then made our way to the center to check out the wet market.
One of the things which struck me was that most of the stal vendors sat on top of their tables. See the photo at the top of the post and below for this. Even though the Old Market is tourist-central around the perimeter, the center food market is definitely for locals. We saw the yellow flowers I had in my morning noodles, the honeycomb we tried at the BBQ place, squirming fresh fish, fruit of every shape and color, and all sorts of chicken parts on offer.
In the center of the market are some food stalls. I wish I'd been hungry and ready to eat because this one (below) looked particularly good.
To get a feel for what it's like to stand in the middle of the market's chaos, check out the short video below.
In the late afternoon we took a tuk tuk out with Lori and Lynn to visit a pagoda inside Angkor Thom near the Bayon temple. This pagoda sits inside the area where tourists must pay to visit the temples of Angkor so we had to get permission to enter without paying. Locals are able to come and go at will of course, but if they see a tuk tuk full of (obvious) foreigners, the police will stop you and ask for your ticket. Of course, we were stopped, but our driver explained that we were going to bring alms to the monks and get a blessing. There is a $100 per person fine if you are caught inside the temple grounds without a ticket so there is an heavy incentive for the police to catch people trying to shirk the law.
As soon as we pulled up at the pagoda another police officer cruised by on his motorbike to make sure we were not stepping foot on official temple grounds. In fact, we were told not to even try to take photos of the temples or we could be fined.
But that not why we were there. We had come to bring offerings to the monks who are not allowed to buy anything for themselves and in return receive a bashi and a blessing. Lori had brought a large basket of goodies (candy, soap, candles, etc) with us and once we arrived, we bought more things from the woman who had a stall set up just for the purpose outside the pagoda. She was also the person ready to make up our bashi (red braided strings to be tied around our wrists) in a flash.
We waited a bit while a local family got a "water blessing" on the steps of the pagoda. This was no mere chanting and sprinkling of water, it was a full dousing with bucket after bucket of water. Mom, Dad and two kids, all dressed in sarongs, got soaked as the monk chanted their blessings over them.
Then it was our turn. We took our gifts and bashi up the wooden steps and into the pagoda. Inside there was a large open space with mats covering the wood floor around the perimeter. Sitting on one of the mats across from the entrance was the Abbott of the pagoda. Our driver spoke to him and he beckoned us forward and indicated for us to kneel.
One by one we knelt in front of him, offered our gifts (via the driver, women never touch monks) and he said a blessing over us and then very carefully (without touching!) tied the red braided strings around our right wrists. I wish I could have taken a photo of the Abbott's old and wise face, because when he smiled, it was like the sun came out. I just didn't feel right taking out my camera in that moment. Sometimes you just have to commit the scene to memory.
Lori tells me the purpose of the bashi is " to collect your 23 souls and keep them in your body. When one gets loose, you get sick or have bad luck." One is supposed to wear the string until it falls off and then leave it where it falls or burn it. As I write this, four months later, my bashi is still on my wrist.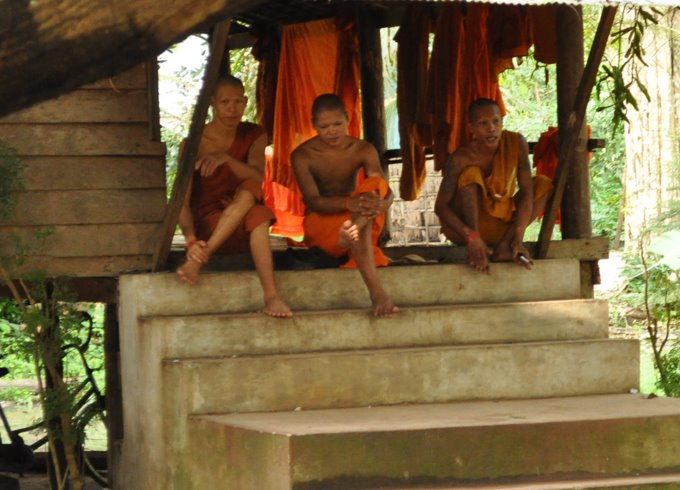 On the way back from the pagoda, we made a quick stop at the Old Market. Almost every day there is a guy set up with a cart outside the market on the street selling the dumplings in the photos below. He's only there between 3 and 5pm and does a brisk business with people on their way home from work. The dumplings are called Nuhm Ko Chai (or possibly "chive") and they're made with glutenous rice dough, and filled with Chinese chives and spinach or maybe morning glory. Pan fried over a wood fire to the point where they are crispy on the outside and served with a sweet and spicy sauce, they were simply amazing and only 1000 riel each (about 25 cents)! Check out the slide show below to see the cooking process.
Our last dinner in Siem Reap was at a new (then) restaurant on Wat Bo road called Kholene. They serve a nice blend of Khmer and French food. They have a nice wine list too. For appetizers we had escargot, a nicoise salad, ahi tuna tartare and grilled and stuffed calamari.   
Main courses included steak, ravioli stuffed with mushrooms, and risotto with prawns. Dessert was banana crepes. Dinner here was about $10 per person.
We went home full and happy, but sad to know we'd be leaving in the morning for Phnom Penh and that our time here in Siem Reap was at a close.
Related Posts