Phnom Penh; Visiting Tuol Sleng/S21 and the Central Market
October 13, 2010
Phnom Penh, Cambodia
I really wanted to like Phnom Penh. Send me to Rome, Bangkok, or San Francisco and I'm in my element. I get restless after a couple of days spent sitting on a beach or in the serene countryside because I'm a city girl at heart. I start to long for the frenetic hustle and bustle of the bright lights.
The last time I was here was 2002, on my first trip to Cambodia with David. At the time, neither one of us liked Phnom Penh, feeling that somehow it could never shake its sinister edge. "This time," I thought, "will be different." I wish I could say that Phnom Penh now sits in my Top 10 Cities, but alas it does not. While it no longer feels as menacing to me, it did not feel welcoming. It's not something I can really pinpoint, it's just a general unease that I haven't felt for a while while traveling. That said, I still think the city is worth a trip. Going to Tuol Sleng to bear witness to the atrocities of the Khmer Rouge is mandatory for the insight it gives into Khmer culture and history beyond the grandeur of the Temples of Angkor.
Because the timing did not work out for us to fly from Siem Reap and make our morning flight out of Phnom Penh, we decided to spend the night prior to departure there. Driving from Siem Reap was less expensive for both of us so we made the trip back again by car, departing Siem Reap early in the morning and saying goodbye to Ponheary, Lori, and the entire family at the Seven Candles Guesthouse. I was sad to go, but I left certain that I would return soon.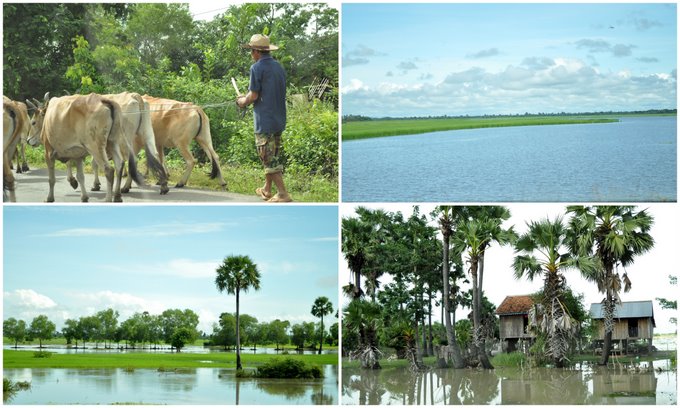 The drive was fairly uneventful except for one point where our driver was pulled over at a checkpoint. We waited in the car for almost 20 minutes with no idea what was going on while he walked across the street to pay a fine or a bribe so we could get back on the road. Because he spoke no English, we had absolutely no idea what was going on and I was so relieved once we got rolling again.
We arrived about 4 hours later at the Pavilion Hotel. This is a small boutique hotel with a lovely pool at its center. As we walked in, we saw a couple from Australia who had also volunteered with the Foundation and spent the day with us going to Koh Ker School and the Srayang Girls Dorm. They were staying at the hotel too and we found them lounging by the pool. We got checked into our room, a standard room with twin beds. It was small, but comfortable and came with free wifi, tv, refrigerator, and everything you would need for one night's stay. If I were going to be there longer, I'd probably opt for a larger room, some of which come with private plunge pools.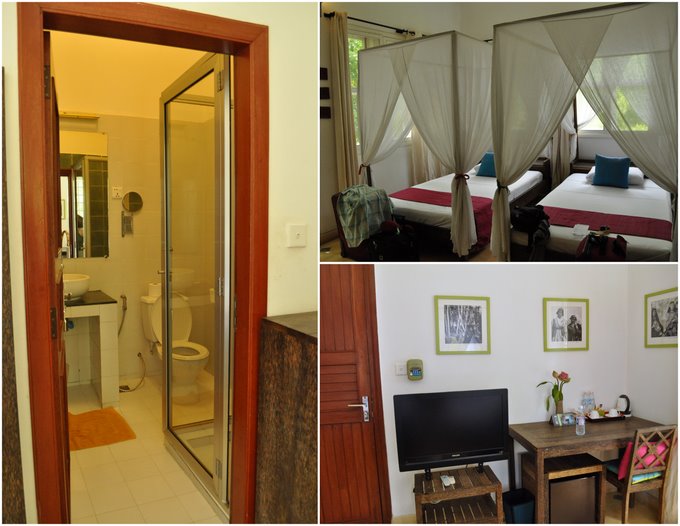 We left the hotel in search of lunch and ended up at Frizz which is only about two blocks from the hotel on Street 240 (this is a street loaded with cute boutiques and restaurants by the way). Frizz is known for its Fish Amok (fish curry with coconut milk cooked in a banana leaf). I had the Amok which was very good and my mom had a chicken with eggplant which was also great. Lunch was about $7 per person with a fruit drink each. Frizz also offers cooking classes in Khmer Cuisine.
From there we walked back to the hotel and picked up a tuk-tuk to take us to The Tuol Sleng Genocide Museum (also known as S21). This was a secondary school that was used by the Khmer Rouge as a prison and interrogation center during the war. Thousands of people died here or were shipped from here to the Killing Fields. They say only 7 people made it out alive. Evidence of the atrocities and torture abounds here; classrooms partitioned into 3×6 cells, some still with shackles, bare rooms with nothing more than a bed and a car battery (you do the math), photos of every single person processed, and a sign with the rules and regulations.
This is my second visit here, and while I came again because I believe it was important for my mother to see it, I hope I never have to go again. It is sad, and distressing, to see what horror one human being can commit on another. But at the same time, it's critical that we never forget how these things can happen and do everything in our power to prevent them from ever happening again. This is Ponheary's mission; to educate every child because she believes education will prevent these types of horrors in the future.
After Toul Sleng, we needed something to cheer us up so off to the Central Market (aka Psar Thmei) we went! Easily recognizable by its famous yellow Art Deco dome,  the market is significantly larger and cleaner than the last time I was here. Underneath the dome, there are dozens of gem and jewelry vendors but we were here to check out the food. Finally, we found it in one of the four "arms" of the market coming off the dome.
For our last dinner in Cambodia, we chose Malis which came well recommended as excellent, high end Khmer food in a gorgeous setting. Our tuk-tuk driver said he knew where he was going. He didn't and took us on a half hour version of Mr Toad's wild ride around Phnom Penh searching for this place. But when we finally found it, we were glad we did, because the food was fantastic (sorry, pics too bad to post) and the setting was beautiful. We ordered what ended up being too much food; a platter of 3 different meats grilled on skewers, roasted eggplant with pork, and a custard-like curry baked in leaves. Dinner was about $14 per person.
The next morning we took a taxi to the airport ($10), paid our departure tax (still $25 per person, in cash only), and did the return trip home on EVA via Taipei.
These two weeks were incredible, both rewarding and fun, and I found myself plotting all the way home, trying to figure out how soon I can go back.
I hope you've enjoyed going on this journey with me. If you feel at all inspired, please check out www.theplf.org and consider making a donation to help keep Cambodian kids in school.
Related Posts