A Tale of Two Breakfasts in Tokyo's Tsukiji Fish Market
Monday in Tokyo
Despite waking up in the wee hours of the morning, we got a later than expected start. Walking to Shinjuku station during the morning rush hour is like fish swimming upstream against the crush of people headed for work in the surrounding office buildings. Inside the station, where we planned to find the JR office and activate our rail passes was chaos. There was no break in the torrent of people coming up from the train and subway lines. The sheer quantity of people inside the station had my claustrophobia button kicking in. We finally found the JR office near the south entrance of the station, but it does not open until 9am so we waited, first in line. Our passes were activated by two 2 people with many stamps and signatures, and finally we had our seat reservations for Kyoto and the return.
Our plan was to go to the Tsukiji Fish market but we weren't in a hurry since I'd read that visitors we not currently allowed inside the popular early morning tuna auction. The number of visitors allowed inside has been limited for a while now, and after the earthquake some people were saying the vendors (some of whom don't like tourists in the market) had been lobbying to keep them out all together. So, while it's a good idea to get their early because the inside section of the market with the fresh fish seems to start packing it up after 10am, we didn't feel the need to get there at the crack of dawn.
The Toei Oedo metro line (the pink one on the map) goes from Shinjuku station to Tsukiji station and upon exiting, turn left and the entrance to the market is right around the corner. It's a pretty vast area and it took a little while to figure out what was going on and where things were. There are side "streets" inside the market area selling dry goods, restaurant supplies and housing some small restaurants. Here we saw the famous "Sushi Dai" restaurant with its notorious 2 hour wait. At about 9:30 am there were about 12 people waiting in line outside and all appeared to be foreigners. We decided to forgo the wait and get some food now so we picked a place a couple of doors down with no wait (which I later figured out was the equally well known Daiwa Sushi), seats at the counter and a sushi chef with a welcome smile and a small amount of helpful English.
It's funny how when I travel my notions of a typical breakfast go out the window. Perhaps it's having my body in a different time zone, but I have no problems eating raw fish or a bowl of noodles for breakfast when that's what's for breakfast where I am. The smiling man behind the counter suggested that we could share a set sushi menu so that's what we did. The set included tuna, squid, uni, unagi, halibut, miso soup and more and was just the perfect amount to get us started. Was it the best sushi I've ever had? No, but the fish was impeccably fresh and the service was quick  and friendly. It was pricy at 3600 yen, that that price was comparable in other places for what we got, however less expensive sushi can be found.
We were in and out in about 20 minutes, anxious to get into the main fish market. Outside, the line of tourists at Sushi Dai had not moved at all.
A guy running a stall selling cleaning supplies across from the restaurant struck up a conversation with us. He pointed to another tiny restaurant across from him and said, "eat there, where the men in rubber boots eat." We peeked inside and the smells were amazing. It's a noodle place and was indeed filled with guys who obviously worked in the market. We took note and set off to see the fish. First stop was a shrine inside the market.
Inside the market was still pretty frenetic, with guys whizzing around on forklifts (DO be aware and stay out of their way) but many of the vendors were starting to clean up their stalls and put away their product. I actually enjoyed watching their process of hosing down the counters, scrubbing the floors and sharpening their knives for the next day. Contrary to what I'd read, this did not appear to be only a wholesale market, I saw plenty of people who looked like ordinary local shoppers. There is also a produce section to the market and that was still in full swing as we walked through it.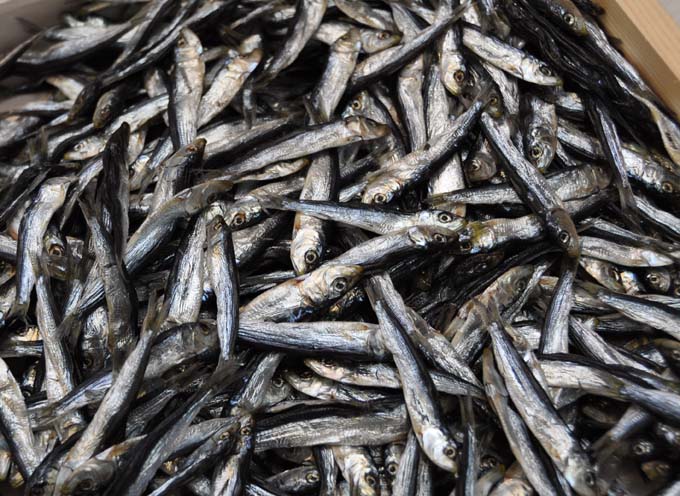 The enticing smell from the noodle restaurant called us back and after walking the market we went and got 2 seats at the counter. The place is no more than 8 feet wide, counter only stretching from one street to the next. There was absolutely nothing in English (no signs or menus) and no one spoke any either, so this presented a little challenge at first. We looked around at what others were eating and David pointed to what the guy next to us was having, some type dry noodles with pork. Almost everyone else was having a noodle soup with very large clams in it. We used David's phone with its translation app to ask for "soup with noodles with meat, no clams" for me.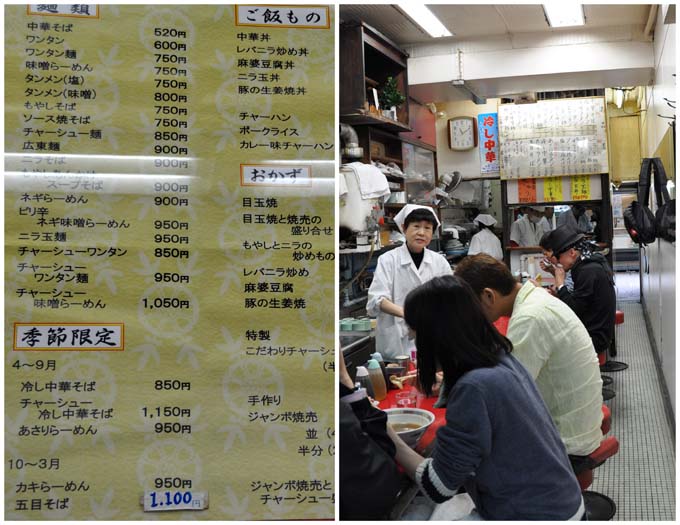 David's noodles arrived first and they turned out to be cold, with a vinegar type sauce, sliced pork, cucumbers, pickled radish and a dab of yellow mustard on the plate. They were excellent. My soup came out a few minutes later and it was the one with the clams. So much for the translation app. No matter, I enjoyed it even though it was not what I'd originally asked for. The soup had a pat of butter on top adding a depth and richness to the already incredibly flavorful broth. It was loaded with slivered fresh leeks and springy yellow noodles. Even the clams were wonderful, though how could they not be there in the fish market? We were given green tea and water. The bill was 1800 yen and shown to us on a calculator.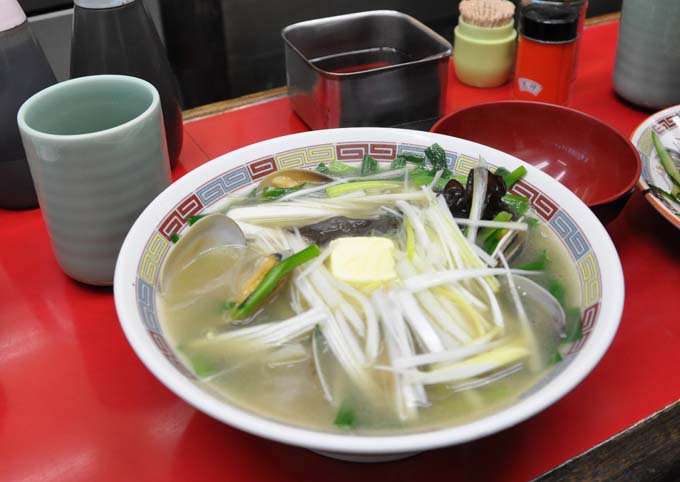 Outside, we spoke to the guy who had recommended this place and he said the soup one typically only served in the spring and summer and is called Asari Ramen. In autumn and winter they serve Kaki Ramen (with oysters).
Bellies full from our two breakfasts we left the market for our next destination, the Asakusa neighborhood and the Senso-ji Temple….
If you are interested in more food and travel, make sure you check out Wanderfood Wednesdays!
Related Posts