A Visit to Senso-ji Temple in Tokyo
After ourtwo breakfasts at Tsukiji market, we took the subway to the Asukasa neighborhood. We stopped in the tourism office, where we picked up a local map and were asked where we were from which was duly recorded. They said they had not had many foreign visitors lately, though today had been a big one with 13 visitors. From there, we walked across the street to the Senso-ji temple.
Senso-ji temple is one of Tokyo's most popular shrines, and dates back as far as AD 628 when a local fisherman found a gold statue of the goddess of mercy, Kannon, in the Sumida River and built a small shrine to her here. Like most shrines, it has a large heavy entrance, the Kaminarimon Gate, and multiple pagodas and halls inside the complex. Between the Kaminarimon Gate and the main hall, are a series of shops selling al sorts of Japanese treats, traditional clothing and souvenirs. In front of the main hall is a large incense burner where people pray over the smoke and to the left, a beautiful garden with a koi pond and Buddha statue.
We walked around for a while, taking it all in, and came across a special art show connected to the museum and the abbot's residence. We were told this was only open to the public for a month and allowed access to the inside gardens which are normally closed. There were no photos allowed inside the museum which had many beautiful painted wooden screens, carvings and a large dragon used in processions. The exit to the museum led into the garden which was absolutly gorgeous, surrounding a pond with a traditional house on the side. We especially loved the view of the Five-Story Pagoda (top photo) from inside the private garden.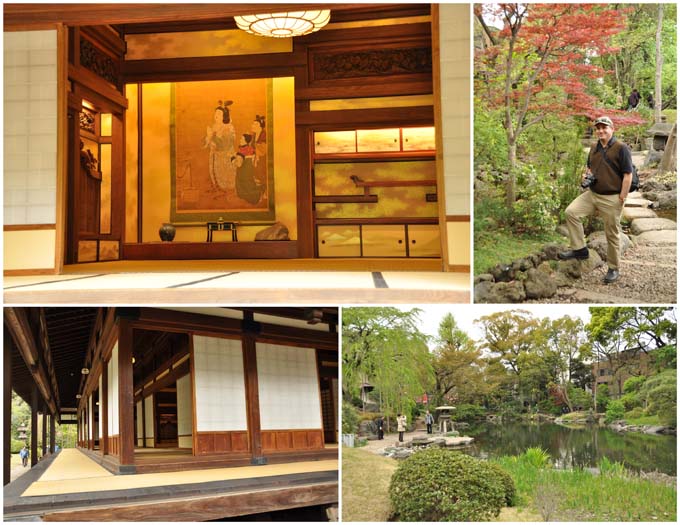 Leaving the temple, we headed toward  Kapabashi-dori, the "kitchenware street" which is loaded with all sorts of restaurant supply stores. Along the way we passed all sorts of other shops, including one with odd (not to them is my guess, just to us) t-shirts and some neat graffiti-style signs.
Kapabashi-dori was interesting, but we were very tired and sore from all the walking and just could not get into it at the time so I don't have any photos specific to there.
 For dinner, we headed out into the neighborhood around Shinjuku station to a restaurant called Watami. It inhabits floors 3-6 of an office building, so take the elevaor up. Watami is an Izakaya style restaurant, meaning it offers dozens of small plates which go well with beer, specifically Suntory Malt beer, the beverage of choice there. I had this place on my list because they are open late, until 3 am and on Fridays and Saturdays, until 5 am. However, we were not partying and went at a respectable 9 pm. the place is a warren of small rooms and we were seated in a "non-smoking" room with 6 tables, two of them already filled.
The first menus we received were all in Japanese, but there are pictures for everything to help you figure out what to order. Later we were brought English menus which helped a little. I noticed the prices on the two menus were different and finally figured out the one in English included tax in the menu prices.
We ordered the Suntory malt beer, of course, along with some gyoza, fried small fish (very much like smelt) and barbecued pork belly. We enjoyed it all, even though the fish were a little over-fried. I would love to come to a place like this with a big group so we could try lots of different things.
 Watami, Nishi-Shinjuku 1-13-1, Kesa Bldg 3-6F. Open 5pm-3am (Fri, Sat -5am) daily. Open Sundays. http://www.bento.com/rev/3200.html
Related Posts