Tokyo's Ameyoko Market and Yakitori with the Local Crew
We all hope for unscripted moments when we travel, don't we? It's those precious minutes when you actually get to interact with someone who lives in the place you have traveled halfway around the world to visit, someone who isn't paid to interact with you (like a hotel employee, tour guide or waiter).
These experiences seem fewer and farther between now that we have up-to-the-minute travel blogs to point the way, yelp reviews to tell us where to eat, and smart phones to guide us on the go. Still, those authentic moments can and do still happen, when you least expect it. And that's how we found ourselves sharing beer and yakitori with a group of guys at a little stand inside the Ameyoko Market in Tokyo.
We had spent the morning in Ueno Park visiting the Tokyo National Museum, which while partly closed due to the March 11 earthquake, was still worth the visit to see the beautiful historical kimonos, art, and archaeological finds (swords, pottery, jewelery, etc.) of Japan. It was raining so we didn't feel like walking through the huge park to visit any of the other sights there; various pagodas and shrines, a lake, and several other museums. We did however, pause to take a picture of this life-sized blue whale outside the National Science Museum. A comprehensive visit to this park could easily take several days in better weather.
The Ameyoko Market is across the street from the South end of the Ueno train station and runs underneath the elevated train tracks. There are two larger pedestrian streets which run parallel to the train tracks and several smaller alleys which crisscross underneath. Legend has it this was a place where black market items could be found, especially after WWII. Now it's filled with everything from discount clothing, to fresh fish and fruit, to small food stalls.
Yakatori Daitoryo in Ameyoko Market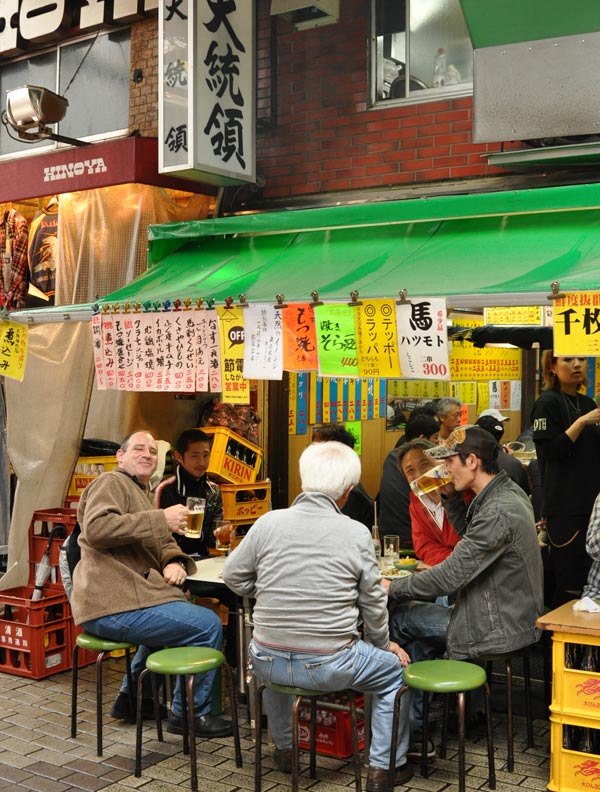 We were strolling though the market when we found ourselves stopped in our tracks by the smell of grilling meat. The mouth watering smell was coming from a little yakitori restaurant called Daitoryo smack in the center of the market underneath the train tracks. We stood there, looking to see what they had and if there was a place to sit, but the signs (hundreds of them) were in Japanese and every seat was taken.
Then, the moment.
There was a small group of guys sitting at the tables in front of the restaurant and one of them said, "sit here!"  We did as we were told, ordered a couple of beers, and were presented with a menu in English. 
Of the five sitting at the table, one of the older gentlemen (in the red jacket) spoke English because he had spent time in the US, and through him, everyone offered advice on what to order.
We ordered grilled peppers (not really spicy even though they looked like jalapenos), grilled chicken, beef, and tofu. We also ordered eggplant which came out pickled and later, some extra beef and chicken because they were really, really tasty. We did not try any off the offal offerings because David is not a fan of what he calls the "nasty bits." One of the older guys seemed surprised that we liked tofu. They were also surprised that I was drinking a beer which gave me the impression that Japanese women don't tend to drink beer.
The two younger guys sitting at the table were bikers and both wearing motorcycle jackets. One of them had a serious crush on our waitress. The three older guys at the table were hard core regulars, drinking whiskey and smoking cigarettes while eating. The five were not friends, but knew each other as regulars at the restaurant.
While we ate they asked us dozens of questions about where we had traveled, what we thought of Japan, and if we had been scared to come after the earthquake and tsunami. We told them where we had been, how much we adored Japan and no, we weren't scared. The gentleman in gray sitting next to me, who smoked like a chimney (the Hi-Lites were his), offered to buy us a second round of beers. I declined but David did not which pleased him. They asked what we did for a living and how old we were (and very nicely acted surprised when they found out my age).
Our lunch was about 3000 yen. These guys were genuinely welcoming and sharing a table with them was a treat. As we walked away, we looked at each other and said, "Did that just happen?"
In the evening we headed out to the bright neon lights of Shinjuku. We wandered, checking out the electronics store and looking at menus of a couple of dozen restaurants, eventually stopping at a place called "Standing Sushi Bar." It's about a block away from Watami Izakaya, on the same side of the street. The restaurant is a tiny place with only a bar at which yes, you must stand (no stools to sit on). But the prices are reasonable, the sushi chefs friendly, and the fish is fresh. We ate our fill for about 1500 yen (though David said he could have eaten more once he saw the bill).
If you like food and travel, make sure you check out Wanderfood Wednesdays for a round up of a bunch of great posts from other food and travel bloggers.
Related Posts