Tokyo Dome, Last Minute Shopping, Food Hall Lunch
On our last day in Tokyo we have about half a day before we have to leave for the airport for a 7pm flight back to Los Angeles. The hotel has allowed us a (slightly) late checkout at 2pm, so we set out to do a little last minute shopping and sightseeing.
The first goal is to find a baseball hat with a Tokyo team logo on it for a friend which turns out to be much harder than it seems. We ask the concierge who, after a bit of research tells us we need to go to an official store at the Tokyo Dome where they sell licensed baseball gear.
Around the Shinkjuku train station there are a few sporting goods stores, but indeed, they only sell plain baseball caps. Using our JR passes, we take the train from Shinjuku station to the Tokyo Dome stop, about a half hour ride.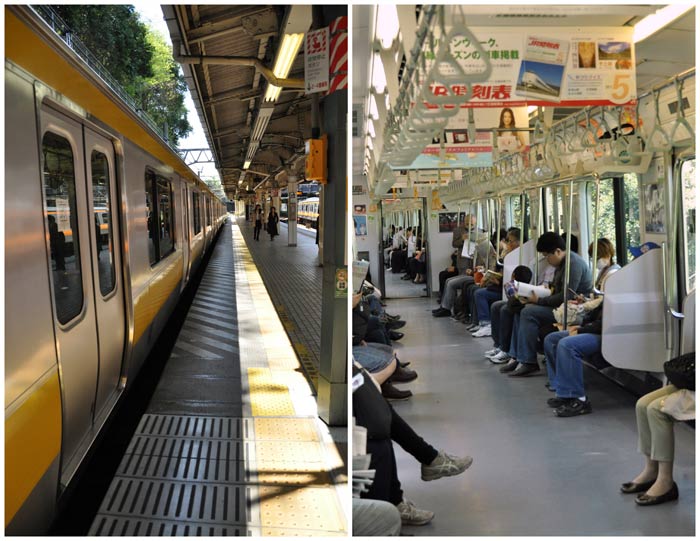 Once there, we find a couple of shops selling a very limited selection of hats which are (to me) crazy-expensive (about $45). David buys one for his friend but thankfully forgoes the one for himself.
On the way back to the train, we pass a street vendor with a cart selling cream filled pastries called obanyaki. We stopped and bought one, really having no idea what it would be like, but it was amazing! Warm, soft and filled with a slightly sweet pastry cream, you can't go wrong there. He was also selling some filled with red bean paste.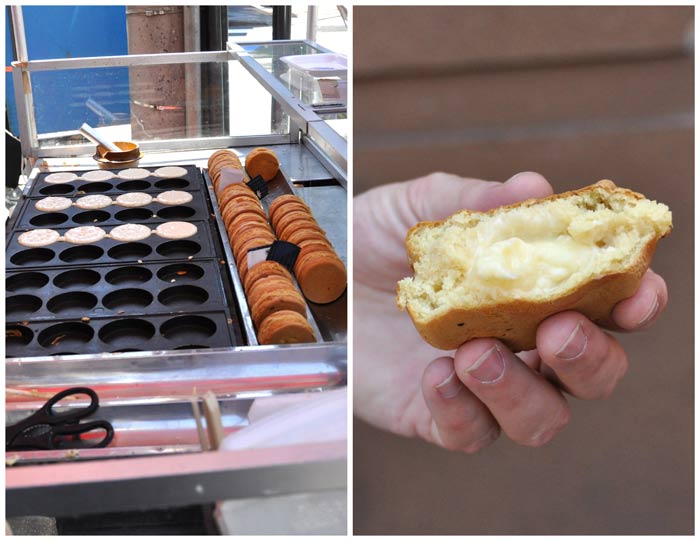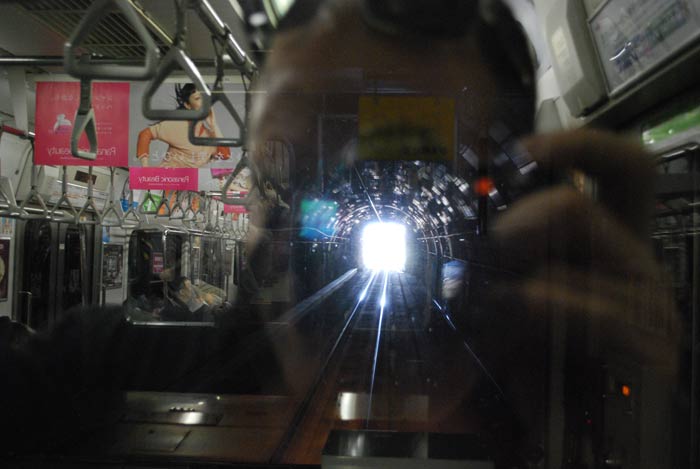 Back onto the train where we went to the Harajuku stop, only to discover that even though it is Sunday, there were almost no people walking around in costume. From there, we took another walk down Takashita Dori and were going to head down to the Oriental Bazaar store, but decided we did not have time. Instead, we found a guy on the corner of Omote-Sando and Meiji-Dori selling vintage kimonos and robes. I bought a vinatge haori, which is hip length with hanging kimono style sleeves and typically worn like a jacket over a kimono.
The one I chose is a very simple and elegant black, with delicate embroidery on the back and lined a pink and white patterned silk, perfect as a dressy cover up on a night out. David chose a traditional cotton yakuta robe in blue and brown. As I paid, I realized that we were spending every last bit of our yen. Thankfully, we already had our tickets for the return airport bus. The only problem was going to be lunch…
We solved the cash dilemma on way back to the hotel, by stopping in one of the department store food halls connected to Shinjuku station to buy an assortment for lunch back in the room; freshly cooked gyoza and sushi made to order. Thankfully, we were able to pay for it with a credit card.
The bus for the airport departs the hotel once an hour, but because of possible traffic they recommend you leave very early. Needless to say, we arrived very early (around 3:30pm) for our 7pm departure. We sat in the departure hall where there's some really cool murals (below) and held on to our rented Mifi for the last couple of hours, then dropped it into mail box.
Our plane was not full and we were able to switch seats with the guy next to the window in my row so that David and I had 3 seats for the 2 of us. I slept more than expected and we arrived back in LA in a record 9 hours flight time.
To sum up the trip in six words; we cannot wait to go back.
Related Posts