Naples Porta Nolana Fish Market and Piazza Dante Farmer's Market
If a city has a market, I'm going to visit it. Having been a chef who specialized in fish and seafood, I'm always attracted to a city's fish market and the Porta Nolana market did not disappoint. It's outside, on the street, and very much reminded me of the La Vucchiria street market in Palermo with the crumbling buildings, artfully displayed food, and vendors in rubber boots calling out  jokes to each other and selling their wares to passersby. We seemed to be the only obvious tourists there, and while we got a few curious looks, no one seemed to care.
We walked from the train station at Piazza Garabaldi to the streets where it starts; Via Santa Maria delle Grazie a Loreto and Via Padre Ludovico da Casoria. Naples has quite a few markets and if you want to see more than what I've seen here, I highly recommend you check out Napoli Unplugged's extensive list of markets in Naples and map of the markets.
Like the shrines in my Naples at Night post, this neighborhood had its own shrines watching over it.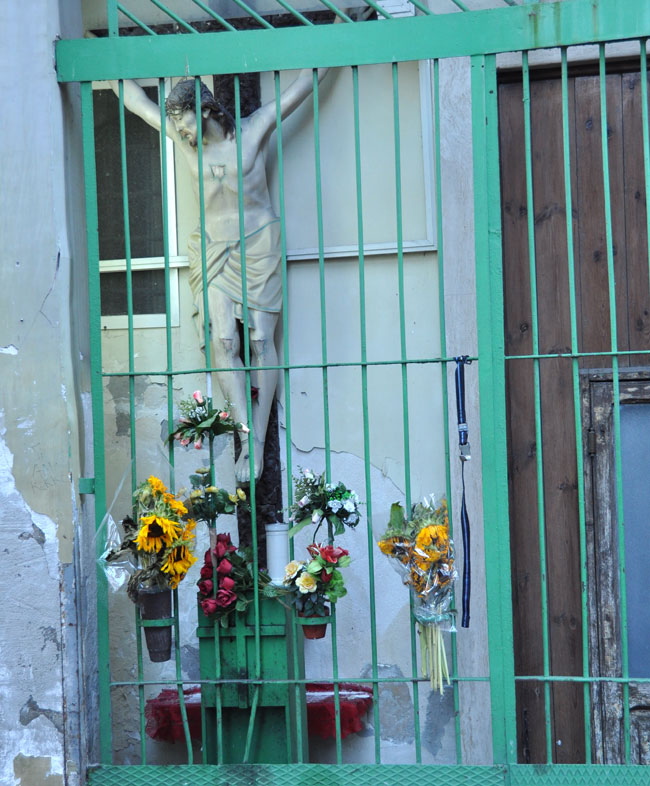 On our first Sunday in Naples we came across a Farmer's market in Piazza Dante. This one seemed to focus on organic and artisanal products only, from cheeses, to meats to bee keeping and honey production. There was even a display encouraging people to grow their own produce.
Related Posts