Food in Rome; Restaurants,the Campo di Fiori Market, and a Giant Mortadella?
One of the best things about being in Rome (besides the 2000 year old monuments around every corner) is the food. Like the monuments, fantastic fresh food is literally around every corner, whether in neighborhood outdoor markets, restaurants, or small specialty shops,  the quality of the food is astoundingly good. That's not to say a bad meal can't be found, but if you do your homework, you can eat very, very well.
One of our first stops was the Campo di Fiori market. Yes, it's touristy, but it's also filled with locals who shop there daily as well as some of the most beautiful produce.
One of my favorite vegetables to eat in Rome is Puntarelle, a bitter green which is usually served raw with a lemony anchovy dressing. In the Campo di Fiori market, you can see how this green is cut, stripped and prepared for purchase.
You can also see how artichokes are cut down to just the small hearts for the famous artichoke alla romana dish. If you'd like to read more about Roman markets, check out my Four Favorite Markets in Rome on my other blog, Former Chef.
The Campo di Fiori is also home to the famous Forno del Campo which is best known for its foccacia. Of course, we had to stop and get a slice which was still warm, right out of the oven.
I'd been wanting to try La Fiammetta since our trip in 2008 when I'd read on Chowhound it had the best eggplant parmesan around. I love anything eggplant, but had not been able to make it to the restaurant on either of my last two trips. This time we went and I am very happy to say we were not disappointed.
The eggplant parmesan was some of the best I've ever had and even my mother who has always said she didn't like it, said she loved this dish. It was the perfect mix of eggplant, gooey cheese, flavorful tomato sauce and a nice crisped top. We also had a mixed salumi plate, my favorite Puntarelle salad and a quartino of white wine. It was the perfect first lunch in Rome, total of 36 euro. Piazza Fiammetta, 10  (between Piazza Navona and Ponte Umberto I).
One night we took the tram over to Trastevere where Katie Parla was hosting a charity wine tasting event. The crowd filled this little wine bar called ilbacocco, mostly with expats, some tourists, and quite a few bloggers. We had a lovely time chatting with Amanda from Revealed Rome and Jason from Walks of Italy.
Along the way there we could not help but get pulled into this neighborhood salumeria. Look at the guanciale and the cheeses! Places like this are all over Rome and one of the reasons why I love it here so much.
On our last day we did a lot of walking and managed to get ourselves lost while trying to find a well known restaurant called La Taverna Dei Fori Imperiali. The place was packed with what looked like many local families having the traditional Sunday lunch as well as their share of tourists. We waited about ten minutes and were seated at a table right next to the kitchen window where the food comes out. Many people would hate being seated there but I love it because I get to watch what's going on. There was an older gentleman in the kitchen and the rest of the family seemed to be working the floor.
We each ordered a pasta; for me, my old favorite, Bucatini all' Amatriciana and for my mom, one of their daily specials which included hand made pasta and a sweet/sour eggplant sauce. We also had an their artichoke alla Romana which was small, but good.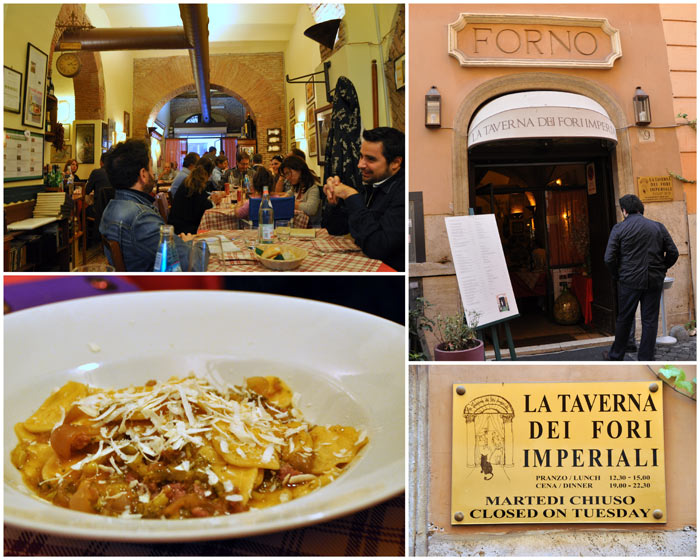 And now I leave you with this, possibly the World's Largest Mortadella? I don't know for sure, but it could be…
Related Posts