Travel Logistics and Resources for Naples, Paestum and Rome
Below is information on the travel logistics for for an eight day trip to Italy in October 2011 to Naples, Paestum and Rome. These are our experiences with our specific transportation choices and accomodation.
To see the entire trip, start on the Naples, Paestum and Rome 2011 page.
Transportation:  Planes, Trains, and Automobiles
PLANES:
LAX-FCO-LAX on Air Canada
We flew Air Canada from LAX to Rome. My mother went two weeks ahead of me on a frequent flyer ticket and I bought my ticket to coincide with her flight home. The seats were fairly comfortable with a larger than average pitch (32″) in economy and seatback video on demand with tons of choices. Some of the economy seats also have A/C power ports and USB ports for charging your electronic devices. Headset jacks are the standard ones for an MP3 player, so bring your own because they charge for headsets (and pillows, and blankets, and food) on the US-Canada portion of the route. Those items are free on the Canada-Europe routes.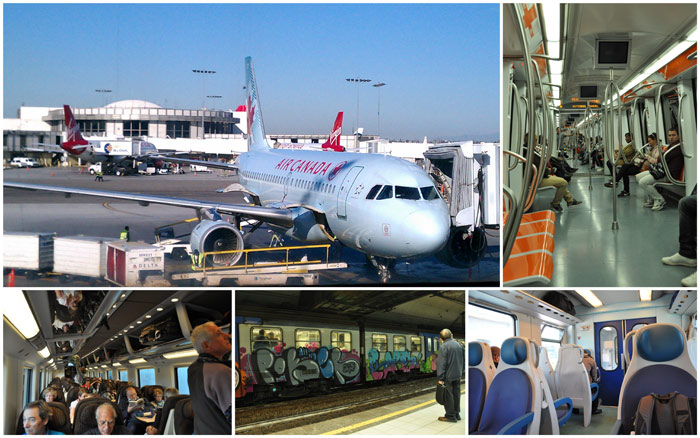 On the way to Rome I flew through Montreal and on the way back we flew through Toronto. Both airports have free wifi which is nice and way better than LAX which still does not. In Montreal I had my passport checked but my luggage was checked through to Rome. In Toronto we had to get our luggage, go through passport control for US entry, then through customs, then re-check our bags. Thankfully we had a 4 hour layover because this process took up almost half of it. In Toronto, my mother could have gone through customs in a flash using her Global Entry pass, but since I didn't have one, she waited with me. I now have my own Global Entry Pass and I'm good to go!
TRAINS:
FCO-Termini (Rome's central train station)
On arrival into Rome, I took the "Leonardo Express" train from FCO to Termini for 14 euro. Don't forget to validate your ticket in one of the machines before getting on the train or you could face a large fine.

Rome-Naples-Paestum-Rome
We didn't rent a car this trip and instead just stuck to riding all manner of trains in the Trenitalia system from the super fast bullet train which sped us from Rome to Naples (and back) in just over an hour each way to the commuter rail line which took us to Paestum. The tickets from Rome to Naples were 45 euro each, bought same-day, but if you buy them in advance you can sometimes get them 2-for-1 or at least a little discounted. The slower trains take an hour or two longer but cost less (about half). You know the saying, time is money and for us, it was worth the extra money to save the time and arrive earlier. The commuter rail tickets from Naples to Paestum were only 6.20 euro each way.To get to Rome from Paestum we had to take the train back to Naples and switch to the fast train to Rome.
Commuter Rail, bus, and metro
We also took the circumvesuviana line from Naples to Herculaneum. We bought day passes for Naples bus and metro system and did the same in Rome. In Pasteum we bought bus tickets to Agropoli and then waited along side the road in front of the cafe, for the bus to come when it felt like it. Trying to get the bus back was an ordeal worthy of a separate blog post.
Automobiles:
In Naples we took a cab from the train station to the apartment and it was a set 10 euro. On the way back to the train station, the guy ran the meter and it was 7 euro.
For the trip back to FCO I booked a car to pick us up at 8am (for our 11:30 am departure) using RomeShuttleLimosine for 40 euro (only slightly more than the two of us taking the bus to Termini and then the train to the airport). The service was "ok" but the guy was 10 minutes late and frankly a little weird. In the past I've used RomeCabs but they were 10 euro more for 2 people. Next time I would call RomeCabs.
Accommodations
In Naples and Rome we rented apartments for 4 and 3 days respectively and in Paestum we stayed in a hotel, Il Granaio dei Casabella.
La Stanza di Dante
The Naples apartment was called Le Stanza de Dante and was right at Piazza Dante. The location could not be better and we walked everywhere from there or took the bus. The central area of Naples is now closed to most traffic and the street which fronted the apartment is where the traffic had to turn so there was always a police presence there.
The apartment was just fine for our needs and fit our budget well. It's listed as 3 bedrooms and two bathrooms, but technically two of the bedrooms are lofts, one over the living room, one over the master bedroom, so they are not private. The space would probably be fine for families with kids or teens. The main bedroom has a queen sized bed with one of the hardest mattresses I've ever slept on. The loft above it has a twin bed and the other loft has two twins. All have very hard mattresses, almost like sleeping on the box springs. For a couple of nights I slept in the loft over the living room and put extra blankets on the bed for cushioning. Be careful on the spiral staircases, they are slick. There is a ton of storage space (a wall of closets) in the bedroom.
The bathrooms are ok, but the small one, while it has a shower, would drench the entire room if you actually used it. The other one had good hot water and pressure, but the shower did not drain well, and the bracket to hold the shower head on the wall was broken so it was impossible for anyone over 5 feet tall to stand under it (my mother had no problem with this). There is a washer/dryer combo machine. Do not use the dryer. You could blow on your clothes and they would dry faster.
The only natural light coming into the apartment is from the front windows on the balcony. The kitchen is serviceable with a good sized refrigerator, stove and oven. The stove had to always be lit with a match or lighter and there's very little counter space so I think it would be hard to cook a full meal there. We never made anything more than coffee. The kitchen could benefit from a cutting board, some dish towels and perhaps a narrow table to serve as additional counter space (there is room along one wall). No wifi offered. There was a TV but it only got channels in Italian and we never watched it. The apartment is on the 2nd (3rd US) floor with a lift. The prices are very reasonable for the location and space offered.
Il Granaio dei Casabella
This is a small hotel within walking distance of the ruins at Paestum. Location here was important for us because we did not have a car. The hotel picked us up from the train station and brought us back when we left. It's a lovely place, in an old converted farm house and barn. There is a separate apartment available in the old grainery building which is like a circular tower. Our room was nice, on the back of the house with a view of the garden, separate glassed in sitting room and additional exterior entrance. The rooms are filled with antique wood furniture, have a small refrigerator and a TV. There is wifi available for free but it seemed to be hit and miss. One disappointment is that we had booked a room on the front of the building which has views of the Paestum ruins but when we arrived it had been given to someone else.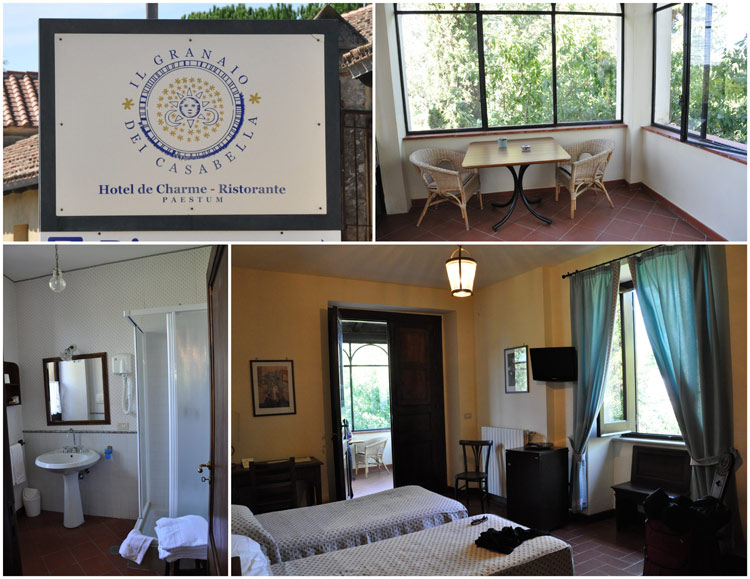 One of the reasons we'd booked this place is because it has a restaurant which got raving reviews (in a town where there are not a lot of dining options). Unfortunately, at the time we were there someone else had taken over the kitchen and the food was disappointing. We were assured by the front desk manager that this situation was changing and they were bringing back the woman who had been cooking there for years. I hope so.
The staff and owner are very accomodating and friendly. We spent a good deal of time talking to the woman who manages the hotel about their plans for changes and the things which appeal to travelers. When we arrived we were offered complimentary coffee in the breakfast room and drinks on one of the evenings. The public areas are lovely and comfortable and the breakfast room is sunny, overlooking the garden. Breakfast was good with options like yogurt, fruit, home made breads and sweets, and excellent coffee.
Coronari Lauro
In Rome the apartment was called Coronari Lauro on TripAdvisor and Corlau on the Guest in Italy website (which is where we rented it). I think it's also listed on the SleepinItaly website. It's on a wonderful street, Via dei Coronari, a little north-west of Piazza Navona. The the apartment is beautifully decorated and filled with natural light in every room. There is only one bedroom with a queen bed and one bathroom. The couch is also a pull out bed. The bed in the bedroom, while still firm, was the most comfortable of the trip. There are two small balconies but we did not use either of them (I can't remember if they had chairs and tables or not). The bedroom has ample closet space.
The bathroom is very small and the shower, even smaller. I don't know if anyone over 150 lbs would be able to shower comfortably in there. They could really use one of those shower caddies to hang off the shower head because there is no where to put soap or shampoo and it's impossible to bend over to reach anything set on the shower floor.
The kitchen is nice, though very small and only had two electric burners, a mini refrigerator, a teeny-tiny sink and no oven. Again, we only used it made coffee. There are no fewer than 4 separate trash bins and written instructions in English as to what goes where.
I would stay here again in a heartbeat; the location is fantastic and the apartment is beautiful. There is one drawback which might prevent me from returning however; the apartment is on the 4th floor (5th floor US) with no lift. This means walking up and down 74 stairs every time you leave the apartment. That may not sound bad, but after a while it's tiring. The apartment does not offer wifi and does not have a washing machine. It's also a little expensive (though maybe not for Rome and its location) and prices drop substantially in the low season.
WiFi and Internet Connectivity
After renting the MiFi wireless hotspot on our last trip to Japan, I was spoiled. I found having a MiFi in conjunction with my wifi enabled smartphone to be an invaluable travel tool. We used it to find restaurants, find ourselves when lost and stay connected via email and social media. When the people at TEP offered to provide us with a similar MiFi device for this trip, I was thrilled.
My mother had the device for the first two weeks of the trip and it worked well for her. She even skyped me on my birthday and I was able to see her room in Sienna. When she got to Tarquina, a small town near Rome, the device rarely worked due to lack of signal. The device worked well on the train to Naples, but in Naples our signal in the apartment was infrequent and even when the device said we had a full signal with 3G access, there were many times when it just would not work.
Thoughout the rest of the trip we never knew when we'd have a connection and after more than a dozen emails back and forth to TEP's tech support, we never cleared up the problem. When it worked, it was fantastic. We were able to connect two wifi enabled phones and two netbooks at the same time. But when it did not work (and device said it should be working), it was frustrating to say the least.
Resource Links:
DK Eyewitness Travel Guide: Naples & the Amalfi Coast
DK Eyewitness Travel Guide: Rome
Chowhound -Food and Dining in Italy
Specific forum posts and threads:
A trip report with great food recs for Naples: http://www.fodors.com/community/europe/bruce-and-marija-go-to-naples-alba-neive-turin-florence-and-paris.cfm
Paestum: http://www.culturacampania.rai.it/site/en-gb/Cultural_Heritage/Archaelogical_areas_and_Nature_parks/Scheda/paestum_area_archeologica.html
Free things to do in Naples via www.italylogue.com
Travel Insurance:
More and more I find myself considering travel insurance before each trip (a factor of getting older?). I recently discovered World Nomads and I think they offer the best bang for the buck for trips both short and long so this is what I now buy before we travel internationally.
* Disclaimer; wired2theworld is a World Nomads affiliate so if you click through and buy from here, we get a small commission which helps support this blog. Thanks!
Related Posts