Visiting the Suleymaniye Mosque in Istanbul
During the planning process for this trip I did a lot of reading, both online and in the DK Eyewitness Istanbul
 guidebook. I also discovered Rick Steves' app which I downloaded to my phone and then listed his podcasts on Turkey (and Italy) in my car. I've never been a huge fan of Rick Steves' books or TV shows, but I'll admit I really enjoyed listening to the podcasts. On one of the podcasts he interviews the couple who wrote his Istanbul guidebook. One of the things which stayed with my from listening to that program was that Lale Aran said she thought the most beautiful mosque in Istanbul is the Suleymaniye Mosque. So of course, I made it a goal for to see if for myself while we were there.
We walked to the Mosque after walking through the Spice Market. While a part of the walk is uphill, it's not difficult and we wandered though a neighborhood which sells (wholesale) all the trinkets sold in the tourist areas (note, this is a great place to buy a set of 10 key chains for the same cost as 1 or 2 in the grand Bazaar, but more on this in a later post). I believe this street is called Uzuncarsi Caddesi, and if you stay on it, it will take you right to the Grand Bazaar.
We arrived late in the afternoon, right as the call to prayer was happening. View the video to hear the call to prayer and see the outside of the mosque where the fountains are for ablutions.
We checked out the courtyard and then entered the mosque from the main entrance as there was not separate visitor's entrance.
It really is stunning inside. Built between 1550 and 1557, the mosque is a memorial to Suleymaniye The Magnificent. The height of the dome is exactly double its diameter. Because there was a service going on at the time we were there, we sat on the floor quietly, just listening and taking in our surroundings.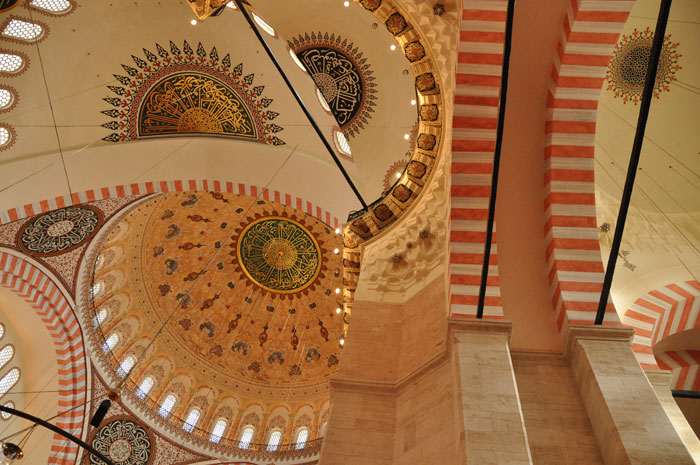 When people say things like "amazing" and "awe-inspiring", this is what they are talking about. The level of detail here, and thus the level of devotion by the artists who created it, is truly astounding.
According to my guidebook
, the imperial mosque "was not only a place of worship, but also a charitable foundation, or kulliye. The Mosque is surrounded by its former hospital, soup kitchen, schools, caravanserai, and bath house." In its heyday, this complex fed and cared for over 1000 poor people a day, regardless of their religion.
Outside the back exit of the mosque is a large lawn area and one of the best viewpoints over Istanbul.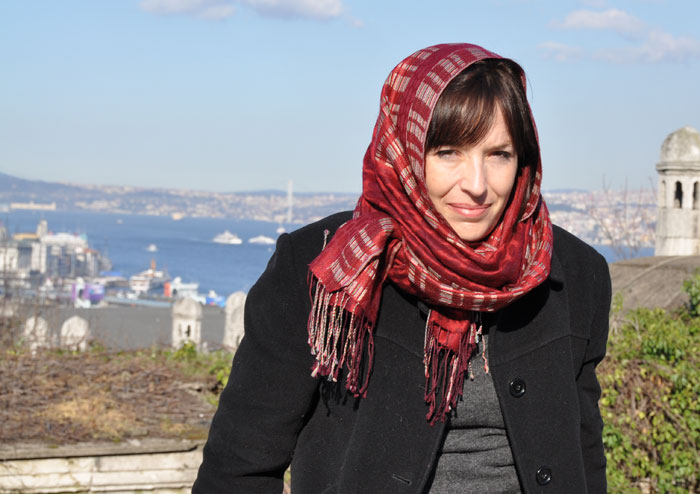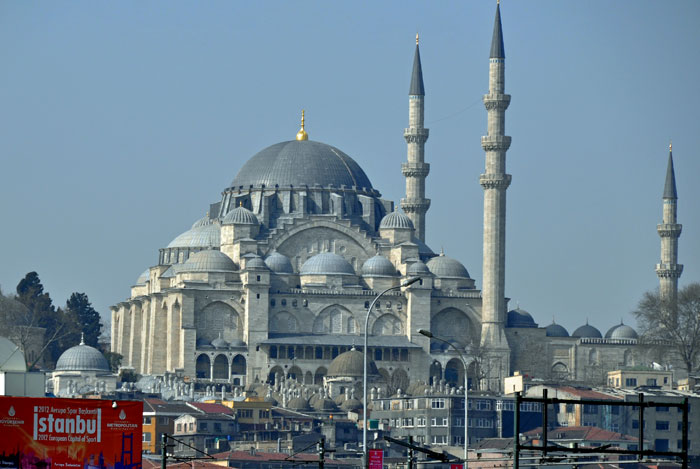 The Suleymaniye Mosque sits high upon a hill and can be seen from almost anywhere in Istanbul.
If you missed it, make sure you check out the post on the Blue Mosque which includes tips on visiting mosques for non-Muslims.
Related Posts