Istanbul Markets; Bazaars and Walking Streets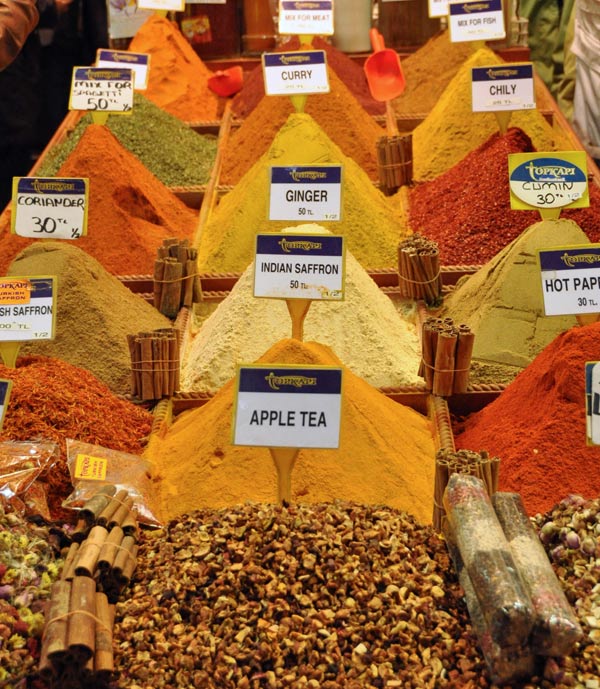 Istanbul may be known for its famous mosques and as a cat heaven, but it's also well known for its maze-like bazaars. At the intersection of Europe and Asia, Istanbul was long on the East/West spice and trade routes and of course became the place to buy and sell everthing from spices to fabrics to precious metals.
The Grand Bazaar is like a giant shopping mall, albeit an ancient one where you can bargain for what you buy. Personally, I found it a little more than overwhelming. I did end up bargaining hard for a few unique scarves and was happy with my purchase, but keep reading to see where we found the better options for souvenirs.
There's over 600 years of history in this maze of covered streets and looking at the blue tiled arches and the glittering lanterns, it's easy to imagine another, more exotic time. Now, the streets are crowded with knickknacks and vendors looking to make a tourist buck.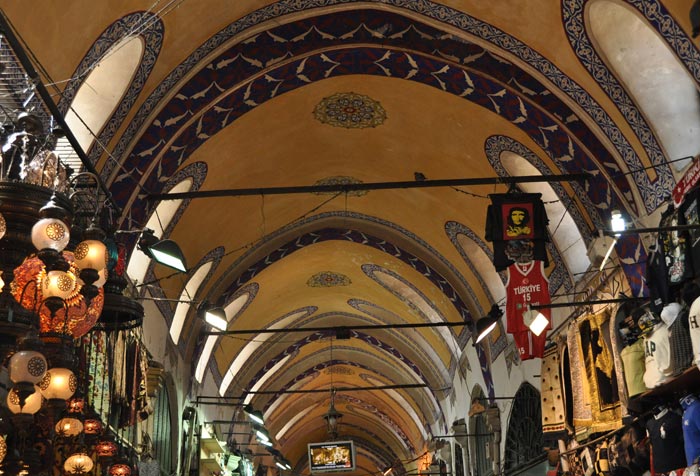 Don't get me wrong, the Grand Bazaar wasn't all bad, just crowded and filled (mostly) with things we did not want to buy. While we there, we did have tasty lunch at a place called Karamehmet Kebap Salonu located in the Ic Cebeci Han, a quiet courtyard on the west side of the complex. The restaurant, recommended in the fantastic Istanbul Eats
 book, had fresh kebaps and salads, and the waiter (guy in white hat below), upon seeing the book in my hands, took it from me to proudly show me his photo on page 46. Two kebap plates, bread, mixed salad, water, and fresh squeezed orange juice and Turkish coffee brought from the tea house next door was about 45 TL.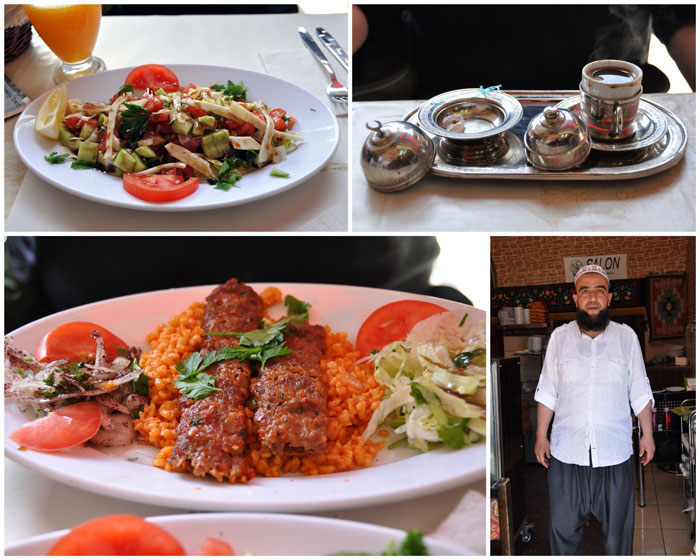 The Spice Bazaar feels much more manageable in scope than the Grand Bazaar. This L shaped building has also been there for hundreds of years and was known as the Egyptian Bazaar because it was built from taxes collected from Egyptian imports.
While I didn't buy any spices here, I did buy some soft, 100% Turkish cotton scarves and some inlayed mosaic mirrored compacts to give as gifts to girlfriends (and keep for myself).
On the same day we visited the Spice Bazaar, we walked up to the Suleymaniye Mosque and along the way we found ourselves going uphill though the back streets behind the Spice Bazaar. This appears to be part of the wholesale district, supporting what is sold in the tourist markets as well as everyday goods. The main street we walked up was Uzumcarsi Caddessi.
Along the way, we passed a small store selling nothing but glassware and we stopped to check out the sets of tea glasses stacked up out front. This was clearly not a tourist store and while the glasses weren't that fancy, they were nice and affordable. For 27 TL we bought a set of 6 silver rimmed glasses, 6 silver rimmed saucers and six mini teaspoons. This did not feel like a place to bargain, so we didn't.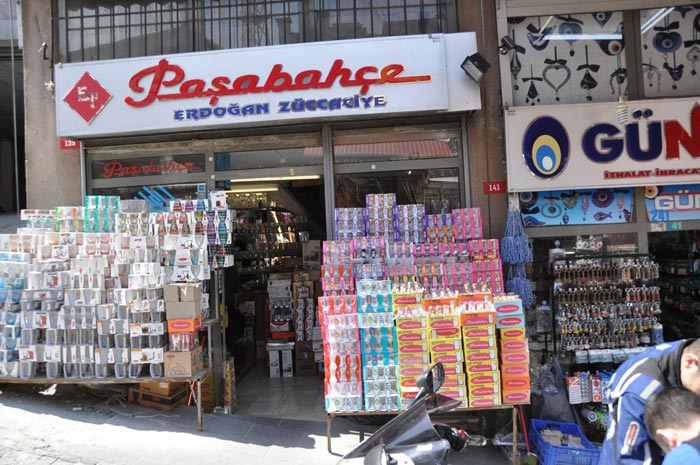 If you want to buy key chains to give away as souviners, this street is where you want to go. There are stores filled with nothing but hundreds of different types of keychains, in bulk. Skip the ones in the Grand Bazaar that are 4TL each and buy 10 for 10 TL here.
Hat store. I'm not sure I really understand the sombreros (below).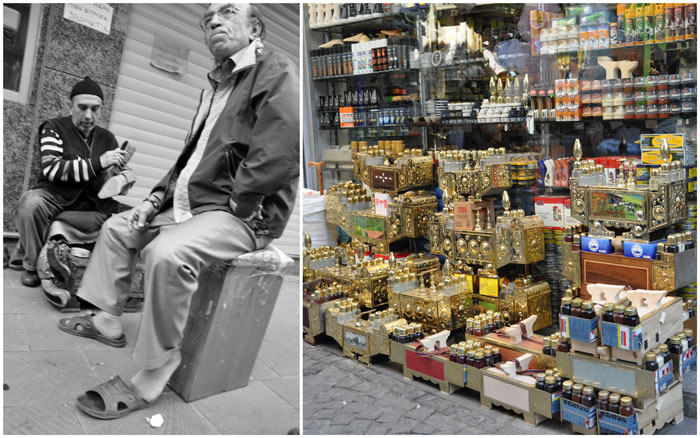 I would be remiss if I didn't mention the pistachios in Turkey. Both of us liked pistachos before coming here, but once we tried them in Istanbul, we were not only converts, but obsessed. The roasted, salted, and de-shelled pistachios we bought here are by far the best we've ever eaten. There are stores all over Istanbul like the one pictured below which sell mostly nuts and dried fruit, and I swear those pistachios are addicting. You can buy them in vacuum packed bags and they make a fantastic edible souviner. Since we've been home we've searched high and low in Los Angeles for Turkish pistachios and only recently found them, but only in the shell.
My takeaway from shopping in Istanbul is this; go see the Grand Bazaar and the Spice Bazaar for the history, and if you see something you really like, of course, buy it. But also spend some time shopping just a few blocks away and save yourself a lot of money.
Istanbul Tours:
Related Posts