The Food Of Turkey-Restaurants in Istanbul
Last but not least, we get to my favorite part of travel, food! I know I've said it a million times, it's all about the food, and thankfully Turkish food did not disappoint. If you're interested in food markets, then you may want to check out my post on my other blog about the Markets in Istanbul; Kadikoy Food Market and Galata Bridge Fish Market. Here, I'm going to share with you some of our favorite restaurant experience in Istanbul. Click here see where we ate in the maze of the Grand Bazaar and here for some of the food available in Selcuk (Ephesus).
In researching where to eat in Istanbul, one place kept coming up over and over again;  Ciya Sofrasi (Guneslibahce Sokak 43, Kadikoy; 90-216-330-3190; www.ciya.com.tr). This restaurant actually has 3 separate store fronts on the same Kadikoy street. We took the ferry over to the Asia side of the city, to the Kadikoy stop (a fun trip in itself). The restaurant has both a menu in English, and steam tables where you can just point at what you want. One of the options is the mezze plate, where they weigh the plate after you select your choices to determine what you pay. I think all the cold mezze are vegetarian, so this restaurant is a good choice for those who don't eat meat. We ordered from both and got a delicious selection of food.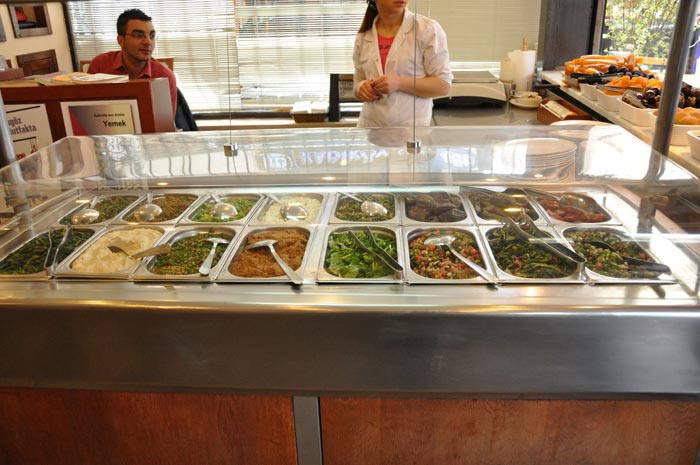 I read about Ficcin in the Istanbul Eats: Exploring the Culinary Backstreets
 book. Dumplings filled with meat covered with a yogurt sauce and chili oil? I'm sold! And yes, they were as good as they sound. According to the book, this is a dish from the Caucasus mountains. Ficcin is in lower Beyoglu, off Istiklal Caddessi at Kallavi Sokak 13/1-7/1. Open daily.
We arrived at Datli Maya on a busy Friday night to find the tiny restaurant packed to the gills. Rather than wait for a table, we got our food to go. The restaurant comes highly recommended by Robyn at the eating Asia blog, and what we tried, including the pizza below from their wood fired oven was good. My mother had several meals there a month later and enjoyed them as well. Datli Maya, Türkgücü Cd 59 Firuzağa Mh., 34440 Istanbul, Turkey
Nar Lokanta restaurant is located inside a high end department store near the Grand Bazaar's Nuruosmaniye gate. The menu is a modern take on Anatolian cuisine and supposedly features all-natural regional products. The interior is also very modern and the service, very professional. This was probably one of our most expensive meals made only slightly odd by the fact that we arrived incredibly early for dinner and were the only people in the very large restaurant. Nar Lokanta; Ç. Nuruosmaniye Cd 65 Mollafenari Mh., 34126 Istanbul, Turkey Monday-Saturday, 12:00pm-12:00am; Sunday, closed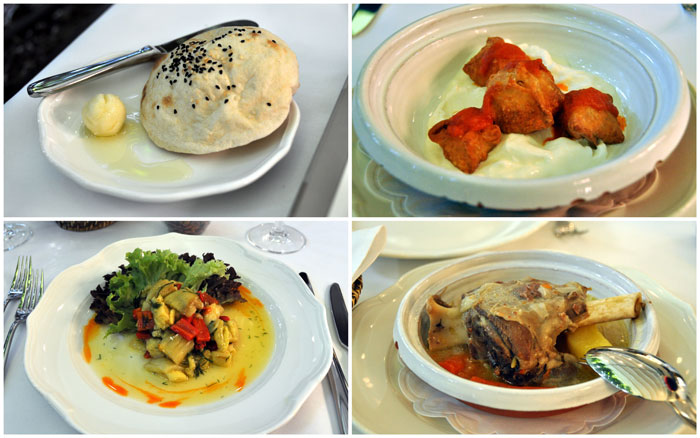 We ate at the Mesale Cafe (Arasta Carsisi 45) twice. It's in Sultanhamet, right inside the Arasta Bazaar. One of the best things is that they have a woman who sits there hand making fresh Gozleme to order. Of course we had to have one (or two) with spinach and cheese thankyouverymuch.
At Mesale, we also had chicken shish, flatbread, and a fantastic eggplant dip. They have hookahs for rent if you so desire.
We went to Sultanahmet Köfteçisi on our first night in Istanbul. Its location, right in the center of Sultanahmet made it an easy choice to walk to from our hotel and we were not disappointed. There's not much choice on the menu, but that's fine. We had grilled lamb shish kabab, grilled kofte meatballs and a white bean salad washed down with coke in tiny bottles (no alcohol served here). It was a perfect first meal.  Sultanahmet Köfteçisi; Divanyolu Caddesi 12A, Sultanahmet (the main street with the tramway) Tel: +90 212 513 14 38. Open: Daily from 9 a.m. till 11 p.m. Credit cards are accepted. www.sultanahmetkoftesi.com
One night we had pudding for dinner. Yes, it's true. We'd had a late afternoon "happy hour" with a couple of Efes beers and that, combined with jet lag had knocked us out for a few hours. We woke up late, not very hungry, yet went out in the rain to get something. We ended up at this tea house, almost right next door to  Sultanahmet Köfteçisi. In their window, they have shelves of multi colored puddings and as you enter the shop, there's a candy section filled with freshly made Turkish delights of all flavors and colors. We had tea and pudding and it was delightful.
Related Posts