Color Me Blue, Majorelle Blue, in Marrakech
Lush. Cool. Blue.
It the middle of Marrakech's torrid heat and swirling chaos is a place best described as an oasis by those three short words above.
The Jardin Majorelle, or Majorelle Garden, was built as the private residence of painter Jacques Majorelle in the early 1920's in a beautiful mix of Art Deco, Cubist and Moorish Moroccan style. The brilliant cobalt blue used all over the property was so unique it eventually came to be known as Majorelle Blue.   The property was purchased in 1980 by designer Yves Saint Laurent who restored and enhanced the gardens. Majorelle's former art deco studio is now a small museum (which we did not visit) filled with Berber arts and crafts collected by Saint Laurent and his partner Pierre Berge.
Upon entering the front gates you find yourself in a forest of bamboo so tall it all but shades out the searing sun above. It's suddenly cool and benches beckon you to sit, rest, breathe.
Then you notice the colors; electric yellows and blues, lush greens and bits of hot red, yet it's still peaceful inside the walls. Over 300 species of plants are tended by a large team of gardeners and range the spectrum from bamboo to succulents to water lilies to desert cacti. There's a lovely indoor/outdoor cafe for tea and pastries and water misters to help mitigate the heat.
A couple of hours here offers a peaceful respite from the world outside.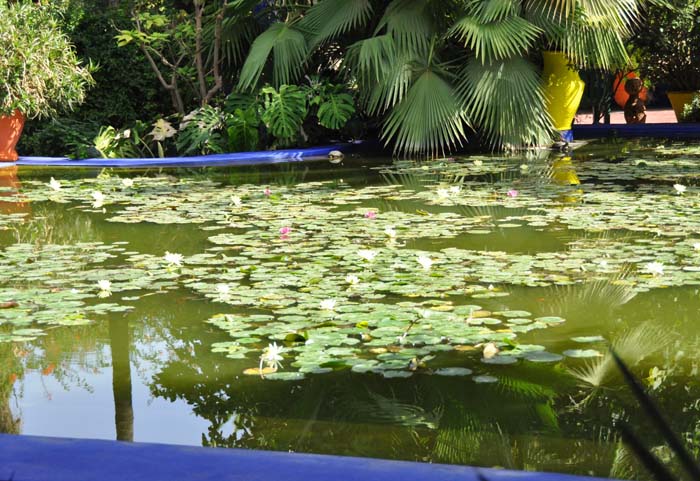 Related Posts