Restaurants in Lecce-Il Vico Del Gusto, Trattoria Nonna Tetti, Trattoria Le Zie
Lecce was no exception in terms of the high quality of the food we had all over Puglia. When researching for the trip, several restaurant's names came up over and over again and I dutifully added them to my list. Yet in the end, the one we liked the best was one we chose at random, totally under the radar, and we enjoyed it so much, we ate there twice in three days.
Trattoria Nonna Tetti
Our first meal in Lecce was lunch at Trattoria Nonna Tetti, shortly after we arrived. The restaurant was about a 10 minute walk from our hotel. We ordered the antipasti to share and it was quite generous with five different plates hitting the table. There was a plate of typical Puglian roasted eggplant with tomato, a shredded carrot and red cabbage salad which seemed a bit out of place, sauteed mushrooms, roasted peppers over fava puree which were over salted, and a sausage stew served in an earthenware crock.
For our main course we shared a plate of fried octopus which was served over fava puree and topped with fresh arugula and grated pecorino. This was delicious and the octopus was perfectly cooked. It was here we had our first bottle of the delicious Salice Salentino wine (half bottle, 7 euro). Lunch, with water and wine was 33 euro total.
Dinner that night was a disappointing  meal (every trip has to have at least one, right?) at Il Latini. My pizza was decent (plain, with burrata) but my mother ordered a "soup" with mussels and garbanzo beans and asked if she could have it without the mussels. What she got was something that which turned out to be a mound of garbanzo beans (like 3 cans), dumped into a bowl.
Trattoria Le Zie

The next day we had lunch at Trattoria Le Zie. This was the place I read about as a "must". It turned out  to be good solid standard fare, very home made and tasty, but certainly not worth the pilgrimage some say is a must.  In fact, I would say it's really not worth the hype and there are dozens of similar places around.  We ordered the antipasti which was white beans, grilled eggplant, frittata, and a cold potato salad with tomatoes and arugula.
We ordered meatballs which were very nice and light in texture, bathed in tomato sauce and they typical dish of sauted chicory and fava beans. For dessert we shared a slice of ricotta cake. With house wine and water, lunch was 35 euro. Everything was fine, but again, not spectacular. I think the allure of this place is that it looks like you are dining in someone's living room and you can see right into the tiny kitchen.
il Vico del Gusto
We spotted il Vico del Gusto as we were walking back from Trattoria Le Zie. It's very close to Palazzo Gorgoni and right across the street from the big public garden/park The food was uniformly excellent, with an emphasis on fresh fish and seafood. If you like whole fish, served table side this is the place for you. We saw two gorgeous grilled fish served this way while we were there.
On our first night there, we ordered the octopus salad which came with artichokes, olive oil, balsamic reduction and arugula. The octopus was perfectly tender and flavorful. my mother ordered the "fried fish of the day" turned out to include calamari, squid, and shrimp as well as whole small fried fish. Again, perfectly cooked. Be aware, if you can't handle fish heads, bones, shrimp in the shell, this is not the dish or maybe not the place) for you.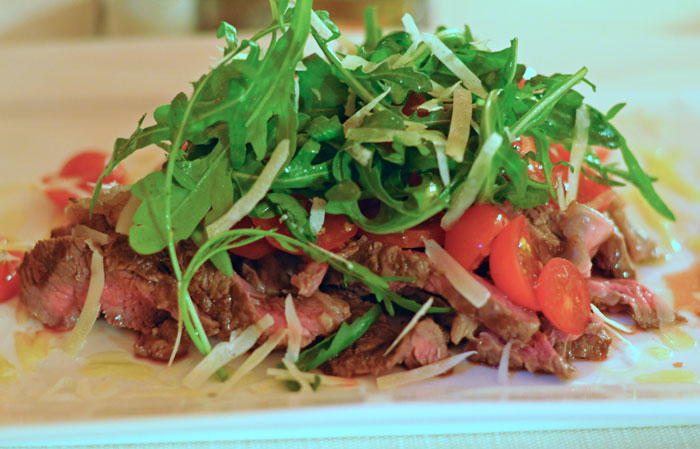 For my main course I ordered Angus steak and it arrived sliced, topped with lightly dressed arugula and super sweet sliced cherry tomatoes. The server had asked if I wanted it buon cotto (well done), sangue? (bloody) or Mediano (medium). I asked for medium and it was MR which was actually perfect. With a nice half bottle of wine, a bottle of water and coperto, dinner was 47 euro.
We enjoyed our meal so much we returned the next night to Il Vico del Gusto for dinner. We experienced the same great service, same wine, and more wonderful food.
For our antipasti we ordered white anchovies marinated in vinegar, pink peppercorns and olive oil (see photo at top of post). This is one of my favorites ways to eat anchovies and I wasn't disappointed.
We had seen a dish of fried mussels and sticks of tempura fried vegetables the previous night and asked if we could have with calamari instead of mussels. Normally I would not ask for a substitution, and at first we were told no and accepted it, but neither of us like mussels and we'd seen them make fried calamari the night before. But then the server consulted the chef who said yes, especially since they were out of a pasta I'd ordered. These were some of the best fried vegetables I've ever eaten. Lightly battered in something akin to tempura, the vegetables (zucchini, eggplant, carrots) were tender inside, as if they'd been blanched first. The calamari, of course, was as we'd had the night before on the fried fish platter; perfect (albeit oddly served in a martini glass-someone is trying to "update" plate presentations here, please stop).
We also had a gigantic bowl of sauteed greens (chicoria) with olive oil and the local spicy pepper. The final dish of the night was the "millefleule" of eggplant; basically eggplant parmesan with the eggplant sliced paper thin and in about a dozen layers. This was another generous portion and delicious, though half of it seemed to have meat (prosciutto?) while the other did not. I preferred it without the addition of the cured meat and my only criticism of the meal was that the meat in the dish should have been listed on the menu. With wine and water, dinner was 40 euro total.
One other thing to note about il Vico del Gusto is that the women's restroom was one of the first fully wheelchair accessible restrooms I've seen in a small restaurant in Italy. Accessibility is still so rare, that it was worth noting for those looking for it.
il Vico del Gusto, Viale XXV Luglio, Vico dei Fiechi, 14, Lecce. tel: 0832 246931 http://www.ilvicodelgusto.it/
Related Posts