Restaurants in Matera and Bernalda
We arrived in Matera hungry, and as soon as we checked in to il Sextantio, set off on foot, up and up to the piazza del Duomo and then down via del Duomo to the cute little Piazza del Sedile where we sank gratefully into chairs outside on the piazza. I wish I could remember the name of the place, but all I can tell you is that there is a large sign over the arch which says "Trattoria" and "Pizzaria" (thanks to Google Maps street view). My mother ordered the mixed antipasti plate and I had a baked ziti with eggplant (as seen in the post's top photo).
That night we had a lovely meal at Ristorante il Cantuccio at Via del Beccherie 33 (this is this street that via del Duomo turns into as you walk into the new part of Matera. The restaurant has a small dining room and reasonable prices ( 5 euro for the antipasti, 8 euro for the primi and 13-15 euro for the secondi). The food was uniformly well prepared and delicious and we shared each of the dishes.
We started with some vegetables; zucchini with apple cider vinegar and fennel seeds. It was a simple preparation, but so good I had to make it when I returned home.
The next dish was a classic pasta for this region and this version did not disappoint; orecchetti with rapini (or turnip greens), fried garlic, anchovies, and croutons (or typically, bread crumbs) with some peppery local extra virgin olive oil. You may think, bread crumbs and pasta? but it works, trust me.
We also shared some skinny veal sausages cooked in white wine and tomatoes.  With wine (2 glasses) and water, the meal was 40 euro.
On one of our days in Matera, we drove down to the coast to Metaponto where the are supposedly Roman ruins. There is an archaeological park there, but on the day we tried to find the ruins, they were underwater, the victim of flooding caused by recent rains. 
We also visited the small hilltop town of Bernalda, home to a castle, a church, and a very, very, expensive hotel built in a palazzo by Francis Ford Coppola. We saw none of these, but we did pick at random a restaurant which turned out to be a Slow Food choice and where we had one of the best meals of the trip.
La Locandiera (Corso Umberto I, 194, 75012 Bernalda) looks like an unassuming trattoria, complete with red checked tablecloths and a fair amount of decoration which looks a bit more like "clutter" than actual decor. But don't be fooled, these people are serious about both the food, and the service.
When we entered, the place was empty, save the family who run it who were still eating their own lunch. We were greeted graciously, and shown to a table. There is no printed menu except a generic one which lists the prices of the antipasti, primi, secondi, etc because what's on it changes daily depending on what's available locally. Our server, the son of the family, recited to us the day's offerings in flawless English. At first we ordered the ravioli, but as it turned out, it wasn't ready at 1:30 because lunch starts at 2 PM on Saturdays. The kitchen is staffed by the women of the family and visible via on open window from the dining room.
We each ordered a glass of wine; Titta Primativo from Matera and a Likos Aglianico and were brought an amuse bouche of fresh ricotta topped with white figs and cinnamon. The ricotta was made locally, picked up this morning, and was still warm. The fig preserves were made by mama, of course. This is when we learned that everything served in the restaurant was as hyper-local as possible and that they list all their sources (farms and producers, even beers) on their menu.
Our next course, in lieu of the ravioli, was a delicious orecchiette pasta with turnip greens and pork sausage.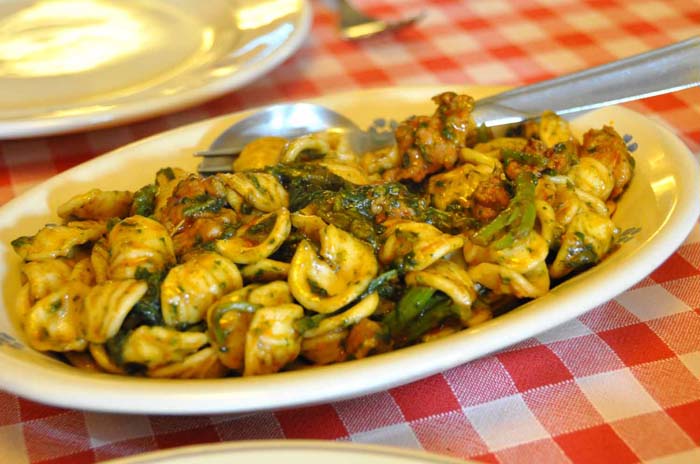 Our meat course was a giant pork shank, slowly braised for five hours with olives, red wine, basil, peppers, tomato and bay leaves. It was so tender it just fell off the bone.
The meal concluded with a complimentary plate of grapes, walnuts and hazelnuts. I forgot to write down the cost of the meal, but I think it was about 40 euros total. I would love to return here someday for both the attentive service and thoughtful car given to the food.
For our last lunch in Matera, we ate at Le Botteghe in the heart of the Sassi. This place, known for its grilled meat, was recommended to us by Nadia Garlatti during our walking tour of the Sassi. We found the food and service both uniformly good. The people watching too, was interesting. There was a large family gathering in one of the rooms, with people going out the entire time to smoke outside while platter upon platter of food were brought in to feed the table. There was another table, a couple, clearly local, who ordered a bottle a wine and a bottle of scotch for the table. She had exactly one glass of the wine and he proceeded to not eat and polish off at least half the bottle of scotch.
We were served an amuse of grilled chopped vegetables with a balsamic reduction. Sparkling water was served in a carafe at the table instead of in bottles and we ordered a half carafe of the house wine, we were brought a half bottle of Terre di orazio Aglianico. Our server, an older gentleman with silver hair, was clearly used to dealing with tourists and locals alike, answered all our questions patiently and with a sense of humor.
Our large mixed antipasta platter was 15 euro and consisted of fried olives, whipped ricotta with nuts, fried olive fritters, spinach frittata, potato fritters, sauteed mushrooms and an egg tart.
I ordered the local beef steak, grilled, about 200 grams worth. It was cooked a perfect medium rare and well seasoned. My mother had roasted lamb chops on the bone.
I noticed that they had the largest bottle I've ever seen of my husband's favorite amaro, Lucano, and when our waiter saw me taking a photo of it, he took it off the shelf and insisted he take my picture with it. He also brought us a complimentary panna cotta dessert (below). Lunch was 50 euro total.
Related Posts