Moray and the Maras Salt Pans
After a couple hours in Chinchero,  it was on to Moray and the Maras Salt Pans. The drive to Moray took about 45 minutes over a dirt road which was questionable for the vehicle we were in. But the views were spectacular. There's a paved road too, because large buses arrive at Moray, but for some reason we took the scenic route.
Moray is a series of large concentric terraces forming a circle which gets progressively smaller and warmer the farther down you go. We walked as far down as we were allowed to go (not to the very bottom level) and down there, sheltered from the wind and yet in full sun, it was probably 15 degrees warmer. Hiking back up and out was when I really felt the 12000 feet of elevation and myself gasping for breath as we neared the top.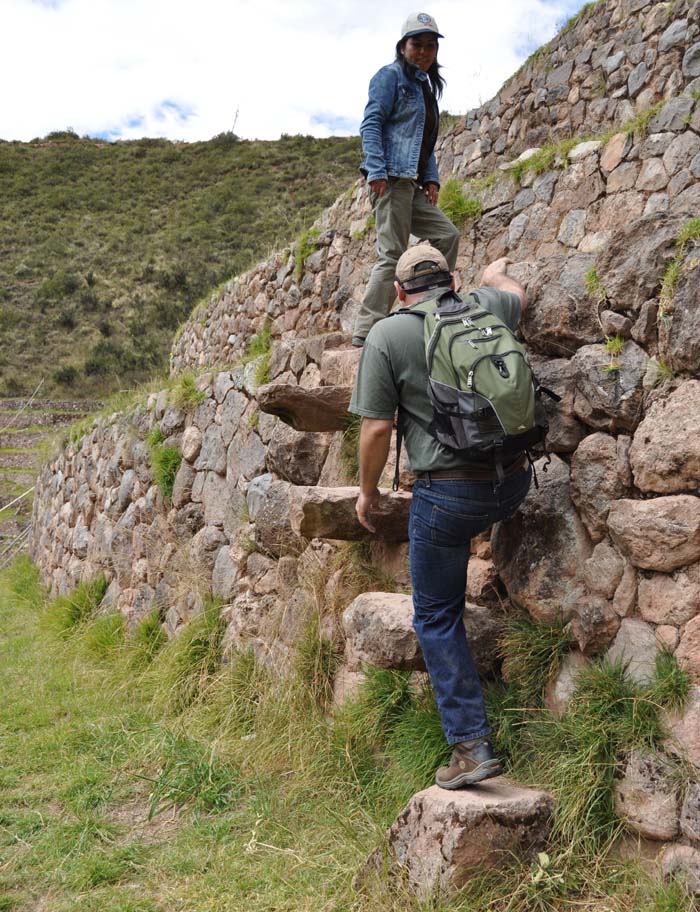 Our last stop, the Maras salt pans were a short drive away.  Up here, at over 10,000 feet, water comes out of the mountainside salty and for hundreds of years people have worked the land, forming shallow pans in which the water evaporates leaving the salt behind. These pans remind me a lot of the tannery dye pans in Fez Morocco in their shape and scope. However, instead of being the center of a walked city these sit high up on the mountainside.
Each pan is owned by a family and thus the $7 admission is separate from the bolleto touristico. Our time there was quick, less than half an hour, but we enjoyed it and bought several small bags of salt as gifts for friends and for ourselves.
Related Posts