Eating and Drinking in Cusco Peru
We ate (and drank!) very well in Cusco. There's no shortage of decent restaurants and bars, especially those catering to tourists. But don't feel that you have to spend a ton of money; one of my favorite meals was in the Mercado and cost us all of about $2 for a giant bowl of chicken soup. That said, craft cocktails, especially those with Pisco in them, are available in force on many menus, and go well beyond the pisco sour.
Bagdad Cafe
Address: Portal de Carnes 154, Cusco, Peru
This was our first meal in Cusco, a late lunch, and while it was nothing special in terms of food, it was decent and the view of the main square cannot be beat. Lunch was about $20.
Chicken Soup in the Mercado San Pedro
If you see this woman making chicken soup in the market, eat there. That is all.
Actually, a bit more…There are probably ten stalls in the market selling chicken soup, but hers was the one with the most patrons. That says a lot. There was a wait for a seat on one of the two benches and when two opened up right in front of her, she told someone trying to cut in line to let the tourists sit.
We each got a big bowl of Caldo de Pollo for about $2. The broth is fragrant and flavorful, and the vegetables are cooked in it and pulled out along with whole chickens when tender. Pasta of varying shapes and sizes is dumped into the simmering broth. When you order, she takes a big cleaver and hacks apart the bird, tossing chunks into the bowl with vegetables and a ladle or two of the broth with the pasta.
Limo
Address: Portal de Carnes 236, Cusco, Peru
This place is right on the main square, upstairs, close to the Bagdad Cafe. Same view.
Most of the menu seemed to be fish with an emphasis on sushi. We had octopus ceviche and fish ceviche as well as a sushi roll and an underwhelming tuna entree. My pisco cocktail with fresh basil and cucumber (along with the octopus) was the hit of the evening. Dinner for two with drinks and tip was about $85.

Museo del Pisco
Santa Catalina Ancha 398, Esquina con calle San Agustin Centro Historico, Cusco, Perú
This was a pre-dinner stop but I think we could have sat here all night having cocktails and little bites. The atmosphere was fun and the bartenders were more than happy to talk to us about the different types of Pisco. Great cocktails and a tasty charcuterie platter. Craft cocktails were about $6 each.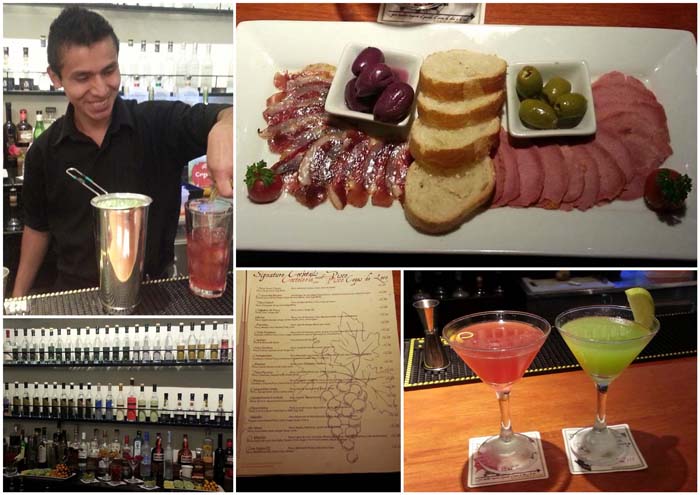 Cicciolina Restaurant Cusco
Address: Calle Triunfo 393, 2nd Floor, Cusco Phone: (+51) 84 23 95 10
This is one of those restaurants that's always recommended to tourists who are looking for a fine dining meal in Cusco. I'm happy to say the food did not disappoint. Among the dishes we had were a polenta with mascarpone and meaty ragu, chicken livers with arugula, mango and fennel, and lamb with fava bean, rosemary and bacon puree. Dinner for two with drinks and tip was $80.
Related Posts