Lima Peru; Parque Kennedy and Parque de Amor
We only had a day and a half on arrival to Lima from Cusco and we tried to make the most of it. But Lima is much larger than we expected and getting around isn't that easy unless you rely on taxis, we we don't really like. Lima reminds me a lot of Los Angeles, both in climate and proximity to the ocean, and in the fact that it's very spread out.
For our transfer from the airport to the hotel we used a service called Taxidatum. I think it's like Uber in that you're picked up by someone in a private car and driven to your destination for a flat rate. It was $20 from the airport to the hotel and the service worked so well, we booked the return to the airport online the next day.
We stayed in the Miraflores neighborhood at the Sheraton Four Points. The hotel is perfectly fine, in a really good location (for Miraflores) and we were given breakfast with our Cash + Points room rate. The hotel is within walking distance of the ocean and the Parque Kennedy and has access to decent public transportation. There's also a grocery store nearby which is handy for snack and Pisco purchases.
We had lunch at a local restaurant (dining will be detailed in a later post) and then walked down the road to the ocean and checked out the view which very much reminded me of Santa Monica and the Parque de Amor with its famous statue.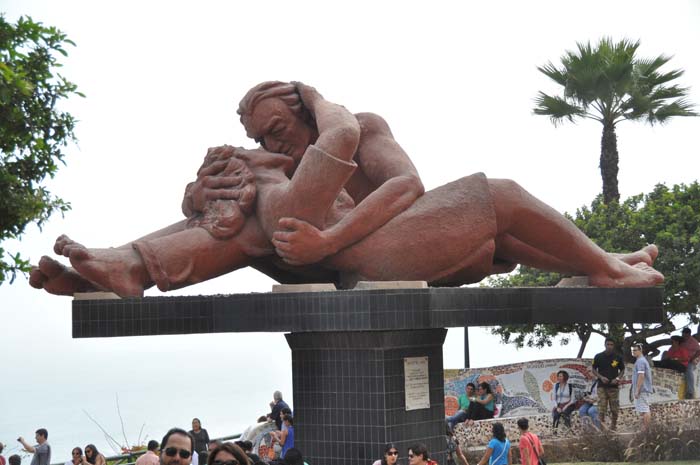 On the way back to the hotel we went to the Parque Kennedy, well known for its abandoned cat population. These cats seemed far from feral, and most had learned how to beg for food from the park visitors. As much as I love cats, it made me very sad to see so many here. We saw signs for a rescue group who helps care for them and find them homes, but clearly they are overwhelmed.
Coming up; our last day in Lima, spent roaming an amazing mercado, downtown Lima, a gastronomic museum, and crawling through the catacombs under the San Francisco cathedral.
Related Posts