Getting from Siem Reap to Burma, an Airport Hotel, and Yangon Airways
As I mentioned in my intro post, getting from Siem Reap to Burma, and specifically Bagan where we wanted to go first, was a chore. When I was planning, there were no non stop flights between Siem Reap and anywhere in Burma. The only option was for us to fly from Siem Reap to Bangkok and then to Yangon or Mandalay. Also, because most of the flights to Bagan left in the morning, there was no way to make a connecting flight in Yangon to Bagan on the same day. No matter how I looked at it, or for any amount of money, I could not make this work.
For that reason, we opted to fly the low cost carrier Air Asia from Siem Reap to Bangkok (this turned out to be a Vietnam Airlines flight) and then Bangkok to Yangon, leaving mid morning and arriving in Yangon around 6pm. Our flight to Bagan left the next morning at 6 am which meant an early wake up call so we wanted to stay as close to the airport as possible. For this, I chose the Myanmar Life Hotel. They had a "special" price, which I booked on their web site for $70 a night. It included breakfast for which we left too early (they gave us boxes to go, more on that later).
The flights were fine, and we had a 3 hour layover at Bangkok's old international airport Don Meuang (now mostly domestic), which had become for us like a second home when we traveled in and out of it a dozen times in the late 90's and early 2000's. Unfortunately, we discovered our favorite restaurant upstairs was now closed. Instead, we had some mediocre soup and an ok curry along with a front row seat to the runway which includes a golf course which runs down the middle (David has always wanted to play here).
When we arrived in Yangon, we opted to change some of the US Dollars we'd brought with us into kyat there at the airport. As expected, they scrutinized all our bills, but fortunately for us, did not reject any. Later, as we moved around the country, we'd see plenty of ATM machines, but we never ended up using them because we'd brought cash with us (and we'd been told they would be hard to find). I suspect that by now, that situation has changed significantly.
After the exchange, we had to meet a representative from Santa Maria Travels to receive the plane tickets they'd booked for us and they gave us a ride to the hotel. At the time, we could not book the tickets ourselves online (I think you can now) and we used their service, paying in advance via Western Union.
Myanmar Life Hotel:
The room itself was fine, off in a block of rooms outside and away from the main building. By the time we got there, we were exhausted and opted for room service from the hotel restaurant as there didn't appear to be much within walking distance. The food was decent, though not memorable. Wifi worked fine (this would not be the case everywhere in the country).
The first thing we noticed when we entered the room was the wall sized mirror opposite the bed and a large sign pasted to it with a picture of a durian fruit with a red X over it. They take their "no durian in the rooms" rule here very seriously. In all, the bed was fine and the bathroom was adequate, with the sink area outside the room with the shower and toilet. Oddly, the hair dryer was in the bedside table. I wouldn't want to spend more than one night here but it worked for what we needed. A room like this would be half the cost in Cambodia. Still, I think this hotel is a really good option if you need to be near the airport to get to an early flight like we did.
The next morning, in the dark and pouring rain, we rolled our bags to the office where we checked out, were given a "breakfast box" with mystery sandwich, hard boiled egg and dark purple grape drink. At the airport, the food options were were not much better.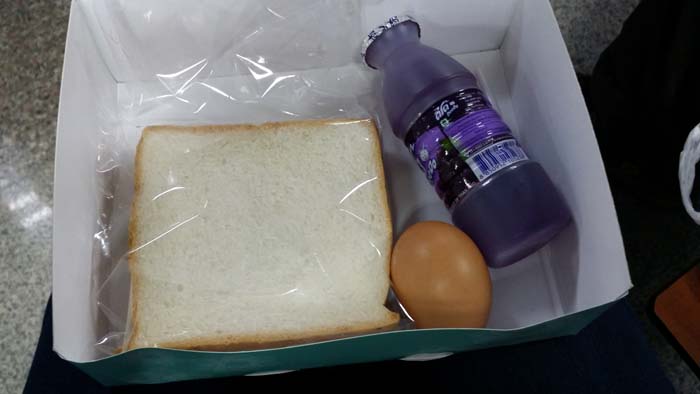 Because the plane was small, we had to check in our rolling carry-on sized bags. The domestic terminal was small, but filled with intricate wood carvings on the columns, balconies, and ceiling. We were given paper boarding cards to go along with our paper tickets, and stickers to indicate to the handlers inside which flight we were on. When our fight was ready, a person carrying a sign on a post walked around the front of the terminal to let everyone know it was time for that flight to board. For this flight on Yangon Airlines at at the time, the cost was $106 per person.
Once on the plane, it was a short (little more than an hour) flight to Bagan on an ATR-72. However, taking off in a propeller plane, in a rainstorm, in a country with a poor aviation record, is always a bit nerve-wracking. Once in the air, we were offered a non-alcoholic drink and given a snack box which contained pastries and a half cheese sandwich. We landed without a hitch, picked up our bags and were on our way to our hotel, the Hotel Tharabar Gate, in no time.
Related Posts