LA to DC by Train 2017-Part 2, Scenic Views, Chicago, and Stops Along the Way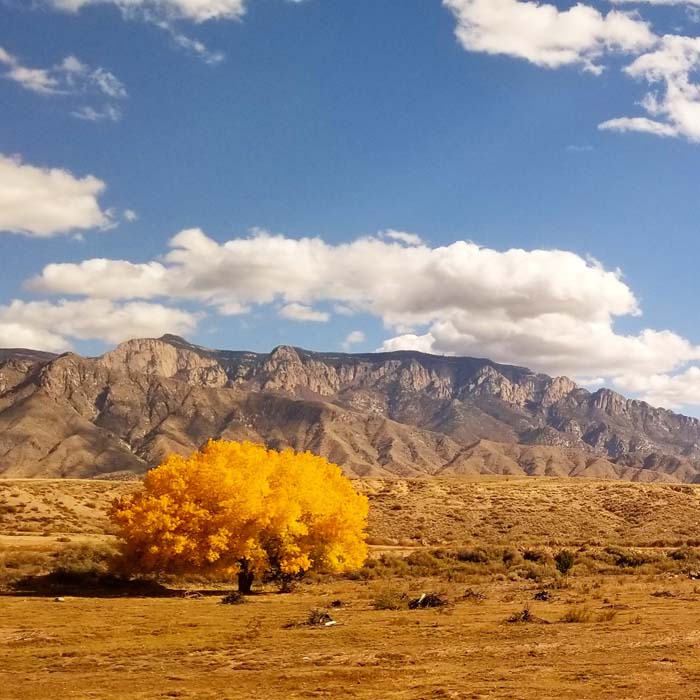 LA to Chicago to Washington DC
One of the best things about train travel is being able to see the world go by a ground level. Even though I brought books, magazines, and movies on my computer, I never opened any of them. It was too easy to get mesmerized by the world going by. I did take a lot of photos.
I thought I would spend time in the lounge car but I was more than content to sit in our compartment.  Perhaps if I'd been in coach I would have spent more time in there.
Along the trip, there are many stops, but most of them are not stops where you can get off the train. Some are mere minutes in the single digits. On my wishlist would be longer stops during the day. We had over an hour in Albuquerque (I think because of the time change) and it was lovely to walk around downtown. I know the train is "transportation", and not a tour, but still, longer breaks of even an hour or two would be nice.
One of our first quick stops was in Winslow Arizona. Yes, the one in the song. I wish I'd had time to go stand on the corner and look for the girl (my Lord) in a flatbed Ford. 😉
The first time got off the train to get some fresh air was at an early morning stop in Gallup New Mexico. At this stop, they announced we had about 10 minutes and warned us not to leave the platform.
In Albuquerque, there was a longer than normal stop, over an hour, probably because of the Daylight Saving time change on that day and the need to have the train stick to the schedule.
We took the opportunity to walk around the almost empty downtown area on an early Sunday morning. Our goal was to find a real cup of coffee (because the coffee on the train is almost undrinkable) and about 2 blocks from the station we came across a local coffeehouse called Espresso Fino at 222 Gold Avenue.
We also stopped at a nice grocery store called the Silver Street Market (205 Silver Avenue) which had a decent selection of produce and pre-made food options that would be great for those traveling in coach.
Albuquerque has lots of neat murals and street art all around downtown too.
Late in the afternoon, we reached Raton New Mexico, below. Our stop here was a few minutes longer than normal, but again we were told not to leave the platform. While we walked around the in the chilly air, the police were called to remove a rowdy and belligerent passenger from the train.
The next morning, we stopped briefly in Kansas City MO, but it was too early and too cold for me to get off the train.
Chicago:
We arrived in Chicago around 3 pm and took an Uber to our hotel, the Westin Michigan Avenue. We could have taken a bus, but it would have taken much longer at that time of day.
As we were checking in to the hotel, I felt really dizzy. It was like spending a lot of time on a boat and when you get off it feels like the solid ground is moving. Being on a train for a long time has the same effect, we both felt the dizziness and rocking motion for almost 24 hours after being off the train.
We were at the Westin for about 24 hours. My SPG Gold status got us free internet and a 4 pm checkout which was helpful because our train didn't leave until after 6 pm. I booked the room for cash plus points and think it was a pretty good value. We took the offer to upgrade to a room with club lounge access for $30.
Our 25th-floor room was spacious and had fantastic views of Lake Michigan, Lake Shore Drive, and some cool apartment buildings. The beds were SO comfortable after being on the train for two nights. The evening hors-d'oeuvres in the lounge were a disappointment but the breakfast spread was pretty nice with lots of different food options. There's a great view from the lounge down Michigan Ave too.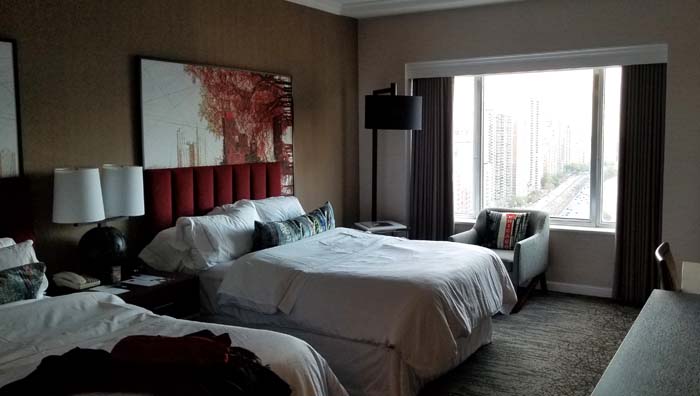 That night we had dinner at Bistronomic, a cute little French bistro close to the hotel. The cocktails were excellent. We had one called Amanda's Smoky Day with bourbon, smoked orange juice, rosemary and ginger ale and one called the Winter Star with bourbon, star anise, and orange bitters. For an appetizer, we shared a decadent chicken liver mousse with an apple, hazelnut and arugula salad. Then I had to have the escargot (of course!) and my mother had a butternut squash soup with truffled croutons. Finally, we shared a Lyonnaise salad with duck prosciutto, poached egg, and pomegranate seeds.
The next day, we didn't do any traditional "sightseeing" in Chicago because we'd both been there before (my mother had worked there for a long time) and it was very cold out. So instead, we walked around, did a bit of shopping and checked out the all-things-Italian-food emporium called Eataly.
I'm not sure why, but I did not expect to be as impressed as I was. I did expect things there to be over-priced (and they were), but the selection really was phenomenal. I suspect that if there's any Italian ingredient you need for a special meal, it's there. In addition, the dining options were varied and all looked enticing. We had lunch in one of their multiple eating areas and restaurants called Il Pesche.
For lunch, we ordered a half dozen oysters and a couple of plates of pasta. My pasta was "fiori" (flower shaped) ravioli made with spinach pasta, stuffed with mushrooms and a thyme butter sauce with soto (reduced balsamic). My mother's pasta was the linguine alla vongole, (with clams) and we each had a glass of Italian white wine (mine from Calabria). All of it was surprisingly good. There was a good house-made bread too, served with a very fruity olive oil.
After lunch, it was time to go back to the room to get ready for the next train trip. Our train to Washington DC didn't leave until 6:40 pm so we had plenty of time to get to the station (another Uber), check out the gorgeous architecture there, and hang out for a bit in the Metropolitan Lounge (again, available only to Sleeper Car and Business class passengers).
I wasn't much wowed by the metropolitan lounge in Chicago. It's nicer than LA in that it's much larger (two floors), has a children's area, and showers available. But it was crowded and when we were there, there was no food and only a coffee and soda machine. I guess the "light snacks" they tout are a few canisters of peanuts and Chex mix? We sat upstairs which felt a little calmer and less crowded. They do have cocktail service in the evenings but we did not partake.
Chicago to Washington DC on the Capitol Limited
Our trip from Chicago to DC on the Capitol Limited was fairly uneventful. For photos of the inside of the train, see part 1 of this trip. The train ride itself was measurably more rocky and bumpy than the first one. In fact, the train was rolling side to side so much during our dinner in the dining car, I almost was thrown out of my seat. One of our dining companions actually got sick at the table (I won't give details, suffice it to say, it was awful).
The next morning the views were much different from the Southwest, much more wooded with lots of Fall colors in the trees.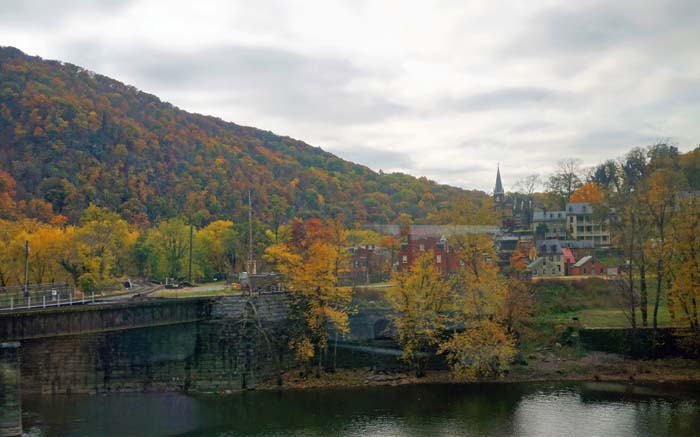 And then, before we knew it, we were in Washington DC and our train trip was over.
Stay tuned for our time in Washington DC and Old Town Alexandria.
Related Posts