Hotel Belvedere on Italy's Amalfi Coast
We arrived at the lovely, isolated, Hotel Belvedere in the tiny village of Conca dei Marini, hanging on the cliff between Positano and Amalfi, after driving from Pompeii. The hotel is very Italian, with an old-fashioned ambiance and the faded impression of once glory days. We got the feeling that there were a lot of regular guests here, those who come every year for a week to sit at the pool all day and take full board in the hotel dining room every night. We spent four nights here, trying to achieve a bit of our own "R&R" in the middle of our trip.
After our check-in, we went to the bar for a drink and I finally had a proper Negroni and David got a nicely made Martini (sometimes a challenge in Italy).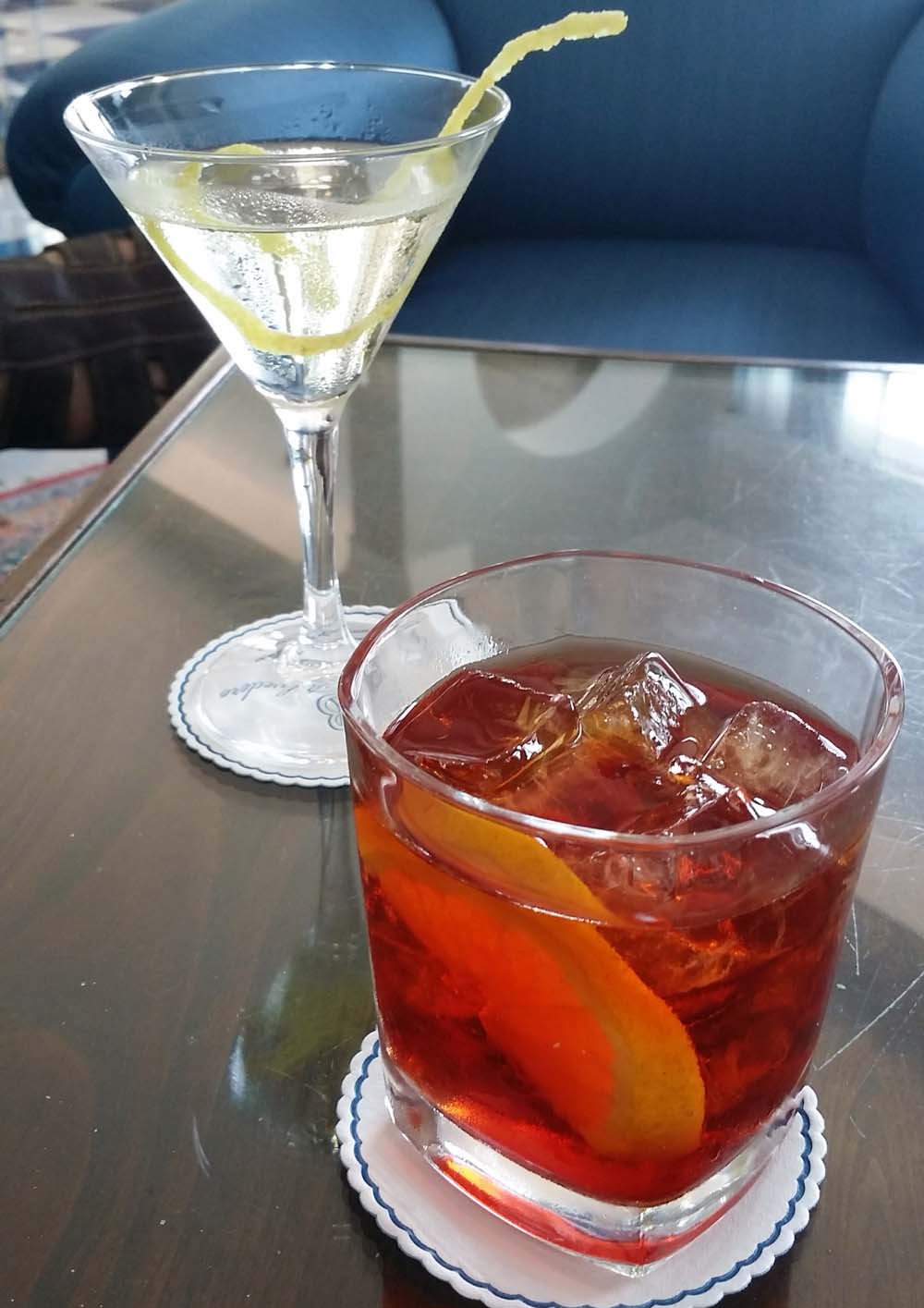 We had booked a Superior room and they offered us a Junior Suite for 20 euro more a night on arrival. After looking at both rooms, and contemplating the views from each, we took the Junior Suite because it offered substantially more space and a larger bathroom. The drawback (for us, and everyone is different) was the view.
We really wanted a room with a view of the Amalfi Coastline (like in the photo at the top of this post, taken from the hotel) but most of the rooms, including both offered to us, had only a view out to sea, straight ahead. If we looked down, we could see the pool. As it turns out, there are only a few rooms with views toward the coastline and those are the corner rooms. The others all have sea views but are hampered by walls on the sides of the balconies, which also give more privacy. The room had a mini fridge where we kept some water and snacks.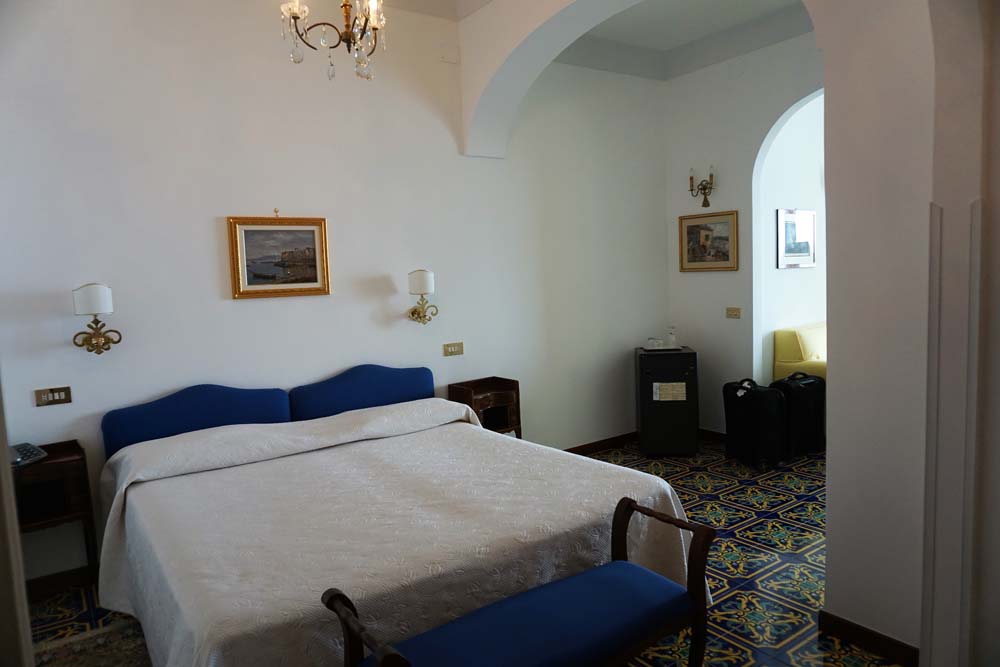 As Americans I think we expect some things which were missing at this price point; bathrobes in the room, Kleenex in the bathroom, a kettle and/or coffee maker in the room. While I've had these things in hotels all over the world (and not at just US chain hotels), they were not included here. We've also had these things in less expensive Italian hotels so I'm not sure why they weren't here. It's more of an observation than a criticism.
Breakfast was plentiful with lots of different bread and pastries, yogurt, fruit, juice, coffee and hard-boiled eggs. The view from the restaurant's terrace, which appeared to be only used for breakfast, never dinner, was stunning.
The saltwater pool is excellent. We spent most of one entire day there and had lunch poolside. Warning, there are people who claim chairs all day but do not sit in them except for a few hours. Get there early and stake out your spot!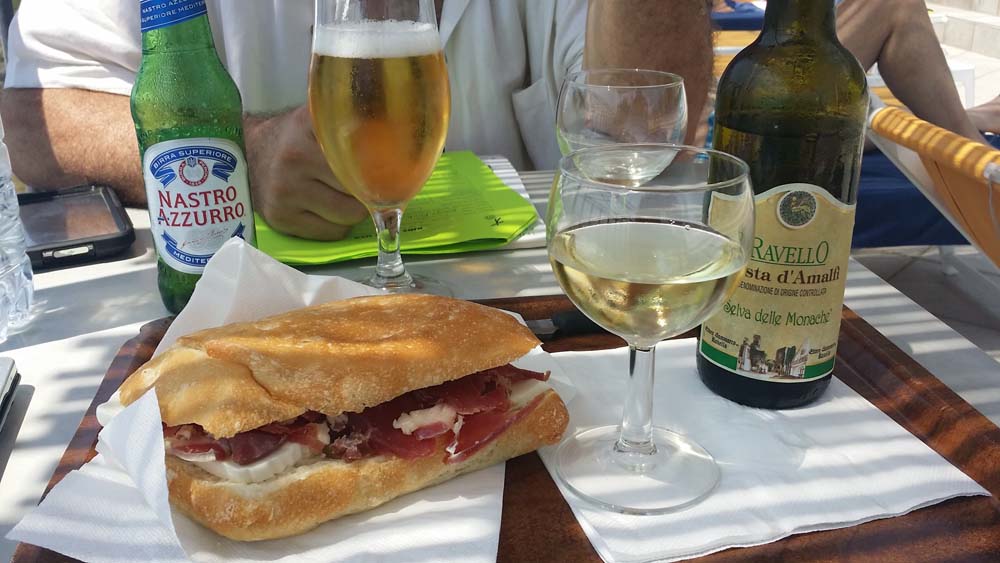 We climbed down the 200 steps to the sea one day and went in. It was nice, but choppy from all the boat traffic. There are lounge chairs available down there but no food or drink service.
The hotel's restaurant is very pricey, even for the Amalfi Coast, which has high prices everywhere. It has very few low-cost options, and a 40 euro pre-fixe menu every night. We were there four nights and ended up eating in the hotel on two of the nights just because we could not be bothered to drive somewhere else for dinner.  There's not much within walking distance unless you count the 300 steps down (and then back up) to the little marina below (we did this one night, more on this later). The hotel's dining room service is formal with white-jacketed waiters and a maitre d', yet in the middle of a 100-degree heat wave, there was no air conditioning and it was buzzing with mosquitos. One nice thing, if you buy a bottle of wine and don't finish it, they will hold it for you for the next night or let you take it back to your room.
All in all, we liked our time at the Hotel Belvedere, though the next time we visit the Amalfi Coast, it won't be in high summer (too hot, too busy, too expensive), and I'd like to be in a hotel a vacation rental with more local dining options. Be forewarned, hotel rates in the summer high season on the Amalfi Coast are astronomical and about 40% higher than other times of the year. Our room was 290 euro a night, and while it was a splurge for us for our anniversary, it was still mid-range as far as most hotels in the area.
Note: As always, we don't accept any sponsored posts and pay for all accommodations ourselves.
Related Posts