Rome Restaurants; Dining and Drinking in the City
Rome abounds with literally thousands of restaurants. Over the last decade, I've done my best to eat in as many as possible, returning occasionally to favorites and always trying new ones.
One of our favorite places in Rome is Armando al Pantheon. We've been coming here since 2008 and a few years ago they renovated the inside of the restaurant, adding blessed air conditioning, and updating the dining room's decor. There are now cushioned banquets where there were once only wood chairs. The menu is pretty much the same traditional well made Roman food we've come to love. The restaurant is mere steps from my favorite building in Rome, the Pantheon, and is very small so it tends to book up. Fortunately, you can make reservations online through their website.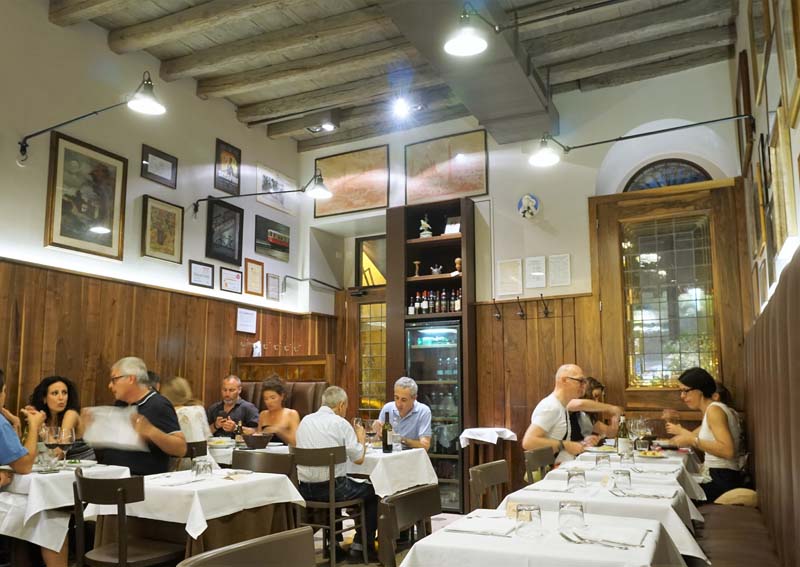 One of my favorite dishes is the simple pasta alla verde with lemon, arugula, and Parmesan cheese.
The daughter of the owner took our order and remembered us even though we haven't been in for several years.
In addition to the pasta, we started with anchovies on toast with butter, and then had the lamb chops, homemade pork sausages, and sautéed chicory with tiny chili peppers and garlic. Our meal was 95 euro including items above, a bottle of water, 2 glasses prosecco, 1/2 bottle wine and 1 dessert. That's on the high end of what we've been spending on meals too.
Overheard at dinner last night; "grappa is like the ouzo of Italy, but it doesn't taste like licorice."

Me: ((eyeroll)) Really??
One day we found ourselves late for lunch and close to getting hangry. We ended up at La Fiametta which, while near the Piazza Navona, is far enough away to not be too touristy or chaotic. I've been here before (see this post for more food in Rome) and they have some of the best eggplant Parmesan I've ever had. On this visit, we had a mixed vegetable antipasti, a pizza, and an octopus salad, one of that day's specials. Everything was great and they have a lovely outside seating area.
While in Rome we rented a tiny apartment on Via del Governo Vecchio, literally around the corner from our favorite gelateria, Frigidarium. At night, we could see the line stretching around the corner from our window. Over the years we've become friends with Fabrizio, Frigidarium's owner, and always go back for a visit when we can. If you have the opportunity, I highly recommend you give them a try.
Farther down Via Del Governo Vecchio we discovered Mimi e Coco, a bar/restaurant with well made (and generously sized) cocktails. We stopped there for a Negroni on our first hot night in Rome and it became our go-to place for a drink as well as a light dinner one night. The staff is incredibly friendly as well. The first time we were there, after the Negronis, they plied us with complimentary limoncello, a mini negroni, and then Amaro Lucano, once we mentioned we liked it.
On another day we had lunch at Enoteca Corsi a restaurant near Largo Argentina with about 300 different bottles of wine lining the walls. They are open only for lunch, Monday through Saturday.
I had the lasagna bianchi with peas and mushrooms, the spinach, and a lovely chilled rose. David had an amatriciana pasta, a salad and a glass of sauvignon blanc. It was affordable and of course, the wine selection was impressive. I loved sitting among all the different bottles.
Overheard at dinner:
Him- "You know they call arugula "rocket" here?"
Her- "That's right, that's what Jamie Oliver in England calls it on his TV show!
Me- (sotto vocce to David) "No, they call it "rucola" here"
Not every meal is perfect, even at an old classic like Ristorante Piperno. Maybe my expectations were too high. Maybe we ordered the wrong things, but we just weren't impressed with the minuscule antipasti vegetable plate for 10 euro or the parsimonious pour on the glass of wine. The gnocchi and the veal saltimbocca were well made, but the value was not there for the price.
While wandering through Trastevere one day, about to completely melt in the 100-degree heat, we came across Trattoria da Augusto (no website, Vicolo De' Renzi, 15), a place I'd eaten at in 2009. We stopped again, this time for a quick pasta lunch. This place is old school Trastevere. The food is super simple but solid, the service is gruff at best, and they total your check on the paper covering the table at the end of the meal. They also have one of the few remaining squat toilets in Rome. Word to the wise; don't order the house red, it's ice cold. Go for the white wine.
We discovered Ditirambo on this last trip and enjoyed our dinner there so much that we dined there again on our last night. The menu is a modern take on classic Roman food and is reasonably priced.
We had the mixed seafood antipasti platter both times we ate there and it included items which were raw, cured and cooked.
This pasta had eggplant and ricotta salata on it, two of my favorite things.
Some of the main dishes were roasted pork and braised beef. The dessert below was a deconstructed cannoli.
97 degrees in the shade.
10 euro for 2 beers.
That view on the last day in Rome?
Priceless.
On our last day in Rome, we climbed up the stairs of the Vittorio Emanuale Monument. This is the giant white building across from Piazza Venezia, and next to the Forum. It's the building that looks like a big white wedding cake and has also be likened to a giant typewriter. Technically, the building is the Altare de Patria (the altar of the fatherland). From the mid-level, at the top of the stairs, you get a bird's eye view of most of Rome, including the Forum and the Colosseum. In addition, at the time there was a nice cafe there (it may currently be closed) where we were able to have a beer and a snack. We could have spent 14 euro for the two of us to go to the very top of the monument (via an elevator) or sit and enjoy two beers and this view for 10 euro. I think we know who got the better deal.
Note: As always, we don't accept any sponsored posts and pay for all meals and accommodations ourselves.
To see more from this trip, go here to the main trip page.
Related Posts