Seattle USA
We spent four fun summer days exploring the best of what Seattle has to offer for sightseeing, cocktails and the restaurant scene. Below are some of our favorites.
When it comes to finding fun things to see and do, Seattle has no shortage of offerings. From quirky to touristy, to museums and natural beauty, you will be spoiled for choice. We opted to do a mix of free sightseeing and to purchase the Seattle CityPass to see some of the more expensive sights. The CityPass at the time included the Chihuly Glass Museum, but no longer does, so make sure it's a value to you before you purchase it. The Space Needle ticket site also has some other multi-site ticket options.
Pike's Place Public Market
We visited Pike's Place Market several times while we were there. Yes, it's touristy. Yes, it's crowded. But it's still fun to walk around and gawk at the gorgeous produce and fresh fish. We also enjoyed a decent lunch and cocktails with a knockout view and at Lowell's which is right there in the market.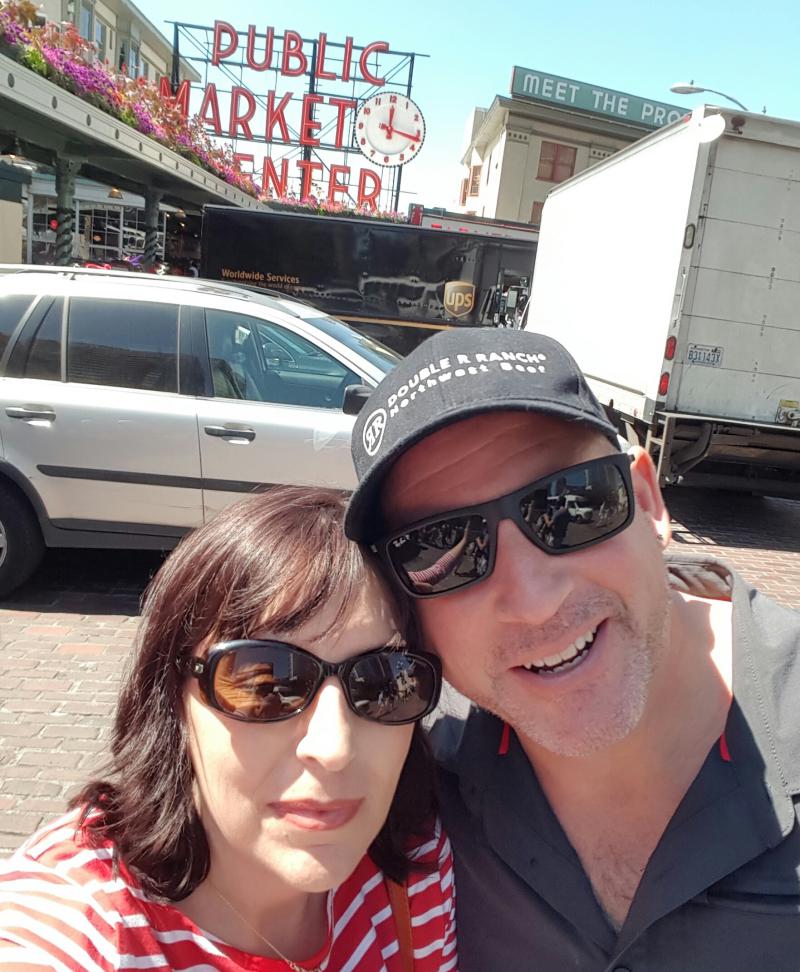 Walking Around Downtown Seattle
If you like interesting old architecture, make sure to check out the inside of the Pioneer building. It has beautiful wood and wrought iron banisters and lots of old details.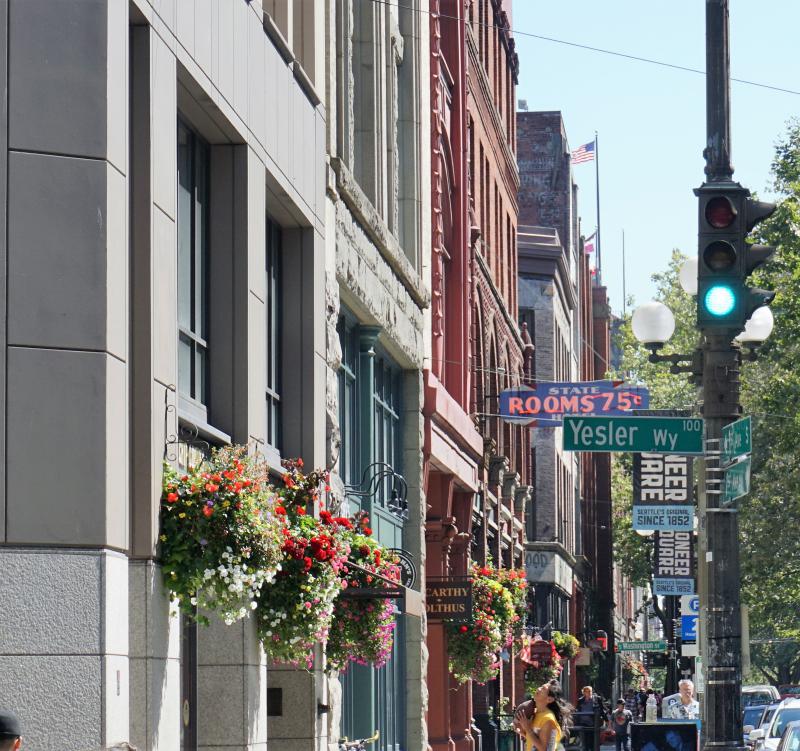 For something a little quirky, and some say gross, make sure to walk through Post Alley, near the market for the chewing gum wall.
The Seattle Public Library is a modern gorgeous building with great views from the top floors.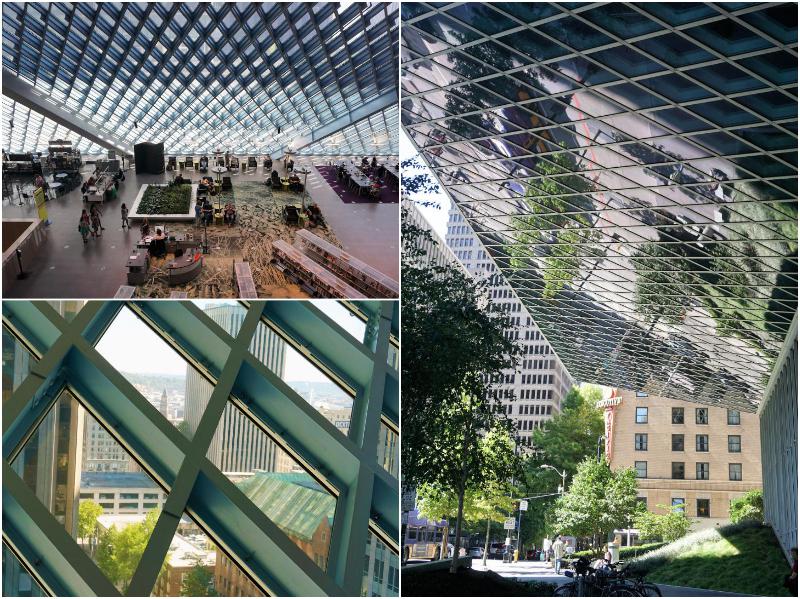 Chihuly Garden and Glass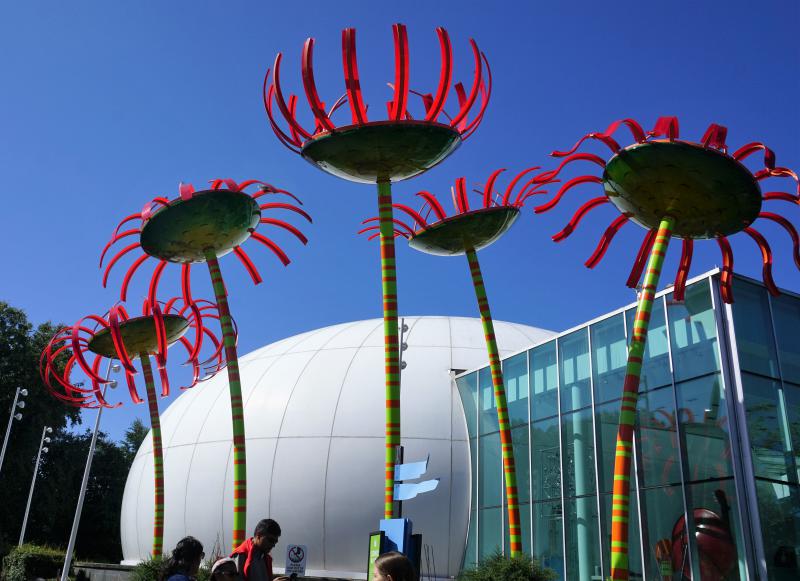 I wasn't sure if I wanted to see the Chihuly Garden and Glass at first, but now I'm so glad we went. The glass sculptures are absolutely stunning, both inside and out in the garden among the flowers and plants. Since we've been, I've spotted Chihuly sculptures all over the world, they're impossible to miss!
The Space Needle
I'll admit I don't always understand the allure of purpose built (for the view) towers like the Space Needle. Built for the 1962 World's Fair, as you wait in line to go up in the elevator, you see all these mid-century modern themed displays to inform you about the building. And yes, the views are awe-inspiring.
Museum of Pop Culture
Do you like music, fashion, TV shows, and movies? If so, the Museum of Pop Culture is a must visit in Seattle. This was my favorite of all the Seattle CityPass stops.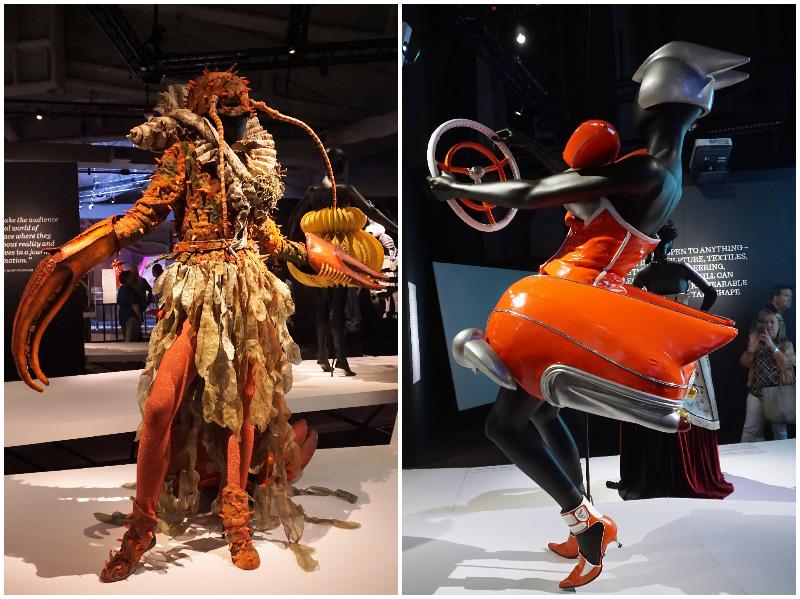 We also visited the Seattle Aquarium, mostly because it was included in the CityPass. It was ok, but not as impressive as the Monterrey Bay Aquarium.
Cocktails and Dining Out in Seattle
Do you like a breakfast sandwich? I do and I can easily say that the Dahlia Bakery makes one of the best I've ever had. At $7.95, the "Bacon Egg Sammy" isn't cheap, but is delicious and filled with quality ingredients including a thick local bacon, a fried egg, a house-made English muffin, arugula, and smoked paprika aioli.
Tilikum Place Cafe
One afternoon we enjoyed a lovely lunch at Tilikum Place Cafe where we had tuna salad sandwich with corn chowder and polenta with tomato fennel ragout and egg. This place is very convenient if you are visiting the Space Needle.
Zig Zag Cafe
One evening we went to the Zig Zag Cafe and it turns out they have an excellent Happy Hour menu filled with craft cocktails and tasty morsels. Our cocktails were the "Company Dock" (Gin, Bianco vermouth, punt e mes, and ancho Reyes liqueur) and the "Soup du Jour" (Rye, Campari, grapefruit juice, maraschino liqueur, and orange bitters). We made a meal of deviled eggs, hummus, sea cow oysters, lamb meatballs with mint, and chicken skewers with tzatziki.
Seatown Market Diner
The Seatown Market Diner (or Seatown Seabar) is located on the edge of Pike Place Market and we met up with David's Aunt there for an early dinner one night. We enjoyed cocktails, local oysters, Beecher's cheese dip (a local cheese) with chanterelle relish, Dungeness crab BLT, lamb pot pie, and something chocolate for dessert.
Heartwood Provisions
This was probably my favorite meal in Seattle. We went here for dinner on our last night, just the two of us, and had a wonderful experience; beautiful innovative food and excellent service. It's also a very unique concept because every menu item has a special small cocktail created and paired just for it.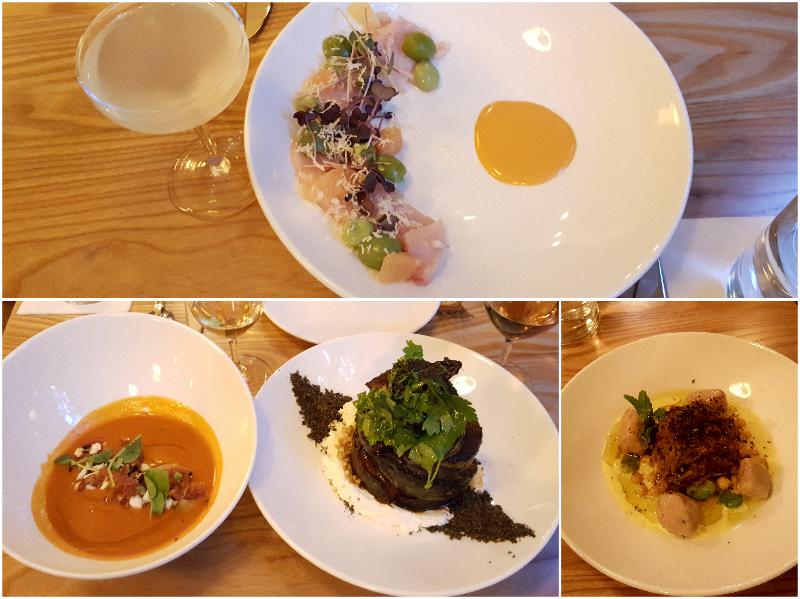 We started with a yellowtail crudo with grapefruit, avocado and a lemon pimenton vinaigrette, which was paired with a cocktail of gin, lemon, celery bitters, and sparkling wine.
Next up was a fresh heirloom tomato gazpacho with a crispy jamon and black olives, paired with Fino sherry and Rhum Agricole Gold cocktail.
One of the most surprising dishes was a roasted kabocha squash with chevre and einkorn wheat and black sesame. Somehow all those flavors and textures just worked spectacularly well together. This was paired with a rum, Dolin Rouge, falernum and verjus cocktail.
Our final dish was braised lamb, ricotta gnudi, with favas, garbanzo, curry and mint. We paired this with a glass of Spanish red wine.
Il Corvo Pasta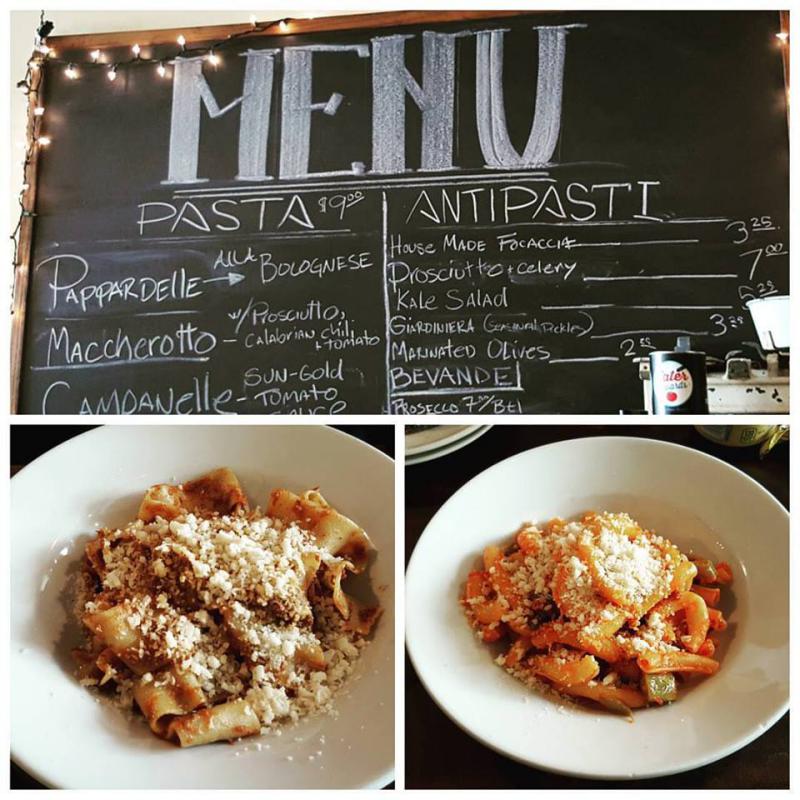 Il Corvo was our last lunch in Seattle and we went here before heading back to the airport. This tiny place always has a line but it seems to move pretty fast. You order at a counter in the back and then take a seat and wait for your bowl of pasta to be delivered. The menu changes daily and when we were there we had bowls of homemade Pappardelle Bolognese and Maccherotto with prosciutto and Calabria chili. Il Corvo is located near Pioneer Square in Downtown Seattle and they are only open Monday-Friday for lunch, so plan accordingly.

Where did we stay in Seattle?
We ended up staying two nights in two different hotels because we used cash plus points to stay at Starwood properties (summer is surprisingly expensive for hotels in Seattle). Both were located in the downtown center and were easy walking distance to sights in downtown as well as public transportation.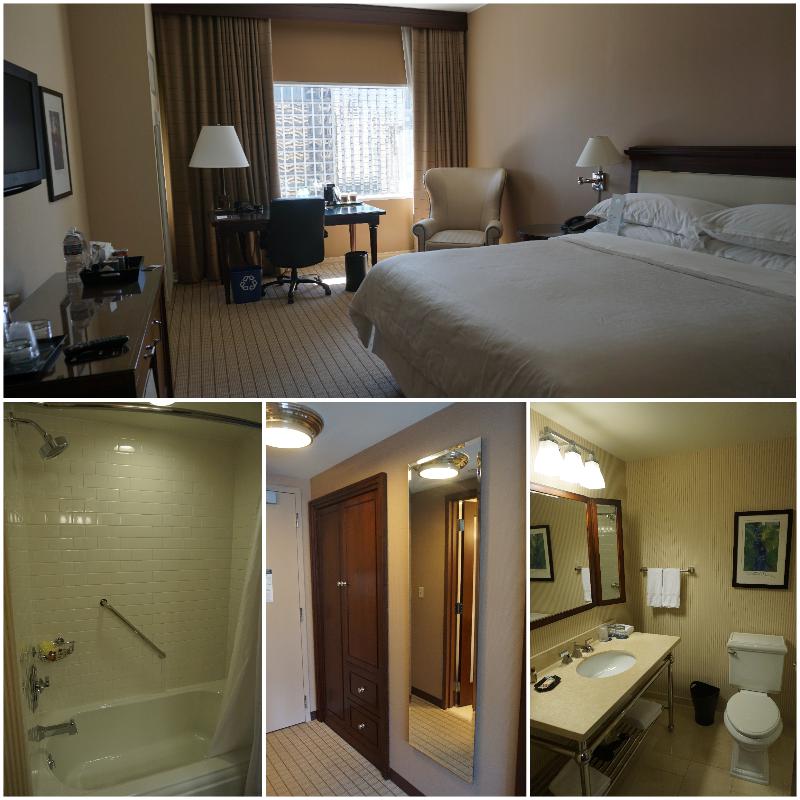 The first hotel was the Sheraton Grand Seattle and the second was the Westin Seattle. Of the two, I think I liked the room at the Westin a bit more. The room at the Westin was more spacious and had a more interesting view.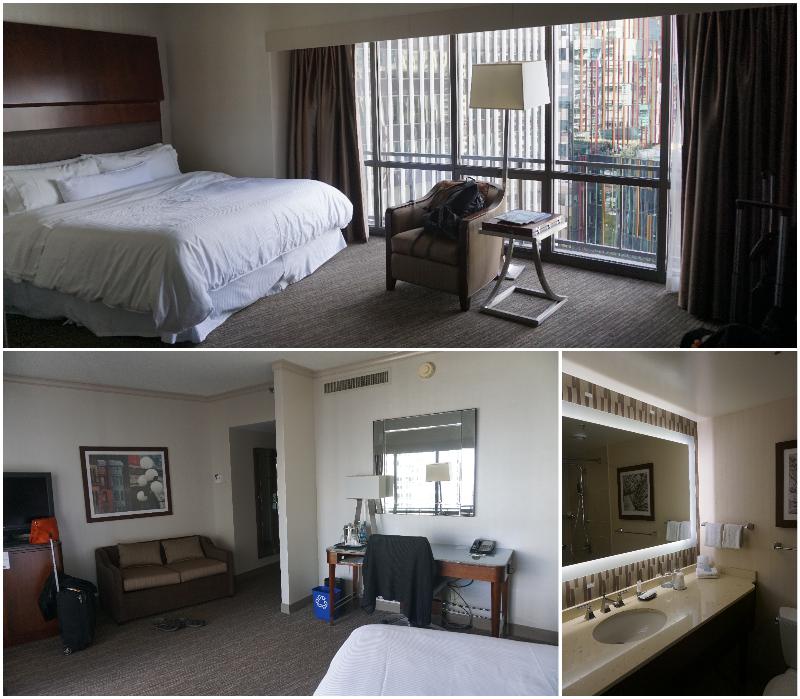 Any post on this site may contain affiliate links. If you use them, they cost you nothing extra but we may make a small commission to help support this site.
Have you been to Seattle? Leave a comment and let me know some of your favorite places!
Related Posts