Luang Prabang, Laos
In March of 2017, I took a 3 day trip to Luang Prabang Laos with friends as part of a longer trip to Cambodia. We flew from Siem Reap to Luang Prabang, stayed at the Sayo River Guesthouse and the hung out at the tres cool Icon Klub, owned and run by another friend. We ate and drank well; everything from the best breakfast noodles, to river seaweed, to duck breast with tamarind, to classic cocktails. We explored local markets, temples, shops, and walked along the river.
On one of our days there, we took a long boat up the Mekong river to see the Pak Ow caves, which are filled with Buddha statues of all shapes and sizes. On another day, we went to the Kuang Si waterfall where we were able to walk through the forest and cool off in beautiful blue pools of water. More on all this in later posts.
The entire town of Luang Prabang is a UNESCO World Heritage site and I really enjoyed the more sleepy vibe of the town as compared to Siem Reap. It's small enough to be able to walk almost anywhere and there aren't nearly as large a number of tourists.
Below are some of my favorite random photos from Luang Prabang to give you a taste of the town.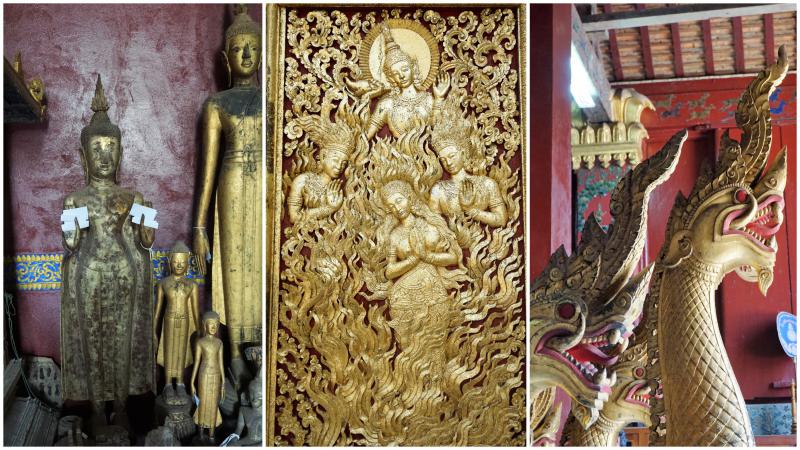 And now for my PSA: If you can go to Laos and specifically Luang Prabang, go. Now. Or as soon as possible. I'm not saying this to be negative, but I remember Siem Reap when it was like this and in the last 15 years, Siem Reap has substantially changed, and not all for the better. I hope that does not happen in Luang Prabang which is why I recommend seeing it sooner, rather than later. Again, more to come about this lovely town.
For more of this trip to Laos, go here.
Have you been here? Would you like to go? Leave me a comment and let me know!
Any post on this site may contain affiliate links.
Thank you for supporting wired2theworld by using our links to shop, book hotels, or organiz tours. If you use them, they cost you nothing extra but we may make a small commission which helps us to continue to provide helpful and free content.
Related Posts