Around the World 1998; Malaysia
Note; this post is recreated from the original wired2theworld website post with the dates below. The old posts were reformatted in 2018 for the 20th anniversary of wired2theworld. As much as possible, the content is unchanged and unedited from the original, only some formatting, spelling, and link errors have been corrected.
Kristina and David's Round-The-World Journal:
MALAYSIA: Kuala Lumpur
US$1=3.78Ringitt
Kristina's Journal:
October 27-30, 1998
We left one "eastern/mystic" culture for one "eastern/western" culture. Kuala Lumpur is a city bordering on the "first world" with water supposedly safe to drink straight from the tap.
Exhausted after a long stay in the Denpasar airport, we entered the gleaming, modern, new KL International Airport, built for the 1998 Commonwealth Games. It was virtually deserted. As we exited from customs, we debated how we would get into the city, almost 45 minutes away, and where we would stay. We checked with the tourist information desk and then with some of the hotel reservation counters and discovered that after a huge tourist rush such as the Commonwealth Games, there was a glut of empty rooms on the market, making a five-star hotel go for as low as 180 RM. a night. As we stood there and debated whether or not we could afford it, the guy behind the counter upped the ante with free breakfast and an upgrade to an "executive class" room. Sold!
Before our budget conscious readers berate us for "distancing ourselves" from the locals, you must remember that KL is a very modern, cosmopolitan, large city. We would not have been any closer to the local culture in a cheaper hotel, we would have just been in a dirty, cramped room.
We took a cab from the airport (66 RM.), where you can purchase a cab voucher from a counter, alleviating the worry of haggling with an unscrupulous cabbie. The bus would have cost the two of us about 50 RM. and we would have had to change twice with our bags in tow.
Anyway, the Hotel Equatorial was really nice and we had a room on the 15th floor overlooking the city and the KL Tower. It had AC, a fabulous bathroom (a definite plus over the ones in Bali), and something we had both been missing since we left home: CNN.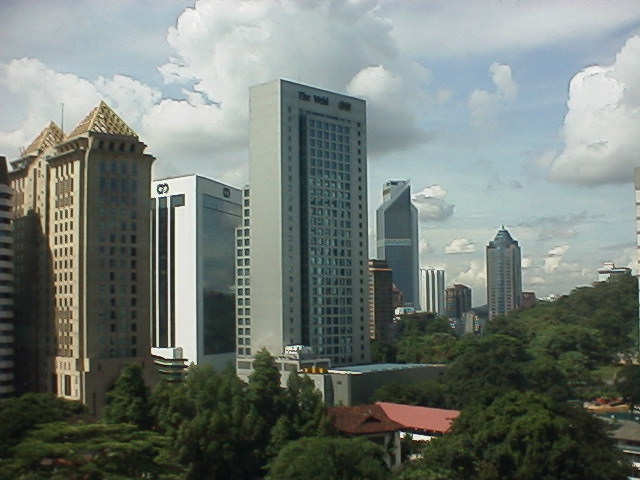 So, we gorged ourselves on western culture for a few days, telling ourselves we would get back in the thick of it as soon as we left. We were able to get internet access, upload text and photos, eat fast food (both American- McDonald's, TGIF Friday's, Haagen Dazs Ice Cream, and local amazing roasted duck and rice from an outdoor stall), watch TV, movies, CNN, CNBC, and plan the next part of our trip.
Having a free breakfast in the hotel saved us money too. It was a large buffet, geared not only to western culture with eggs, cereal, toast and such, but Asian as well with rice, curried chicken, fish porridge, and noodles. For breakfast!
A note about internet access from the hotel; the phone lines in the hotel room were very poor and only allowed us access at 4800-9600 baud. At this rate we couldn't even get our e mail. We finally gave up, went downstairs to the hotel's business center and used the phone there. Much better, 16600 baud and we were able to upload.
Note from 20 years in the future; "Baud" refers to the "dial-up" speed of our internet connection (1 baud= 1 bit per second). This was long before the days of wi-fi connections. We had to connect directly through a telephone line.
To put it in perspective, we now talk about Megabits and my current download speed is over 100
Megabits per second. A Megabit is a million bits. I cannot even do this math…
Malaysia is primarily a Muslim culture, unlike Bali which was Hindu, and most of the women here wear some sort of head covering or scarf. Many also wear wrist and ankle length dresses, but invariably they are in an amazingly bright floral silk with a scarf to match. This is unlike the black chador, or veil, of the Muslim Middle East countries.
David's Diary:
October 31, 1998
Kuala Lumpur to Penang Malaysia

Having reached our fill of Western culture and food (although some things, like beef bacon and the total absence of pork from all elements of the menu, even in TGI Fridays, were a subtle reminder of the Islamic dominance) we set off towards the Thai border, with our destination, Penang in Northern Malaysia.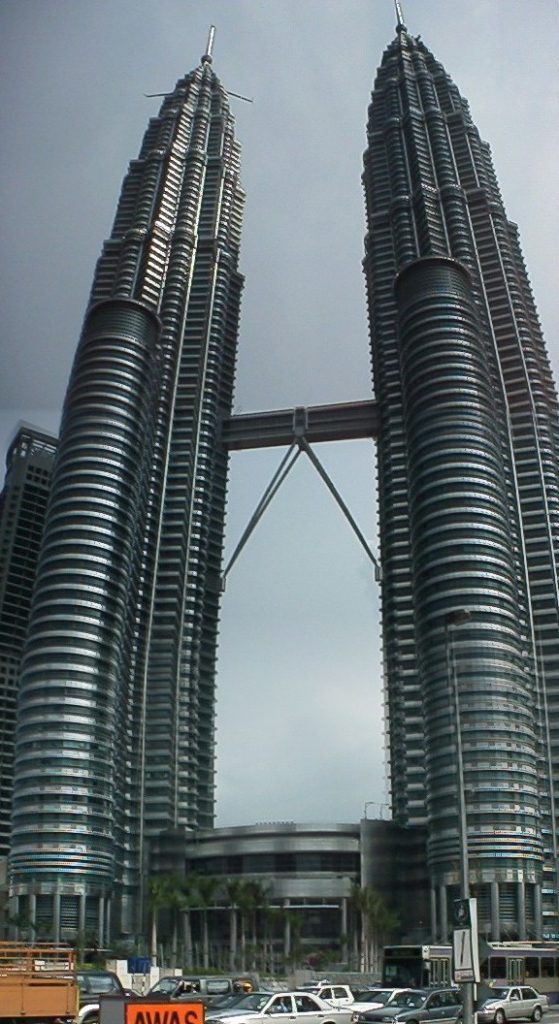 A recent film, entitled Return to Paradise, and starring Anne Heche, is situated on the island of Penang. This movie is about some stupid American kids, one of whom gets busted for drugs in this little Malaysian paradise, and is sentenced to death. I passed on this film, even though Kristina and I are, happily drug free, and not at risk for that sort of thing. Malaysia does have a stiffer than stiff drug policy for all those who enter her borders. In bold, large point type, on your arrival card at the airport, on billboards in line at the customs, and all throughout the city of Kuala Lumpur: Death Penalty for Drug Offenders. They make it so clear, in fact, that only an idiot (or perhaps someone on drugs) would take the chance of a swift trial and almost certain hanging, by breaking that law. I was pleased to discover, however, that unlike its southern neighbor, Singapore, a country with similarly harsh laws and penalties, Malay law does not forbid gum chewing, and so we bought some Wrigley's spearmint and have been chomping away merrily ever since, without fear of imprisonment, fines, or caning.
Penang is a small island on the northwest coast of Peninsular Malaysia, just across a narrow straight from the city of Butterworth. Georgetown, Penang's metropolis, if you could call it that, faces Butterworth, and is connected to the mainland by one of the longest bay bridges in the world. It is similar to the Oakland Bay Bridge, in that it rises for a section in the middle, to become a suspension bridge for almost a kilometer, just enough for the freighters to pass through. From the train station, however, it is much simpler to catch the ferry, only 100 meters away, and a mere 60 sen (the Ringgit is broken down into 100 sen) going from Butterworth to Georgetown- the return trip is free! As you may have inferred from their names, these two Malaysian cities are leftovers of the once thriving Dutch Colonial era, but ironically, they are now host to Malaysia's largest visible Chinese community (we found pork in Penang! Hooray).

The night sleeper train to Butterworth was not terrible, but it was a difficult readjustment from the five-star comforts of the Hotel Equatorial. At times, I thought the train was going to derail, it was bouncing and rocking so violently. Once in Georgetown, we followed our Lonely Planet guide to a supposed backpacker haven, called the Swiss Hotel. I feel confident in speaking on behalf of the entire Swiss population in saying, 'there ain't nothing Swiss about this place, dear'. What a pit. I've spent more money on a bag of manure that served me twice what this place could. Ick. We found our way to one of the LP's mid-range recommendations, The Cathay Hotel, and were happy to give them 69 Ringgit for one night of air-conditioned slumber, in the funky colonial architecture of this clean spacious, Chinese run hotel.
While in Georgetown, any traveler should find his/her way to the Rainforest Restoran (that is how they spell restaurant here), where the food is good, the ice coffee is great, the internet is cheap, and the reading would justify the visit even if the rest of what I've said were all just a heap of bull. They keep scads and scads of journals for travelers to write in, volumes for each country you can possibly imagine visiting, and some you ask, why? The personal anecdotes and recommendations gifted by fellow voyagers are informative and entertaining, and surely worth stopping in for.
Our one evening meal in Georgetown was spent in an outdoor corner Chinese cookery, with one older gentleman playing two giant Woks, a steamer and a fryer much like Keith Moon or John Bonham on a drum set. We had seen this guy cooking earlier in the day, and so vowed to dine at the same establishment that night.
Upon arriving, however, we discovered the place was packed chock full of locals- always a good sign, but in this case, a problem as well. We were fortunate to be invited to sit with the only other Caucasian faces in the whole place, Karen, Anna, and Kate: three young Britons who were all chums at university, and doing the whole around the world thing, as well. What a bit of luck. In fact, they had just come from our next destination to be, Ko Tao, a small Thai island, and Scuba diver's mecca in the Gulf of Thailand. We swapped info and stories, and ate a terrific meal of satay, beer and fried noodles with pork (yea pork!) or shrimp, for which we charged a palmful of spit and dirt! or about 20 RM., actually. All in all, loads of fun.

Related Posts