Castles and Callander; 24 Hours in the Gateway to the Scottish Highlands
There are dozens of companies which will take you on day trips out of Edinburgh to see the castles out in the countryside leading into the Scottish Highlands. You can do this or you can pick up a rental car and head out on the "other side" of the open road yourself, footloose and fancy-free.
Or so we thought.
Unfortunately, the process of picking up the rental car was hampered by a computer glitch and it literally took us 2 hours of waiting in line so the dozen or so people in front of us could be processed. By the time we "hit the open road" we had to severely curtail our plans for the day, missing out on seeing the Outlander related sights of Midhope Castle (Lallybroch!), Linlithgow Palace and Culross. Still, we made the best of a bad situation and what remained of our day, visiting two outstanding castles; Stirling and Doune, on our way to our first stop for the night, the tiny town of Callander.
Stirling Castle
Our first stop was probably the most famous castle in Scotland, Stirling Castle. We had lunch in their cafe and then did a self-tour around the grounds and the open rooms inside.
The area above is a beautiful rose garden right inside the castle's exterior walls. I think there were old (now converted) stables on the right side.
Above, inside the castle's keep and the view from the castle high on the hill of the surrounding countryside.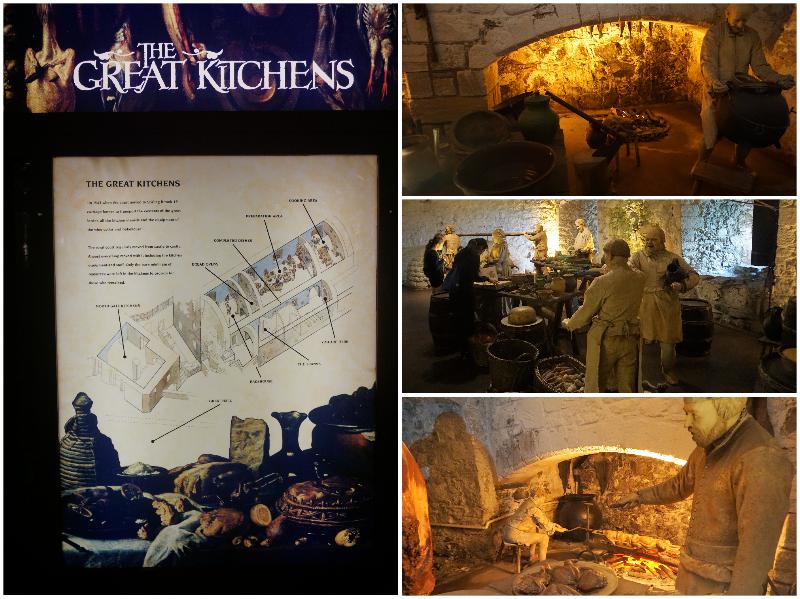 Stirling Castle is about an hour's drive from Edinburgh and is open almost every day of the year. Opening days and hours, as well as admission prices, can be found here. We used our Explorer Pass for admission.
Doune Castle
Our next stop was Doune Castle, only about a 15 minute drive from Stirling Castle. You might recognize Doune Castle if you are a Monty Python, Outlander, or Game of Thones fan because it's been used in all of these and several other movies and TV shows. This turned out to be one of my favorite castles of the trip because it was so atmospheric, relatively uncrowded, and came with an excellent audio tour.
The audio tour is narrated by Terry Jones from Monty Python and includes lots of tidbits about shooting the Holy Grail there. There are some "bonus" tour tracks recorded by Sam Heugan who plays Jamie Fraser in the TV show Outlander. This made my day since we'd had to forgo other Outlander stops because of the problem with the rental car.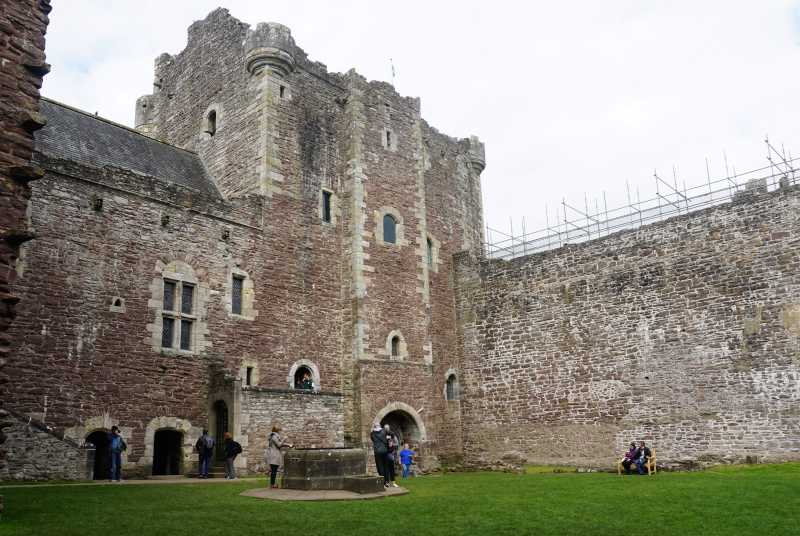 Our entrance fee to Doune Castle was included in the Explorer Pass and included the audio tour. You can see opening days, times, and admission prices here.
Callander
The town of Callander is often called the "Gateway to the Highlands" and was perfectly located for us to spend our first night outside of Edinburgh. It's also an excellent location for visiting Loch Lomand and the Trossachs National Park. If we'd had more time, we would have liked to go hiking in the area since there are several options which start right in town. Here's more info on Callander.
Callander is a very small town and when we were there in mid-August, it was filled with people on their summer holidays. All the B&Bs (and there were many) and no vacancy signs and we had been warned to get a reservation if we wanted to eat in a restaurant. We did not heed this good advice and instead spent about an hour walking up and down the main street, checking out restaurants that were already full up for the nigh,t including most of the pubs.
In the end, we waited for a table inside Mhor Fish where we had excellent sustainably sourced fried haddock and salt and pepper squid, as well as a couple whiskeys (Glengoyne and Benromach).
Where to stay in Callander
We stayed at the Abbotsford Lodge in a lovely large room on the ground floor. Our room had a very nice bathroom with standing shower and separate toilet room. The bed was fine, but as we were to discover in many Scottish hotels, the pillows were like bricks. The staff and owners were all extremely friendly and offered up lots of local information. There's even a charging station for electric vehicles out front (seen in the photo above).
The house has a pleasant lounge and sunroom. There's a complimentary "wee dram" of sherry in the lounge, which was a lovely place to sit in the afternoon and plan the next day.
In the morning we enjoyed a delicious breakfast cooked to order plus buffet options.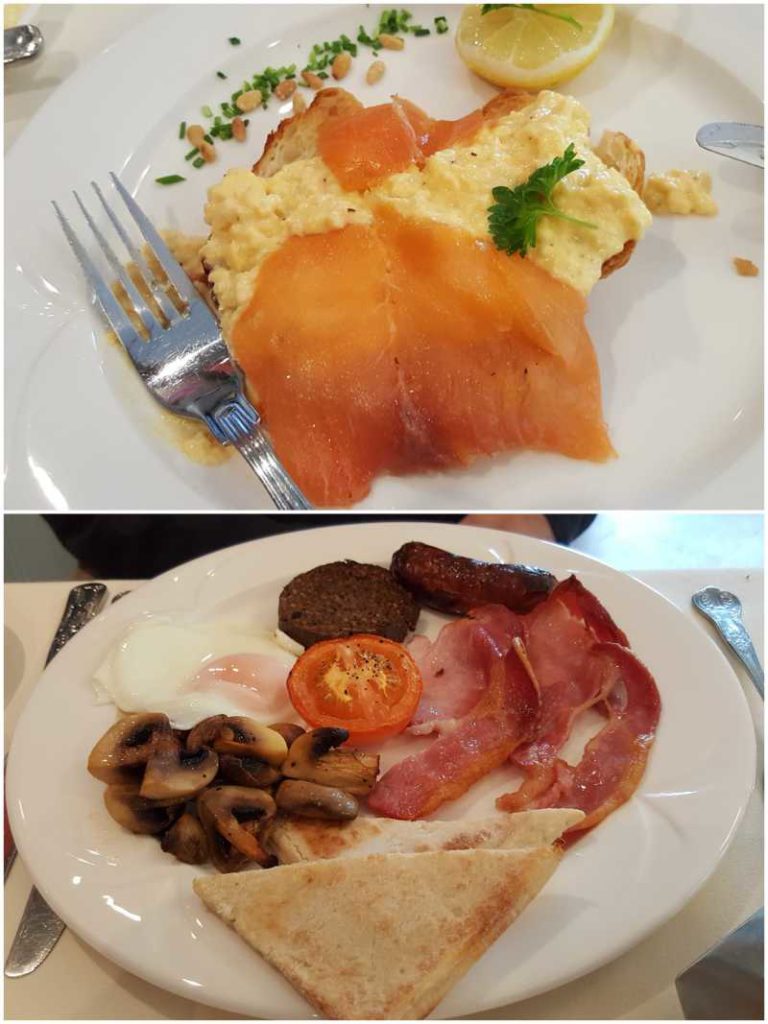 We booked our stay at the Abbotsford Lodge via this booking.com link but if it were not available, I'd consider the Lubnaig Guest House which looks like a lovely old manor house on the edge of town, or the Crags Hotel, right in the center of town on the main street.
Please note, this post was not sponsored in any way. We always pay for everything out of our own pockets and all opinions are truly our own.
Have you been to this part of Scotland? Thinking of going?
Leave me a comment at the bottom and make my day!
Pin the image below now and save for later!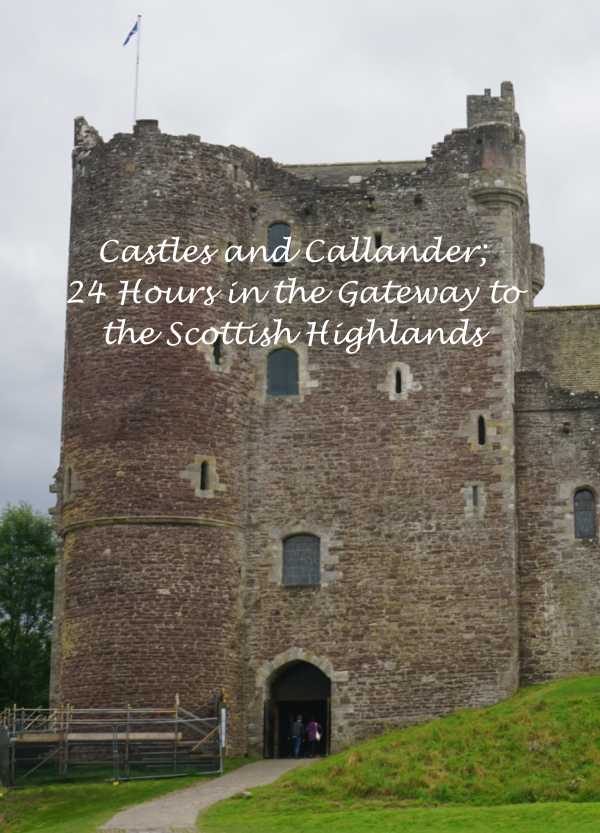 Any post on this site may contain affiliate links. Thank you for supporting wired2theworld by using our links to shop, book hotels, or organize tours. If you use them, they cost you nothing extra but we may make a small commission which helps us to continue to provide helpful and free content.
Related Posts