Travel Tip: How to Avoid ATMs with Predatory Fees
I was recently in Ireland and had something happen that I haven't experienced in more than 30 years of travel to over 40 countries; I fell victim to an ATM with predatory fees. Below I'm going to share some tips on how you can avoid ATMs with predatory fees.
Let me start by saying I accept full responsibility for my mistake and hope that others can learn from it, which is why I'm sharing it here. Lesson learned.
Getting Money At An ATM In Another Country
We were in Killarney and needed an ATM. The first one we stopped at was at a bank but it did not have the "Plus" symbol we needed. When we passed another ATM and it did, I stopped there.
Look For The Right Symbols
Look at the symbols/signs on the back of your card and match them up with what's posted on the front of the ATM. Some may be "PLUS", some may be "CIRRUS", etc.
While using the ATM, I got a warning of a "transaction fee" of 3.95 euro. This was ok with me because my bank refunds any random "fees" for using any ATM anywhere in the world.
The screen also said there would be a currency conversion rate of $1=.7891 euro and asked me to "accept" it.
This is where they got me, on the conversion.
Be Aware Of The Conversion Rates
I did not take the time to do the math in my head or realize how horrible this rate was. It should have been closer to .896 euros. That may not sound like a big difference, and I didn't think it was at the time, but it's 12%.
Being American, I usually think about the conversion in the reverse; 1 euro= $1.12. Again, my fault for not knowing it better in the reverse.
This conversion rate was 1 euro = $1.26 US.
What does this mean? It means that the 200 euro I took out cost me $258.43 when it should have been around $225 (with the transaction fee). I paid a 12% premium to use this ATM because I was not paying attention. That 12% cost me about $25 US.
The paper receipt shows a "Markup: 12%" but that was nowhere on the screen when I accepted the terms. It would have set off alarm bells in my head if it had been there.
In contrast, a few days later we used a bank ATM and 100 euros cost $112 with no crazy "markup fees". Needless to say, I will be much more careful in the future.

How to Avoid Unreasonable International ATM Fees
Watch out for "Euronet" or similar stand-alone ATMs. These are sometimes in airports, convenience stores, hotels, and in my example, in a busy town center.
Whenever possible, use ATMs connected to legitimate banks.
Read all the disclaimers when using the ATM and hit cancel if anything looks funny.
Pay attention to fees and exchange rates, if listed.
Know the current exchange rate backward and forward; how much of your currency equals "1" of the currency you want, and what is "1" of your currency in the currency you are buying. Example; 1 euro=$1.12 OR $1=.896 euro.
Find out if your bank charges a foreign exchange fee on top of any fees charged by the ATM.
Buying Currency In Advance (Don't)
I always think it's a good idea to land with some currency in your pocket of the country you are visiting. Typically you can go to your bank before you leave home and order currency but be aware that this too comes with a cost.
For example, the rate the bank will give you will come with the markup (their profit) built-in. Someone told me they purchased 1000 euro from their bank and it cost them $1212 which means their exchange rate was $1.21. There were no "fees", but the cost per dollar was much higher than if they'd waited to get euros when in Europe. For them, the convenience was worth it. For me, it's not. In this example, it might make sense to get 100 or 200 euro rather than spend an extra $9 on every 100 euro. In this example, they spent an extra $92 for convenience.
Keep in mind, if you exchange cash money at an exchange counter at an airport on arrival, you will get a similar poor rate.
(Do) Use Credit Cards Instead Of Cash
While I still think using a local ATM is the best way to get local currency, using a credit card with no foreign transaction fees is often the most convenient option. While we were in Ireland for 8 days, we spent about 300 euros in cash, with the rest of our expenses going on a credit card. That credit card had the same exchange rate as the bank ATM, plus we got points on everything we spent which is a win/win in my book!
TIP: When paying by credit card, if you are asked if you want to pay in the local currency or your home currency, always select the local currency. If you select your home currency, you will likely receive an unfavorable exchange rate with a built-in fee. This is called Dynamic Currency Conversion and this post explains it in more detail.
Pin this post to save for later!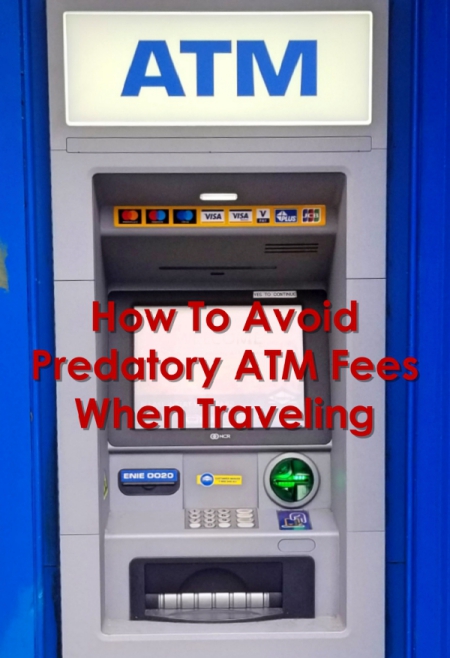 Have you ever fallen for an ATM with predatory fees? Do you have any other tips to add on how to avoid international ATM Fees? Leave a comment below!

Want more Travel Tips? Check out these posts.
Any post on this site may contain affiliate links.
Thank you for supporting wired2theworld by using our links to shop, book hotels, or organize tours. If you use them, they cost you nothing extra but we may make a small commission that helps us to continue to provide helpful and free content.
Related Posts