Around the World in 1998; Jomsom Trek, Annapurna Himal, Nepal
Note; this post is recreated from the original wired2theworld website post with the dates below. The old posts were reformatted in 2018 and 2019 for the 20th anniversary of wired2theworld. As much as possible, the content is unchanged and unedited from the original, only some formatting, spelling, and link errors have been corrected.
US$1= 67.35rs
Kristina's Journal:
December 7, 1998
Kathmandu to Pokhara
We got up way too early this morning to meet Hiran and Tikka to go and catch the bus to Pokhara. Having read the accounts of Nepalese buses and road conditions in the Lonely Planet, we were understandably a bit worried. It wasn't as bad as expected. We were on a tourist bus called Kathmandu Overland. These are 22 seat busses with reserved seats, roof racks for luggage, and supposedly no chickens in the isles. We got to the street where we were to catch the bus and were confronted with about 15 tourist buses and crowds of people. Hiran, of course, did his duty, got us to the right bus and Tikka made sure our bags were securely stored and strapped down.
Inside, the bus was fine, especially since we had the seats directly behind the driver which meant extra legroom and a better view. Hiran and Tikka shared a seat that was opposite the driver, but slightly smaller. David was pleased because he thought he could put his feet in the space next to the driver's chair, but that was soon filled by the three Nepalese young men who sat and talked loudly to the driver for most of the trip.
Departure was about a half hour later than scheduled and we wound our way through the streets of Kathmandu into areas we had never seen. Our first stop of many came only about 20 minutes into the journey. One of the young men who sat next to the driver got out to pay the "road tax" at a police kiosk alongside the highway. He would jump out of the slowly moving bus, run to the kiosk, pay the tax, get a piece of paper stamped, and jump back on the moving bus. This was to be repeated all the way to Pokhara.
Our first real stop came when the driver felt the need to go to the bathroom, stopped the bus alongside the road in the middle of nowhere and said, "Break for pee". He and most of the men on the bus got off to do their business and the women all looked around and at each other like, "where?" Some actually managed to find a few bushes further down the road.
Now, about the driving and the roads: not as bad as expected, but we expected very little. The roads themselves we fine and fairly well paved. The worst conditions were going through the small towns where it seems like the "road tax" was not being put to use. We thought our driver was better than most because he didn't tend to pass on blind curves… much. Sometimes it seemed like we were playing "chicken" with another big truck just to see who would swerve first.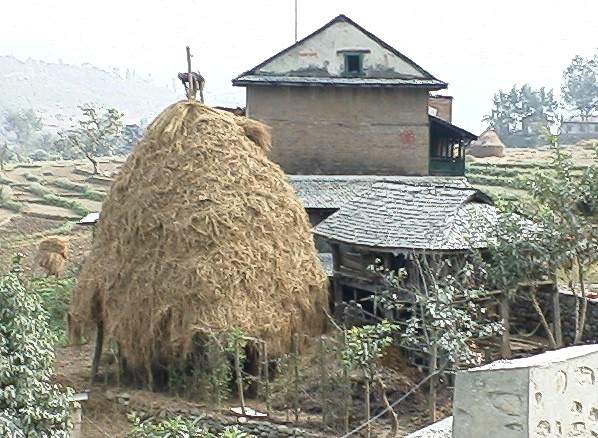 The view from the bus was spectacular and well worth the time spent. It was our first chance to see the countryside up close and the scenery was amazing. We stopped for "lunch" at a roadside cafe/hotel at 9:30 AM and got the chance to walk through a vegetable market with some really nice looking produce. Later, we were stopped by roadwork for about 10 minutes and we got to see how the local farmers stack their hay for the winter. At another stop we saw the Grey Line bus (the $10 one) and peeked inside; larger bus and the luggage goes below, but the seats looked about the same.
When we got to Pokhara we walked about 15 minutes to the hotel of Hiran's choice, the first of many where he has some sort of connection, the Fire on the Mountain guesthouse. Located near Lakeside in Pokhara, this guesthouse is supposedly joint owned, American/Nepalese. We saw no evidence of any Americans in residence, but the place was quiet and clean. We had our own bathroom, complete with a big spider that lived behind the toilet tank (is this a trend?). The room was large, with a high ceiling, nice wooden furniture and an uncomfortable, very hard bed.

After we rented our sleeping bags and a big backpack (30 rp each piece/per day) we walked around and check out the town. It is much quieter than Kathmandu, and a bit less expensive in terms of food. We had a nice meal with some lovely spinach soup at The Laxman. The rest of the town did not do much to impress, and I think we were are bit disappointed as everyone had told us we would love it there. We shall see when we go back and give it another chance.
David's Diary:
Dec 8, 1998
Day 1-Pokhara to Jomsom
Apparently, Kristina and I are going to take turns being ill on the morning of a Trek. In Chaing Mai, I woke up in the middle of the night, vomiting, and this morning, Kristina granted us an encore performance of my awful experience. She was up around 4:00 am, only a few hours before our flight into the Himalayas, and she did not feel right, she said. Minutes later, she was hurling up things she hadn't even eaten, and to make it worse, she still has a cold. I tried to see if it would be possible to change our flight for the next day, but it was too late. I have to give my wife credit when it is due, and this morning she was a trooper. No, even more than a trooper, she was a hard-core Ranger! She got dressed, used the vomitorium one last time, gritted her teeth, and said, "let's go".
We flew on Cosmic Air, one of several tiny mountain airlines (they also have one called Yeti Air) that flies 18 seat Twin Otters up through the mountain passes to Jomsom, and other high altitude alpine villages. If you have never flown anything that small, it is an experience like no other. I've flown American Eagle a few times before, but this was even smaller.
The flight itself was amazingly beautiful. We had to fly between the mountains because these little planes cannot fly over the 25000+ ft. peaks of Annapurna1, and Dhaulagiri. Because it was early, only the snow-covered peaks of the mountains were brightly lit by the rising sun. We flew next to sheer cliffs, and next to small hilltop villages, winding our way up the valley. It was a bit like an Imax film experience. There was a little wind, although the mornings are the only time they fly, because from 10-5 the wind picks up and becomes quite strong with amazing regularity. They call it the government wind, which I found quite amusing. Our little plane was blown about like a little toy, but the pilots were always able to straighten it out again.. Most amazing was that Kristina held her guts together, and made it with no problems.
The landing was another test of the emergency adrenaline pumping system. I did not realize that we would be landing on a dirt landing strip until we touched down, and the plane began fishtail sliding back and forth. I assumed that runways were runways, and that meant concrete, so imagine my surprise. I grabbed Kristina's hand and squeezed it hard, but once again, our pilots were able to keep the plane from getting totally sideways, and we came to an uneventful stop.
Jomsom is a town right out of the old west, but with much bigger mountains.
The scale of the mountains that surround us is simply out of control mind-boggling. Even from 9000 feet, a 23000-25000 foot mountain range is nothing short of awe-inspiring, and neck aching. The buildings in Jomsom are all stone and wood beam, one or two story rectangular constructions. All around town, there are little long-haired ponies, some with woven saddles, contributing to the western feel. The only vehicles that make it up to Jomsom are airplanes. There are both Nepali and Tibetan people living here. Jomsom is the district capital of the Mustang Region, one of the most famous regions in Nepal. There is a small museum of Tibetan culture here, as well. There are a few small hotels and guest houses, each with a little restaurant, and a kiosk or two, but that is it. We checked in right away at the Hotel Trekkers Inn, into a comfortable corner room with a hot shower, toilet, incredible views, and…CNN! It was expensive for the area, about 7.50$ US, but worth every penny because Kristina was feeling so poorly, and would likely spend all day in the room. Tomorrow morning we will resume our trek and hike up to Kagbeni, about 4 hours up the valley from Jomsom.
Kristina's Journal:
December 9, 1998
Day 2- Jomsom to Kagbeni (7 km/ 4.3 m.)
Yes, as David said, it was my turn to get to know the porcelain throne intimately. The Hotel Trekkers Inn was worth every rupee because I spent about 20 hours sleeping in the sunny room. In the middle of nowhere, we had a room with a brand new, pink tiled, bathroom! All I wanted was a toilet I could sit on. And, I got to watch the beginning of the President's defense trial on CNN.* Poor Hiran was so worried, he said he was going to have to take me to the hospital if I didn't get better. I thought I was getting better, and even went out for a little walk through town in the afternoon, but the heaving returned in the evening. Fortunately, David met a very nice Dutch fellow in the hotel who, when he heard of my predicament offered up his own remedy; charcoal tablets. And they worked! They settled my sour stomach. I don't think they would have helped in the throes of food poisoning, but they surely helped an upset stomach. Many thanks go out to this man I never even had the chance to meet. I woke up the next morning feeling a little weak, but otherwise, just fine.
Note from 20 years in the future: *that is a reference to the impeachment trial of President Clinton
Our first day's walk took us to Kagbeni, a small town near the entrance to the Upper Mustang Valley. The Upper Mustang is a closed area of Nepal very close to the Tibetan border home to many Tibetan refugees. A limited few trekkers are allowed in every year, each having paid US$700 for 10 days entrance. Most of the residents of Kagbeni and the surrounding areas, including Muktinath where we will go tomorrow, are themselves Tibetan. We were thrilled with this because we are unable to afford to get to Tibet this trip.
The walk there was challenging, but not too difficult, mostly flat. That is, no ups and downs on hills, the terrain, however, was nowhere near level. It becomes difficult on the ankles to walk for hours over small loose rocks of uneven size. We were, fortunately, blessed with good weather which we have had from the time we landed in Kathmandu. When we called home at Thanksgiving and told our friends we were going to Nepal they said, "but isn't it winter there?" Yes, but a surprisingly warm one. It was downright warm at midday in Kathmandu, though chilly at night and in the morning. Up here in the mountains, it has been crystal clear blue skies all the way. It is possible to see for over thirty miles, the distance deceptive, given the clarity of the air.
In Kagbeni we stayed at the Shangrila Guesthouse, where we learned that sometimes it's better not to have a toilet attached to your room, given the smell. This was a basic room, with two small wooden beds, a tiny table, window, and wooden plank walls that allowed us to hear our neighbors turning over in their sleeping bags at night (and them us, I suppose).
There was no electricity, so we read by candlelight that night. We spent 100 rp. on the room and another 772 rp. on food. We had been told that food and drink would be pricey the higher up we went and this has proved true. This is because there is no other way to get supplies other than on the backs of pack animals or man.
We also met a nice group of trekkers staying there with their guide and porter. Steve and Julie from England, Ursula from Switzerland, and Libby from Australia.
In the afternoon their guide amused us with card tricks and at night we all had dinner together at a big table with a bucket of hot coals underneath to keep our feet warm. After dinner, their guide suggested we play a game and we played one that involved slapping one's hands on the table in a specific pattern.
I suggested that we play "operator", a game we Americans all learn in grade school and one David uses in his class to help teach English. This involves one person coming up with a sentence and whispering it into the ear of the person next to him/her. That person then, in turn, whispers it to his/her neighbor and so on. The last person has to say the sentence out loud and it is inevitably nothing like the first one. I thought this would be even funnier given the mix of English and non-English speakers (guides and porters included). And it was, much laughter followed and the game was re-christened by the Nepalese guides, "whispers".
David's Diary:
December 10, 1998
Day 3-Kagbeni to Muktinath (9km/5.5 m.)
We woke early this morning in anticipation of the climb that lay before us. Our goal was to reach Muktinath, the most sacred location on our trek, and apparently one of the most sacred sites in Hindu and Buddhist culture. We understand, both from books we have read, and the testimonies of several locals as well as our guide, that Muktinath is the second most holy pilgrimage a Hindu can make in his or her lifetime. Even the King makes at least one visit there every year. Among other things, it is where the eternal flame is kept- not that it could be moved or anything silly like that- and the monastery and temples, both Hindu and Buddhist, that exist as a result of the flame. Of course, we had absolutely no idea what to expect, apart from a grueling ascent to 4000 meters in a single day.
Needless to say, Kristina was on my case for having dragged her on this portion of the trek against her will etc. within the first hour of our climb. I was, to the credit of her complaining, too out of breath to fight back, because the trail was excruciating. It was never-ending. The thin dirt and pebble path took the direct route up the side of the mountain, at about 45 degrees, and continued as such for as far as the eye could see. Not at all encouraging for two city dwellers in as poor shape as we were. At the top of the first hill, we took a short break, but there was no relief, as another, larger, steeper climb followed. We forged onward, ever higher. It was obvious that we were gaining in altitude because we began to notice granules of hail like snow on the hillside, but only in the shadows. Just about anything cast a shadow sufficient enough to keep the snow from melting, including every stone larger than a golf ball, which created a very interesting looking landscape.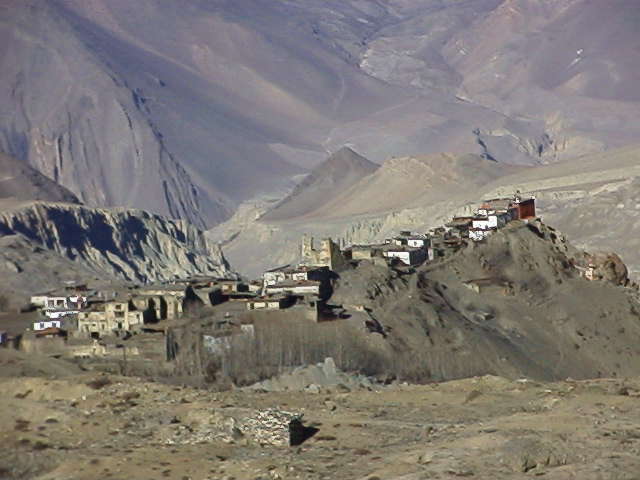 At the top of the second huge hill, we were granted our first and only reprieve from climbing. The trail flattened out along the edge of a mountain, running parallel to the valley into which we had just climbed. The view from the edge of the valley was breathtaking; Completely surrounded by immense snow-covered peaks, with a single river flowing down a deep gorge, with cliffs on either side that were carved away by monsoon rains causing them to look like cathedral organ pipes, this valley was right out of the Land Of The Lost, only without the vegetation and the dinosaurs. On the far side of the valley, we could see the tiniest little villages nestled high up against the base of the mountains. One of these had to be Muktinath, but Hiran simply shook his head and said, no. Muktinath was still out of sight, above the furthest town we could see, and behind another hill. Argh.
When we finally reached that furthest town, called Jharkot, we were already exhausted, sore, and very irritable. It wasn't too cold to the touch, outside, but there was ice on the stream, and the volume of snow-hail pellets had increased substantially. My legs were hurting and Kristina's were even worse. The final ascent to Muktinath was pure torture. Our breath was cut short by the altitude, and our legs were barely moving. We would climb ten steps, and rest, climb a few more, and rest, for what seemed like hours before we finally reached Muktinath.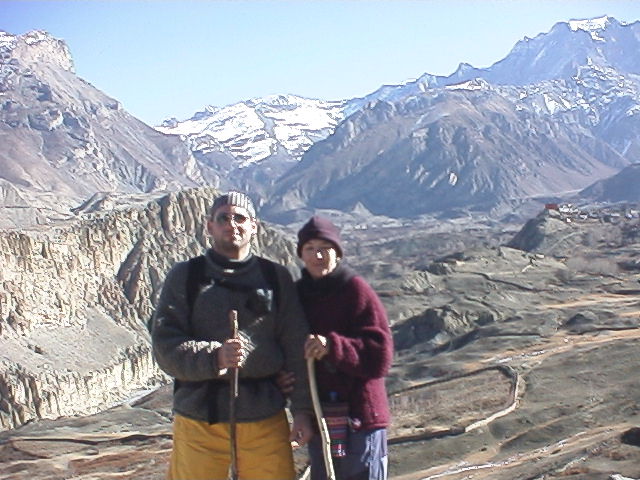 We spent one very cold night in a rather nice tea house by the name of the North Pole, and if you closed your eyes and felt the cold at night, you could almost believe that you heard Santa's elves working away in their workshop. On top of the cold, both Kristina and I had the most painful altitude headaches. There is nothing romantic about altitude sickness, and the headache one gets is a true temple crusher. I almost took one of those Valium that we had bought in Kathmandu, but the book recommends that one avoid sedatives when experiencing altitude sickness symptoms, as they have occasionally resulted in severe low oxygen complications, including death- a most undesirable complication. So, I took 600 mg. of ibuprofen, a.k.a. Advil or Motrin, and after an hour, it did the trick. We turned in early, although one always turns in early in the mountains, because the sun is gone after 5, and it is dark and cold just about everywhere. Tomorrow is a huge day, as we must go to the monastery and the eternal flame before breakfast, then climb back down the mountain all the way to Marpha, the apple capital of Nepal, where we hear they make an exceptional brandy and cider!
Kristina's Journal:
December 11, 1998
Day 4-Muktinath to Marpha (30km/18.8 m.)
Ouch. Ooooh. Ow, my aching head/ legs/ feet/ blisters. Waahhh.
The day began early, too early. Before dawn, before breakfast, before coffee. We got up at sunrise and walked uphill again to the monastery by 7:00 AM only to find everything shut and locked. We waited by the Hindu temple for the priest to come and unlock it. Surrounding the temple are 108 water fountains, part of the pilgrimage site. The water flows from spouts that look like dragon's heads and part of the pilgrimage is to bathe under each one which will help ensure one's place in heaven.
While waiting, we walked up further to the Buddhist temple which was also locked. We never did get the chance to see inside this one but when we walked back down to the Hindu temple the priest and his assistant were coming to open it. We waited and watched them attend to their morning rituals of washing the Shiva figure, lighting incense and saying their prayers.
Next we walked over to the temple which contained the eternal flame. Again, it was locked and we waited this time for a nun to come and open it. Once inside we saw the flame, most likely a jet of natural gas that erupted from between the rocks, beneath a grate. Hiran told us that when a person dies, sometimes the family will come and take some of the flame to use for part of the cremation process.
After visiting the monastery, we walked back to the guesthouse for breakfast and then began our death march,…er, long walk, down hill toward Marpha. At first, it was much more easy going than the walk uphill the day before. We both commented that we weren't even sore, but we obviously spoke too soon. The scenery was absolutely stunning however, reminding us somewhat of the Grand Canyon. We had an excellent view of the Mustang Gate, the entrance to the restricted area of the Upper Mustang valley, closest area to Tibet. About noon the wind picked up and started blowing dust in our eyes, noses, mouths, as we walked across the river bed. We reached Jomsom and debated whether or not to continue walking and decided that the last part of the walk, 7.5 km to Marpha wouldn't be that bad. Wrong! The winds increased and every step, after already having walked over 20 km was excruciating. Going downhill, while easier on the lungs, is much more difficult and harsh on the body. Knees ache, hips hurt, blisters form on feet that have worn the same boots with no problem for four months. Ow, ow, ow.
We really weren't ready for this physically. Walking 6-8 hours a day up and down mountains on uneven ground takes it's toll rather quickly. I would like to say that if I'd have known what it was going to be like, I'd have been better prepared, but four months of travel would have undone any previous physical fitness. If I were planning a trip just to Nepal however, I would climb stairs, both up and down, to prepare.
In Marpha, we stayed at the same guest house as our fellow trekkers we met up the mountain. Marpha is known for its apples, and consequently, its apple brandy and apple cider which were both very good. The Dhaulagiri Guesthouse, was typical with it's plank walls and floor toilet down the hall, but it was clean and the food, good. Not very hungry, I ordered a bean and cheese "burrito" which arrived on a cast iron skillet, flat like a quesadilla, but otherwise quite tasty.
David's Diary:
December 12, 1998
Day 5- Marpha to Ghasa (18km/11.1 m.)
The route to Ghasa was supposed to be flat, according to Hiran. Or at least, almost flat with some downhill. To nobody's astonishment, it was neither. We climbed and descended large, steep hill after large steep hill, and the wind was even more ferocious than it had been during our endless trek to Marpha. My knees were screaming in pain, as if someone was filling my kneecaps up with fluid. My feet, although sore, were holding up well in my Timberland boots, but at the end of this day, I too would have a two inch long blister along the side of my right heel. That blister did not pop, however, and was merely an annoyance, unlike my knees, which were downright excruciating. We hobbled along the base of the biggest peak in the region, Dhaulagiri, at 8167 meters, or a bit over 25,000 feet. The Dhaulagiri Ice Flow, a glacier of stunning proportion spilled out from between the great peak, and it's diminutive neighbor, Tukuche, at 6920 metres, about 21,000 feet. The cornice atop Tukuche was nearly 1000 ft. thick from the look of it.
We left behind us the arid, high altitude desert region and descended below the tree line, into the Kali Ghandaki river valley lined with evergreens. The green blanket of durable all weather forest was only broken up by the occasional landslide, where the entire side of a mountain had collapsed under the weight of it's own solid existence, erasing all that lay in it's path. We walked through Kalopani, where the technical institute is located, serving all the people of the Mustang Region. It was explained to us that this school was where all of the tea house employees and owners were trained in the fine arts of hospitality and food preparation. It may not have been Cordon Bleu, but it was obviously adequate, as the service and food we had been receiving far outshines even our most optimistic expectations about our accommodations.
In Ghasa, we stayed again with our friends from the trekking team, Steve and Julie, Libby, and Ursula, at the Florida Guest House. In Ghasa, they are anxiously awaiting the introduction of electricity. There are poles with transformers from Kalopani to Ghasa, but they carry no wires. The spools of high tension electric line were distributed from place to place alongside the trekking path. A kerosene lantern was used to light the dining room, while candles were given to us for the rooms. We huddled close around the charcoal heated table in the dining room, while outside, the wind was blowing even more powerfully than it had the day before. A lone traveler, also on his way down the mountain had purchased a large bottle of Marpha apple brandy and invited all of us to join him. As Kristina so aptly put it- "That's one way to make friends." I mixed my apple brandy with hot tea and started a trend which would carry us along until the brandy was all gone, and we were all toasty warm.
Once in our rooms, and ready for a well-deserved rest, the wind continued to blow even stronger. The well-intended windows revealed their inadequate construction as wind and dirt blew into the room through large gaps in the window frames. Within minutes, our beds were covered in dirt and leaves, and we were freezing. We finally sacrificed our extra quilts, piling them in from of the window in hopes of blocking the invading tempest of filth. It worked, to some extent, and we rotated our position in bed so that our heads were no longer on the window side. Even so, the wind gusted so hard at times that I feared the windows would implode into the room, especially given their less than professional construction. Twice, I was given such a start that I snapped my head into my sleeping bag like a schizophrenic turtle. We did survive the night, but the pain and agony felt in our legs had not gone with the wind. The hot springs were only one day ahead, and could not have come at a better time, only we still had almost ten miles to walk before salvation and recovery could be ours.
Kristina's Journal:
December 13-14, 1998
Day 6… Ghasa to Tatopani (15km/9.3 m.)
Day 7…rest at Tatopani
Another day of walking, up/down, up/down, this time toward the promised land of the hot springs of Tatopani and a day of rest tomorrow.
Tatopani is the mid way point on the Jomsom trek and many people stop to rest here for a day or more. Tatopani has also long been a trade center for the region, and many locals come here to do their shopping rather than go all the way to Pokhara.
Here we stayed at yet another Dhalaguiri Guest house, while our friends stayed across the street at the Himalaya. Our guest house is owned by an English speaking, Jesuit school educated Nepali and his French wife. The food was wonderful, far beyond the basic menus so far, and many of the rooms are set in a peaceful garden, but the rooms themselves were lacking. Ours was dark, drafty, and although we paid extra for our own bathroom, nothing in it really worked. The sink leaked, the toilet didn't flush properly (though it was nice to have something to sit on!) and the shower was ice cold, though supposedly "solar heated". We had to shower in the communal shower which was a stone room with window covered only by a thin sheet.
Tatopani sits on the edge of the Kali Gandaki river. About two months ago a huge landslide came down, blocking the river about 1/2 mile downstream. This caused the river to rise almost 50 feet, flooding many homes, wiping out crops and fields, some of the hotels, the main trail for trekking and trade, and the hot springs which are down at river level. The water level had receded, but much of the damage remains. The trail is now 45 minutes longer, up and over a steep hill to get back on the main line.
The hot springs still exist, but not the nice pools that were once there. New concrete pools have been built, but must be bailed out by hand every night in order to clean them. The water comes out of the ground at a scorching 70 degrees Celsius and must be mixed with cold water. Many people come to the hot springs to bathe and wash laundry, not in the pools of course, but in the how water that flows directly out of the ground.
Although everyone agreed it was not what they expected, it was a nice place to sit and relax and ease those tired muscles into hot water. It was nice not to have to walk for a day.
David's Diary:
December 15, 1998
Day 8…Tatopani to Chitre (12km/7.4m.)
The word of the day, boys and girls, is UP! Can everybody point their finger UP? Which way is UP? AARGH! No question here as to which way is up. We had to climb up to 2316 m. from 1189 m. or about 3500 ft. in elevation for the day. Fortunately, our actual altitude at Chitre was only about 7500 ft above sea level, making it somewhat less demanding than Muktinath, at 12,000+ ft. The climb was ruthless, brutal, and never-ending. To add insult to injury, some happy band of bored Nepalis thought it would be pleasant to lay a stone staircase into the mountainside. The entire climb was paved with huge, flat stones, about three per stair, each weighing in at over 100 lbs. per stone. I have to wonder if they were paid to it by ACAP, the Annapurna Conservation Area Program, to enhance the trekking industry, or whether it was done over the years by zealous locals who wanted a nice path- given that walking was and is their primary form of transportation.
About halfway up the mountainside, we began to encounter orange and tangerine vendors of all kinds. There were small children sitting with small baskets of oranges, and older people with all sizes of baskets. We ignored and apologized our way through this out of place fruit market, until our guide, Hiran, took interest in an elderly woman squatting on top of a wall, with a basket of tangerines next to her, and a fair sized orchard behind her. Hiran smelled and squeezed, rattling off something in Nepali, then selected a few ripe fruits for us all to eat. They were by far the best tangerines I have had in years, as sweet and juicy as can be, with very few seeds. We immediately requested that he buy loads more, and at one rupee apiece, we wanted to fill our backpacks. Displeased with the remainder of the old woman's selection, Hiran hopped the wall and picked about a dozen more, fresh ripe tangerines. The climb to Chitre was so draining, we actually consumed all of the fruit we had during many thirsty breaks.
When we finally arrived in Chitre, we discovered a pair of travelers who had taken the suffering right out of camping. We saw their tents as we walked into the Tea House / Campground. Kendra and Andy were doing it right. They had booked a camping trek from the States and told us that they had no idea how plush it was going to be. For starters, they had begun with eleven people on the crew, plus the two of them. There was a guide, who carried nothing of his own, his assistants who set up and broke down the camp, and porters; a cook, who also carried nothing, his three assistants, plus porters to carry the mess hall and the food. Kendra and Andy were embarrassed, a little, and we were just downright impressed. If you have to camp, then why not camp such that you really enjoy yourself. After all, these hills are big and steep, and hard to climb!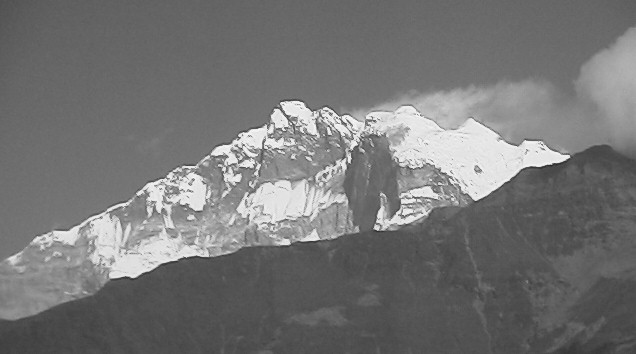 Kristina's Journal:
December 16, 1998
Day 9-Chitre to Ghorepani (3km/1.8m.)
In Chitre we met two women from New Mexico who were trekking with the only Nepali owned, women run, trekking company in Nepal. They are based in Pokhara out of the Three Sisters Guesthouse. They employ women guides and porters and offer a women centered option for trekking. Their guide was one of the "three sisters" and the porter on this trek was a man, as no women we available. The women from New Mexico we very happy with them, and if I were a woman traveling alone I think it would be an excellent option.
Today was only supposed to be a two-hour walk, but all uphill to the second highest elevation of the trek, Ghorepani. And miracle of miracles, it was only about three hours and we arrived well before lunch. The primary attraction of Ghorepani is that it sits at the base of Pun Hill, one of the best spots in the region to view the entire Annapurna Range. Most people rise before dawn, and trek one hour uphill to witness the sunrise on the peaks, as will we, tomorrow morning.
The Hotel Snowland was at the top of the town and we sat on their deck overlooking Annapurna One, waiting for our fellow trekkers to arrive. Inside the Snowland was by far the worst in terms of construction an privacy. The inside walls were constructed of rough planks with at least 1/4 to 1/2 inch gaps between them. From the hallway and between the walls of the rooms, all was visible. When everyone finally arrived, it was time for a group photo.
Unfortunately for the Hotel Snowland, their cook had been killed in a freak wood chopping incident six months prior. Unfortunately for Dave, this may have contributed to one of our worst food experiences so far. For dinner, he ordered tomato soup and a pizza. I had mediocre fried rice.
When Dave's soup arrived he looked at it and said, ironically, "Mmm, looks good, chunky with tomatoes and onions." He proceeded to eat about half of the soup and then I heard, "Honey….what's this?", in a slightly wavering voice. I looked at the spoon he held aloft and squinted at it in the dim light. I shined my flashlight at it and my stomach turned. BUGS! Rolly pollies. Little crawly things. And more than one. Sickened, we looked across the table at Hiran and asked him to take the soup back into the kitchen. We watched as everyone in the kitchen stood around the bowl and peered at it with my flashlight. Hiran came back with apologies and said they thought the bugs were from the powdered soup base. Dave was quite calm and even managed to eat his pizza, complete with fresh tomatoes on top.
David's Diary:
December 17, 1998
Day 10-Ghorepani to Tikhadungha (8km/5m.)
PUN HILL (prncd. poon), is all I can say. In fact, I am so out of breath, I can barely squeak that out. At five o'clock in the morning, we were all woken up by our guides for one of those landmark 'highlight' momentous events in the trek. We were forced up a steep trail in the pitch dark frost of early morning before the sun's first purple glow peeks over the easter000n horizon. I saw a huge falling star while looking over my shoulder to try and discern the dark silhouette of the mountains against an even darker sky. From Ghorepani to the summit of Pun Hill is another 400 m., or 1200 ft. of ascent to an altitude of 3300 m. or 10,000 ft., and without any coffee no less! We found the air to be thin in oxygen, and the climb was exhausting.
I forged ahead, thinking that I would pass the few flashlights on the trail ahead of our group and be the first to conquer the hill that morning, and thus declare myself King of the mountain, but my plans were to spoil in a manner most foul. Upon reaching the top, after wheezing and huffing past others who were enduring the climb, my heart sank as I saw over thirty people already there, milling about with cups of hot chocolate in their hands- apparently on sale for way too much money by some enterprising young Nepali with a few Thermos containers. On top of losing my bid for King of the obviously-over-commercialized hilltop, I had successfully pissed Kristina off by leaving her behind to make the climb on her own, in the company of our guide.
The sunrise was, without a doubt, one of the most beautiful one can see. Although I have always been partial to the sunrise in Baja California, from over the Sea of Cortez…but I digress. From Pun Hill, one can see the entire Dhaulagiri Himal range and most of the Annapurna Range, totally unobstructed. The tallest peak in each range is over 25,000 feet high. All are covered with snow and ice flows, enormous glaciers, and tower over all that one can see. To the south, the lake next to Pokhara, second largest in Nepal is clear, and to my relief, not so distant.
We are almost home. I am so ready for a long, hot bath.
The way down from Ghorepani to Tikhedhunga proved as difficult, if not more so than the ascent. Hiran told us that there were 3500 steps from Ulleri to Tikhedhunga. He, somehow, neglected to mention that it would be several hours of uncountable, steep downhill steps before we even saw Ulleri from a distance above. My knees were feeling slightly better, sufficient to walk without wincing or complaining, but Kristina's had taken a turn for the worse and were causing her much visible pain. We only just made it. I helped Kristina down each of the three thousand five hundred stairs, one step at a time. She was favoring one leg, only stepping down with one foot, then bringing the bad leg down to that step. It took us most of the afternoon to descend the endless staircase. We are both convinced, at this point, that uphill climbing is highly underrated!
Kristina's Journal:
December 18, 1998
Day 11-Tikhedhunga to Chandrakok (8km/5 m.) Taxi to Pokhara
Last night was the worst, by far, in terms of pain. After we limped into the guesthouse, I thought to myself, "ok, now's the time when that Valium will come in handy." So, I took half a tablet, 5 mg. and, nothing. I took 600 mg. ibuprofen, nothing. Another 5 mg Valium and barely a dent in the pain, but I finally slept.
Getting up in the middle of the night was an exercise in pain management.
Try squatting over an exterior floor toilet, holding a flashlight in one hand, the door closed with the other, toilet paper in your teeth, and your legs screaming. It's not a pretty picture.
Note from 20 years in the future; this image is so seared into my brain that it is a vivid memory to this day as a pivotal moment of the trip. Even today, my knees hurt if I walk downhill too far.
In the morning we had another 3-4 hour hike downhill toward Chandrakot, where we caught one of the many taxis waiting for returning trekkers. For 500 rp we got an hour's ride back to Pokhara at high speed, on the shoulder, horn blaring all the way, for David and I, Hiran, Tikka, and Shiva, our friend's guide.
Back to Fire on the Mountain Guesthouse which we decided we'd leave after Hiran and Tikka told us they were leaving the next morning to go back to Kathmandu. Once we changed to the Snow Hill Lodge, where our trekking companions were, we liked it so much we decided to stay a few extra days, just resting. We opted for a nice room, with a fantastic view of the mountains and a bathtub. Ahhhh.
We had some decent meals. One at a lovely restaurant on the lake called Boomerang, where, during the day you can sit in the sun with a great view of the lake and the surrounding mountains.
Another, called the Tibetan Tea Garden was at the northen end of Lakeside Pokhara, a a great value for the money. They had wonderful, traditional, Tibeten dishes like Momo, and Shabaklab, and a weird millet beer. The "beer" was served in a large cask, filled with fermented millet, with hot water poured over it and drunk through a metal straw. It tasted like sour yeast. They also had good steak dishes and vegetarian food.

All too soon it was time to go back to Kathmandu.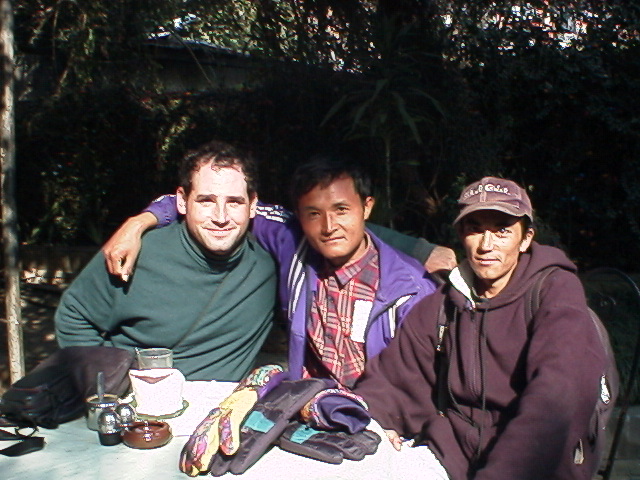 Kristina's Notes: Tips about trekking (from1998):
Food:
Most of the menus have been set by ACAP (Annapurna Conservation Association Project). Cooks from each guesthouse are trained on how to make a variety of western food items, with varying results. Most of the time, however, they do a fairly good job. We were expecting Dal Bhat every night but had a range of choices instead. It is best to stay away from meat items however due to lack of adequate refrigeration and sanitation. We ate a lot of soup, pasta, fried potatoes, and eggs.
Prices: Menu prices and room prices are also set by ACAP and there are signs everywhere asking tourists not to attempt to bargain for room rates. Guesthouse owners can be fined substantially for giving discounts. Prices increase with altitude as it is more difficult and costly to get supplies to the higher regions. Along the trekking route room rates ranged from 60rp to 450rp for a double room, but the standard was about 100 rp. Sometimes we had to pay 30 rp. for a hot shower. Dorm rooms were available for 35-40 rp. We almost never had a room with our own toilet, and when we did, it wasn't really worth it. Food was more expensive, and we spent about 800-1200 rp a day for the two of us, including bottled water and snacks, and three meals a day. We stayed away from beer, which can increase costs.
Total Trek Cost:
For the eleven day trek we spent approx. US$700 dollars for two people. But, this included everything that the guided companies don't:
Permits, Conservation fees, extra clothes we had to buy and kept later, flights for us and guide and porter, bus ride to Pokhara, Taxis to airport and from the end of the trek to Pokhara, Airport tax, all food, accommodations, rentals of sleeping bags and backpack, and our porter and guide's fees.
We were quite happy with this and felt like we got our money's worth, given the personalized attention from Hiran and his obvious sense of responsibility that many of the other guides we witnessed seemed to lack. We were also happy to have a guide because although the trail was good and fairly well marked, there were times we would have definitely gone in the wrong direction. It is also nice to have someone with you who speaks Nepali; he organized getting us the best rooms, extra blankets, food, etc. If you are interested in trekking, please contact him:
Updated info for Hiran as of 2019- you can reach him via Facebook here and this is his web site; http://www.go2himalaya.com Please be aware that costs are certain to have increased greatly in 20 years.
Our friends we met along the way on an organized trek we paying the company $18 a day per person, but this did not include flights, airport tax, extra clothing, any and all beverages, snacks like candy bars, and sleeping bag rentals and taxis. They had one guide, one porter, and one big bag for the four of them. They used a company called Trekking Team, and were happy with them. They also gave their porter a 2000 rp. bonus at the end of the trek, effectively doubling his salary for the ten days.
It is also possible to hire one person only, a guide/porter, but usually, the better guides do not want to porter.
In retrospect, it is difficult to see where we could have saved much money. We could have carried our own bags, eliminating the need for a porter, but that would have only saved $60 and would have been physically impossible for me. We could have not flown to Jomsom, but then the trek would have been twice as long, or not as far a distance for the same amount of time. We spent about $90 on cold weather clothes for the two of us which we will keep and use again. Food and accommodation prices are fixed and you have to eat and sleep, not much there, except don't drink beer, it's too expensive.
Please note, this post was not sponsored in any way. We always pay for everything out of our own pockets and all opinions are truly our own.
Have you been to this part of Nepal? Thinking of going? Have you trekked there? I'd love to hear if recent experiences were much different than 20 years ago.
Leave me a comment at the bottom and make my day!
Any post on this site may contain affiliate links. Thank you for supporting wired2theworld by using our links to shop, book hotels, or organize tours. If you use them, they cost you nothing extra but we may make a small commission which helps us to continue to provide helpful and free content.
Related Posts