A First Timer's Guide to Planning a Trip to Egypt
Planning A Trip To Egypt
Should I go to Egypt?
I had a big birthday in October last year (meaning one ending in a zero) and my mother said to me, "I'll take you anywhere you want to go."
Doesn't that sound like an amazing offer?
It was.
And then I was paralyzed with indecision. The stakes were high and the choices too broad.
Where to go?
We discussed and researched several options and then at some point I saw a package deal for a week in Egypt. While we didn't end up booking that tour, it planted the seed in our imagination and showed us what could be done in a short amount of time I had for the trip, about ten days total.
But should we go? Was Egypt safe for two women traveling alone? Did we need to be on a tour? How would we plan a trip to Egypt on our own? These were questions we considered and were asked by friends and family while trying to decide what to do.
After the protests and revolution in 2011, Egypt experienced a period of civil unrest followed by an almost 80% drop in tourism, which was then followed by massive unemployment and political instability.
Was this the right time for us to go to Egypt?
Ultimately, after some research, we decided that yes, it would be ok for us. While tourism had been down, by 2018 it was on its way back up, but prices were still low and the main sights were still relatively uncrowded. This sounded like a win-win to us. Below I'm going to share what we learned about how to plan a trip to Egypt.
Tour Companies
In general, we're not "tour group" people. We like to pick our flights and hotels ourselves and don't like being herded around on a big bus by some flag wielding tour guide. However, we'd heard stories about how challenging Egypt could be for independent female travelers. We'd found Morocco to be a big challenge and we didn't want to repeat it. Basically, we wanted a bit of hand-holding, just not too much.
In the end, my mother and I both contacted several tour companies, located in the US and Egypt. The range of what is offered, as well as cost, is wide. Companies based in the US tend to be more expensive than those based in Europe or Egypt. Many wanted to force us to fit into specific tour dates which didn't line up with my work schedule. Some required that you book all hotels and flights through them which didn't work for us.
Ultimately, we decided to do the trip as semi-independent travelers; we booked our hotels and all the flights in order to best fit our schedule and preferences and to be able to utilize our points and miles. Then we selected a local company in Cairo for daily tours and airport transfers.
TIP: Do your homework on tour companies if you plan to use one. They are not all created equal. Find out what's included and what's not. Get it in writing.
Ask about admission fees, if extras are included (entrance to King Tut's Tomb or camera fees for example?), airport pickups and drop-offs, who are the guides, what are the tipping expectations, etc.
Tour Company-Your Egypt Tours
After much deliberation, we settled on Your Egypt Tours who provided excellent service by all involved. From their booking agent who handled everything via email, to our guides in Cairo and Luxor and their drivers, all were fantastic and accommodating. They were flexible and willing to work with us to do whatever we wanted.
Our tour guides in both Cairo and Luxor were well-educated Egyptians who were licensed Egyptologists. Both spoke excellent English and were willing and able to answer the millions of questions we had for them not only about what we were seeing but about everyday life, culture, and politics in Egypt.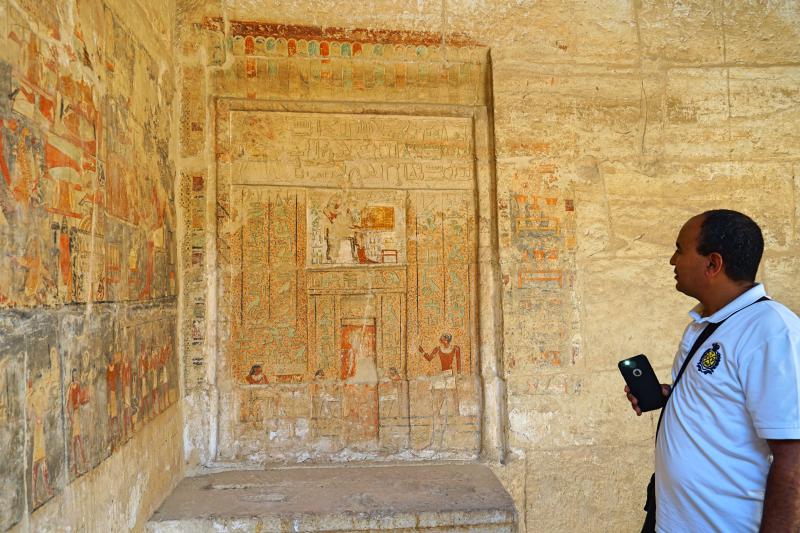 Any time we asked about a change we were told, "it's your tour, we can do whatever you want." We had an itinerary worked out before we arrived but we swapped days and daily tour destinations after arrival without a problem.
The cost felt very reasonable (at the time, about $50 per day, per person), especially since the tour was 100% customized and private. The cost included the guide, a driver and van, airport transfers (4 in Cairo, 2 in Luxor), and most admission fees. We paid extra for some things which weren't included (entrance to King Tut's tomb, a photo pass for Valley of the kings, etc) but we knew upfront those extra fees would be there because these were options. We also tipped at the end of the tours in Cairo and Luxor.
The vans were nice and clean and had A/C, and they always provided bottled water. They even took us to decent places for inexpensive local lunches a few times (cost not included).
Could we have saved money with a package tour? Maybe. But would we have had the flexibility and personal attention we received? Definitely not.
Itinerary For A Week In Egypt
Once we decided on the tour company, we had to decide on the itinerary. Where should we go and what should we see? Should we do a cruise down the Nile? How many days to spend in Cairo or Luxor? Should we go to Alexandria or the Red Sea?
Should we do a Nile Cruise?
The biggest sticking point was a "Nile Cruise" which everyone will tell you that you must do. There are many kinds and classes of ships which sail between Luxor and Aswan (they don't depart from Cairo which is a common misconception) and most cruises take from 3 to 7 days. There seemed to be a lot of choices, but departure days of the week were limited and it was difficult to select a company we liked and fit our budget. Options range from historic Steam Ship Sudan (note, if I had the money and the time, this would be my first choice) which inspired Agatha Christie to write Death on the Nile, to the ultra-lux Oberai ships, to plenty of mid-range options, and finally to the truly slow travel option of Egyptian sailing vessels called Dahabiya.
Eventually, we figured out we did not have time for the Nile cruise based on cruise departure days and we chose to split our time between Cairo and Luxor. This worked well for us, though if I were to do it again I think we could have had one fewer day in Cairo. Someday, when I return with my husband, I will make sure we have the time to do some sort of cruise (hopefully on the Steam Ship Sudan, or possibly on a Dahabiya).
Final Itinerary For 8 Days in Cairo and Luxor
After doing some research on what sights appealed to us and working with Mona at Your Egypt Tours, we developed the itinerary below. This is the final version. As I said, we moved some things around after we arrived.
Sunday: arrived very late, went straight to the hotel and to bed.
Monday: Cairo: Tour the oldest pyramids of Saqqara where we saw the newly opened Tomb of Mehu (amazing!), Dashur, and the Colossus of Memphis.
Tuesday: Pyramids of Giza and the Sphinx, then "Coptic Cairo" tour to the Hanging Church, Monastery and Church of Saint George, Abu Serga, Ben Ezra Synagogue. Lunch. Afternoon flight to Luxor.
Wednesday: Luxor: Karnak and Luxor Temple, then walked around on our own through a local food market.
Thursday: Luxor: Valley of the Kings (three tombs plus King Tut's Tomb), Colossi of Memnon, Temple of Hatshepsut. Saw the Howard Carter house in place of an "alabaster workshop".
Friday: Morning flight back to Cairo. Toured the old Egyptian Museum on Tahir Square in the afternoon.
Saturday: Islamic Cairo- Fatimid area, Cairo's three ramparts/gates to the city, the Al-Azhar Mosque, the Mosque of Al-Hakim, and Gayer Anderson House (traditional family mansion). Also saw the Khan el Khalili bazaar. That evening we went on a wonderful food walking tour with Bellies En Route that I'd booked separately.
Sunday: More Islamic Cairo with a visit to the Mosque and Madrassa of Sultan Hassan as well as the Alabaster Mosque at the Citadel of Salah el-Din. Afternoon transfer to our airport hotel.
Monday: 8 am flight back to the US.
Flights To Egypt
We booked our flights ourselves using a combination of cash and points. Prior to deciding on Egypt as the destination, we'd bought tickets from Los Angeles to London on Virgin Atlantic in Premium Economy during a sale. We knew we could go "somewhere" from London when we bought them, just not exactly where. Once we decided on Egypt we used Chase Points (thanks mom!) to get British Airways tickets from London to Cairo, also in Premium Economy and purchased Economy tickets on Egypt Air from Cairo to Luxor, return.
TIP: Look for ways to use points and miles to save money. We didn't have enough points on any single airline to get tickets to Egypt, but my mother did have enough Chase points. We could have transferred points to British Airlines but it used fewer Chase points to book directly through the Chase Portal to get the tickets we wanted.
Premium Economy vs. Regular Economy
It's a ten and a half hour nonstop flight from Los Angeles to London so if you can find a good deal on Premium Economy, it's worth it for the extra space. Both Virgin Atlantic and British Airways offer a 38″ seat pitch and in contrast, economy seats have a 31″ or 32″ pitch (pitch is the distance between seat s and corresponds to legroom). They also offer wider seats, separate cabins, plus upgraded food service in Premium Economy. Both planes had footrests that dropped down from the seat in front and tray tables that came out of the armrests in the seats.
Both Premium Economy flights were comfortable. Our Virgin plane had one drawback for me; there was zero room under the seat in front in front of me. Space was taken by the entertainment boxes, footrest mechanism and was very shallow. There would be no way to fit a small backpack or bag under the seat. As it was, I could only fit a small packing cube with things I wanted for during the flight underneath the Virgin seat. While our bags fit under the seats on the British flight, we had a hard time getting the footrests to go all the way down.
Once we boarded, we were offered some pre-departure Prosecco on Virgin Atlantic. British Airways offered water or juice.
Our meal on Virgin was presented on a white napkin with real silverware and china plates (not plastic). It was actually edible too (braised beef with polenta and a salad). Breakfast was a bit high in sugar for my taste.
Above, waiting for our flight to Cairo. Below, our dinner meal on British Airways, Heathrow to Cairo, in Premium Economy.
Our flights on Egypt Air in economy class to and from Luxor were fine and took a little more than an hour. We got held up in security on the way back to Cairo because they needed a female agent to check female passengers going through secondary security to get onto the plane. After a long wait, one never arrived and they finally just let us through.
Lounges in Heathrow Airport
In London, we had a 4-hour layover at Heathrow and then a four hour and 45-minute flight to Cairo so the entire trip took about 20 hours of travel time each way. We spent our layover time in the Priority Pass Lounge in Terminal 5 on the way over and in the Priority Pass Lounge in Terminal 3 on the way back. The T3 lounge is much better, offering a la carte food off a daily printed menu. We both had salmon salads and a glass of wine.
TIP: Some credit cards offer free access to Priority Pass Lounges which are all over the world. If you travel a lot, it might be worth it to buy a Priority Pass membership or find a credit card which includes it (I have the Chase Sapphire Reserve Card).
Hotels
Many travel agents are happy to book hotels for Egypt for you, and sometimes they can save you money over the online paid rates. We wanted to use points to offset the cost so we booked the hotels ourselves with a combination of cash and points.
We used Marriott points for the Cairo hotels; The Marriott Mena House in Giza (2 nights), The Nile Ritz Carlton Cairo in downtown Cairo (2 nights), and the Le Meridien Cairo Airport (1 night). We paid for the stay at the Sofitel Winter Palace Luxor for 3 nights. I will be giving detailed reviews of these hotels in an upcoming post.
If you don't have points to use, sites like booking.com can sometimes offer better rates than the hotel web sites. They also sometimes offer special discounted rates to members so it's always worth it to check.
Where To Stay In Cairo
Regarding where to stay in Cairo, I want to point out that it is a giant metropolis with almost 10 million people and notoriously bad traffic. This is why we broke up our nights there into three different locations.
The pyramids that everyone wants to see are on the edge of the city in an area called Giza. I wanted to wake up and see the pyramids from my hotel room which is why we stayed there. The new modern Egyptian Museum will be out there as well (as of this posting it is still not open). We stayed in Central Cairo next to Tahrir Square because we wanted to see the (old) Egyptian Museum and use it as a hub for seeing the rest of the city. Finally, on the last night, we chose to stay at an airport hotel so we could literally walk to our gate the next morning for our very early departure.
Where to Stay in Luxor
Luxor is a much smaller town than Cairo and your choice is to stay on the East bank of the Nile River where most of the hotels, restaurants and the two main temples are located, or on the West Bank to be closer to the tombs in the Valley of the Kings. There is no easy bridge access to cross the river near the city center on the East Bank so it takes time to drive over there. We chose the East bank because there was more going on there. Our guide took us across the river on a ferry to pick up our waiting driver on the day we visited the Valley of the Kings. If you plan to spend more than one day visiting the tombs, you might want to stay on the West Bank, though options there are more limited.
Check out my post on Hotels in Cairo and Luxor!
Planning a Trip to Egypt- Packing Tips
For this trip (as for most) we did carry on only because we like to travel light, but also because our flights connecting at Heathrow were not linked and we didn't want to have to get bags there and re-check them.
For my packing list and thoughts on "what to wear" in Egypt especially for female travelers, taking into consideration the sun and heat, as well as the conservative nature of the country, check out this post on what to wear in Egypt.
Helpful Travel Planning Tips and Resources for Egypt
Trip Research– I found the Trip Advisor forum to be very active for Egypt with lots of people willing to answer questions. Search the forum before asking a question, most of the answers are already there.
Cell phones and Internet: I have T mobile which covers cell service at 3g for both Cairo and Luxor included in most plans. Most restaurants and hotels offer wifi access, just ask for a password. Talk to your provider to see what kind of access they offer for Egypt. If your phone is unlocked you can also purchase a local SIM card when you arrive.
Airline Seats-Check out Seat Guru for specific seating charts and pick the best seat for your flight.
Currency Exchange-We got Egyptian Pounds from an ATM at the Cairo airport on arrival and a bank ATM in Luxor. Make sure you read this post on how to avoid scam ATMs before traveling internationally.
Guidebook– Get a good guidebook. I'm still old-school when it comes to travel guides. I like to have one book in hand for every trip. The Lonely Planet Egypt guide and the DK Eyewitness Travel Guide Egypt are both good books.
Thinking of planning a trip to Egypt? Have questions?
Leave me a comment or question at the bottom and make my day!
Pin the image below now and save for later!
Any post on this site may contain affiliate links. Thank you for supporting wired2theworld by using our links to shop, book hotels, or organize tours. If you use them, they cost you nothing extra but we may make a small commission that helps us to continue to provide helpful and free content.
NOTE: Everything on this trip was paid for by us. Nothing was complimentary or given in exchange for reviews or promotions.
Related Posts