Hotels in Cairo and Luxor, Egypt
With only eight nights in Egypt, we chose to split our time between Cairo and Luxor. For more on how to plan a trip to Egypt, check out this post. Because of how we split up the trip, with Luxor in the middle, and an early morning international departure back to the US, we ended up staying in four different hotels in a week's time.
We booked the hotels ourselves with a combination of cash and points. We used Marriott points for the Cairo hotels; The Marriott Mena House in Giza (2 nights), The Nile Ritz Carlton Cairo in downtown Cairo (2 nights), and the Le Meridien Cairo Airport (1 night). We paid for the stay at the Sofitel Winter Palace Luxor for 3 nights.
Hotels in Cairo and Luxor:
Marriott Mena House in Giza, Cairo
The Marriott Mena House in Giza is a restored royal palace converted into a hotel and the older parts of the hotel are absolutely stunning.
We arrived at the hotel around 1 am. We had booked a Pyramid View room with points plus cash. Check-in was easy and they brought us to our room in a golf cart. The hotel is large and built in a "u" shape around a garden area.
We were disappointed at first that we could not see the pyramids when we arrived in the middle of the night, then but we later found out that they are not lit up after dark, except from 7:30 to 9:30 PM for the evening "light show". The show is presented on the other side of the pyramids so you cannot see it from the hotel.
In the morning, we could see that the view room is worth the extra expense, but my tip is ask for a room closer to the restaurant side of the hotel. Those rooms had a better angle with views of two of the pyramids, and ours had one (which was fine, no complaints here).
The room was large and comfortable with a nice balcony and sitting area. There was also a couch and coffee table and a small round dining table with two chairs. The beds were comfortable and the room had a large TV and a kettle.
The hotel location is excellent for visiting the pyramids in Giza and for driving to the even older pyramids of Saqqara and Dashur but I don't think I'd stay here for sightseeing in Cairo. Traffic is bad and it makes more sense to stay in the center, as we did later in the trip.
Breakfast was not included in the room rate and on the first morning we went to the hotel restaurant where there is a large buffet, but it was quite expensive and more than we wanted.
TIP: The next morning we ordered a room service "American Breakfast" for 1 person (below) and it was more than enough for 2 people to share. Just don't eat the sausages.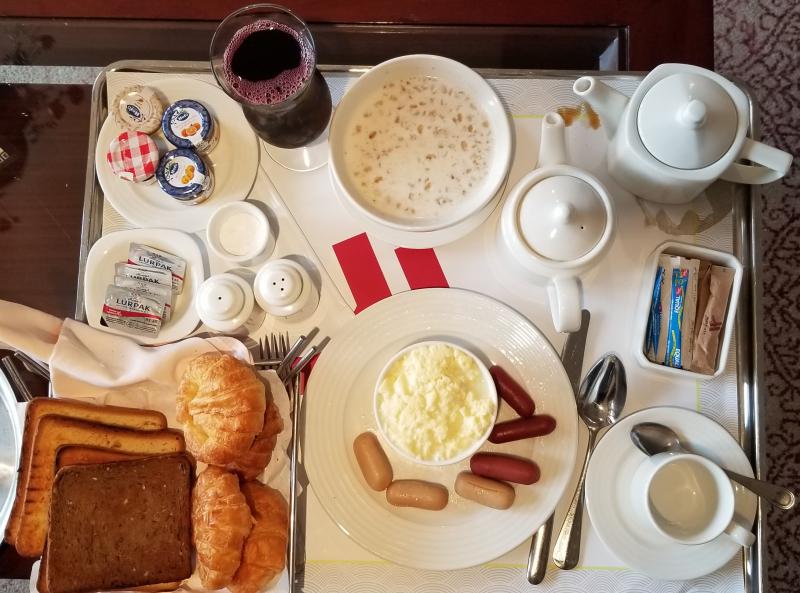 Dining Near The Marriott Mena House
On our one full night there, we chose to go outside the hotel for dinner. We walked out of the hotel and onto the main street that borders it and ate dinner at Felfela where we enjoyed a mezze assortment as well as a traditional rice-stuffed pigeon. The restaurant has both a sit-down side where we ate that night, as well as a fast-food side (where we had a quick and tasty lunch of falafel and chicken shawarma on our first day).
TIP: Do take care crossing the street. There are no crosswalks and few stoplights. Find a local who is crossing and cross with them. There is strength in numbers.
Winter Palace Hotel in Luxor
I am a sucker for historic hotels and I knew from the early stages of planning that I wanted to stay at the Sofitel Winter Palace in Luxor. This is a gorgeous old hotel with a ton of history. Howard Carter announced the discovery of Tut's tomb here. There are 25-foot ceilings in the rooms and a grand central staircase leading to all floors. The lobby is glorious as are some of the other public rooms and the old-fashioned bar. However, the tiny elevators show their age and phobic as I am, I basically refused to take them, opting for several flights up and down the grand staircase instead.
Our room was small with two beds and a small balcony overlooking the garden. The bathroom was split into two separate rooms at opposite ends of the room; one with sink and toilet and one with sink and tub/shower. We asked to see other rooms and they showed us two options; one on the bottom floor with a large terrace, but no real view and one a floor below us with a single large bathroom. We ended up keeping our original room because we liked the layout the best and all the rooms were the same size.
The service was attentive but inconsistent. The front desk was unable to provide change for 100 EP (about $5) or a copy of the menu from the restaurant at the pool. On the other hand, when my mother got very sick, they were very helpful and had a local English speaking doctor sent up to the room (at a cost of 90 euros). There was an excellent and varied breakfast buffet with tons of choices in a lovely sunny room (included in the cost of the room). The fine-dining restaurant shares the same room with the high-end restaurant but the food doesn't really live up to the hype.
One afternoon we had a drink in the old world bar. It definitely has character, but unfortunately, my Negroni was missing its Campari, a key ingredient. Still, just relaxing in the historic space was enchanting.
Dining in Luxor
On one night, we sought out a restaurant called Sofra. The concierge called them for us to make a reservation and told us how to get out of the hotel by the back exit, saving us a long walk. The food at Sofra was very good and their open-air rooftop patio is in a lovely setting.
On another night, we dined in the hotel's restaurant which tried very hard to come across as "fancy" but the food was really just ok. The setting was very formal, and the desserts were quite good, but the main course items were uninspired and each served with what looked like frozen mixed vegetables.
One afternoon in Luxor, after visiting the Temple of Luxor and Karnak, we walked through the local market and then had lunch at Al-Sahaby Lane restaurant on the rooftop of the Nefertiti hotel. We had a delicious mezze platter while overlooking the Nile River and the Luxor temple. The Nefertiti hotel in the building below the restaurant looked like a cute and affordable choice and it's in a great location.
Ritz Carlton Cairo
The Nile Ritz Carlton has a perfect location in central Cairo overlooking the old Egyptian Museum and Tahir Square on one side and the Nile River on the other.
Our room was spacious with a view over Tahrir square. I think the Nile view rooms might be a bit larger, but we had plenty of space. There was a well-appointed large bathroom with a huge walk-in shower, a separate glassed-in room for the toilet, and a separate tub as well as two sinks and very nice toiletries.
While the room itself was lovely, we found the service at the hotel did not always live up to the brand. There were issues at check-in. There was a promise of a Nile view room that never materialized. When we were checking out they said they had called our room to let us know they had a Nile view room for us but did not leave a message. How were we supposed to know?
On our first day there, we had a late lunch in the hotel bar; a truffled pizza and a couple of glasses of chilled Rose wine with a view of the Nile and it was all quite civilized and lovely.
Unfortunately, our dinner that night in the hotel's Italian restaurant was not as good. We had a decent bowl of soup and a nicely cooked octopus appetizer but the worst ravioli ever. The pasta was too thick and the cheese inside had melted and then solidified making it a rubbery ball. The tomato sauce was bland and could have been dumped out of a can. They should be able to do better.
Le Meridien Cairo Airport hotel
On our last day in Cairo we had a tour and then had Your Egypt Tours take us to the airport for our last night's stay at the Le Meridien Cairo Airport hotel. We decided to move hotels because our departure time was at 8 am. This meant leaving our room at the hotel in the airport by 6 am and would have meant an even earlier departure from central Cairo.
The room was spacious and had a nice walk-in shower, but not much of a view. The hotel does supposedly has rooms that overlook the airport as well but it looks like none of those rooms have twin beds. One of the drawbacks of the location is that you are pretty much stuck there for dinner and the hotel's restaurants are mediocre and over-priced. In addition, there was a snafu when we went to sign for the bill for our meal to our room because they did not take my credit card info when I checked in. No one could adequately explain what was going on and they did not handle it well.
Security Theater
The next morning we walked to the terminal from the hotel which made our stay worth it for the ease of access to the airport. We simply crossed over a pedestrian bridge into the terminal from the hotel, down an escalator, and then outside on the sidewalk to get over to terminal 2. This was fine and the walk took all of 7 minutes, but we had to follow another passenger who was going that way since there was no clear signage on where to go. Taking the hotel's shuttle would have taken half an hour minimum so we didn't mind the early morning walk.
At the entrance to Terminal 2, there was a security line just to get inside; our bags were x-rayed, we had to take our shoes off, and then our passport numbers were handwritten into a paper logbook.
Next, we had to check-in at the airline desk even though we were not checking bags followed by the standard trip through immigration for a passport check. But then there was yet another check of our paperwork before leaving the immigration room to get into the terminal.
When it was time to go to the gate, there was even more security and our carry on bags were opened and checked (but only haphazardly except that they tried to take my mother's travel-sized hairspray because it was a "fire hazard").
All in all, our early morning departure from Cairo felt more like "security theater" than actual security.
Have you ever planned a trip to Egypt? Thinking of doing it?
Leave me a comment or question at the bottom and make my day!
Any post on this site may contain affiliate links. Thank you for supporting wired2theworld by using our links to shop, book hotels, or organize tours. If you use them, they cost you nothing extra but we may make a small commission that helps us to continue to provide helpful and free content.
NOTE: Everything on this tour was paid for by us. Nothing was complimentary or given in exchange for reviews or promotions.
Related Posts