A First Timer's Trip to Scotland's North Coast 500
What is Scotland's North Coast 500?
Scotland's "North Coast 500" is a roughly 500-mile long route around the northern coast of Scotland. Typically people start in Inverness and make a loop following the coastline up and around and back to Inverness. The roads have been in place for a long time, but in 2015, the Highland Council, in an effort to encourage tourism in the area, branded the concept of the North Coast 500 (NC500), in hopes of marketing itself like the US "Route 66". It worked and has brought a lot of interest and tourist money to the region.
Above is a rough map of our trip along the North Coast 500. We drove most of the route "anti-clockwise" as they say there (counter-clockwise in the US), and spent 5 nights/6 days along it before heading east into the Speyside and Aberdeenshire regions. It would be easy to spend more time along the route, but that's the time we had and I was happy to have it. That said, we'd go back in a heartbeat (and will!) to explore it further.
Note; we missed a small portion of the NC500 known as the Bealach Na Ba Pass near Applecross because we just didn't have time.
Transportation on the North Coast 500
The easiest way to see the North Coast 500 is by car. If you come from the US, be prepared to drive on the left side of the road. Read more about driving in Scotland on my Scotland Tips and Resources post.
On arrival in Inverness, we had a hard time finding our Europcar rental office which turned out to be at a kiosk inside the mall next to the train station. We walked around outside for half an hour before we found it. We'd reserved a "Ford Focus or similar" and it ended up a Hyundai IONIQ which was a gas/electric hybrid that got great gas mileage (about 50 MPG). Keep in mind gas in most of Europe is typically at least twice as expensive as in the US.
If you can't drive it yourself, there are a couple of other options; tour, train, and bus, but none offer the flexibility of a car. There's a bus tour offered by the popular tour company Rabbies, though at 3 days, it seems pretty fast to me. Check out some of the tours from Get Your Guide below (affiliate link). The only trains north of Inverness go up to Thurso but do not follow the route around the West side of the country, so they don't really cover the NC500. If you're interested in taking public buses, check out Citylink and Stagecoach.
Getting to Inverness by Sleeper Train
The Caledonian Sleeper is the overnight sleeper train from London to Inverness. The Caledonian Sleeper cars have undergone a massive renovation since we took them and look absolutely lovely now. We had dinner in London at Nopi (fantastic!) before going to Euston station for a 10 pm departure. Once on the train, we had a drink in the lounge car, which was very busy and crowded so I was glad to have had dinner in advance.
Whiskies tasted: Balvenie Doublewood and Edradour 10 (on the train).
Accommodations and Food on the North Coast 500
After picking up the rental car in Inverness, we and headed to our first stop, the Dornoch Castle Hotel. Following Dornoch, we spent two nights in Tongue at the Ben Loyal Hotel and two nights in Ullapool at the Royal Hotel.
Dornoch Castle Hotel
From Inverness, we drove north to the cute town of Dornoch where we checked into the Dornoch Castle Hotel. Yes, this is a real castle and staying in one is something we'd always wanted to do in Scotland. As it turned out, this was our splash-out stay, on the first night of the trip.
We chose the room that looked the most like we were staying in a castle, called the "Old Courtroom" room, which looks exactly like what one would want when staying in a castle; big four-poster bed, fireplace (which we used), built-in stone window seats, etc. The room has windows on three sides and faces directly across the street from the Dornoch Cathedral (where Madonna married Guy Richie). The bathroom in the room is somewhat open with a wall divider but no door or ceiling. The WC (toilet) is in a separate teeny-tiny room with a door.
Scroll though the slideshow below to see photos of the room.
The hotel has a nice small bar with an award-winning whisky selection and a gin distillery on site. We had dinner in their restaurant and while the food was decent, the setting did not match the menu prices. Tablecloths on the Formica tables would be a good place to start. Breakfast in the same room was very good the next morning.
Whiskies tasted: Balblair 99; distilled in 1999, bottled in 2016, and Bowmore 15.
Gin: Thompson Bros made in the Dornoch castle distillery, made into a Negroni cocktail and a Martini.
Aside: Regarding food and drink; I'm a former chef who still works in the restaurant business so good food is important to me. In many cases, we ate at our hotel because it was convenient, or because it was considered to be the best place in town. Other times we sought out local places and pubs. We also love whiskey and gin, both of which are very popular in Scotland and we made a point of trying a different one almost every day which is very easy to do in Scotland! I've listed them where I have the info recorded.
Ben Loyal Hotel in Tongue
We stayed for two nights in Tongue at the Ben Loyal Hotel and absolutely loved this area. The village is tiny with only two hotels with restaurants in each as well as a few guesthouses and B&Bs. The Ben Loyal Hotel has a great bar frequented by locals (it's pretty much the "local" pub as well) and dinner was reasonably priced and tasty in their restaurant. The breakfast was very good too. Scroll through the slideshow below to see the food.
Our small room was nicely decorated in soothing grey and cream tones and had a fantastic view of the Kyle of Tongue, the ruins of Castle Varrich, and the mountain, Ben Loyal.
Scroll through the slideshow below to see the room.
TIP: This is where we realized that summer in northern Scotland means there is almost no full dark at night. Looking out the window at midnight it almost appeared like late dusk. Scroll through the slideshow below to see how the light changes (and doesn't) throughout the day and night.
Whisky Tasted: Old Pulteney (local, from Wick), Clynelish 14 year, from Brora, Sutherland, and Tamnavulin from Speyside.
Gin Tasted: Orkney Gin Company Rhubarb Old Tom
Ullapool
Our next destination was Ullapool. To get there we drove through the tiny village of Lochinver, where we stopped for lunch at the well-known Caberfeidh restaurant. At the time, their lunch menu was severely limited as compared to their dinner menu. We had Crabcakes with Lochinver crab, steak and serrano ham meatballs, and mushroom and Madeira soup. The food was good but I wasn't as wowed as some of the reviews I'd read. We also popped in at "the pie shop", Lochinver Larder, where we bought some sweet hand pies to take away.
Royal Hotel in Ullapool
In Ullapool, we spent 2 nights at the Royal Hotel. Unfortunately, their breakfast was the most disappointing of the trip. The room, however, was perfectly fine, with a large balcony and a gorgeous view of the water. The hotel has a bar with a vast selection of whiskies and a genial bartender so it was easy to spend some time trying different local whiskies. We did not eat in their restaurant.
Scroll through the slideshow below to see photos of the Royal Hotel.
While in Ullapool we had dinner one night at the Arch Inn which has excellent food; we both had perfectly cooked fish; wild halibut and Scottish salmon in lovely presentations. If you are there in high season, I highly recommend making a reservation in advance for dinner.
Food and Drink in Ullapool
The next night we ate at the Seaforth which had very good fish & chips and burgers. They also have a cute little ice cream shop next door.
Check out the photos below to see the food from The Arch Inn and the Seaforth.
Whisky Tasted: Tomatin, Limited Winter Distillation, Scapa Skiren from Orkney (not shown)
Gin Tasted: Rhubarb Gin Bothy (actually a Liqueur, too sweet), Strathern Small Batch Heather Rose Gin
My favorite Scottish crisps flavor; haggis and cracked black pepper
What To See On The NC500:
There is so much to see along the North Coast 500 route! It would have been very easy to spend two weeks exploring, with every day filled. However, there are outside elements to keep in mind when planning your route and stops along the way; namely, it's important to consider both the season and the weather.
The summer may yield longer days and very short nights, but places will be more crowded. Winter has fewer people but some businesses may be closed for the season. Even though we were there in August, we had weather that prevented us from going out on boat trips, twice. We also had to contend with a fair amount of rain.
Lastly, don't forget to take into account the "Highland Mile". This refers to the time it will take to drive from place to place on single-track roads. Basically, allow yourself twice the time you think (or Google Maps says) it will take to drive the route.
Dunrobin Castle, near Golspie
On the coast, about 12 miles north of Dornoch sits Dunrobin Castle. Home to the Earl of Sutherland and containing 189 rooms, it's the northernmost "great house" in Scotland and well worth a visit. When open, not only can you tour the house (albeit only 18 rooms of it), but the formal gardens are absolutely gorgeous and there's a falconry show on the grounds that is included with admission. There's also a museum which contains a lot of taxidermied animals and a collection of Pictish stones.
Note; because the house is privately owned, admission is not covered by a Historic Scotland or National Trust membership. We visited on our first day, after arriving in Dornoch.
View the slideshow below to see the inside of the castle.
Scroll through the photos below to see the castle gardens and falconry exhibit.
John o'Groats, Dunnet Bay, Thurso
From Dornoch, we drove up the East Coast route via Wick, John O'Groats (JOG), Dunnet Bay, and Thurso before arriving at the small town of Tongue. We'd wanted to do a wildlife boat tour that day from JOG but the wind was gusting at 50 mph+ so the boats did not go out.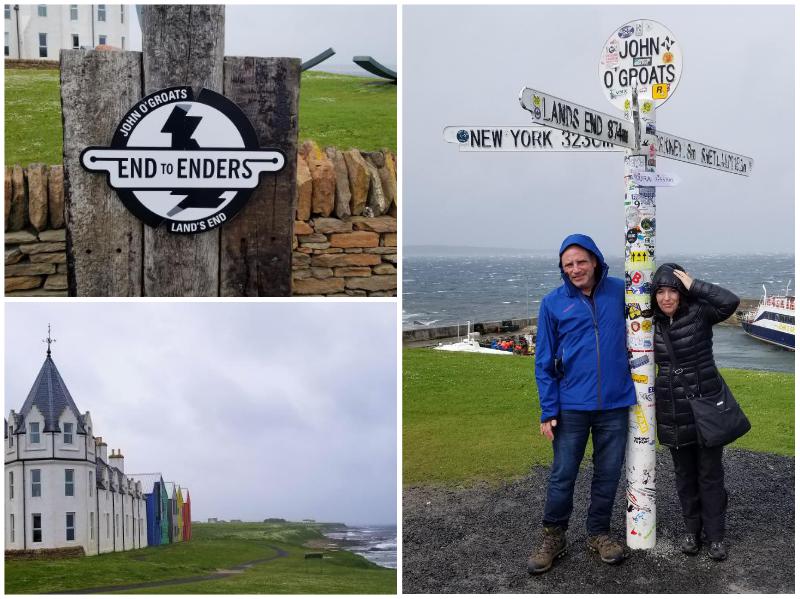 Along the way, we stopped in Wick for lunch and went out to Duncansby Lighthouse to view the Duncansby Stacks (photo below). The wind was so strong at one point I thought I was going to get blown off the cliff. We didn't stay long.
Near John O'Groats is the Dunnet Bay Distillery where they make Rock Rose Gin. We stopped in, tasted all of their current flavors of gin (teeny-tiny sips, don't worry), and bought a couple of bottles to take home. They have since become our favorite gin.
Gin Tasted: All of the Rock Rose flavors (Regular, Navy Strength, Spring, Summer, Autumn, Winter, and limited edition). We bought Navy Strength, Spring, and a small bottle of limited edition gin made with "scurvy grass".
Durness and Smoo Cave
From Tongue, we drove to Durness and along the way stopped to check out Smoo Cave (most of it closed due to weather). Note, if we were to do this again, we would do it on our way to the next destination. Instead, we visited from Tongue and the round trip took way longer than expected on those winding single-track roads.
Smoo Cave is considered both a freshwater cave and a sea cave. Depending on the weather, it can have an active freshwater waterfall inside it, and at times, there are short boat rides available to see the interior (not open when we were there). Parking and toilets are available along the road above the cave. You must be able to walk down (and back up) many stairs to access the entrance. Access to the main part of the cave at the entrance is free.
In Durness, make sure to seek out the well-known chocolate shop Cocoa Mountain for hot chocolate and other treats. It was well worth the trip!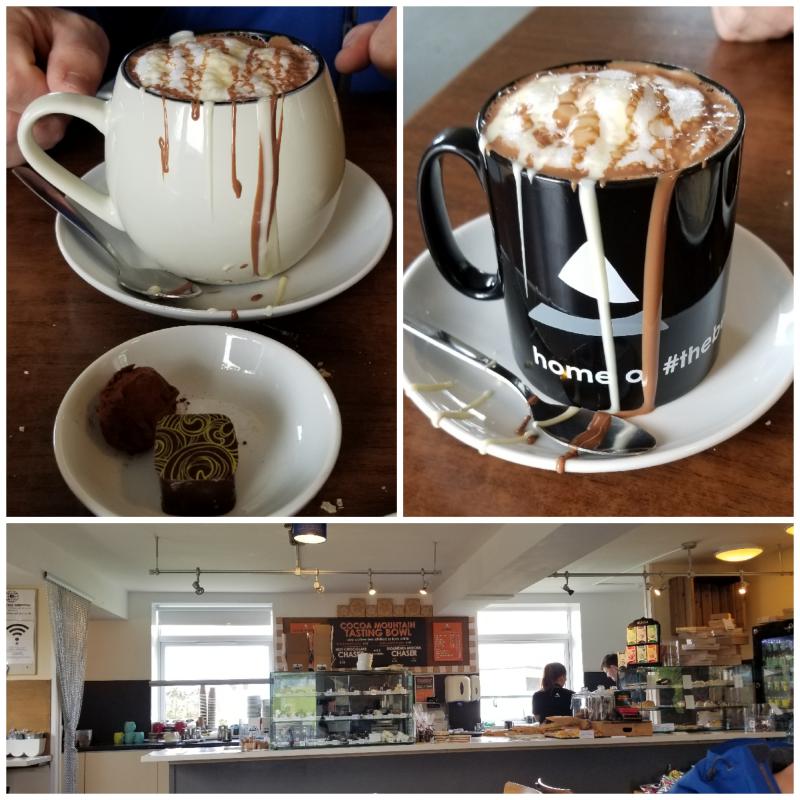 The drive between Tongue and Durness goes past the gorgeous Loch Eriboll (see the top photo on this post. While the entire North Coast 500 route is stunning, much of the driving is on single-track roads, which can make things slow going. However, in the moments the sun came out, the water and beaches looked like they belonged in the Caribbean.
Castle Varrich in Tongue
From the village of Tongue, it's a relatively easy hite about a mile up to the ruins of Castle Varrich.
Very little is known about the castle. It's said to have belonged to the Clan Mackay and may have been built in the 1400's over some caves below it. Today, it is open to anyone who can make the climb up the hill to visit it. To access the walk to the castle, find the sign in the village pointing to Castle Bharraich and simply follow the path (see photos in the slideshow below).
Inverewe Gardens and Corrieshalloch Gorge
In Ullapool, we were foiled again in our quest for a wildlife boat tour as our full day there was on a Sunday and the boats don't run that day. Apparently, there was one out of Lochinver that did go out on Sundays, but again the weather wasn't great for being on the water, so we skipped it.
Instead, we drove south for the day and visited Corrieshalloch Gorge and the Inverewe Gardens which is a National Trust of Scotland site.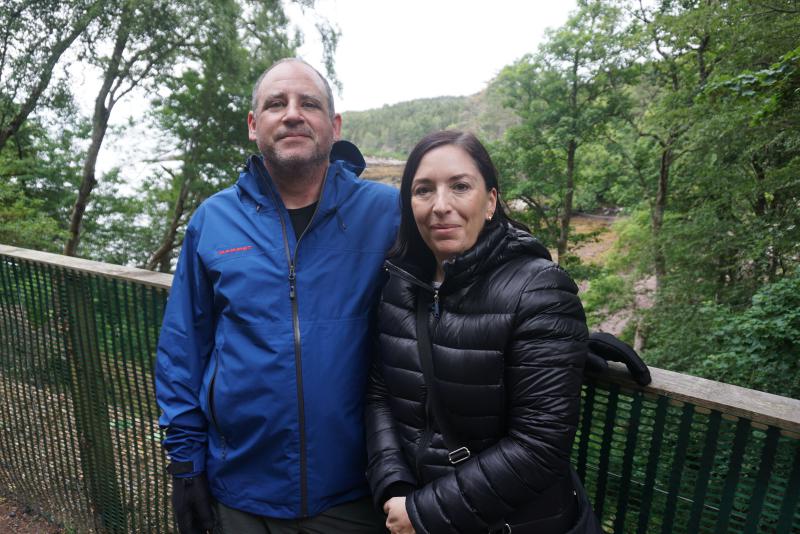 The scenery on this drive, from Ullapool to Inverewe was stunning. We even saw a herd of wild deer on the road from the Gorge to Dundonnel. Fodor's calls this Destitution Road. See the slideshow below for scenes from the drive.
Other North Coast 500 Resources
A good starting point for learning about the NC500 route is the official website, northcoast500.com.
Finally, the Facebook Group for the North Coast 500 is filled with good info, but beware, some people can be snarky.
Have you ever planned a trip to Scotland? Thinking of doing the NC500?
Leave me a comment or question at the bottom and make my day!
Pin this post to save it for later!
Any post on this site may contain affiliate links. Thank you for supporting wired2theworld by using our links to shop, book hotels, or organize tours.
If you use them, they cost you nothing extra but we may make a small commission that helps us to continue to provide helpful and free content.
NOTE: Everything on this trip was paid for by us. Nothing was complimentary or given in exchange for reviews or promotions.