48 Hours in Speyside Scotland
After five glorious days driving around Scotland's North Coast 500, we headed East, bypassing Inverness and spending 48 hours in Speyside Scotland, an area known for some of the world's best whisky. Our plan was to learn all we could about Scottish whisky by taking a few tours and yes, tasting as much as possible! Along the way, we were able to explore some ancient standing stones and a gorgeous ruined castle belonging to one of the famous whisky families. We succeeded in fulfilling our goals on all levels.
On the way to Speyside; stones, bones, and a bistro.
From Ullapool, we drove to Dufftown for two nights, stopping at the famous battle site of Culloden, in the seaside town of Nairn for lunch, as well as a stop at the Clava Cairns and stone circles which are well worth seeing if you are as fascinated by standing stones as I am.
Clava Cairns and Standing Stones
As a big Outlander fan, and someone who appreciates prehistoric history, I am obsessed with standing stones and stone circles. In Outlander, the standing stones of Craigh Nah Dun are outside of Inverness high on a hill, and where Claire passes "through the stones" to travel through time. Craigh Nah Dun doesn't really exist, but the standing stones at Clava Cairns are said to be the inspiration for the book. So of course, we had to stop.
Scroll through the images in the slideshow below to see more of the cairns and standing stones:
The large cairns (stone covered burial mounds) are said to be over 4000 years old. The entrances to the passageways to the Cairns are aligned with the Winter Solstice and on that day, sunlight beams directly into the burial chamber. Defininately worth the stop.
The site is free to visit and open every day.
Culloden
Culloden is best known for the Battle of Culloden, the site of the final Jacobite rising in 1745 when thousands of Highlander Scots fought the British King's army and were tragically defeated. If you are a fan of the Outlander series of novels, you will be no stranger to the importance of Culloden in the history of Scotland.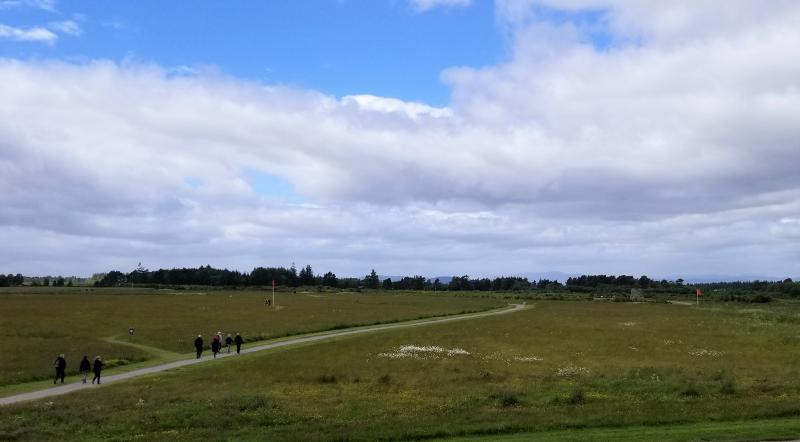 There is a lovely visitor center and museum at the site which details the history of the battle (covered by NTS admission, read more about that here). Outside the battleground is essentially an empty field but it is said to be the final resting place for about 1500 Jacobite soldiers. With information and imagination, it's not hard to picture what happened here.
Nairn
We stopped in the town of Nairn for lunch, walked around for a bit, and ended up at the Classroom Bisto where we had an enjoyable sandwich and pasta.
Dufftown; Home to some of the world's best whisky
Dufftown Distillery Walk
While in Dufftown, we did the Dufftown Distillery Walk on our second evening there. This walk deserves all the praise it gets in online reviews. Michelle, who leads the walk and is a 3rd generation distillery worker, offers 10+ different tastes of whisky along the way and really knows her stuff. You do need to be pretty mobile to keep up with all the walking. We all were given high visibility yellow vests to wear and a lanyard with a tasting glass attached to wear around our necks.
We made stops along the way both in front of distilleries and in other various rural locations to talk about the history and taste some of the various whiskies that Michelle carried in her backpack.
Scroll through the photos below to see some of the first part of the walk, through the woods, and past a few distilleries.
We saw many local distilleries, some long abandoned, some small and active, and some well recognized names like Glenfiddich and Balvenie. Scroll though the photos below to see more.
We tasted a lot of whisky along the walk, and below is the list, at least the ones for which I have photos as a reminder. There may have been more. All of these are from local distilleries, within a few-mile radius of Dufftown.
Benrinnes 15 year
Pittyvaich 1988
Singleton 18 year
Benromach Sassicaia 2010
Mortlach
Mortlach 21
The Ardmore Port Wood Finish
Glenfiddich
Kininvie 17
The Balvenie 14
Benriach 25
Speyside Cooperage
One of our favorite Speyside experiences was a visit and tour of the Speyside Cooperage where we learned all about the building and repair of whisky barrels which was more interesting than you might think! The tour was well run, entertaining and fascinating. I consider the admission price the best £4 spent on the trip.
The cask pyramids in the photo above are known as "stores" and can have up to 11,000 casks in them. The Cooperage can have many as 200,000 casks on hand.
Most of the casks used for Scottish whiskey are American oak barrels originally used for bourbon. In the US, an old prohibition era law says they can only be used once, so after that, they are shipped to Scotland where they are used many times over, often refurbished in the cooperage.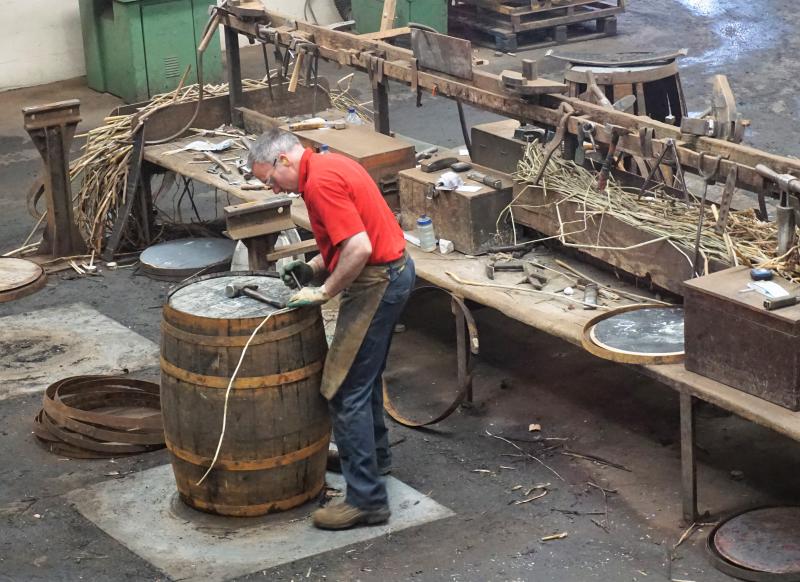 Balvenie Castle
On one afternoon we explored the ruins of Balvenie Castle, which we had to ourselves. It's always magical to explore ancient ruins without crowds and easy to imagine that you are the ones making discoveries. While open to the elements, it's still possible to climb around the second and third levels of the castle inside. There are remains of the ancient kitchens and latrines to check out, as well as a rare example of an "iron yett", a two-part front entrance gate built for defense in the 13th century.
Arbelour
For lunch on one of the days, we drove to Aberlour where we ate at the Mash Tun. I had a very good Scottish Salmon "nicoise" salad, and David had a sandwich.
The town also has a lovely provisions shop called The Spey Larder which is filled with gourmet foods and wine and where you could purchase all you need for a nice picnic down by the river.
For one of our dinners in Dufftown we ate at the Seven Stills where they have a very extensive list of over 300 single malts and French-inspired Scottish food (the chef is from France).
Whiskey tasted: Benromach Sassicaia (this one was my favorite and we ended up buying a bottle. It's aged in Tuscan wine casks instead of American bourbon barrels).
TIP: If you are interested in buying whisky while in the area, there are lots of options. There are the distilleries of course, and in Dufftown, there's the well-known Whisky Shop Dufftown, right across from the clock on the town square. We looked in all of these places but found the best prices to be at the local Costcutter convenience store on Balvenie Street. This is where I purchased the Benromach Sassicaia and some local gin.
Note the spelling of "Whisky" in Scotland; there is no "e". In the US and in Ireland it's spelled "Whiskey".
Gowenbrae B&B
In Dufftown, we stayed at the Gowanbrae B&B which is very cute, has lovely hosts, and is located only a block from the center of town. Our room had a window seat with a view of the clocktower and the world's smallest bathroom.
As you can see, there's a lot to see and do in 48 hours in Speyside. We would have loved to have more time in the area to explore and hope to return someday to do a multi-day walk along the River Spey!
Pin the image below to save it for later!
Are you planning a trip to Scotland? Thinking of visiting Speyside?
Leave me a comment or question at the bottom of the page and make my day!

Any post on this site may contain affiliate links. Thank you for supporting wired2theworld by using our links to shop, book hotels, or organize tours.
If you use them, they cost you nothing extra but we may make a small commission that helps us to continue to provide helpful and free content.
NOTE: Everything on this trip was paid for by us. Nothing was complimentary or given in exchange for reviews or promotions.
Related Posts