A First Timer's Guide to Travel in Ireland
A while back, we spent eight lovely days in Ireland for the first time, getting just a taste of the country. I spent a lot of time researching and planning and want to share those tips and resources to help others who might be planning to travel in Ireland.
Over the span of eight days, we saw neolithic sites older than the Egyptian pyramids, visited castles and ancient ruined abbeys, had a falconry experience with gorgeous bird of prey, hiked to a waterfall, explored one of the Aran Islands and the Cliffs of Moher in a single day, and wandered around small towns and the city of Dublin.
We drove a big loop of well over 500 miles in a rental car and stayed in quaint B&Bs, a gorgeous manor house which felt very "Downton Abbey", as well as a big fancy hotel in Dublin.
Below are links to websites to use as a resource, tips, and recommendations for things I found helpful both in general and for specific places we visited. We barely scratched the surface and there's so much more out there, but hopefully, this will give you a starting point.
Note, this trip was taken before the 2020 Covid 19 pandemic. All links are current as of 2021, but as always, validate information before you travel.
Now, on to the tips and resources for planning your own trip to Ireland!
General Resources For Travel in Ireland
Guidebooks for Travel in Ireland
I can't plan a trip without first reading through multiple guidebooks. I've found my local library to be a great resource for this. I check out multiple books to get a sense of which one I like the best, then buy the most current addition to bring on the trip. Yes, I'm still old -school in that way; I like to have a printed guidebook for reference when I'm on the ground in a location.
Online Resources for Travel in Ireland
Whenever I'm planning travel, I find travel forums, message boards, and country-specific Facebook pages to be very helpful. These are all places you can go to read through other people's questions and comments to glean nuggets of information as well as ask your own questions.
These were the most useful Pages for me:
Resources-Travel Apps For Your Phone:
A good travel app on your phone can be worth its weight in gold. Below are the ones I find most useful on every trip.
Tripit.com– I love Tripit for organizing our itinerary. You can forward them your reservations from airlines, car rentals, hotel chains, restaurant reservations, etc and it will upload. Then go in and amend with other details. I enter into "notes" sightseeing info and possible restaurants to try.
Airlines– I always download the apps for whatever airline I'm flying to get a mobile boarding pass, flight alerts, and check-in.
Oanda currency converter– check the current currency rates. Read my post about how to avoid ATMs with predatory fees by knowing the current conversion rate.
Evernote–save notes and pages from websites into Evernote to take with you.
Sightseeing Passes in Ireland
If you're going to be spending more than a couple of days in Ireland, it might be worth it to invest in a sightseeing pass. It all depends on what you plan to see if it's cost-effective for you.

For this trip, we opted for the Ireland Heritage Card and tried to get the most out of it. The current version of the card is good for a year and includes unlimited admission to over 45 Heritage sites. I'm certain we saved money with the cards and in future posts, I will highlight when and where we used the cards at the sites listed below.
Newgrange/ Bru Na Boinne
Dublin Castle
Kilmainham Gaol
Muckross House & Gardens
Rock of Cashel
Ross Castle
TIP: If you need to reserve tickets in advance before you buy the card, you can do this and then present the card when you pick up the tickets.

There's also a pass specific to Dublin called the Dublin Pass. If you want to spend a few very active sightseeing days in Dublin, it might be worth purchasing. The more days you purchase the more affordable it is.
Transportation:
Travel by Car in Ireland
If you are planning to drive in Ireland, especially if you are coming from the US or another country where you drive on the right side of the road, I highly recommend you get mentally prepared for driving on the left. Consider paying a bit more for an automatic, especially if you are not comfortable driving a manual transmission. Remember, you will be shifting with your left hand! Here's a useful video for what it's like to drive in Ireland as an American.
Because these roads are slow going, plan on it taking much longer than you expect to drive from point A to point B.
If you have a driver's license from the USA, UK, Canada, Australia or the EU member states you will not need to provide an International Driving Permit.
We ended up picking up our car at the Dublin Airport (after a very long wait) and returning it to a rental office in the Dublin city center near our hotel. While we didn't need the car in Dublin, we maximized our time with it by visiting the Kilmainham Gaol on our way into the city before returning it to the rental place. We took a cab to the airport on last day.
Travel in Ireland by Train
While we did not take any trains in Ireland, it is possible to travel around a bit via train. For all things trains, check out the invaluable website, The Man in Seat 61. He also has a separate page on how to reach Dublin via train and ferry from London.
The main website for train tickets, fares, and timetables in Ireland is Irish Rail.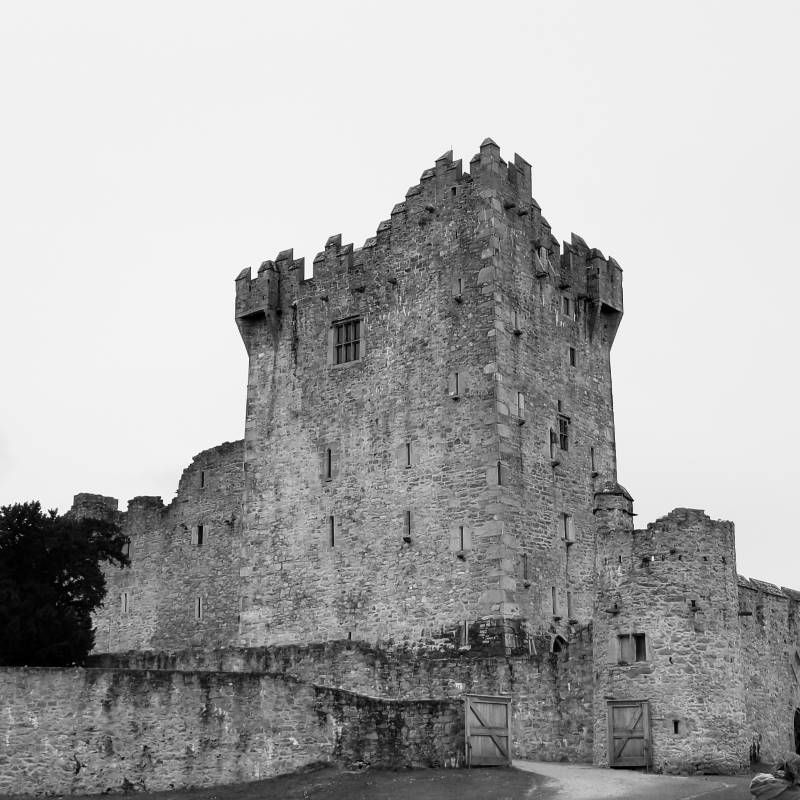 Ireland Hotels and B&Bs
In almost all of the places we stayed, the rooms had the following; coffee maker and/or kettle, instant coffee or pods, tea, cookies, and bottled water (though tap water is safe).
Bathrooms came with soap, sometimes shampoo, and often "body wash", but rarely hair conditioner. Many bathrooms have heated towel racks, which not only provide cozy towels but also a place to dry something you've washed out in the sink (this helps with being able to pack light, see below).
All of the accommodations came with decent breakfasts that included cooked-to-order food (eggs, salmon, porridge, full Irish breakfast, etc). Many made their own bread and pastries as well. The famous Irish soda bread was common to find on the table.
Packing Tips for Women Traveling in Ireland
We were there in April and the weather ranged from very cold, windy, and raining in the 40s, to gorgeous sunshine in the high 60's (Fahrenheit).
Below is what I packed for a 10 day trip to Ireland (including 2 travel days). Everything fit in a 22″ rollaboard and weighed under 21 lbs total. I'm sharing to show that it is possible to pack light, even in cold weather, for a full week.
Pants-dark skinny jeans, burgundy coated shiny jeans, black hiking pants, and black leggings
Dress- 1-Black with white polka dots, knee-length with pockets (to wear on the long haul flight with leggings and tall boots).
Sweaters-both cashmere, one grey pullover, one burgundy
Tops- white linen tunic, sleeveless pink/burgundy, denim button-down
T-shirts-3 short sleeve, 2 long sleeve thermals, 1 black and white striped 3/4 sleeve, 1 long sleeve black.
Shoes- tall black leather boots, black Ahnu hiking boots, black slip on sketchers
Outerwear-Packable down coat, packable rain jacket, gloves and hat
Bags- Travelon Anti-Theft Cross-Body Bucket Bag, Purple (packed in my suitcase until arrival) and a Baggalini small pouch for flight days and going out a night.
Scarves-4- 2 silk, 1 poly, 1 giant burgundy cashmere wrap (goes on the plane with me).
Pajama bottoms and a tank top.
Underwear (8), bras (3) and socks (4 wool, 2 cotton, 1 compression) one pair of black tights.
I could have packed fewer shirts and was very happy to have my down coat for the first part of the week when it was very cold. I could have used warmer gloves and was happy to have a hat.
I wore all my pants more than once, but the burgundy ones only at night for going out to dinner. This meant I wore the jeans and travel/hiking pants every other day, except for flight days where I wore a dress, leggings, and tall boots on the plane. I also wore the dress with tights one night out to dinner.
As for shoes, I wore all 3 pairs about equally with the hiking boots for exploring places like ancient ruins, hiking in Killarney park, and a boat trip to Inis Oirr (one of the Aran Islands). I wore the tall black boots and slip-on tennis shoes in Dublin and a couple other sightseeing days.
I wore all of the scarves more than once. The big cashmere pashmina was a lifesaver on cold planes and made me feel more "dressed" for dinner. Though honestly, we found most places, even Michelin starred restaurants, to be very casual in terms of how people dressed. Ultimately, I was very happy with my choices. I wore almost everything once, and several things multiple times. Lastly, yes, I did end up washing out a few things in our hotels at night.
For more packing advice and to see how I packed all that in a carry-on bag, read my post about how to pack carry-on for any length of trip.
Money in Ireland
Lastly, we learned a costly and difficult lesson about using the wrong ATM while we were in Ireland and ended up spending a ridiculous amount of money to withdraw euros from an ATM. Please, learn from my mistake. For an important travel tip and ATM warning, please read my post about How to Avoid ATMs with predatory fees.
So, have you ever planned a trip to Ireland? Thinking of doing it?
Want to know anything else?
Leave me a comment or question at the bottom of this post and make my day!
PIN THE IMAGE BELOW TO SAVE FOR LATER
For more posts on Ireland, make sure to check out the Ireland Destination Page.
NOTE: Everything on this trip was paid for by us. Nothing was complimentary or given in exchange for reviews or promotions.
Any post on this site may contain affiliate links. Thank you for supporting wired2theworld by using our links to shop, book hotels, or organize tours. If you use them, they cost you nothing extra but we may make a small commission that helps us to continue to provide helpful and free content. This specific post has no affiliate links.
Related Posts