48 Hours in Killarney Ireland
Killarney Ireland- What to see and do in 48 Hours
From Doolin, we drove to Killarney where we spent two days exploring both the natural wonders of the area (hiking to the Torc Waterfall and a fabulous Falconry experience) and gorgeous castles and manor houses (Ross Castle, Muckross House, the ruins of Muckross Abbey and a two-night stay in the gorgeous Cahernane House). Killarney is often used as the launch point for the famous Ring Of Kerry drive, but we decided to save that for another trip.
Please note; we visited pre-Covid. Opening times, access availability, and entrance fees have likely changed since then so please verify those details before you visit.
Ross Castle
Surrounded by beautiful parkland, Ross Castle is located on the edge of Lake Leane in Killarney National Park in County Kerry Ireland. Constructed in the 15th Century, it's an impressive stone tower house built for defense against attack and cattle raids. The castle can be toured daily and access was by guided tour only (free), so we waited for one to be available and explored the surrounding grounds. Click here for the Heritage Ireland page on Ross Castle.
Click through the slideshow below to see more of Ross Castle. Unfortunately, no photos were allowed inside.
Muckross House
Muckross House and Gardens are located inside Killarney National Park. The original house dates back to the 1700's and the final version was completed in 1843 by the Herbert family. A stunning and enormous home, it's located on the edge of Muckross Lake and hosted a visit by Queen Victoria in 1863. The estate was eventually sold to a wealthy American family who owned it until the 1930's when it was given to the Irish Free State and declared part of Ireland's first National Park. The house is still furnished with period pieces and it is a delight to tour.
Click through the slideshow below to see more of Muckross House. Unfortunately, no photos were allowed inside.
A Private Falonry Experience
One of the things we've always wanted to do when visiting the UK was to participate in a hands-on "Falconry" or Birds of Prey experience where we'd get to interact one on one with the birds. I hadn't been able to arrange this on our two previous trips to Scotland, so I was thrilled when I found Falconry Kerry.
We did our private "Halk Walk" with Liam, the owner of Falconry Kerry. We met him at his place, a working farm just outside the town of Killarney, where the birds are kept and trained, and walked out into a nearby field. There we were able to spend time and learn about the birds up close and personal. We were able to feed them (which is not for the squeamish) and have them land on our outstretched hands. It was a thrilling experience and well worth it.
Muckross Abbey
The ruins of Muckross Abbey date back to the 1500's when it was a Franciscan friary known as the Friary of Irrelagh. In 1652 it was burned by Cromwellian forces and has been a ruin ever since. If you like to explore and climb around in old ruins, this is not to be missed. It's possible to access several levels and the building is surrounded by a graveyard filled with famous poets and chieftains and is still active today. In the middle of the old cloister is an ancient yew tree which is said to be as old as the abbey itself.
The entrance is free and there is parking nearby with a short walk to get to the abbey. Click though the slideshow below to see more of Muckross Abbey.
Muckross Abbey in Killarney Ireland

"Thy Will Be Done"-Muckross Abbey in Killarney Ireland

The famous ancient yew tree inside Muckross Abbey

Part of the cloisters in Muckross Abbey in Killarney Ireland

Inside Muckross Abbey

Muckross Abbey in Killarney Ireland

Inside Muckross Abbey

The graveyard outside of Muckross Abbey
Torc Waterwall Hike
Let me begin by saying don't do what we did to get to Torc Waterfall unless you want a more strenuous hike. The easiest way to reach the waterfall is to walk from a car park off the N71 road near Muckross Lake.
Unfortunately, we did not realize this and instead headed for what's labeled on Google Maps as the Killarney Hiking Parking Lot. This lot sits above the falls and requires a long walk down to reach them. Then, of course, it requires a long walk back UP to get back to the car. We opted to take one of the circular hiking routes to do this, instead of going back up the stairs we'd just climbed down. We discovered the parking lot closer to the bottom of the falls when we reached it. Sigh. Regardless, it was a lovely hike through the forest and while longer than we'd anticipated, still worth it. The falls are near Muckross House and are almost 20 meters high. Click through the slideshow below to see more of the falls and the hike.
Killarney town and an ATM Warning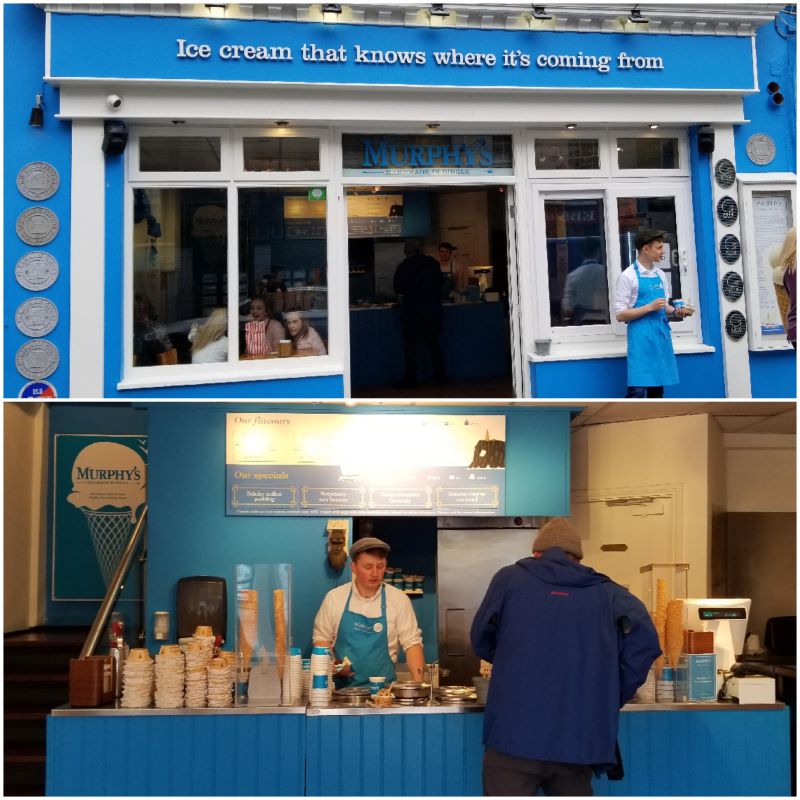 We did not spend a lot of time in the town of Killarney itself. We had lunch there one day, got some ice cream, and used an ATM. The town felt extremely touristy and was very crowded. Perhaps our feelings were colored by a bad ATM experience, but it wasn't a place we wanted to hang out in. That said, our lunch at the Celtic Whiskey Bar was lovely as well as the famous ice cream at Murphy's.
Where to Stay- Cahernane House
There are dozens of places to stay in and around the town of Killarney Ireland. We opted to stay at the restored manor house called Cahernae House, a couple of miles outside the main part of town. This house was built by part of the Herbert family (the same who built Muckross House) and it feels a bit like you are staying in another time. Click though the photos below to see more of the public areas of the hotel.
We stayed in one of the 12 rooms in the original manor house. Our generously sized Signature Double room was had an expansive view on the back of the property. The room had a king-sized bed, a seating area, a large white tiled bathroom with walk-in shower, and lots of period details. Click through the photos below to see more of the room.
On our first night there we decided to eat in the Cellar Bar that's located in the original wine cellars of the hotel. It was there that we discovered what would become our favorite cocktail of the trip, the Herbert. We loved this cocktail so much that it became our signature "house cocktail" back home and I've put the recipe for it on my food blog, Former Chef. We had a lovely time sitting at the bar and chatting with the bartender and the food was casual and delicious.
Breakfast the next morning had us feeling like we were dining in Downton Abbey, complete with toast served in an upright holder and views on the garden.
On our second night there we had a splash-out meal in their fine dining option, the Herbert Restaurant, complete with multiple courses and beautiful presentations. Click through the photos below to see more of the food.
Have you been to Killarney Ireland? Do you want to visit? Leave me a comment below and let me know what you think!
PIN THE IMAGE BELOW TO SAVE FOR LATER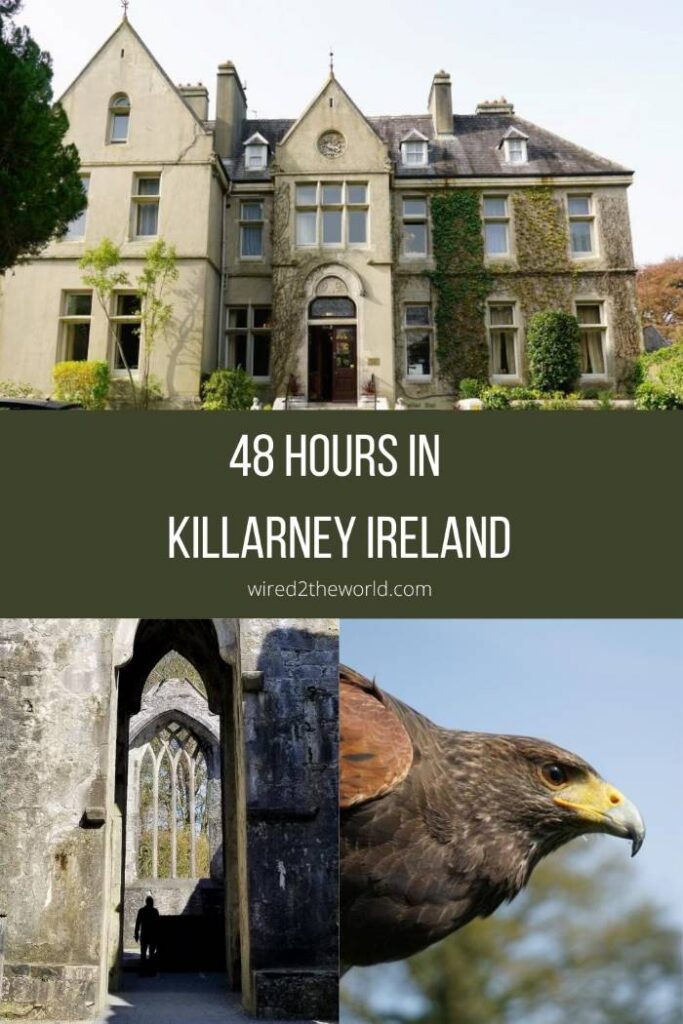 For more posts on Ireland, make sure to check out the Ireland Destination Page.
NOTE: Everything on this trip was paid for by us. Nothing was complimentary or given in exchange for reviews or promotions.
Any post on this site may contain affiliate links. Thank you for supporting wired2theworld by using our links to shop, book hotels, or organize tours. If you use them, they cost you nothing extra but we may make a small commission that helps us to continue to provide helpful and free content. This specific post has no affiliate links.
Related Posts