Around the World in 1998-1999; Sicily
Note; this post is recreated from the original wired2theworld website post with the dates below. The old posts were reformatted for the 20th anniversary of wired2theworld. As much as possible, the content is unchanged and unedited from the original, only some formatting, spelling, and link errors have been corrected.
US$1=1800 Lira
Kristina's Journal:
April 6, 1999
The drive to Sicily
Poppi Tuscany to Cosenza Campania
The drive from Tuscany down to the Cosenza in the Calabria region of Italy was uneventful. It was a good stopping point for the evening and we spent the night at the Hotel Excelsior, (Piazza Matteotti 14 tel 0984 74383) where we had a decent room for 90,000 L a night with a bathroom. In the early evening, we walked around the town a bit and had excellent gelato in a place that was crowded with locals.
    Later, we had dinner in the hotel's dining room, which offered a discounted meal to its guests. The chef was a 66-year-old Sicilian man who came out to the table to tell us what the kitchen had to offer, in Italian only. Since he was alone in the kitchen, he told us we had to order the same dishes. We both had tagliatelle with a mushroom cream sauce, which he assured us was excellent. It was. The following courses were unmemorable.
    After the meal, we got to talking with him and I told him we were headed for Sicily. He was very excited and tried to tell us all sorts of places to go. Then I told him I was a chef and he gave me a card from the hotel and wrote his name and phone number on it. He told me to send for him when I got home and he would work for me. I made no promises and said goodnight.
Taormina Sicily
April 7, 1999
When we arrived, we followed the signs heading South on the autostrada to the city of Taormina. The scenery was beautiful, lush, and very green from all the Spring rain. We arrived in Taormina, to discover that it is indeed a beautiful town atop a hill and that everyone else had figured this out as well. Along with its popularity, it had prices to match. After much searching through the often full and overpriced accommodations,  we finally found the Inn Piero Pension on the road outside the city walls (20, Via Luigi Pirandello). Although the restaurant was closed for the day, the rooms were available and were a great value for the area. We had a nice view of the sea in the distance and the room had a phone and a bathroom for 80,000L. Most in the city were significantly more expensive.
The main attraction in Taormina, besides the beach in the summertime, is the Teatro Greco (Greek theater), which dates back to the 3rd century BC. It is in excellent condition, and on a clear day, offers an amazing view of the sea and Mount Etna as a backdrop to the stage. Mount Etna is the highest and largest active volcano in all of Europe but we saw neither activity nor the top of this mountain while we were there, as it was covered in clouds most of the time.
In the evening we learned a very important lesson; always ask what things cost before you order them. Example A; in the early evening we stopped at an outdoor cafe called the Caffe Wunderbar. It has an excellent location in the Piazza IX, on the edge of a cliff overlooking the hillside and then the beach below. It also boasts Tennessee Williams as a former regular. This should have been a clue….Anyway, I had a cup of coffee and David had his new favorite drink, an Amaro, and it cost us almost $10! Had we known, we probably would have never sat down and ordered, but there was no menu and we didn't ask the prices. Live and learn.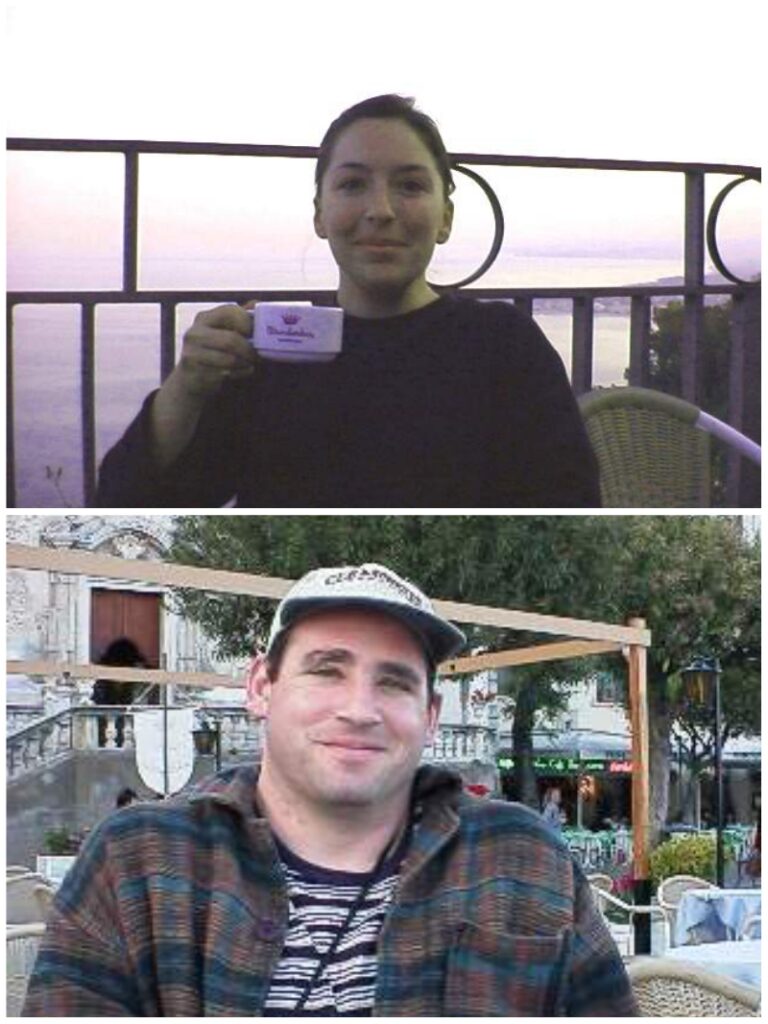 Later, we walked around the town in search of dinner. Many of the restaurants were full, required a reservation, or were out of budget. We came across the Grotta Azzurra, which had both a line and an amazing array of fresh seafood on a table outside. Since the fish looked so good, we figured all the people waiting must know something. We waited too, and finally sat and placed our order.
    Lesson #1, example B; don't order whole fish and ask how many of those giant shrimp you get on the plate for 28,000 L! (only 4!). In Italy, as well the rest of Europe, whole fish is often grilled and then served tableside. It is priced at the 100 grams. We knew this, yet we underestimated just how much it would cost, and weigh when you are paying for the head, tail, and bones of the fish as well. As for my shrimp, they were good, there just weren't enough for the price. So, we managed to meet and have a nice conversation with a couple from NY, who was sitting at the table next to us. We also managed to pay 104,000L for a mediocre dinner without wine!! Ouch.
Siracusa
David's Diary:
April 8, 1999   
     Not far from Taormina, as you go south on the coast of Sicily, is Siracusa.  Presumably the origin of the city in New York with almost the same name, the Sicilian version is much much older.  There are more fantastic ruins just outside the old city, which are notable for their theaters.    There are two excellent amphitheaters, one Greek, and one Roman, which allow you to examine the architectural and stylistic differences between the two cultures up close. 
Nestled in between these two sites, is the excavation of an ancient Greek settlement that was built into the walls and on the floor of a stone quarry.  We paid our token entry fee, no discount here for students (unless you are a student of architecture- true all over Italy!), and began to walk down the path when we were distracted by a small, very pregnant cat.  She was beautiful and very friendly, we spent a few minutes petting her, and then she wouldn't leave us alone.  Wherever we walked, she followed, unobtrusively, but never far behind, always hoping for more attention.  She was obviously from the archaeological zone somewhere, as she appeared to be quite healthy and very comfortable with humans.  Eventually, she mistook another couple for us and went down a different path.   
We found that most of the settlement was closed off to the public, because the dig is ongoing, and the site is fairly sensitive, but there are paths that are open on the floor of the canyon which affords the visitor a reasonable view of the dwellings. There is an enormous cave, however, which is open to the public.  It is called the Ear of Dionysus because its shape resembles the twisting curves of a human ear. Legend has it that Dionysus kept prisoners in the cave so as to eavesdrop on their conversations.  The echo is phenomenal.  We walked out as a German tour group began to sing spontaneously.  Although they were not as talented as the choir and minstrels we had heard perform in the church at Poppi, their sound was magnificently amplified by the grotto's unique shape.   
We had found a hotel easily enough, using the book to locate one, but ended up across the street because they had telephones.  This is where we learned lesson #2: just because a room has a phone with a tone, doesn't mean it actually works.  Of course, we had asked if the rooms had phones in them, and they had said yes.  We did not ask, however, if said telephones were currently in working order.  Upon returning from the archaeologic zone, we were anxious to retrieve our email and upload the next revised section of the website.    After several abortive attempts, I went down to reception to ask if there was something I was not doing to make a phone call properly.  "Oh, you can not call out today sir", I was told matter of factly "our phone system is not properly hooked up yet and we can only receive calls, but you can go to the train station and call from a payphone."  I am livid.  I regain control quickly, however, as I realize that there is nothing that I can do to change my situation.  I break the bad news to Kristina, who is equally incensed, but also accepting of the problem.  It is just our luck, we both figure, and count our blessings that it is only for one night.
We decide to head into the old town for a walk around. The old city of Syracuse (English spelling) is situated on a small island that sits off the peninsula where the new city and the ancient ruins are located. It has a good, informative tourist office which provides the essential free map. The old city is very small but very tight and narrow, making navigation by car next to impossible. Park around the perimeter and walk into the center.
There is a beautiful old Cathedral and plenty of old-world architecture and charm. The Cathedral was closed, and of course, they were doing the usual offseason renovations to the central tourist attractions, but the most interesting elements of this building can be found on the outside. The Cathedral was built on the site of an ancient Greek temple, using the temple's foundation as its own. Most notably, the Cathedral incorporates columns from the temple in the construction of two of its walls. Clearly, the diocese built the church right on top of the ruins of the temple, without clearing away any of the remaining edifices. The result is walls that bear columns in relief both outside and, we believe, inside. This fusion of culture, history, and religion is particularly interesting from the perspective of the contemporary observer.
In order to save money, we chose to pack a lunch in the cooler and take it on the road to Agrigento. The next morning, we bought bread in the bakery, then walked across the street to a deli where we had seen good cheese and meats. The wonderful woman in the deli made us give her our bread rolls, and made the sandwiches we wanted for us with prosciutto and provolone cheese. We got an early start, as we were keen to leave the hotel with the crappy telephones behind and get to Agrigento in time to see the sights and find a well-equipped place to stay.

David's Diary:
April 9, 1999                             
They called me "Mario"
 We have been utterly flabbergasted by the way other cultures drive on their roads throughout this trip, but the Italians are the best.  The Nepalis are crazy drivers, and there are apparently no rules to follow there anyway.  Not to mention, the condition of the roads and the vehicles are atrocious, and one can almost accept that the driving would have to be as well.
    But in Italy, home of the Fiat, the Alpha Romeo, the Maserati, The Ferrari, the Lamborghini, the Ducati, and the Moto Guzzi…  Where the roads are beautiful, for the most part, and there are lines painted on the road, most of the time, one would expect rules and regulations. And there are! or so they say.  Italians drive like everyone is in their way, including the oncoming traffic in the opposite lane.  They ride your tail until they have the tiniest break, and then they fly by you in the middle of the road, forcing oncoming traffic to get into the shoulder.  There are those who will pass an entire convoy of cars, all driving in a line behind a slow truck or two, using an imaginary 'middle lane'.
    I suppose the real issue here is driving off the Autostrada. On the superhighways, I push our little PIA (Peugeot international airlines) Turbo Diesel 306 to mach speeds.  We can do 170 kilometers an hour at 4000 RPM, although that's pushing it.  We max out at 185, unfortunately- although I think Kristina is happy we can't go any faster.  I keep it to just over 160k on average, which is just a hair below 100 miles per hour.  I love it. When I was a teenager, my friends used to call me Mario, because I drove like I was Mario Andretti in an F1 car. But in Italy, I am not going as fast as most station wagons!  Although I pass some people, I have to keep a constant watch in the rearview because there is a constant stream of much faster drivers.  Most will flash their lights if they think you are not aware of their imminent impact and collision trajectory.  I tend to be out of their way before they flash, to keep everyone moving at their own pace without braking, and we get passed so by cars going so fast that the compression wave rocks our car.
    Kristina started to survey the cars which passed us with such ferocity and made some interesting discoveries.  There are a lot of really fast station wagons in Europe, and everyone is driving them.  Audis, mostly, and BMWs, and Mercedes, but these Audi Station Wagons were all over the place.
   The South of Sicily has no Autostrada. Driving off the Autostrada is a completely different adventure altogether. Because nearly everyone pushes their car to the limit, lots of people are trying to drive faster than whoever is in front of them.
    We had our most exciting experience with the imaginary 'middle lane' while driving from Siracusa to Agrigento.  We were driving on a simple two-lane country road following another car who was passing using the third lane concept, and I was following his lead and learning as we went. We eventually became stuck behind two cars and two long flatbeds filled with gravel.  This went on for a while and the two cars in front of me were not taking the initiative to pass the trucks.   Soon enough there was a line of cars behind us, and I was not a happy camper, so I took action.
    It was Days of Thunder II.  We were going uphill gently, around a big arcing curve to the right, so we were on the inside with a wide shoulder.  The two trucks were pulled over halfway into the shoulder and signaling for the cars to pass them, but neither car would do it.  They moved out and blocked the middle, as if to go, but never went.  My patience was gone.  I dropped into third gear, floored the accelerator, and dipped into the shoulder.  We took these two cars on the inside of the curve, and the look on their faces as we passed was priceless.  I had built up considerable speed on the move, and the trucks were still signaling 'all clear, so I swooped through the gap to the outside, picking up even more speed with the centrifugal force of the curve, and blew by the two trucks in the 'middle lane.'  We had done the impossible: shocked the Italians with our driving!
    Needless to say, Kristina was shaking her head, still not wanting to believe that I had just done what she saw us do. "Relax, I'm a professional," I said.  I don't remember exactly what was said next, but in my defense, I was professing the absolute normality of this kind of driving in Sicily especially, and furthermore "when in Rome..", I added.  To no avail.  When she is right, she is right.
    Occasionally, however, the forces of nature intervene and I am saved by an act of providence.  This time, it came in the shape of an intercity bus, filled with people.  Imagine the small valley we are driving down into, which is completely clear of obstructions, with the road running straight down one side and up the other.  As we drive in, I can see a line of cars, trucks, and buses driving down the other side.  Cars begin to pass the trucks, and by the time we are almost upon them, at the bottom of the little valley, I have a weird feeling, and the bus decides to make the third lane and pass the trucks, all coming towards us.  Kristina is having the same weird feeling, as she has stopped berating my reckless driving and is looking at the bus with the same dread of anticipation that I have. I start to laugh, and say "The bus is going for it, isn't he?"  Seconds later the bus decides to pull out and go for it. When a bus makes an imaginary middle lane around an 18-wheel tractor-trailer, it uses up most of the road. I am ready for this one and have us on the shoulder, one wheel just off the road on the dirt, still going 100 kilometers an hour.  I am in hysterics, laughing so hard that my eyes are tearing and I can hardly see the road.  All of a sudden, what I did back at the curve seems like nothing compared to the bold actions of this bus driver.  We had been shocked right back.  The Italians win the prize.
Agrigento
David's Diary:
April 9, 1999
Agrigento, Valley of the Ridge Temples
    When you drive into Agrigento from the East, you come upon the much-heralded Valley of the Temples before you reach the town itself.  One can see two of the most prominent temples from a distance because they sit atop a ridge that rises out of the valley floor.  One is struck by the incongruity of the name of the site versus the visible characteristics of the location.  It is more appropriately named the Ridge of the Temples, but there is a larger valley that surrounds the region.
    The city of Agrigento is on top of a hill that rises high up out of the center of the valley, giving it an excellent panoramic view of the temples, the coast, and all the surrounding geography.  The drive up to the city is the usual nightmare of steep roads almost too narrow for two-way traffic, and signs that are unclear and ambiguously posted, if there are signs at all.  We finally found our way into town and located the tourist office.
    We followed our newly acquired map and list of pensions around town, unable to find anything acceptable.  We really wanted a phone at this point, because we had several pages to post, all with new faster loading pictures.  We only had two weeks or so to re-post the entire site before the New York Times article was to come out, and we had a lot of work to do.  Our site was already bigger than either of us had ever anticipated it to be.  We estimate that when printed out, the site is close to 400 hundred pages, and the photo pages have hundreds of pictures, all of which needed reformatting for faster download.
    There is no middle ground in Agrigento as far as hotels are concerned.  They are either very expensive and fully equipped or fifty bucks with a bed and a sink.  We decided it was time to use the credit card and stay somewhere expensive and equipped.  We found a nice hotel with phones that worked – we made sure this time – and a view of the temples from the room.  It was way too much money, but with Kristina's mom paying for this one, we were not suffering too much.  Thanks, Sharon.
    After we settled into our room, we set off to see the temples.  We figured, that if we could see the temples today, we could get an early start to Palermo in the morning.  Of all the ruins I have seen in my travels, these are some of the best-preserved.  Honestly, the archeological site at Agrigento is better even than the Parthenon in Athens.  The quality of ruins in Sicily as a whole rival any other place that we have been.  This settlement was founded in 581 B.C., and the city enjoyed a prosperous era in the fifth century B.C. during which the majority of the temples were constructed.  The Carthaginians and the Romans began to fight over the island of Sicily in the third and fourth centuries B.C. with the Romans finally taking control in 210 B.C. Augustus Caesar granted Agrigentum "municipal status' and once again it flourished for the next few centuries.
    The Valley of the Temples can be seen in a single day, but everybody's pace is different. We needed only a few hours to get what we wanted out of it, but most guidebooks recommend two days.  There are two principal sections, one is free, and the other costs 8,000 lire.  The big temples, Concordia and Giunone (Juno), are in the free section and are marvelously well preserved.  The Temple of Hercules is falling apart, but you can climb on and through it.  What you can learn from a bit of careful observation while exploring this magnificent ruin is plentiful.  The clues to the construction of the temple are in plain sight and the details are up close and personal.
    As you climb through this wonder, you have the feeling of being transported back in time.  Even the modern additions are carefully concealed to help preserve this feeling.  Hidden under cleverly constructed stone shelters, powerful halogen spotlights wait for dusk so that they can bring life to the site in the twilight hours.  The sight of the temples all lit up is amazing, and worth a second trip to see.  The splendor of the night view can be appreciated from a distance, fortunately, and if you do not have the luxury of a hotel with a stunning view of the temples, you can probably walk to one of many vantage points around the Agrigento hillside.  Further, if can afford it, there is an ancient villa that has been transformed into a beautiful first-class hotel that sits on the property of the archaeological site (we did not stay here).  I figure if you are going to spend that kind of money, you might as well do it right.
    Dinner was not an easy prospect.  From our hotel, we had little to no choice, and the hotel restaurant was outrageously overpriced, of course.  We drove back into the town center and parked in the center of town again, before setting off on foot in search of a cheap trattoria.  We found a little place called Trattoria Concordia on the pedestrian street that leads up and out of the main square.
    We ordered a  bottle of white wine, Valle de Salso, Sicilia, Indicazione Geografica Tipica, Bianco, 1998, and enjoyed it very much.  The rest of the meal was very good, with one minor exception.    We had been buying Buffalo mozzarella and ripe tomatoes for weeks in Poppi, making the most delicious Caprese salads in our ancient abode and had become quite spoiled (we are horribly spoiled anyway, but every bit helps).  We were served the most horrible Caprese salad I had eaten in years, with unripe tomatoes and tasteless packaged cow's milk mozzarella cheese.  Yech.  From there, the meal was delicious.  Kristina had spaghetti Vongoli, which means 'with fresh clams', and I had spaghetti Bella Donna w/ capers, anchovies, and olives.  Yum.  Then, we had grilled lamb chops and grilled swordfish which were both excellent.  We drove back to the hotel and had an after-dinner drink because the lobby was packed with 20-30 new arrivals and their bags, who were waiting in line for the single elevator, which only held two at a time plus a few bags.  It was going to be a while.  So, I had an Amaro, and Kristina had a glass of Port, and eventually, we got to our room.
Palermo
Kristina's Journal:
April 10, 1999
All of the guidebooks that we had that covered Palermo gave strong warnings about safety and car theft. They described a place rife with crime, crumbling buildings, the Mafia, and a general aura of danger. Armed with this knowledge, we were justifiably nervous upon entering the town. It was a short drive, only 2 hours from Agrigento. We wound our way to the city center where we had identified a pay parking lot where we hoped to park the car for safety.
    From there, we walked to a street that our guidebook had listed as having 4 or 5 different pensions in one place. The Hotel Madonia was the first one we looked at, and it was an easy choice. It offered a bathroom and phone in the room for 90,000L  plus secure underground parking behind three gates for 20,000 a day extra which we felt was worth it. It was a basic pension, but it had nice rooms with pale green walls, a balcony from which we could see all the way to the port, and gracious owners. It seemed to be in a slightly nicer area of town so we automatically felt a bit safer.
    After dropping off our stuff and the car, we took a walk around town and went to the tourist office for information on Palermo, Cefalu, and taking the ferry back to Naples. The woman in the tourist office was very helpful and spoke English.
Although it was getting late in the afternoon, I really wanted to get a look at the market area, and the oldest neighborhood of Palermo called La Kalsa. This is the area notorious for its crumbling buildings, a labyrinth of alleyways influenced by past Moorish occupation, and for its crime. To be honest, we felt perfectly safe, and enjoyed ourselves thoroughly, vowing to come back another time, earlier in the day when the market was open. We saw very few tourists.
     From La Kalsa, we walked back along the waterfront to the port to investigate the ferry to Naples. In the Tirrenia Ferry office, we spoke to a man behind the window counter who gave us the details we needed in a smattering of English mixed with our little knowledge of Italian.
From Palermo to Naples, in the low season, it costs 266,900L for 2 people, a small car, and a two-bunk 2nd class cabin in the bottom of the boat. There are no 3rd class cabins and the only other option would be to sit in a chair for the whole night, saving us only about $20 in total. So, we bought the tickets and we would be leaving Monday at 8 PM, arriving the next morning in Naples at 7 AM. In all, we figured it was the best way to go. To drive back the way we came, through Reggio Calabria would cost at least 100,000L in gas, 90,000L for hotel, plus an extra day and 500 Km of boring driving. This way we could spend all day in Palermo, get on the boat in the evening, and arrive supposedly fresh, and ready to go directly to Pompeii the next morning.
Cefalu
Kristina's Journal:
April 11, 1999
La Famiglia…
    My family, that is, not The Family of Sicilian fame, although there have always been rumours…
Anyway, Cefalu is about 80k from Palermo and it is the town that my great grandfather came from on my mother's side. Although my grandmother was born in California, the family has always retained its Sicilian roots, culture, and cuisine.
    I'm not sure, but I think I may be the first family member to come back here since my great grandfather left as a child in 1908. I'm sure he never made it back to Italy, and most of the rest of his family joined him in the US when he finally made it there. Cefalu is a beautiful little fishing village, and I can only imagine what it was like at the turn of the century. Now, however, it is slightly touristy, and it must be worse in the summer.
In the main square, I bought a tourist photo book for my grandmother, so that she could see the town where her father was born, as it stands today. The shopkeeper spoke no English, but I managed to convey that I had relatives that came from Cefalu. She asked the family name and then confirmed that there were still people with the same family name in the town and this is where they come from. I know my mother will be disappointed, but I wasn't about to go knocking on the doors of strangers, claiming to be a long-lost relative of someone who left over 90 years ago. It was enough for me just to go there.
    Since it was Sunday, almost everything was closed, but we managed to make it inside the church at the end of a mass before it closed for the day. The story behind the church is that the Norman King, Roger II, made a vow to build a beautiful cathedral if he survived the shipwreck he was facing. Seems that God was listening that day, and Roger survived to begin building the cathedral which took over 100 years to complete in 1240. The central apse is covered in beautiful gilded mosaics and a huge Byzantine mosaic image of Christ covers the back wall.
We had a good lunch at Ristorante Pizzaria da Nino right on the beach where they have a huge, groaning, antipasto table.
Palermo Part 2
Kristina's Journal:
April 12, 1999
Palermo
In the morning we went back to the outdoor market again to see all the beautiful produce, fish, meat, and other items so necessary to Italian daily life. As we walked through the maze of alleyways and crumbling buildings, we came to a small square where four such streets converged. There, we noticed in one corner of the square, a small walk-up bar as we had seen in Portugal. Next to it was a man with a cart, selling hot sandwiches. I walked over to check it out and noting my interest, he gave me a taste of the cooked meat. Delicious! It was thinly sliced, warm, and cooked with sautéed onions, a squeeze of lemon, and a pinch of salt. We were still uncertain as to what kind of meat it was, and were discussing it, when another man, standing just outside the door to the bar told us it was liver! Now, normally I really don't like liver, but this was so good I had it for breakfast! We took the sandwich into the little bar where I had a coke and David a beer and enjoyed the moment of discovery. He was such a nice man that when we left, I went to take his picture and he motioned for me to come around behind the cart to be in the photo with him. This was just one of those small, unforgettable experiences that make travel so wonderful.
    Walking further through the market, we came across clothing, shoes, and housewares stalls. Then, more food, stretching for blocks in every direction. At one point, we found an area that seemed to have a preponderance of stray cats. Suddenly we saw two stray dogs go after a cat. The cat turned on the dogs and defended himself admirably, scaring them back a few feet. When the dogs finally lunged toward the cat I figured he could use some help so I yelled at them and scared them off. The cat then ran into a stall and I followed to make sure he was ok. Inside, was a large, very pregnant cat whom I figured he was protecting. Possible, or am I just anthropomorphizing? The old man inside the stall smiled at me, and said something in Italian, I think thanking me for scaring the dogs off.
David's Diary:
April 12, 1999
The stuff that nightmares are made of
    It was time for us to embark on the rest of our carefully planned day, so we returned to the hotel.  We collected our bags, paid our bill, logged on one last time to check our email, and retrieved our car from the garage.  Once again, we were on the road. Navigating in Palermo is much like driving in any European city: complicated.  I presume that if these cities had been built more recently, they might be more accommodating to the automobile, but they tend to predate the car by many centuries and therefore were not planned with motor vehicle traffic in mind.
    After winding our way around the one-way labyrinth of Palermo, we finally found what we sought: The Capuchin Catacombs.  Many cities have a catacomb stop on their tourist itineraries,  such as Paris and Rome, but none can compare to those in Palermo.  The obvious difference between these and other catacombs is that where the Parisian and Roman Catacombs have subterranean chambers and places for the bodies, the Palermo Catacombs remain invested with the bodies themselves.
    Never in my life have I seen anything so ghoulish and gruesome as the 8000 corpses in various states of mummification and decay that line the walls of the Capuchin Catacombs.  The bodies are literally nailed to the walls, or hung by meat hooks, from where they can look down on visitors. There are thousands of bodies.  They line the walls, shoulder to shoulder, some are sitting, and some are lying down in small alcoves clearly designed for the purpose.  Most are attached to the wall.  They are floor to ceiling as well as wall to wall.  What is most immediately striking about the corpses is that they are all clothed from head to toe, or should I say skull to toe.  They have jackets, pants, hats, ascots, and ties.  Some are wearing spectacles still, although their eyeballs are long gone, and one doubts how much correction the empty sockets require to see from the great beyond.   There is an eerie quality to the atmosphere of these dusky hallways as if there were something watching you.  Photography is strictly forbidden, and one does not dare chance to defy these rules, even though there are no docents or security cameras (we bought postcards).  As I said, the feeling of being watched by so many dark, lifeless eyes is a sufficient deterrent.  I cannot suppress the urge to imagine the thousands of corpses reanimating, angry with me for taking their picture, and I shudder.  I try to push the image out of my head, but it is hard.
Their faces are what is most terrifying about them. Although the eyeballs, noses, and ears are gone, there is still some hair on a few of them, most still have skin. The dried leathery tissue is pulled taut on almost all of the faces, giving them looks of absolute terror. They look down at you as if they had all died a horrible painful death and their suffering was ongoing. Many appear as if they were still screaming in eternal agony. It is the kind of place where your worst nightmares come from. I have seen some horror movies that attempt to recreate the horror of the undead, but none compares to seeing the dead in a state of lifelike preservation. I will not sleep tonight.
They are divided into sections, with the entire back wall devoted to women's corpses, some in hoop skirts, others with parasols….as if they were worried about skin cancer. One of the advertised attractions of the Capuchin Catacombs is the children's section, which includes a young girl whose body has not decayed the slightest bit, to the eyeballs, which are still grayish-blue. She is in a sort of cradle, propped up for all to see, and she looks very much like a doll. Perhaps it is a miracle, as the monks of the Capuchin brotherhood would have us believe, or perhaps she got an extra dose of formaldehyde. I will have nightmares tonight.
We were both feeling a little queasy after quietly working our way around this most ghastly of places. Kristina looked at me with one of those rare faces, and said "It's time to go now." I concurred that I had seen enough but that I felt the need to purchase a postcard or two, which the elderly friar at the entrance was selling. With a shudder, we walked out of the tomb. Kristina was visibly pale, having been seriously unsettled by the macabre collection of cadavers. She called it "The most gruesome, nightmare-inducing experience" she had ever had. I didn't feel so hot myself. We shook it off and decided to make our way to our next destination, Monreale, a monastery and cathedral just outside of town.
    Monreale is, ultimately, just another beautiful cathedral and monastery, but it has its distinctive attractions.  First off, the monastery has fabulous cloisters, where each column in the square is unique, done in mosaic tile.  This is worth a look.  The cathedral's claim to fame are the mosaic depictions of the Bible, Old Testament, and New Testament, that cover every square inch of the interior. 
We spent almost half an hour walking from image to image, trying to identify the various stories we were familiar with.  We did pretty well with the Old Testament and found several stories we recognized from the New Testament, as well.  One could spend hours in this church, however, if they were interested in this kind of art. Thinking back to a time when only the clergy and nobility were literate, the pictorial Bible would have made the stories of the Good Book more accessible to the plebeians of the time.   
That night, we left for Naples via car ferry….
We've been back to Italy many times since this trip.
For more, check out our main Italy Page.
Have you been to Sicily? Thinking of going?
Leave me a comment below and make my day!
NOTE: Everything on this trip was paid for by us. Nothing was complimentary or given in exchange for reviews or promotions.
Any post on this site may contain affiliate links. Thank you for supporting wired2theworld by using our links to shop, book hotels, or organize tours. If you use them, they cost you nothing extra but we may make a small commission that helps us to continue to provide helpful and free content. This specific post has no affiliate links.
Related Posts