48 Hours in Dublin Ireland
Dublin Ireland- What to see and do in 48 Hours
From Kilkenny, we drove to Dublin for our final two days in Ireland. While there, we visited the famous Kilmainham Gaol, took a tour of Dublin Castle, had several delicious meals, and slept well at the gorgeous Merrion hotel.
Kilmainham Gaol
Our first stop in Dublin after we drove in from Kilkenny was at the Kilmainham Gaol. This was an efficient use of our rental car on the last day as it's not exactly in the center and we were able to park in a nearby lot and then return the car after dropping our bags at the hotel.
Kilmainham Gaol is now a museum but was once a former prison holding both common criminals and Irish revolutionaries from 1798 to the 1916 uprising to the Irish civil war in 1923. Tickets should be booked in advance (via the museum's website) because access is by guided tour only. The prison was built in 1796 and closed in 1926.
The tour took us all around the prison and showed us how people lived (and died). It was fascinating and worth the time.
Walking Around Dublin
Dublin is an easy city to walk around and we had both sun and rain while we were there. Of course we had to check out the Temple Bar area while we were there.
While in the area, make sure you check out Crampton Court, also known as "Love Lane", which is filled with murals and 4" tiles with hearts and sayings printed on them about love. Below are some of my favorites.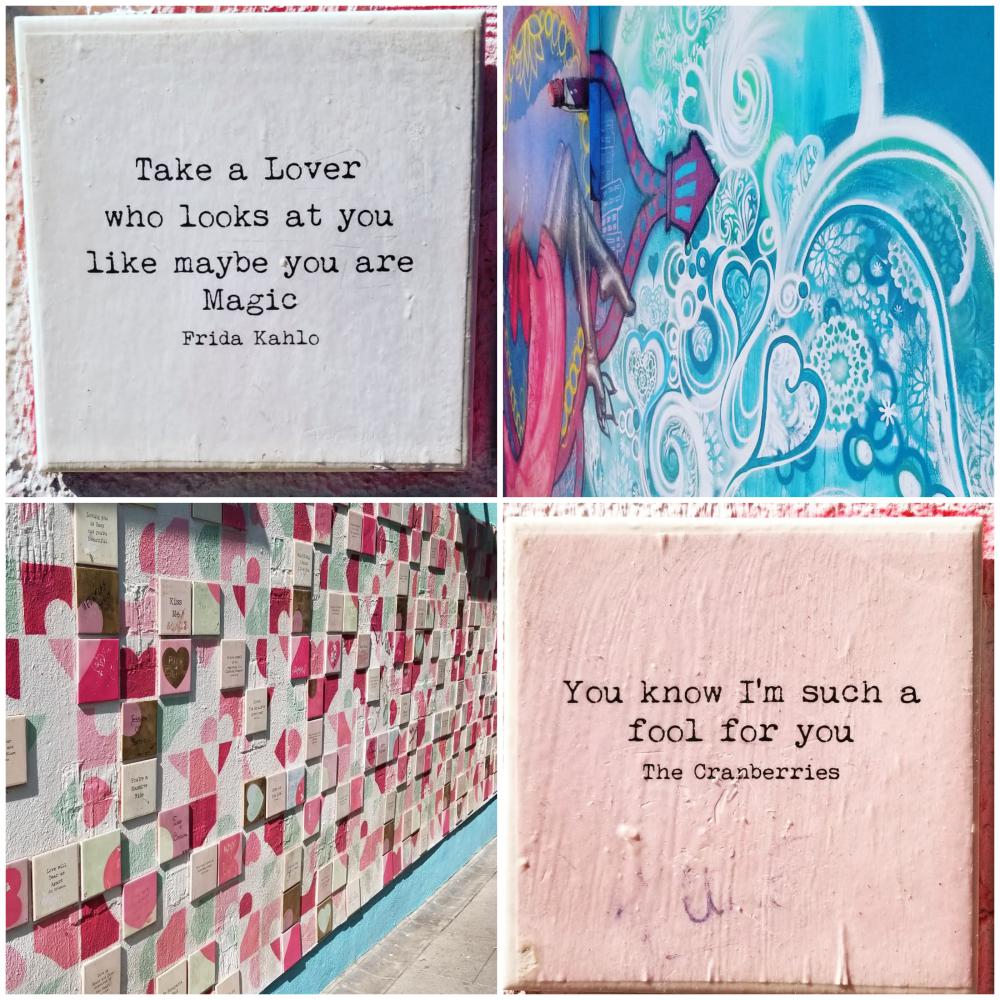 Also nearby is the famous statue of Molly Malone, which is in front of the deconsecrated St. Andrews church, now a tourist center.
Dublin Castle
Dublin Castle is another tourist sight which requires tickets and a guided tour. I'm a sucker for any kind of castle and this one didn't disappoint. We did the full guided tour which not only included the state apartments, but the chapel and the medieval section.
National Museum of Ireland-Archaeology
Lastly, we visited the National Museum of Ireland for Archaeology which was around the corner from our hotel. The museum is free and is open every day of the week (check the website for hours).
There are exhibits on early Vikings which includes some beautiful jewelery and clothing as well as the remains of Early Iron Age people who were discovered preserved in peat bogs.
Where to Eat in Dublin
We had several delicous meals in Dublin and the ones below were the standouts.
Pichet
Pichet has a Bib Gourmand in the Michelin guide. The food is modern Irish using local products with a heavy French influence. I really enjoyed the gambas (shrimp) with wild garlic and David enjoyed the steak tartare made with local beef. The standout was the duck breast with figs and potato hash.
Pichet is closed on Sundays and not open for lunch every day. Check the website for details.
14-15 Trinity St, Dublin 2, D02 T998, Ireland
The Pig's Ear
The Pigs Ear is a small restaurant located up a set of stairs on the first floor of a building across from College Park at Trinity College. Today the menu looks to be a set 2 course or 3 course but when we were there everything was a la carte. The also have a Michelin Bib Gourmand.
We very much enjoyed all the food, especially the country game and pork terrine, the pork belly with peas, and the Earl Grey tea cured Irish salmon.
The Pig's Ear is closed on Sundays and Mondays and open for dinner the rest of the week.
4 Nassau St, Dublin 2, D02 YX74, Ireland
Brasserie 66
Because we were in Dublin on Easter Sunday, we were unsure as to what would be open so I made a reservation at Brasserie 66 for brunch. This is a casual dining place with a great bar and cocktails. Because we were there for brunch we opted for a couple different versions of eggs benedict.
Brasserie 66 is closed Mondays. 66-67 South Great George's Street, Dublin, D02 YD61, Ireland

Where We Stayed in Dublin
Merrion hotel
We spent two nights at the Merrion Hotel. It's a gorgeous luxury hotel and the rooms and bathrooms are spacious even though we may have had one of the most basic rooms. I'd happily stay there again.
Have you been to Dublin Ireland? Do you want to visit? Leave me a comment below and let me know what you think!
For more posts on Ireland, make sure to check out the Ireland Destination Page.
NOTE: Everything on this trip was paid for by us. Nothing was complimentary or given in exchange for reviews or promotions.
Any post on this site may contain affiliate links. Thank you for supporting wired2theworld by using our links to shop, book hotels, or organize tours. If you use them, they cost you nothing extra but we may make a small commission that helps us to continue to provide helpful and free content. This specific post has no affiliate links.
Related Posts