Day 3- Monday

This morning we decide to try a different place for breakfast. About a block from the hotel is the Fisherman's Wharf Deli and Taqueria. I have a bacon, egg, and cheese burrito (huge and good at 5.99). D orders a sausage and cheese omelette and ends up with a sausage, egg, and cheese burrito. Rather than wait for what he's ordered, he takes it. With a cup of coffee, breakfast was under $15 for two.
I get a text from our friend J which says, "We just landed. When do we start eating?" I love my friends. They are game for just about anything, love to eat, and tolerate my taking pictures of the food.
I knew they would be hungry once they arrived so D and I walk back up to Washington Square Park to the Liguria Bakery at 1700 Stockton St.

They take their foccacia seriously at Liguria Bakery.

They sell one thing only there; foccacia in about 10 different flavors. Big slabs of it (about 12" square) sell for $4-$4.50 depending on the flavor. The shop is odd; there's nothing in the glass cases so if you've never been there it's a little hard to tell what you want by sight. I just take a guess and order 3; rosemary & garlic, black olive and green onion. They bring them out from the back and wrap them up in a neat little package of white paper. We head back to wait for our friends at the trolley stop near the hotel.


J says, "Next time we're taking a cab" and then, "when do we eat?"

We meet them at the tram and walk them back to the hotel and they check in. Up in our room, we break out the foccacia to many ooohs and ahhhhs and give T her bottle of Amaro Lucano. She is thrilled!

We bought our tickets for Alcatraz for 2:20 PM online before we left home (https://www.alcatrazcruises.com/index.aspx ) so we have a few hours before we have to be at the boat. Tickets do sell out in advance, so it's a good idea to buy them ahead of time online. In fact, later, when we arrive there is a sign saying there are no more tickets available for that day.
We decide to walk around Fisherman's Wharf and get a bite to eat. First, we return to Pier 39 to check out the seals again, and then go onto the part of the pier where there is food and drink.

The pier is mega-touristy and just makes me cringe, but everyone else decides they want a drink, so we stop at the "Wines of California" shop where they all order wine flights (priced at $12-$15 per 3 glass flight). I abstain from the wine because drinking and boats don't mix at all for me.
After that, we walk to the far end of Fisherman's Wharf (near Boudin bakery) where J says she's had good seafood before purchased straight from the sidewalk vendors outside the restaurants. We check these out, but for some reason decide to go inside a restaurant called Nona Rose to sit and eat. Big mistake.
What we had was a poor excuse for seafood; badly shucked oysters sitting on a watery tray of melted ice, ketchup masquerading as cocktail sauce, crab from a can, soggy fried calamari. I could go on but won't. Still full from the foccacia, I order nothing but lemonade and am happy with my choice.
Alcatraz
From there, we walk down to Pier 33 where the boats dock for Alcatraz. They start allowing people to line up around 1/2 hour early. Everyone has the opportunity to have their photo taken in front of an Alcatraz backdrop, so the 4 of us do it together. The ride over takes about 15 minutes and feels fast.

Before I'd left home, a coworker had told me, "when you get off the boat, there will be a park ranger there asking everyone to wait and gather around. Ignore them and just walk up the hill. That way you won't get stuck going through the tour with 250 other people." Normally I'm not one to break the rules. In fact, it makes me downright uncomfortable. But we follow the advice and it was the best thing we could have done. No one asks us to stop and we arrive at the top and pick up our audio guides before the crowds arrive.
The audio tour is great. It's narrated by former guards, inmates, and even residents (a woman whose father was warden when she was a child). D gets his audio tour in French (just for fun and practice) and we note some cultural differences in the narration; mine mentions the 2 lane bowling alley, his does not. His mentions the bakery on site, mine does not. The prisoner's cells are fascinating and sad at the same time. The audio tour takes about an hour and we really enjoy it. J says it's better than when she was here a few years ago. http://www.nps.gov/alcatraz/ .

The City, so close and yet so far away. No wonder they all dreamed of escape.
We walk back down the hill and are the very last people on a boat waiting to go back. When we arrive at the dock, we check out the photos which were taken before we got on the boat. They are 5x7s and 2 for $22 (and you have to buy both). For once, they're not bad (ok, yeah, a little cheesy, but fun), so we decide to share and each buy one for a souvenir.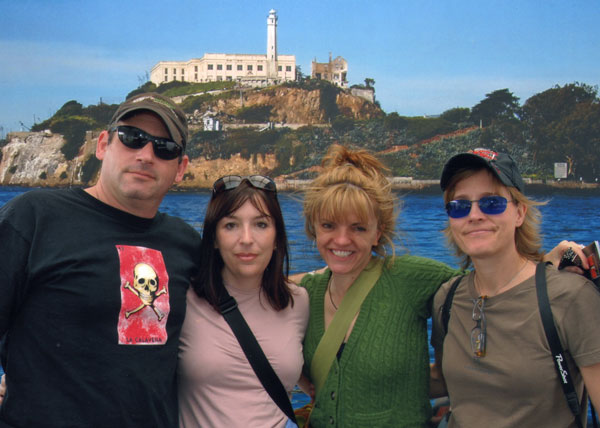 After picking up our photos, we start walking down the Embarcadero toward the Ferry building. The plan is to get to the Hog Island Oyster company in time for their Monday Happy Hour (from 5-7 pm) when they have $1 oysters. Along the way we stop at an artisan chocolate shop called TCHO which is tucked into an old Pier building. We also get "surprised" by a homeless guy who hides behind a bush and then jumps out, startling passers-by. I'd actually read about this guy before coming and there is much debate about him online. He has the nerve to ask for money "for the adrenalin rush" after he's scared people. Inventive, yes. But in my opinion, one of these days he's going to startle someone into a coronary. So, sorry, but no "contribution".
We arrive at the Hog Island Oyster Company around 4:40 and it's already crowded. In fact, we're told if we want a table outside the wait could be about an hour. However, there are seats at the bar, four on a corner (2x2) and would we like them? In what is quickly becoming a dining trend for us, we say yes and take our seats at the counter. Because Happy Hour does not begin for another 20 minutes, we order drinks to start at full price and peruse the menu. Sitting at the bar gives us a chance to watch the oyster shuckers in action and they are going full tilt given the waiting crowd, shucking dozens in advance of the orders they know will be coming. The oysters end up flying out without wait.
By the time the drinks arrive, we can order off the Happy Hour part of the menu and we start with some of everything on it; 2 dozen "Sweetwater" oysters ($1 each), warmed Castelvetrano olives ($5), Grilled Sardines- ($6) two enormous ones with breadcrumbs, baby bok choy and almonds, and Grilled shrimp- ($9), three huge ones, with harissa chili sauce. Later, we order 2 dozen more oysters and a few more drinks.
In contrast with lunch, the oysters are served on a glistening mound of ice with the proper accompaniment of a perfect mignonette sauce. The sardines are freshly caught, moist, and perfectly grilled. The shrimp is tasty with the spicy sauce. Our "snack" for 4 is $123 before tax and tip. Note; most of our drinks (3 glasses of champagne, 2 glasses of wine, and 2 beers) were not at happy hour prices. Oysters are usually $2.25 each and up on the regular menu.
Full, happy, and a bit tipsy, we leave the Ferry Building and decide that a trip back to the hotel for a rest is in order before dinner. We want to try A 16, the sister restaurant of SPQR so I call them to see if I can get a reservation. All I get is a recording. When I try again a few minutes later, someone answers, but they tell me they are all booked, though we are welcome to walk in. We head back to the hotel on the F tram.
A 16
We meet up with J and T around 8 PM and we walk a few blocks where we can pick up the #30 bus which will take us right by A 16. When we arrive, the restaurant is full and crowded in the cramped waiting area in the front. We're told it could be up to an hour and D gives the host his cell number to call. I'm irritated. Waiting that long for a restaurant is a pet peeve of mine; I'd rather just go somewhere else. We take a walk down Chestnut Street, checking out all the cute shops and a couple of other restaurants. After about 20 min, we end up back at A16, debating if we want to wait any longer when D's phone rings. It's the host, telling us if we are willing to sit at the Chef's Bar, we can be seated now. See what I mean about a trend?
We are seated right in front of the pizza oven and it's hot! So hot that J strips down to a tank top, T removes a layer in the restroom and I'm contemplating if I can get away with sitting there in a bra, this being San Francisco after all. I decide to roll up my sleeves instead and order a very cold white wine.
We look at the menu and settle on a bunch of dishes to share;
Romaine and Chicory Salad with lemon and Olive oil ($6)
Roasted Beets with Full Belly Farm Farro Salad, roasted cipolline, mint & ricotta salata ($10)
"Monday Meatball" special (1/2 order, $11)
Maccaronara with tomato ragu and house-made ricotta salata (1/2 order, $9)
Ricotta gnocchi with roasted wild mushrooms, green garlic and fava leaves (1/2 order, $10)
Verde Pizza-fresh ricotta, asparagus, prosciutto cotto, red onion, grana padano, chilies, olive oil, ($16)
Side of Erbette Chard with garlic, anchovy and lemon ($6)
Roasted Carrots and turnips with green garlic, mint and chiles ($6)
Both salads are lovely and I vow to try and recreate the beet one soon. The pasta dishes are "ok". I found the gnocchi bland, but T loved it, so it just goes to show how much food is a matter of individual taste. The special meatballs are excellent. The chard is so good I do recreate it on Easter Sunday (recipe coming soon).The pizza is very good and after watching the pizza cook make dozens of them, next time I think I'd order the "salsiccia" pizza with fennel sausage. I think I'd also try some of their various house cured salumi. D sits next to a "regular" who fills us in on the local gossip about some of the other regulars at the bar, life in the neighborhood, and what he knows about the restaurant. His Beef Flank arrotolato looks pretty darn good too.
Again, we very much enjoy sitting at the counter watching the cooks do their thing. The cooks are all in white, short-sleeved shirts, aprons and the ubiquitous tatoos. I'm impressed by the calm demeanor of the Sous Chef who obviously enjoys the respect of her cooks. Every plate which left the line was checked by her, garnished, and perfected. Service is great and we're all happy with our meal. Dinner for four, with 4 drinks is $114 before tax and tip. It's an easy bus ride back to the hotel and to bed.