Day 4-Museorama Day
This morning we decide to forgo a restaurant breakfast. I settle for a package of oatmeal made with hot water from the room's coffee maker. It works and it gets us out the door faster and cheaper than if we went out for breakfast first.
The four of us catch the cable car again like D and I did on Day 2, headed back to Golden Gate park and the de Young Museum. It's raining and at one point the cable car operator has a hard time getting us up one of the hills. We have to back down and try again. Both T and I take pictures of the hand crafted, leather laced covers on the cable car operation levers (what are those things called?).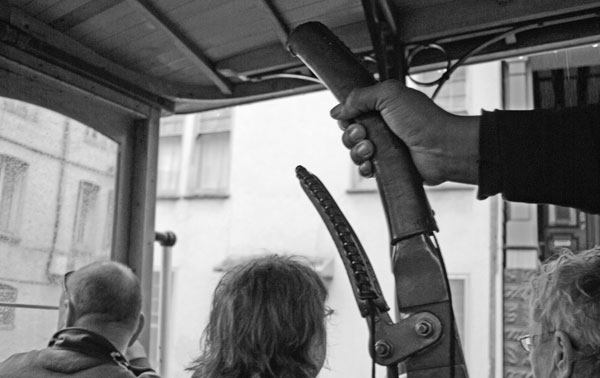 De Young Museum:
Today is the first Tuesday of the month and the de Young Museum is free (normally $10 admission, save $2 with MUNI Pass or bus transfer ticket). We start in a really interesting photography exhibit of signs taken all over the world in the last century. Next, we move on to the modern art section and are immediately struck by and installation called "Anti-Mass" by Cornelia Parker. It's made up of hundred of pieces of shattered and charred wood taken from a Southern Black Baptist church which was torched by arsonists. The pieces are all suspended from the ceiling by clear fishing line. There is also a bronze fist sculpture which has two eyes stuck in it. Later, at the Legion of Honor museum we see a similar bronze hand by Rodin which could have served as the inspiration for this piece (see photo at left and below).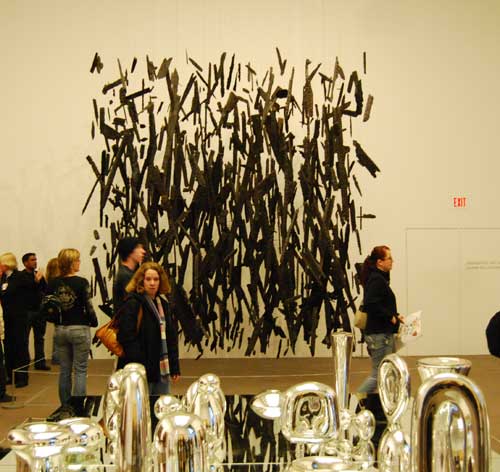 In a room filled with fantastic glass sculptures, we see this interesting mask. On one side it is a devil with horns, and on the other imbedded into a wedge of cut glass is a Venetian carnival mask. The mask changes as you walk in a circle around it.
We have lunch in the De Young Cafe and because it's still raining, they have to push the overflow diners into a large conference room set with tables, outside the cafe in the main area of the museum. The food is decent; I have the "Happy Asian Chicken Salad" and D has the "de Reuben" sandwich. J and T both have French Onion Soup they say is good. After lunch we walk around a bit more, but discover about half of the second floor is closed off as they remove the last special exhibit. Before we leave, we go over to the 9 story tower, take the elevator to the top and check out the 360 degree views of the city.

View from the de Young tower.
At this point, D has been communicating via text with a coworker, B, who is in San Francisco this week too. Our plan is to meet him for dinner tonight. But now, he's over at the Legion of Honor Museum seeing their special exhibit called "Artistic Luxury-Faberge, Tiffany & Lalique". We all agree that we are done with the de Young and decide to head over to the Legion of Honor to check out the special exhibit. J and T both really wanted to see it, and while I didn't know much about it, it sounds interesting.
Legion of Honor Museum:
I look at the transit map and there doesn't look like an easy and fast way to get there from here, so we decide to hail a cab which costs about $14. There may be a shuttle bus which runs between the two, but I can't find any info about it online. Admission to the Legion of Honor is normally $10 ($2 off with MUNI Pass or bus transfer ticket), but also free on the first Tuesday of the month. In addition, if you pay admission to the Legion of Honor, or the de Young, admission to the other is free on the same day.
J buys us all tickets to the "Artistic Luxury" exhibit ($10 extra, not included with regular admission). Thanks J! Once inside, we run into our friend B. The exhibit is fantastic! I'm not as in awe of the Faberge eggs as I am with the Lalique and Tiffany jewelry. I was particularly taken with a "dog collar" necklace with peacock feather in the center. If you are at all an Art Nouveau fan, this is the show for you.There are some stunning Tiffany lamps and other stained glass work as well. Another favorite are the hair ornaments created out of precious gems and made to look exactly like orchids. Unfortunately, no photos are allowed inside.
The museum has a large collection of works by Rodin, including The Thinker, out in the courtyard entrance. I really like The Man With The Broken Nose and a sculpture of a hand which reminds me of the "modern" version we saw at the de Young (pictured above).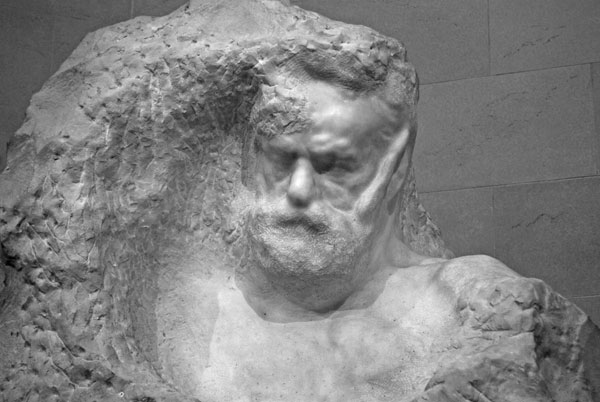 We take another taxi back to the hotel ($17.50). We could have easily taken a couple of busses, but it would have taken too long and we want a break before dinner. Once back D goes over to Trader Joe's to buy us a bottle of wine, some bread and some cheese. We sit at one of the hotel's fire-pit tables along the driveway and enjoy our home-made happy hour.
Around 6 PM we take the Tram down to Market Street where we get off and go to the new Intercontinental to meet our friend B in his room there for a pre- dinner cocktail. The hotel is beautiful and his room, a Junior Suite, is lovely and huge. The bathroom has floor to ceiling windows and a walk-in shower. B calls down and asks for a taxi-van to take us to Delfina in the Mission for dinner. Unfortunately, the taxi never comes and we are forced to split up and take two regular cabs to get there.
Delfina Restaurant
We arrive at Delfina and are seated right away at a table in the main dining room. Like most restaurants we've been to in San Francisco, it's packed. Where is evidence of the recession I ask? Our server takes us through the menu and mentions the daily specials. As with the other places we've been, we're offered water in a carafe, and not asked if we want bottled. On the menu it states, "$1.25 per person will be added to each check to support the San Francisco Healthcare Security Ordinance."
For an aperitif, we order a bottle of Prosecco di Valdobbiadene ($32) for the table. After that, the server lets us have a couple of tastes of different wines before ordering a bottle. We decide on a really unusual wine, Lacrima di Morro d'Alba Gavigliano ($44) from the Marche region of Italy. This has to be one of the strangest wines I've ever tasted; it smells like violets and tastes nothing like it smells. It's good, but highly disconcerting.
We order our food, all to share for the five of us.
Grilled Monterey Bay Sardines Scottaditto ($9.25)
Marinated Beets and Navel Oranges ($10)
Fresh-Cured Anchovies "Nostrano" ($8.50)
Snails with Herb Flan and Garlic Butter-verbal special, we order a second one after having the first they are so good.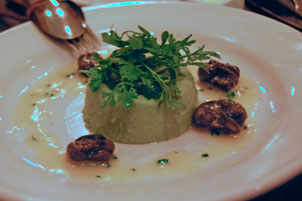 Fazzoletti al Ragu ($17)-a spinach pasta which looks like a hankerchief
Mint Tagliatelle with artichokes and mascarpone ($17)
Cauliflower Soup with paprika oil and cumin croutons ($8)
The pastas are both excellent and everyone loves the soup.




Roasted Liberty Duck with housemade sourkraut and kumquats ($24)
Duroc Pork Arista with Iacopi butter beans and spring onions agrodolce ($26)
Strawberry Mountain Ranch Hanger Steak and french fries ($26)




Anson Mills Polenta with fontina Val d'Aosta ($7.75)
Chard sauteed with garlic and lemon ($7.75)
Snap Peas and Farm Carrots with butter and mint ($7.75)
Honestly, everything is excellent and we have no complaints. We devour everything. Of our three Italian meals here in SF, this one is the best in terms of consistancy of food and service.




Warm Scharffen Berger Chocolate Torta with Olive Oil Gelato and Maldon Sea Salt ($9)-
(this is my favorite; the sweet/salty thing is so good!)
Sage-Buttermilk Panna Cotta with Fresh Oranges and Caramel ($9)
Profiteroles with Espresso gelato, Warm Chocolate sauce and Candied Almonds ($9)

After dinner we split up. J and T go to visit a college friend of J and D and I take the cable car (fun at night and in the rain!) back to our hotel after visiting with B a little longer.
The next morning we have a quick breakfast in the hotel coffee shop with J and T and then head back to Oakland airport the way we came; F tram to BART station at Embarcadero to Air Bart to Airport. The flight back on Southwest is fine and even has free WiFi as a test product on the flight. I try it and it works great, though when I Twitter about it (I'm @wired2theworld), suddenly @Southwest is following me on Twitter. Coincidence? I think not...
I can't wait to go back to San Francisco again.