Friday March 21 , 2008
Testaccio Market and Ostia Antica
The day starts with another breakfast of pancetta and eggs. The bread, bought the day before is absolutely horrible. Like much Italian bread it has no salt and to me, is tasteless. and this particular loaf is so hard, (it was when I bought it so it's not because it's 12 hours old) it could be used as a doorstop. Outside, the weather is beautiful with blue skies and it's fairly warm. We all leave the house with nothing more than light jackets and no sweaters.
The first course of action is the bus to Testaccio to see the covered market there. I love markets. I love the beautiful array of produce, the gleaming fish, the wet floors, the smell of meat and flowers. This is a real local's market where people come to do their daily shopping. It's not really for tourists except for food geeks like me. We see no other non-locals except a small film crew shooting what looks to be a food TV show.

Photo by David
The market is located in the Piazza Testaccio. We wander about for ½ an hour looking at produce and fish, cheese and salami, and stop in a small stall selling magnets, buttons and comic books. J and T buy X-Men comics in Italian for a friend and David buys a few magnets with interesting graphics. I am content with taking pictures.
Volpetti
From the market we walk over to a deli I'd read about called Volpetti (Via Marmorata 47, Open mon-Sat, closed Sundays). This is a very small place packed with more delicacies than it's possible to take in at one time. I am overwhelmed with choice. There's no shortage of offers of tastes of just about anything.

Just Goat cheese...mmmmm......
They have a case with only goat cheese in it and David and Tris park themselves there while J and I deal with our lunch order. One of the guys behind the counter offers to make us sandwiches which is exactly what we wanted for our trip out to Ostia Antica. At first he offers sandwiches of buffalo mozzarella and prosciutto on piazza bianca. This sounds great, but I ask if we can have each sandwich with a different meat and he agrees. We end up with the prosciutto and mozzarella, one bresaola, one mortadella, and one with spicy salami. He cuts them into four pieces and and places it on a big paper platter wrapping it all up for us. We also get some marinated eggplant and marinated sardines. He asks if we want wine but I veto it. I need break from the wine. Plus we have no wine opener or glasses with us. Our lunch to go is 17 euros and we're out the door.
What Happened to my Sunshine?
Using instructions from the thread on the Fodor's message board by poster Paradise Lost (thanks!) to get to Ostia Antica, we walk to the Pyramid metro and train station which is only a few blocks from Volpetti. There really is an ancient Pyramid there built in 12 BC by a wealthy Roman named Cauis Cestius as his tomb. How egocentric was this guy? It is so odd and out of place. At the train station we use our transportation passes from the Romapass to get on a train to Ostia.
By the time we get off the train about a half hour later, the weather has turned freezing cold, gray, and threatening to rain. What happened to my sunshine? We press on and walk the 3 blocks or so to the entrance of Ostia Antica. Entrance is free with the 2nd use of our RomaPass, or normally 6.5 euro. There are no audio tours available, but it is possible to buy a small guidebook there (I think with same info I printed out online).
An aside: Before we left home I went to the official Ostia Antica web site and copied their guide along with some other info I'd found online and made my own little Ostia guidebook. I did this because I'd read they often do not have audio tours available which turned out to be true.
Ostia Antica

Mosaic tile floors at the Baths of Neptune
The guidebook cautions against spending too much time at the beginning part of the site and I wish we'd heeded that advice. It is a fantastic place but it's getting colder and windier by the moment. We love the theater, the mosaic tile floors, having the ability to walk though almost all of it without restriction.

Faces of Drama, located behind the stage area of the theater. Is it just me, or do they look like mail boxes with funny faces?
About half way through the site we reach the cafeteria and see if we can eat inside out of the cold. It's crowded but we find a table and it's nice an warm inside. We purchase enough water, soda, coffee, wine and dessert to justify taking the table for our picnic. Our Volpetti lunch is wonderful and I think the envy of others at the tables around us. The cafeteria food looks pretty good too however so eating there is also an option.


After lunch we walk a little more, checking out the ancient public latrines and baths, but shortly, it's just too windy and bitter cold to keep going. I think we only get to see about half of the site, and someday I want to go back for sure.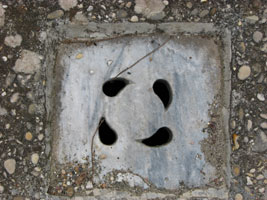 At left, photo of floor drain in baths (by Tris). At right, The bathrooms of the world tour continues with 2000 year old public latrines (photo by David).
We take the train back to Pyramid and then the bus back to the apartment. We all take a rest but not before David says he wants to try to eat a restaurant we'd eaten in our last time in Rome called Osteria ar Galletto. It's a place my mother and I had found on a previous trip. I don't have the number, but there is a phone book in the apartment and not surprisingly they are in it. I call from my cell phone and ask if the person answering the phone speaks English. He does not, so I try again in Italian and manage to secure a reservation for 8 PM tomorrow night.
Around 5PM we get up to go for a walk and do a little shopping on the same street as Frigidarium. Jess buys a super cool brown leather coat with a faux fur collar in a vintage clothing store. The rest of us try stuff on here and there, but nothing works. However, we do stop in a liquor store and buy bottles of Amaro Lucano to take home for 12 euro each.
We go to Frigidarium and find our friend Fabrizio there with his wife, Italia. We ask why he was closed so early last night and he says it's because he had an accident on his motorbike; someone hit him with a car! He's fine, but a little shaken and his wife looked worried. But all was well and we each get some gelato and converse in our struggling Italian with him for a while before walking around some more.
Pizzeria Baffetto
By now, it's early dinner time and some of us (David) are hungry but we're not all in the mood for the huge feasts we've been having. Five days of nonstop eating and drinking are beginning to take their toll. So, since we are right there, it's starting to rain, and there's not much of a line, we choose to have dinner at the famous Pizzeria Baffetto. Every time we'd been by there in evenings past, there's always been a huge line. But I was skeptical, because I'd read mixed reviews. Plus, I refuse to wait more than ten minutes to eat anywhere, just as a matter of principal.
We get lucky, and are ushered in very quickly, much to the dismay of the four German ladies who are waiting nearby. They are not in the "line" and therefore are ignored by the guy manning the door. I'm happy because now it is dumping rain and we get very lucky with a table for four right next to the action, where the pizzas are being made. I can't tell how large the place is because it has many small rooms, but the rate at which they are putting out pizzas leads me to believe it's quite large. We sat for 45 minutes before our pizzas came and we must have watched them make 40-50 pizzas within that time.

The view from Table #5
As I said, we weren't that hungry, so we ordered 2 pizzas, one regular, one large, and a small vegetable salad. We also ordered 3 beers and a bottle of water. The waiter seemed visibly disappointed with our "meager" order. I know in Italy, typically everyone gets their own pizza, but we just weren't hungry enough for that.
For the pizzas, we ordered the "Baffetto" with everything (tomato, mozzarella, mushrooms, sausage, green peppers, onions, artichokes and an egg in the middle) and the "Vegitariana" with eggplant and zucchini flowers. It was really fun to watch the guys making the pizza. One would roll out the dough (no flipping and spinning in the air here) and the other would put on the toppings and put them in the oven. These guys were serious and would do 5 at a time.

Sr Baffetto in the drawing top left, the man himself, bottom right.
While waiting, we spot the man himself, Sr. Baffetto. He's an elderly man with large glasses, working the room, talking to everyone, helping seat the tables. We know it's him from the charcoal portrait of him on the wall.
Jess and I share the salad. The pizzas arrive and are good, with an exceptionally thin crust. My personal preference is for a thicker crust pizza, but these were just fine. We had a couple more beers and two orders of "tiramisu" which came in small glass bowls. My recommendation would be to skip the dessert here and go across the street to Frigidarium. When the server dropped the check, he made sure to tell us no fewer than three times, in as many languages, that "service is not included".
As we go to leave, Baffetto is there and has to give each of us girls a big hug and a kiss. I swear if I hadn't turned my head, the man would have kissed me on the lips! You could tell he was quite the Romeo in his day and still adorable. In all, the pizza is decent and it was a fun experience sitting where we did watching it made. If we'd had to sit in another room, I don't know how I'd feel. I don't think it's worth a trip across town, but not a bad choice if you're in the area. Dinner for 4 was 46 euro (plus tip). Via del Governo Vecchio, 114.
Tonight is good Friday and back at the apartment, we contemplate trekking over to the Colosseum to see the Pope and the Stations of the Cross. But it's pouring rain, and after turning on the TV, and finding it televised on CTV (of course!) we decide we can see it better from home. The people chosen to carry the cross through the various stations get soaked. The Pope stays dry at a distance under a canopy.